Bulldogs beat out Polson, Libby to start conference play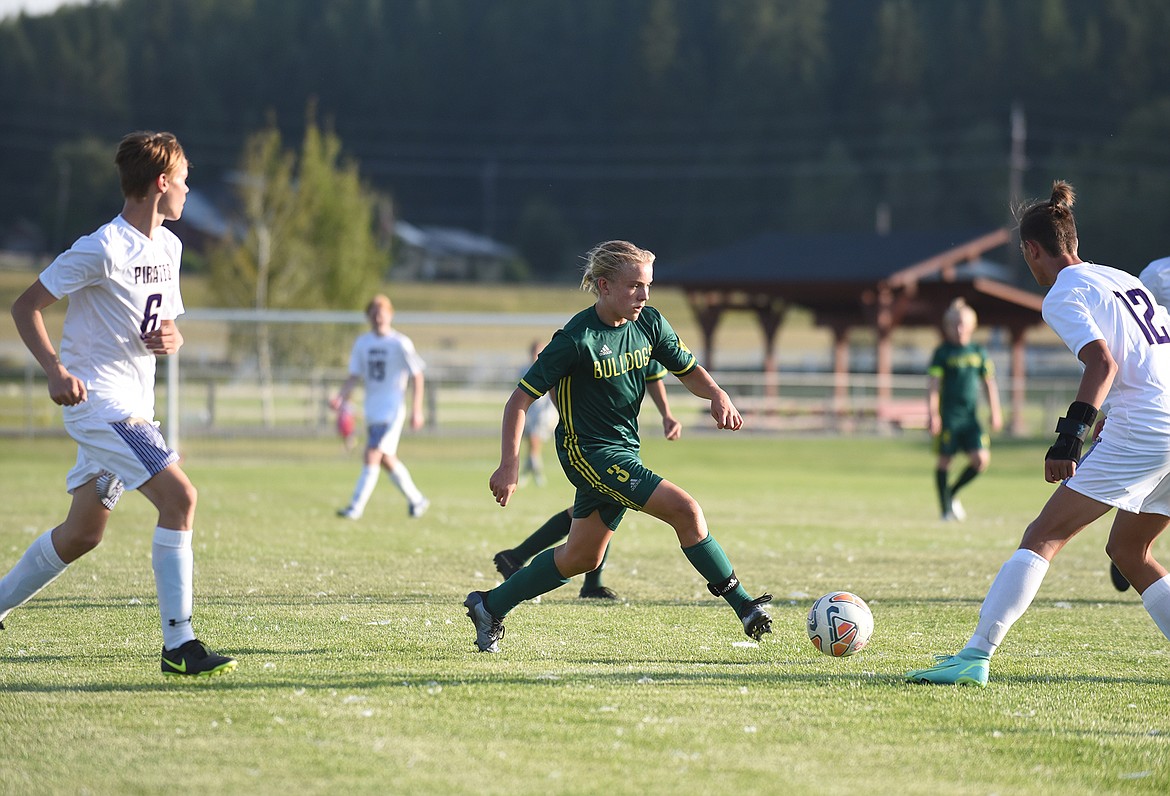 Bulldog senior Chase Sabin looks to move the ball between Polson players last week at Smith Fields. (Whitney England/Whitefish Pilot)
by
HEIDI DESCH
Whitefish Pilot
|
September 15, 2021 1:00 AM
The Bulldogs came out strong last week recording two wins as they began conference play for the season.
The Bulldogs on Tuesday earned an 11-2 win over the Polson Pirates at home and then followed that up on Thursday with another win on the road beating the Libby Loggers 8-0.
"We've been building toward this week and we've got a good rhythm," Coach John Lacey said. "We certainly like playing to score a lot of goals. We work toward defending ourselves to keep possession of the ball, but the team is built around scoring."
Whitefish notched goals right away against Polson scoring 9 in the first half.
Bulldog Lou Kofal led the scoring against the Pirates with four goals. He scored in the 31st minute then followed that up by scoring in the 37th minute, 60th minute and at the 69-minute mark. He also added an assist.
Gabe Menicke earned two assists and a goal, while Chase Sabin had a goal and an assist.
Whitefish had 24 shots on goal, while Polson had four.
On Thursday, against Libby the Bulldogs held the Loggers scoreless to earn another win.
Whitefish's Luke Roberts scored the first two goals for the team at the 4th and 13th minute marks. Both goals were assisted by Menicke, who also netted two goals of his own at the 25th and 26th minutes.
Menicke now leads Class A boys soccer with 13 goals.
Joe Brandt finished off the Bulldogs scoring with two goals near the end of the game.
Charlie Hyatt recorded two assists, and so did Aaron Dicks.
Whitefish had 17 shots on goal, while Libby recorded two.
The Bulldogs are now 5-0 and 2-0 in the conference.
The Bulldogs were set to play rival Columbia Falls Tuesday after press time.
Ahead of the game, Lacey said it's a game both teams look forward to each year, but even more so when both teams are playing well.
"We had three great matches of soccer against each other last year," he said. "We really like playing against each other and even more so when we have good competitive games. The energy at the field will be great and we love the surface over there."
"Both programs look good," he added. "We hope we get multiple matches against them again this year. We look forward to a competitive game."
The Bulldogs head Bigfork on Tuesday, Sept. 21 playing at 5 p.m.
Whitefish 6 2 — 8
Libby 0 0 — 0
W — Luke Roberts (Gabe Menicke) 4:00
W — Roberts (Menicke) 13:00
W — Darby McCarthy (Collin Lyman) 14:00
W — Menicke (Charlie Hyatt) 25:00
W — Menicke (Aaron Dicks) 26:00
W— Chase Sabin (Dicks) 28:00
W — Joe Brandt (Hyatt) 77:00
W — Brandt (Hyatt) 78:00
Shots on goal — WF 17, Libby 2. Goalie saves — WF 2 (Will Peppmeier, Ethan Schott), Libby 9 (David Bailey). Corners — WF 5, Libby 0. Fouls — WF 10, Libby 4.
Whitefish 11, Polson 2 (9-1 half)
W — Aaron Dicks (Gabe Menicke) 8:00
W — Darby McCarthy (Collin Lyman) 13:00
W — Luke Roberts (Lyman) 14:00
W — Menicke 24:00
W — Chase Sabin (Menicke) 25:00
W — Lou Kofal (Sabin) 31:00
W — Ryder Elliott (Charlie Hyatt) 36:00
W — Kofal (Townsend Reed) 37:00
W — Hyatt (Kofal) 39:00
W — Kofal (Joe Brandt) 60:00
W — Kofal (Logan Bingham) 69:00
Shots on goal — Polson 4, Whitefish 24. Goalie saves — Polson 13 (Ethan McCauley, Kaden Nelson), Whitefish 4 (Will Peppmeier, Ethan Schott). Corner kicks — Polson 1, Whitefish 6. Fouls — Polson 5, Whitefish 6. Cards — Polson 1, Whitefish 1.
---