WTC holds auditions for 'Cemetery Club'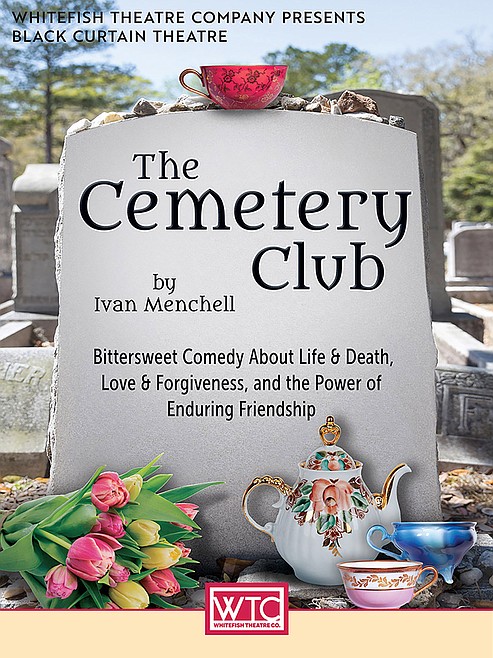 |
September 8, 2021 1:00 AM
The Whitefish Theatre Co. is holding auditions for its first Black Curtain theatre production of the 2021-2022 season.
Auditions for "The Cemetery Club" will be held on Sunday, Sept. 12 at 7:30 p.m. at the O'Shaughnessy Center in Whitefish. Please arrive early to fill out an audition application, fill out a waiver form, and review the script. Please enter at the north side of the building near WTC's parking lot and conference room.
Due to the recent spike in COVID-19 cases, masks are highly recommended when you enter the building, although you will be able to remove them during your audition. Please do not attend auditions if you are feeling sick.
Ida, Lucille and Doris are part of a club - the Cemetery Club. Every month they meet at Ida's New York house for tea and then trundle off to the cemetery to remember the good times and gossip at the graves of their late husbands. Lucille fancies herself as a flamboyant swinger, Doris is a traditional matronly widow, and Ida is somewhere in between. The fun-loving camaraderie between friends gets turned upside down, however, when widower Sam the butcher enters the scene and the ladies vie for Sam's attention. Called "Steel Magnolias" meets "The Golden Girls," the production "The Cemetery Club" is a funny and touching play about enduring friendships, cherishing the past, and embracing the future.
The cast is comprised of four women and one man, ages 50s and older. No experience or preparation is necessary to audition. Pages from the script will be provided. If you would like to familiarize yourself with the script, it is available at valley public libraries.
Katie Nixon is the director of this production. As a Black Curtain show, the actors will remain on book during performances and there will be minimal costumes and set. There will be approximately nine rehearsals and one technical rehearsal on Sept. 24. There are two performances over one weekend on Sept. 25 and 26.
For more information, call the Whitefish Theatre Company at 862-5371.
---