Lady Bulldog hitters come up short in close battle with Frenchtown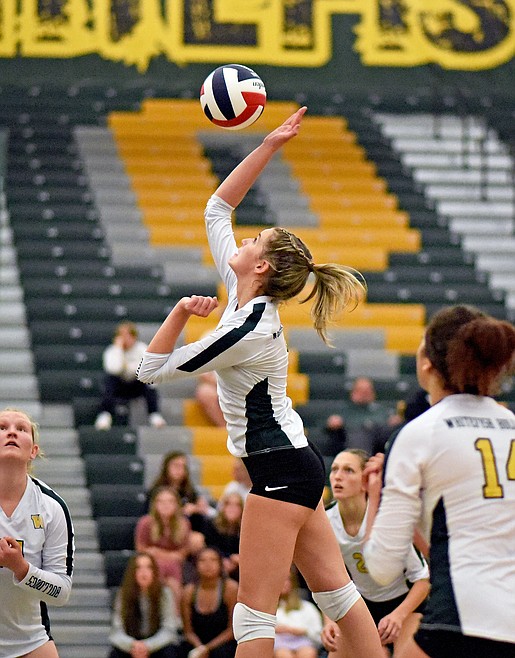 Whitefish senior Taylor Means spikes the ball over the net in a game against Frenchtown in Whitefish on Thursday. (Whitney England/Whitefish Pilot)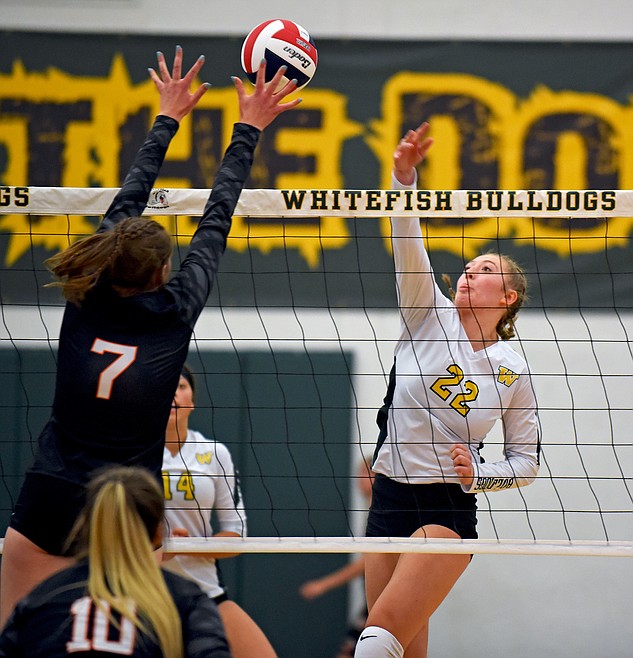 Lady Bulldog sophomore Brooke Zetooney hits the ball over the net in a match against Frenchtown in Whitefish on Thursday. (Whitney England/Whitefish Pilot)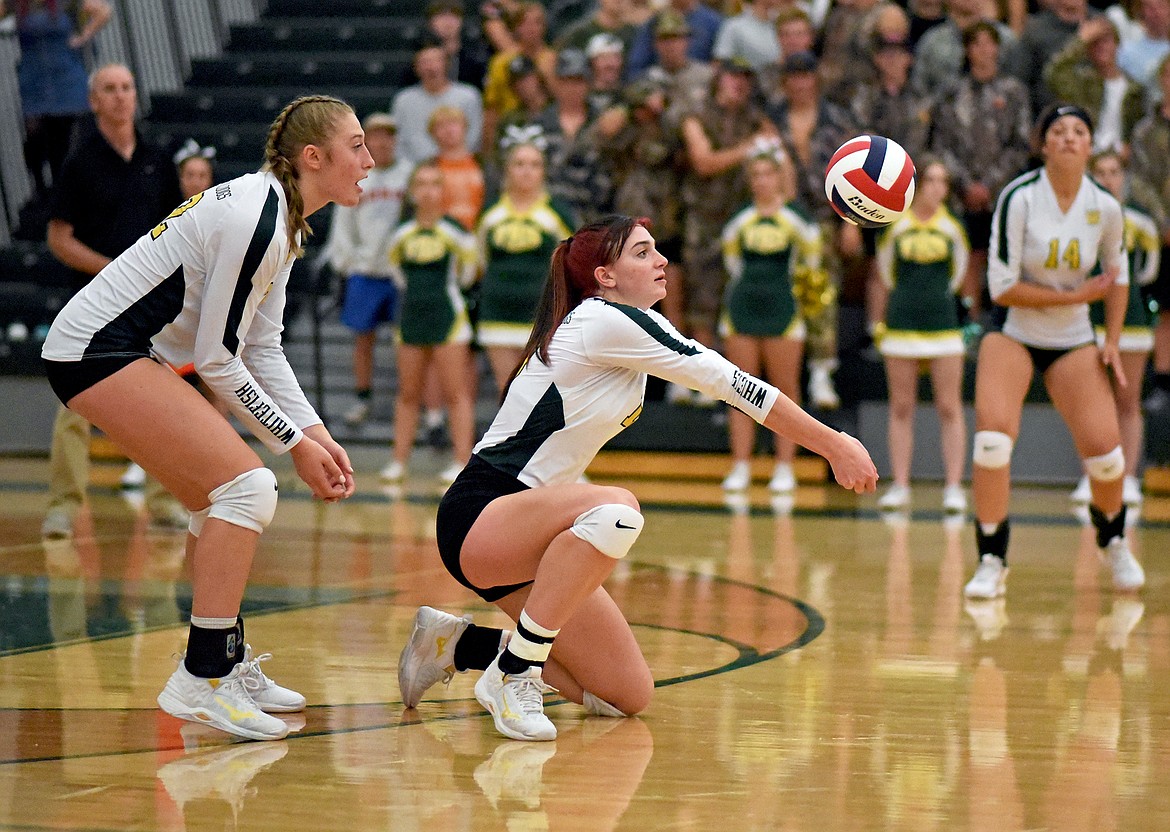 Whitefish senior Jadi Walburn kneels to receive a serve in a match against Frenchtown in Whitefish on Thursday. (Whitney England/Whitefish Pilot)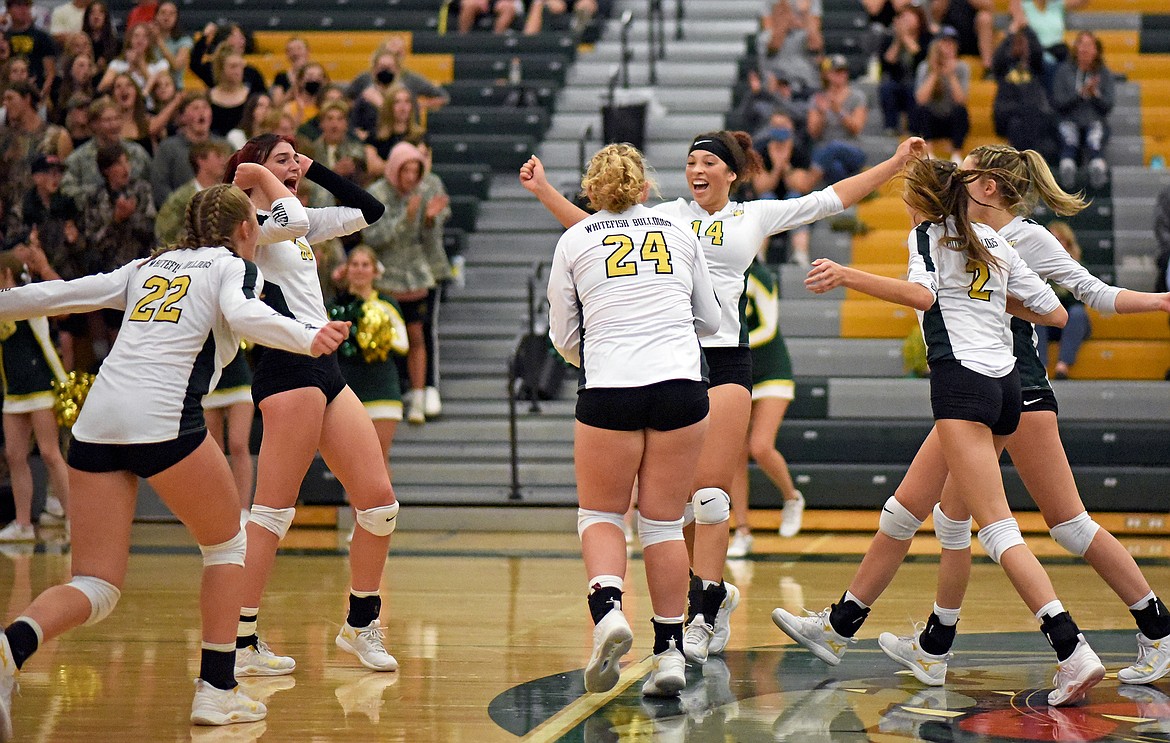 The Lady Bulldog volleyball team celebrates winning a point in a match against Frenchtown in Whitefish on Thursday. (Whitney England/Whitefish Pilot)
Previous
Next
by
WHITNEY ENGLAND
Whitefish Pilot
|
September 8, 2021 1:00 AM
The Whitefish volleyball team took the first set, but were narrowly edged in the following three by the Frenchtown Broncs.
Whitefish fell to Frenchtown in four sets on Thursday — 23-25, 25-23, 26-24, 25-21.
Whitefish led the entire way through the first set and into the second set before the Broncs jumped ahead in the last few points. In the final set, Whitefish got down by a handful of points and it was too difficult to recover from.
"The Bulldogs played really well [Thursday night]," Whitefish head coach Addy Connelly said. "They competed and really improved their overall game."
The Bulldog attack was led by sophomore Brooke Zetooney, who started on varsity last year as a freshman. Zetooney tallied 12 kills. Seniors Jadi Walburn and Emma Trieweiler tacked on five and six kills each, respectively.
Walburn also had seven digs, three blocks and two aces; Trieweiler recorded a team high 10 digs and three aces. Sophomore Ainsley Scott led the Bulldogs in assists with 11.
Whitefish played well as a team supporting each other and sharing the ball, they finished with 33 team digs to Frenchtown's 21, plus 32 team kills.
"We struggled in serve receive at times, allowing Frenchtown a few runs that were difficult to come back from," Connelly recalled. "The girls worked hard to change the momentum at each opportunity."
Whitefish only had one match last week after a busy tournament weekend the week prior.
The Lady Dogs were scheduled to play in Eureka on Tuesday after press time and then will host Libby at home on Sept. 14.
Frenchtown def. Whitefish 23-25, 25-23, 26-24, 25-21
Kills — Frenchtown 27, Whitefish 32 (Brooke Zetooney 12). Assists — Frenchtown 23, Whitefish 19 (Ainsley Scott 11, Ashleigh Markowitz 7). Blocks — Frenchtown 7, Whitefish 8. Digs — Frenchtown 21, Whitefish 33 (Emma Trieweiler 10, Jadi Walburn 7). Aces — Frenchtown 15, Whitefish 9 (Emma Trieweiler 3).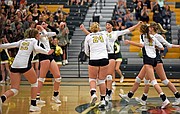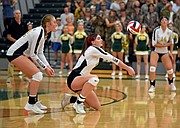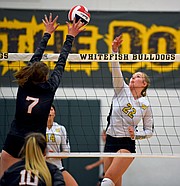 ---