Whitefish cross country teams off and running at Libby Invite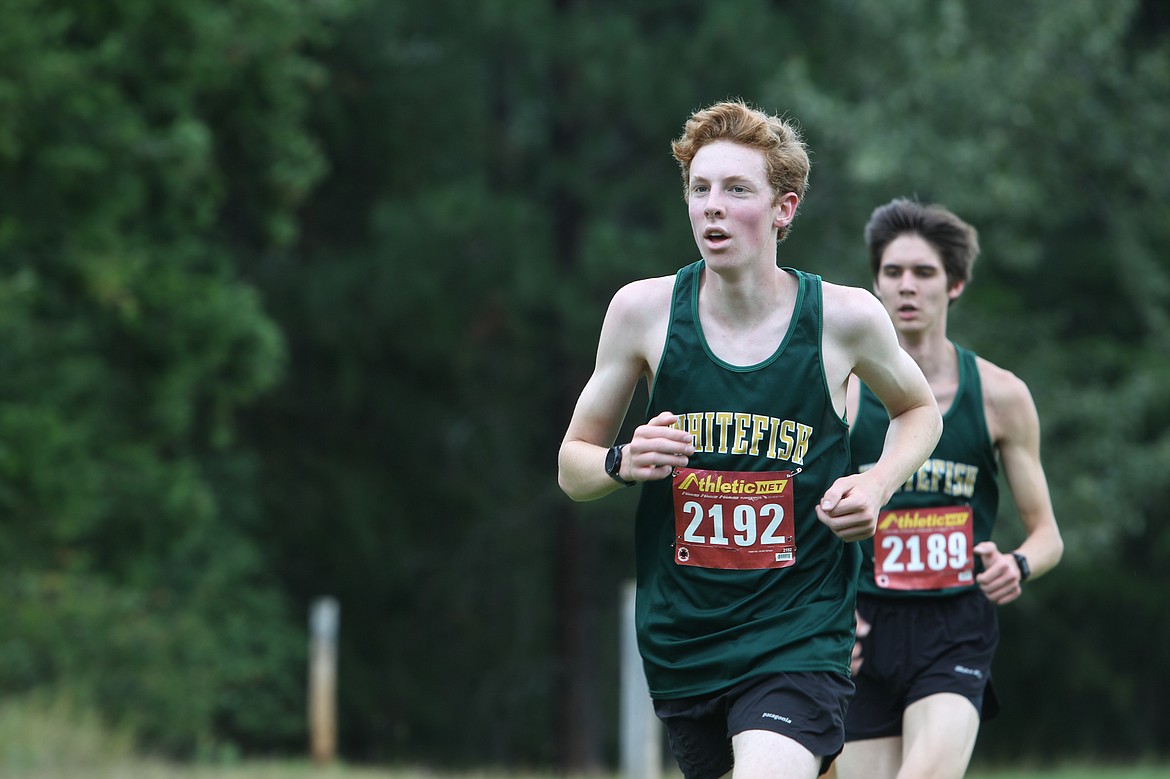 Whitefish Bulldog Nate Ingelfinger competes at the Libby Cross Country Invitational meet on Friday. (William Langhorne/The Western News)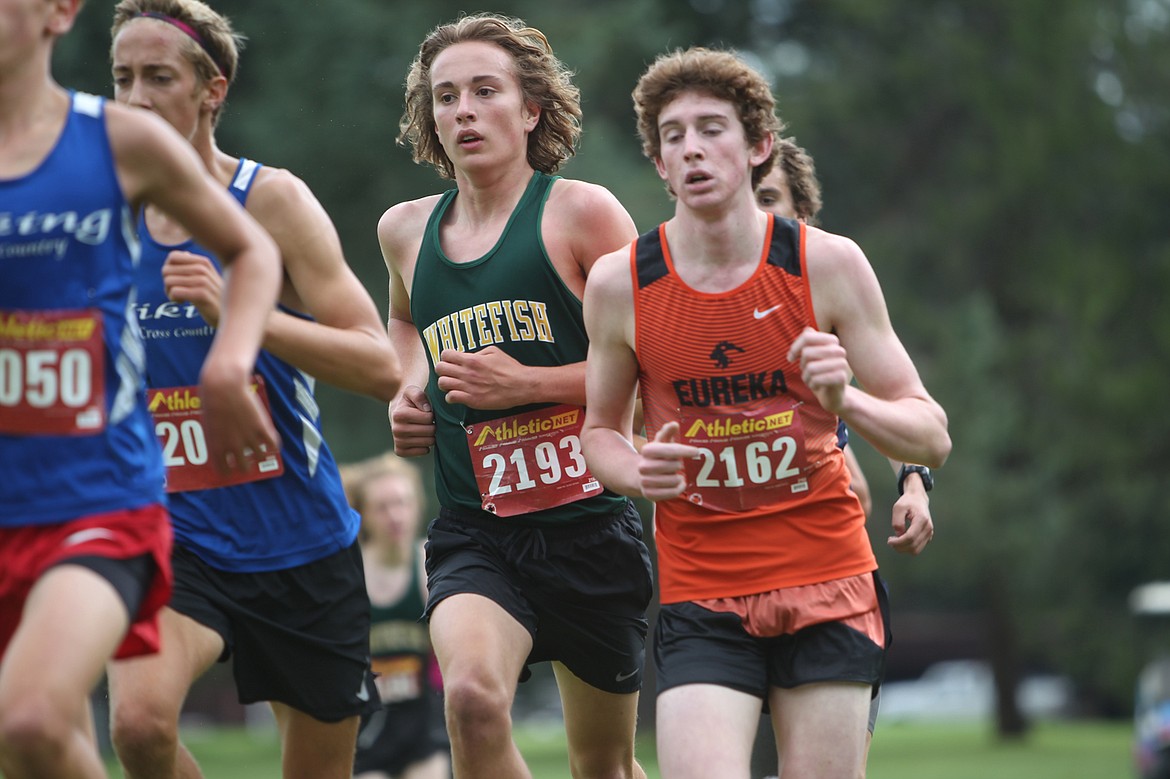 Whitefish's Deneb Linton keeps up with the front of the pack at the Libby Cross Country Invitational meet on Friday. He ran to a fifth-place finish. (William Langhorne/The Western News)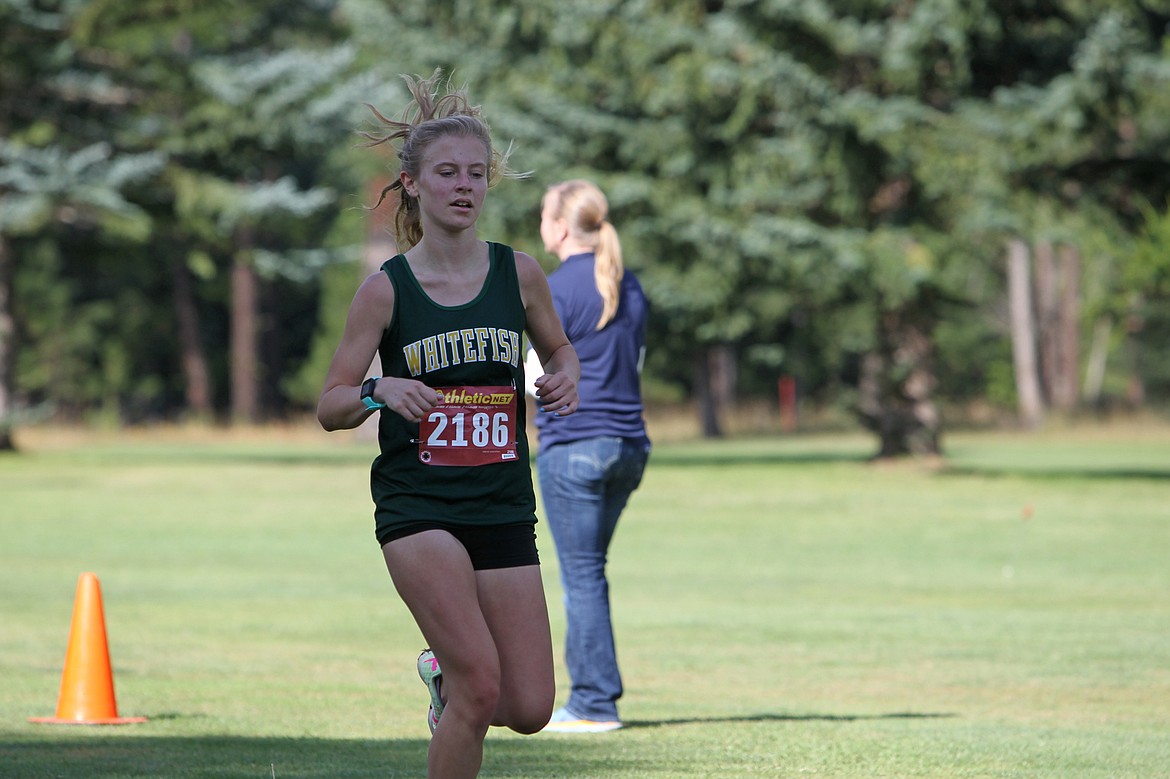 Whitefish's Morgan Grube runs to a fifth-place finish in the girls varsity 5,000 meters at the Libby Cross Country Invitational meet on Friday. (William Langhorne/The Western News)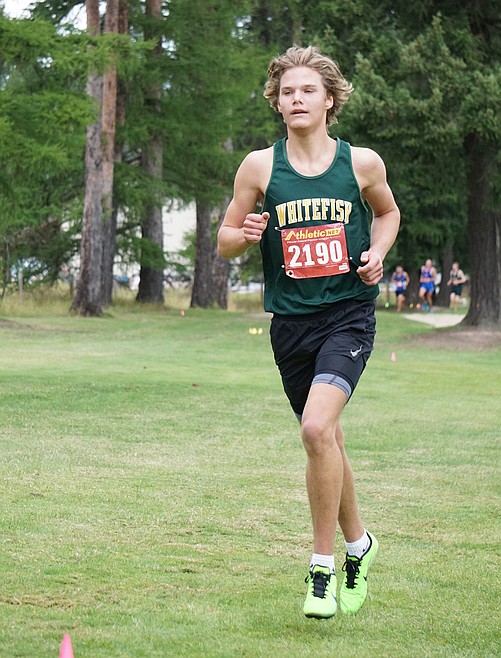 Bulldog Mason Genovese runs Friday at the cross country meet in Libby. (Matt Weller photo)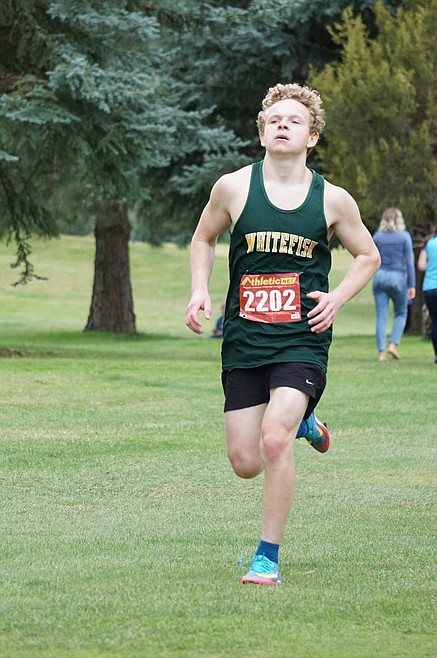 Whitefish junior Jack McDaniel finished in the top three for junior varsity Friday at the cross country meet in Libby. (Matt Weller photo)
Bulldog Nate Inglefinger runs Friday at the cross country meet in Libby. (Matt Weller photo)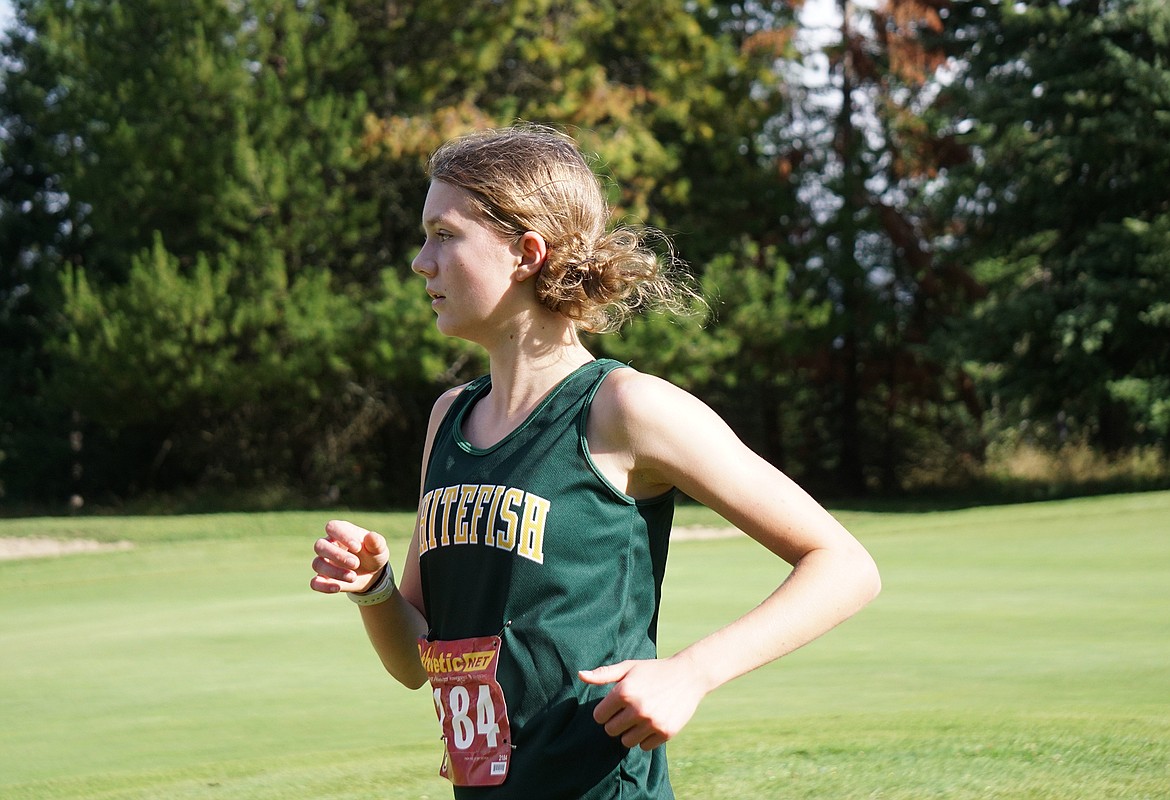 Whitefish senior Paetra Cooke ran a 21:58.27 finishing in seventh place Friday at the cross country meet in Libby. (Matt Weller photo)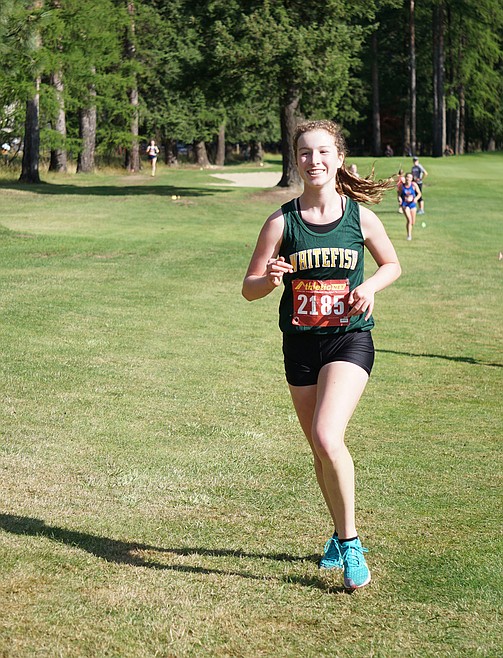 Whitefish's Hazel Gawe runs Friday at the cross country meet in Libby. (Matt Weller photo)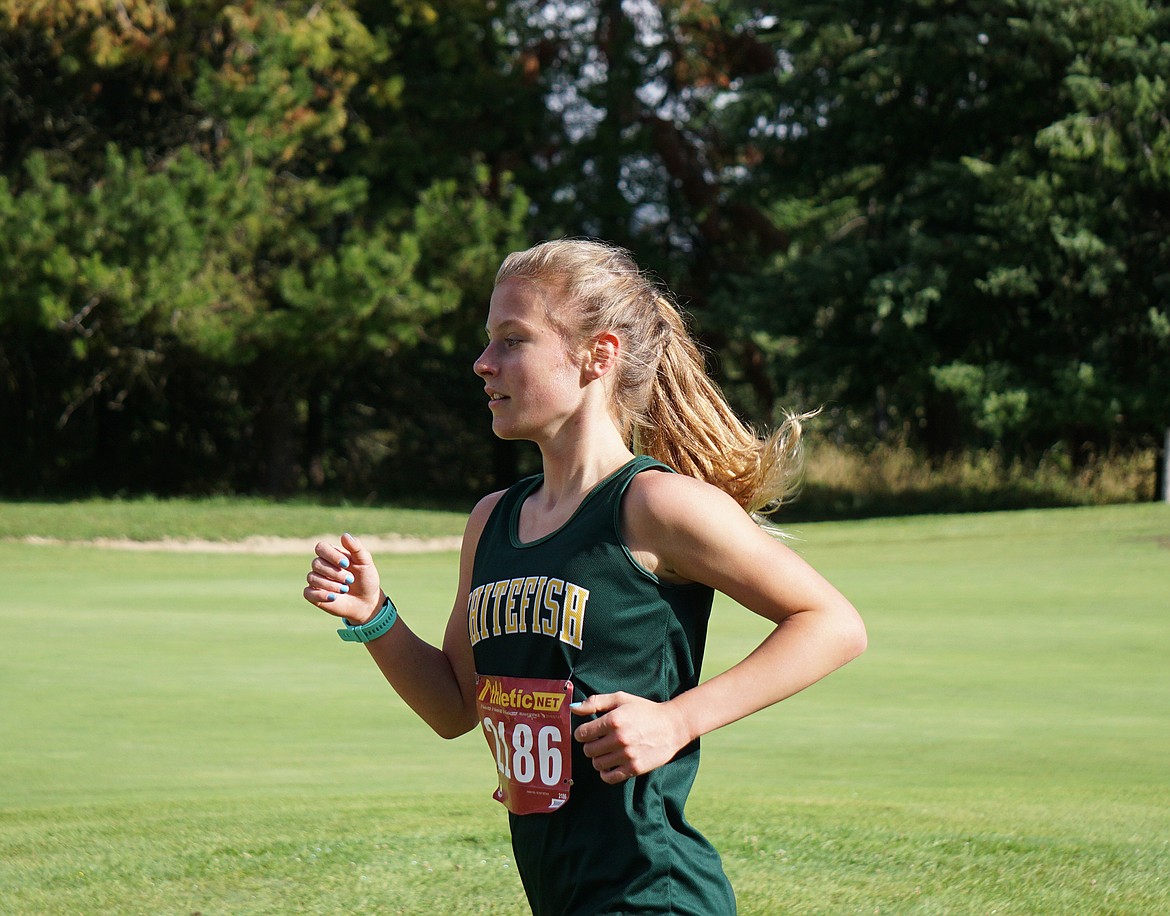 Whitefish sophomore Morgan Grube placed fifth in women's varsity 5,000 meters with a time of 21:44.96 Friday at the cross country meet in Libby. (Matt Weller photo)
Previous
Next
by
WHITNEY ENGLAND
Whitefish Pilot
|
September 1, 2021 1:00 AM
Bulldog runners got the season started on Friday at the Libby Cross Country Invitational meet with the boys taking second place behind Coeur d'Alene, Idaho, and the girls finishing third.
On the girls' side, only five runners were eligible to compete and with limited numbers, they exceeded head coach Richard Menicke's expectations. As a team, they scored 60 behind Coeur d'Alene and Columbia Falls who each scored 33.
The Whitefish girls were paced by sophomore Morgan Grube who stuck with the top leaders throughout most of the race and finished fifth with a time of 21:44.96. Close behind her was senior Paetra Cooke who finished seventh. Menicke said Cooke ran a smart race and moved up through the pack in the second half of the run.
Sophomores Hazel Gawe and Raiya McCutheon took 16th and 21st respectively.
"A team goal today was to run our best in the second half of the race, and the girls nailed it," Menicke said.
Sophomore Deneb Linton led the Whitefish boys team in the race. He ran to a fifth-place finish with a time of 17:23.68 and hung with the front of the pack throughout the race.
The boys as a team placed second, scoring 50 to a strong Coeur d'Alene team with 28.
"This was a great opener for the guys, our lead three runners Deneb Linton, Jacob Henson and Mason Genovese did a phenomenal job of packing up through the first half," Menicke said. "Deneb was the stronger guy today and was able to hang close to the leaders most of the race."
Henson came in ninth place and Genovese finished 11th. The fourth-fastest runner for Whitefish on the day was Nate Ingelfinger coming in 13th place and then Barrett Garcia took 16th for the Bulldogs. Menicke says closing the time gap between Whitefish's third finisher and fourth finisher will be key for team success this season.
The boy's junior varsity team ran great races as well to win the JV meet. Juniors Henry Seigmund and Bowdrie Krack both ran lifetime bests to place in the top half of the pack.
"These performances by Henry and Bowdrie are a testament to the large and competitive boys team who are training hard and raising the bar for all, it's great stuff," Menicke said.
Whitefish will next compete at the Cut Bank Time Trials on Friday.
---