Bulldog runners Genovese, Henson, Cooke finish season with All-state honors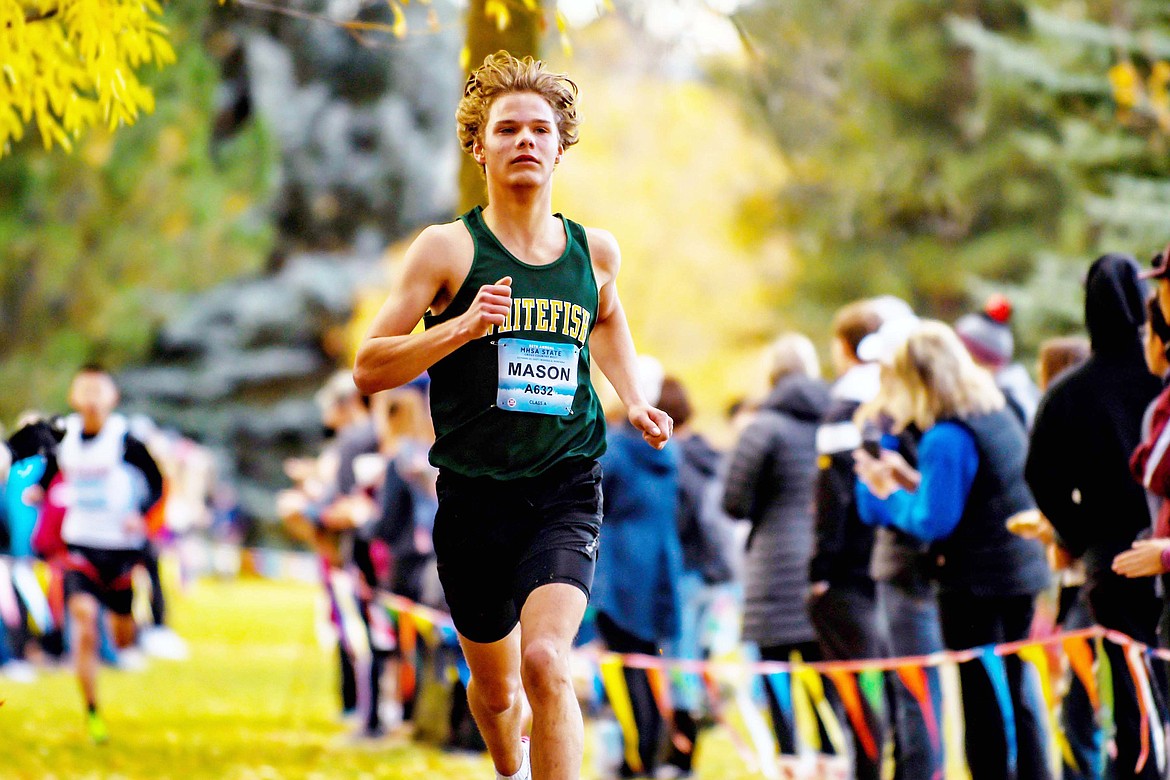 Whitefish runner Mason Genovese at the state championship meet in Missoula on Oct. 23. (JP Edge/Hungry Horse News)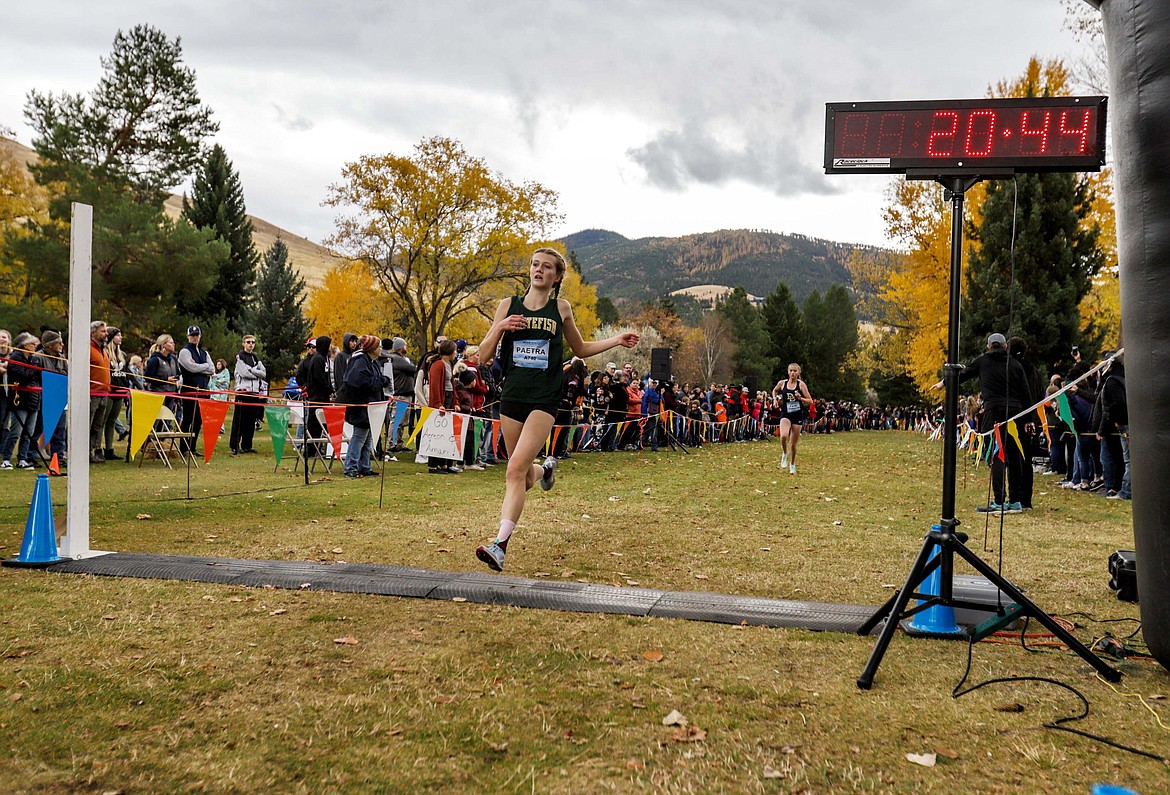 Bulldog Paetra Cooke crosses the finish line at the state championship meet in Missoula on Oct. 23. (JP Edge/Hungry Horse News)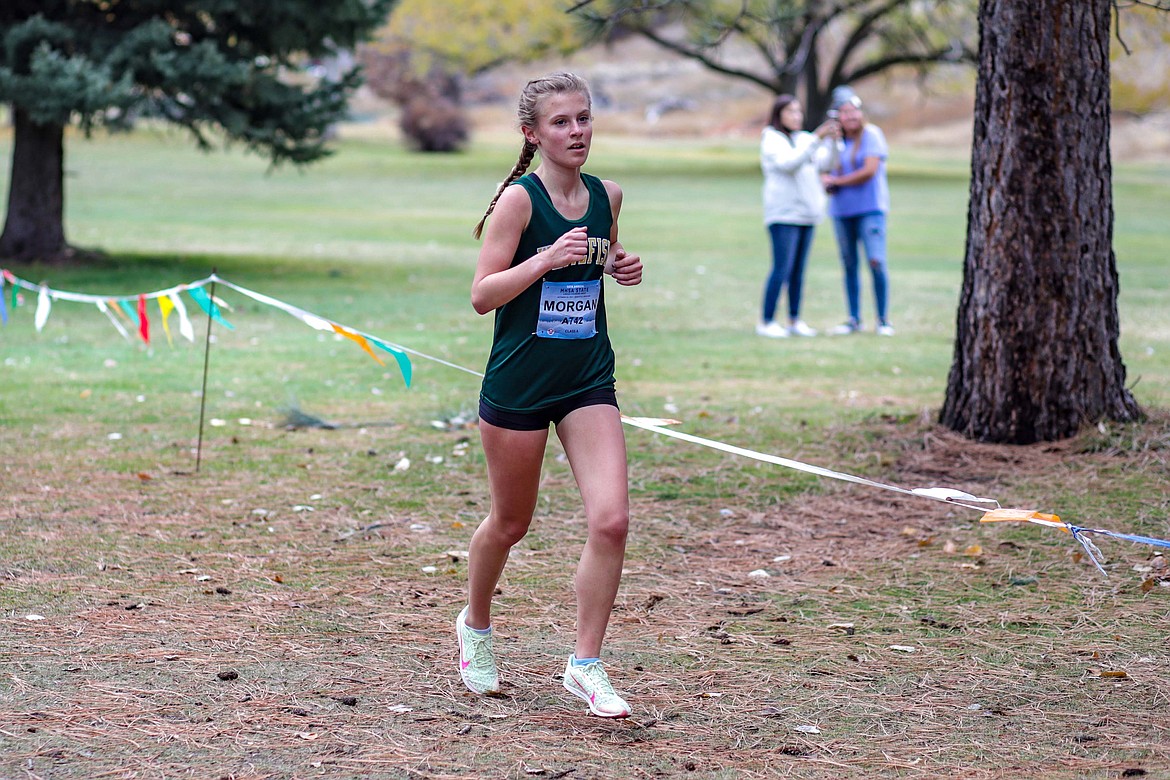 Whitefish's Morgan Grube runs at the state championship meet in Missoula on Oct. 23. (JP Edge/Hungry Horse News)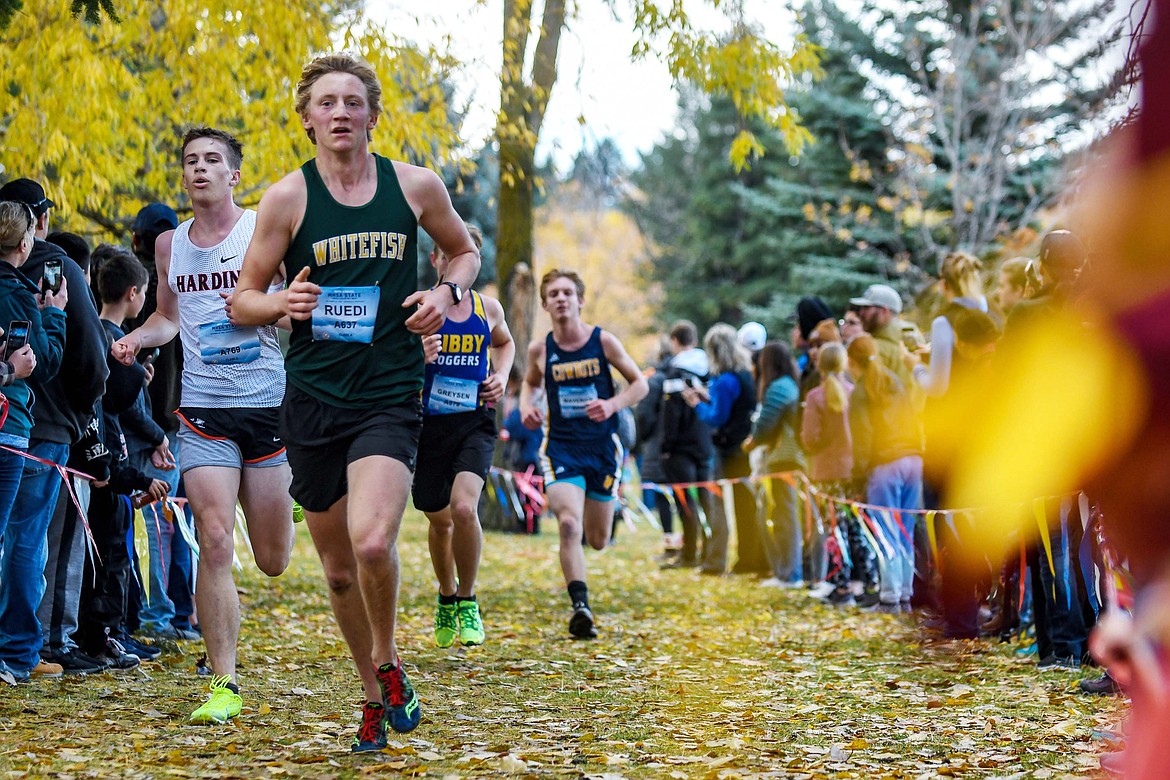 Whitefish's Reudi Steiner runs at the state championship meet in Missoula on Oct. 23. (JP Edge/Hungry Horse News)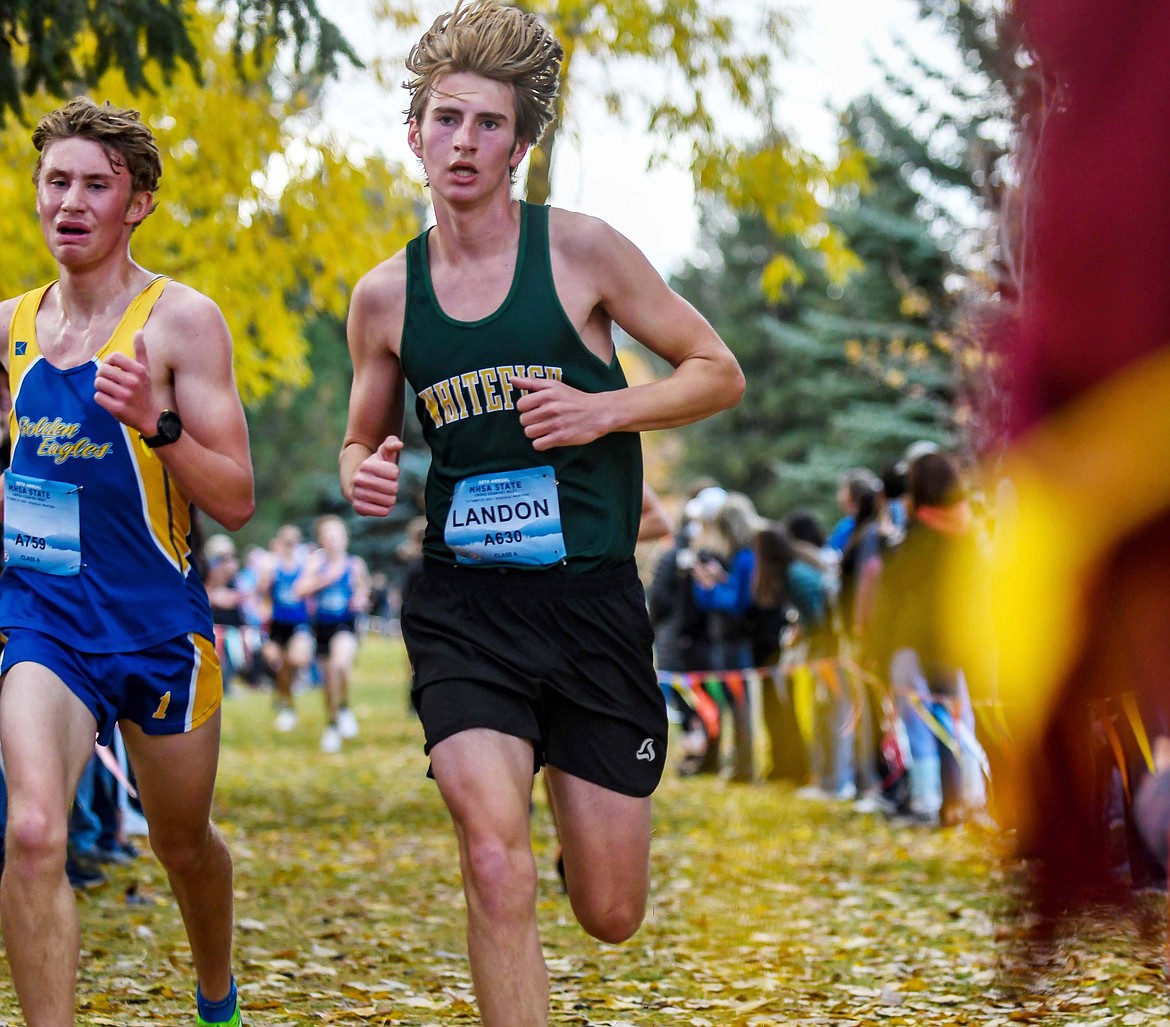 Bulldog Landon Brown runs at state championship meet in Missoula on Oct. 23. (JP Edge/Hungry Horse News)
Previous
Next
by
WHITNEY ENGLAND
Whitefish Pilot
|
October 27, 2021 1:00 AM
At the Montana State Cross Country Championships Saturday in Missoula, Whitefish runners performed, nearing season-best finishes to put an exclamation mark on the 2021 season.
Bulldog sophomore Mason Genovese put in a competitive race to finish in sixth place in Class A in the state meet. He beat his previous PR, 16:59.1 set in September at the Flathead Invite, by nearly 2 seconds to record a new best; he finished the State A race in 16:57.42.
"Mason ran a PR and with great confidence," Whitefish head coach Richard Menicke said. "He placed 20th as a freshman and sixth as a sophomore… I like his trajectory."
Whitefish senior Jacob Henson was just short of breaking his personal best, but ran the race in 17:25.28 to take 13th in Class A and earn All-state honors along with Genovese.
"Mason and Jacob's races were exceptional, ambitious starts and they really worked hard in the third mile to stay in the top 15," Menicke added. "Henson in particular competed the best he ever has in this sport, period."
The boys team took fourth place in the team results; Hamilton won state with 38 points, Hardin came in second with 83, Corvallis third with 87 and Whitefish had 131 points.
Whitefish's Barrett Garcia took 30th and was the Bulldogs third fastest of the day. Landon Brown was 36 and Reudi Steiner finished 46 in Class A.
"We ran well as a group — within 10 to 15 seconds of season best marks — but would have needed amazing races from all seven plus some poor races from the third place team, Corvallis, neither of which happened," Menicke recalled. "We got very solid races from our No. 3-5s, Barrett Garcia, Landon Brown and Reudi Steiner, to secure fourth, as fifth place was not far behind."
The Whitefish girls team took a sixth-place overall finish in the State A race.
Bulldog senior Paetra Cooke led her team once again as the Whitefish girls' top finisher. She placed 13th in Class A and ran the race in season-best fashion at 20:45.21.
"The girls came in ranked seventh and earned the sixth position at state, so a very successful run," Menicke said. "We had an All-state athlete in Paetra Cooke… as she has done the second half of the season, she was definitely one of the stronger athletes in how she ran the last mile."
Whitefish sophomore Morgan Grube was the Lady Bulldog's second fastest of the day finishing in 21:58.06 followed by Hazel Gawe's performance of 22:36.64; Grube came in 29th and Gawe finished 39th in Class A.
Bulldogs Alie Simpson and Maggie Pulsifer each broke their season records during the state meet, which Menicke said really contributed to the sixth-place team finish.
A GIRLS
Team scores — 1, Columbia Falls 92; 2, Corvallis 99; 3, Hardin 107; 4, Laurel 146; 5, Hamilton 175; 6, Whitefish 178; 7, Miles City 183; 8, Dillon 183; 9, Lewistown 196; 10, Polson 221; 11, Livingston 312; 12, Havre 313; 13, Browning 369; 14, Frenchtown 435; 15, Glendive 441.
WHITEFISH — 13, Paetra Cook 20:45.21; 29, Morgan Grube 21:58.06; 39, Hazel Gawe 22:36.64; 48, Alie Simpson 23:02.21; 49, Maggie Pulsifer 23:05.51.
A BOYS
Team scores — 1, Hamilton 38; 2, Hardin 83; 3, Corvallis 87; 4, Whitefish 131; 5, Columbia Falls 148; 6, Laurel 149; 7, Dillon 228; 8, Polson 228; 9, Browning 363; 10, Livingston 271; 11, Miles City 326; 12, Libby 335; 13, Havre 354; 14, Glendive 354; 15, Billings Central 416; 16, Ronan 461; 17, Lewistown 481; 18, Lockwood 516; 19, Sidney 573; 20, Stevensville 580.
WHITEFISH — 6, Mason Genovese 16:57.42; 13, Jacob Henson 17:25.28; 30, Barrett Garcia 18:08.20; 36, Landon Brown 18:21.69; 46, Ruedi Steiner 18:40.73.
Recent Headlines
---