Glacier Symphony and Chorale returns to in-person concerts, celebrates 25 years with director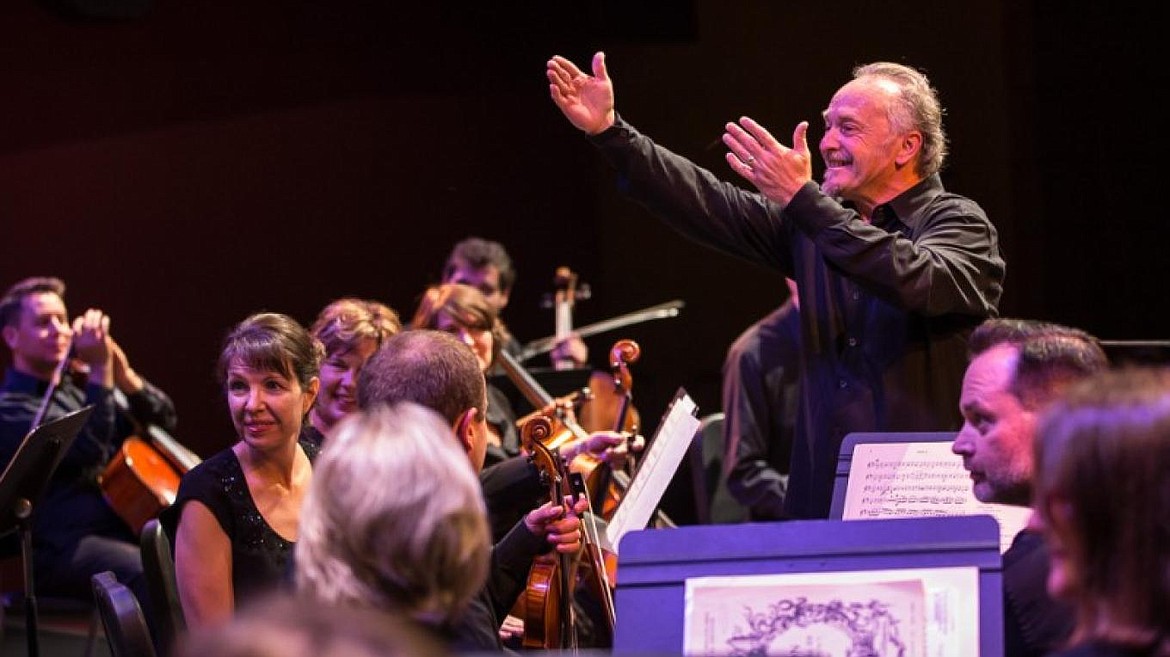 Glacier Symphony and Chorale Maestro John Zoltek celebrates 25 years as music director and conductor as the symphonic group returns to in-person concerts beginning in late October. (Courtesy photo)
|
October 20, 2021 1:00 AM
Every season of the Glacier Symphony and Chorale is a singular one, but the upcoming 2021-22 season is even more remarkable as the organization returns to live performances following a difficult 2020-21 season of cancellations due to the COVID-19 pandemic and celebrates 25 years under the leadership of Maestro John Zoltek.
A native of Rhode Island, John Zoltek moved from Seattle to Montana in 1996 to assume the position of music director and conductor of the Glacier Symphony and Chorale. Under his guidance, the Glacier Symphony and Chorale has grown into one of the most vibrant and active symphonic organizations in the state of Montana, performing year round with up to 24 concerts and events per season.
In 2007 Zoltek presented a dream of his to the Glacier Symphony Board — to host a classical music festival. Out of that concept came Festival Amadeus, which in August celebrated its 14th successful season as the only week-long classical music festival in the region.
Over the years, Zoltek has maintained an international presence with conducting engagements in Canada, Europe and South America. He has worked with notable composers Alan Hovhaness, Sofia Gubaidulina, R. Murray Schafer, Stephen Chatman and Mark Armanini. Zoltek is also quite active as a composer himself in both the classical and jazz genres, as well as performing as a jazz fusion guitarist.
"We are so pleased to have the opportunity this season to recognize John's musical vision, talent and dedication to GSC and showcase all of those things in our programming," said Board President Mark Holston.
"Throughout our 39th season audiences will be treated not only to his considerable talent as a conductor, but also as a jazz guitarist and composer in both the classical and jazz genres," he continued. "This is a season that should not be missed!"
The season opens on Oct. 30 and Oct. 31 with the first of the MasterWorks concerts and concludes with the Spring Festival in May. On each of the MasterWorks concerts audiences will be treated to a performance of one of Zoltek's many exciting compositions, most notably the world-premiere of his newly-composed cello concerto, Through Tamarack and Pine, written for and performed by Robert deMaine, acclaimed principal cellist of the Los Angeles Philharmonic. The season also includes popular offerings such as the annual performance of Handel's Messiah, the family-friendly Holiday Pops concert, and the Masquerade Gala and Auction, this year featuring gifted jazz/pop singer-songwriter, Halie Loren. Planned for the spring of 2022 is a catered event called Fusion which will feature Zoltek as jazz guitarist and composer, leading a jazz combo with strings in a program of his original and electrifying jazz fusion.
Season tickets are available by calling the box office at 406-407-7000. More information for each concert can be found on the website https://glaciersymphony.org/.
"We hope to see everyone join us for this special season and tribute to the Maestro," Holston said. "It is rare that a symphonic organization has the benefit of such enduring leadership and artistic vision. John has been an integral part of sharing live musical experiences in Northwest Montana, a vital part of our culture."
For more information call 406-407-7000 or email info@gscmusic.org.
---