Bulldogs stay undefeated heading into first-round playoff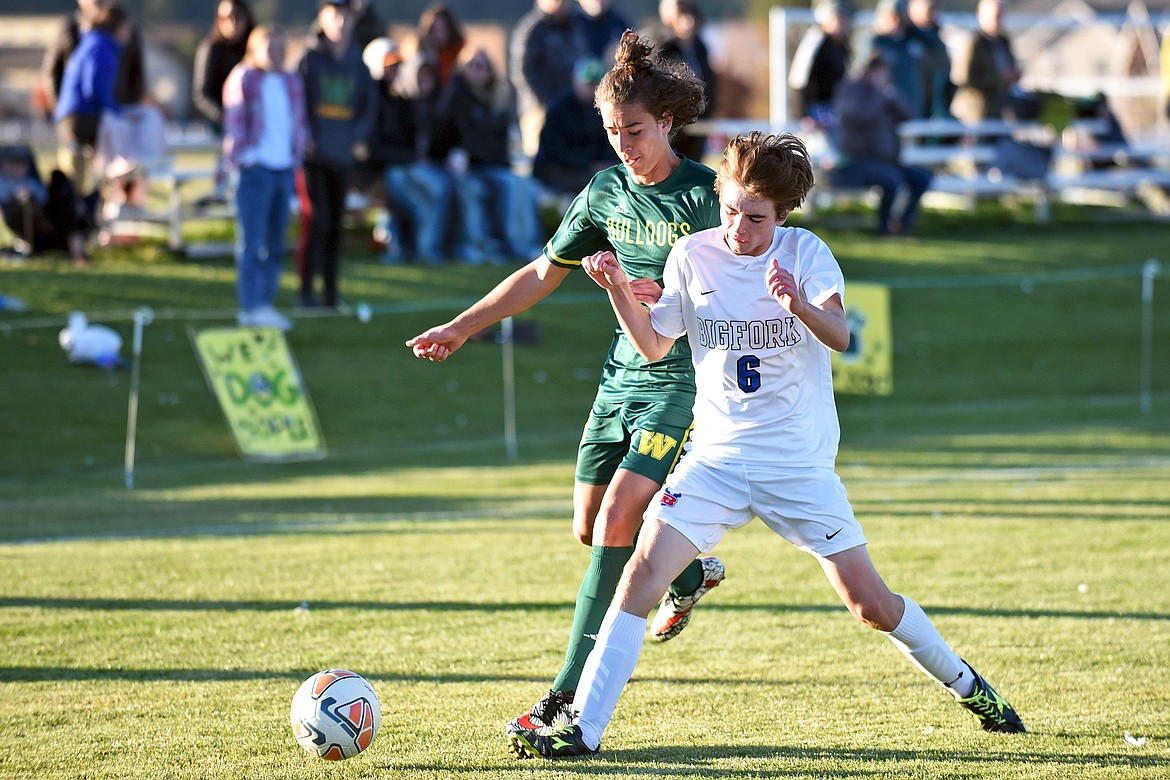 Bulldog senior Luke Roberts battles with Bigfork defender Corban Benson to gain possession of the ball during a game in Whitefish on Thursday. (Whitney England/Whitefish Pilot)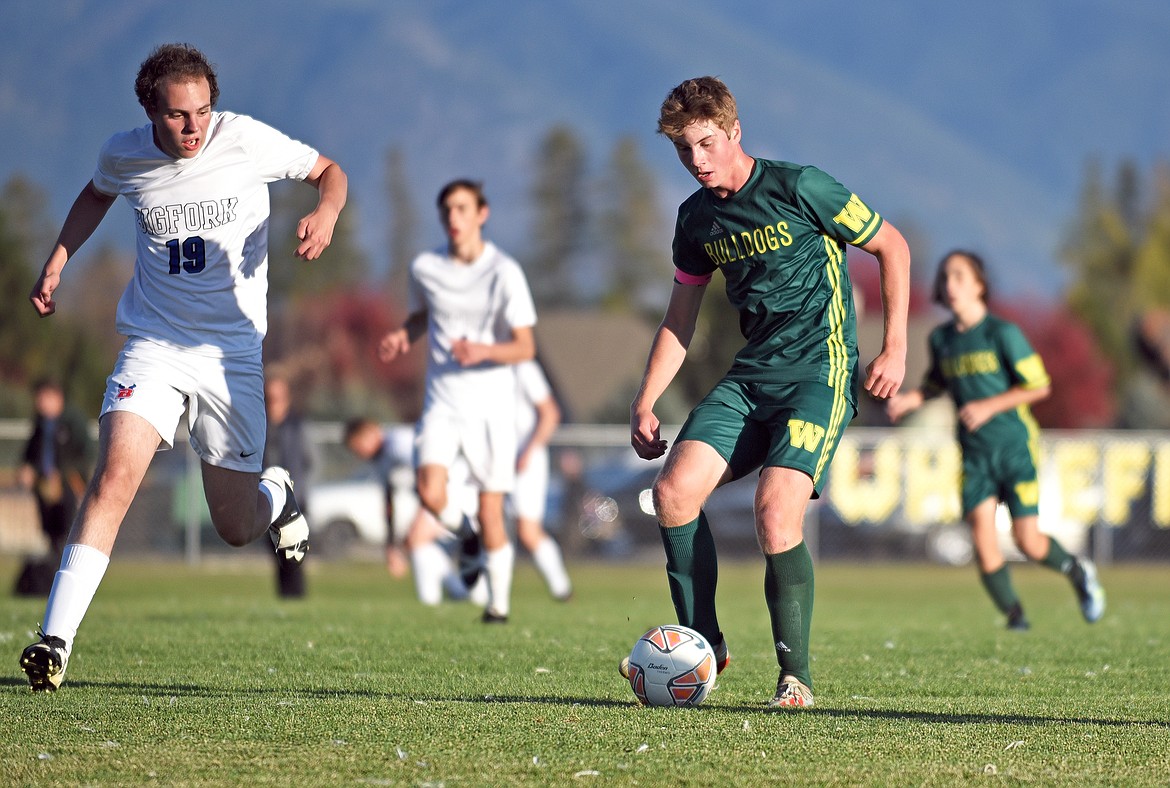 Whitefish senior midfielder Aaron Dicks looks to pass the ball during a game in Whitefish on Thursday. (Whitney England/Whitefish Pilot)
Whitefish sophomore Charlie Hyatt looks to take the ball past Bigfork defender Landon Byerman during a game in Whitefish on Thursday. (Whitney England/Whitefish Pilot)
Previous
Next
by
WHITNEY ENGLAND
Whitefish Pilot
|
October 13, 2021 1:00 AM
In Thursday's senior night match against Bigfork, the Bulldogs were feeling the effects of playing four games in eight days to close out regular season play.
After a scoreless first half, Whitefish senior Chase Sabin nailed a penalty kick past Viking keeper Caden Riedesel in the 65th minute which was enough for the Bulldogs to hang on for the 1-0 victory. With that win Whitefish takes a 12-0 overall, 7-0 conference record into the first round of the Class A playoffs this weekend.
"The Bigfork game was great, we really got to honor our senior boys," Whitefish coach John Lacey said. "They've got four years of a potentially historic career so far. It was really great to honor them and their parents, and everything they've given to the program."
Against Bigfork, Whitefish spent the majority of the game in the Vikings territory taking several shots that were just barely off frame, but Bigfork had a few breakaway chances as well. Bigfork keeper Riedesel played a sharp game, making 14 big-time saves. Whitefish goalie Will Peppmeier made two key stops as well to keep a clean sheet.
"The game and time on the field reflected the fact that it had been a long week," Lacey said. "Bigfork played great, their keeper made outstanding saves and we were a little sluggish; the game showed it."
Earlier in the week Whitefish easily outplayed Polson and beat the Pirates 6-0 on their home turf. Bulldogs Luke Roberts, Gabe Menicke, Joe Brandt and Collin Lyman all scored in the game. Menicke got the scoring started five minutes into the first half.
With those two wins the Bulldogs extended their undefeated streak to having won 56 games without a loss dating back to 2017 in the state A final. Whitefish has been to the State A final four years in a row and has won the last three championships.
"We can count on the fact that we've been there (playoffs) before and guys will try to win games however we have to," Lacey said. "Hopefully in that process we're playing good soccer and doing all the things that have helped build that streak, but at this point that four-year streak doesn't mean a whole lot other than the fact that the boys are confident."
Whitefish now looks ahead to the first round of the State A playoffs that begin on Saturday. The Bulldogs are scheduled to host Corvallis for the game, Whitefish's semi final opponent from last year.
"At this point our focus is looking forward to the playoffs and capping off this last stretch for these seniors, all the boys really as we've worked together to do this," Lacey expressed. "But our seniors are our leaders; they're going to have a lot to say about what happens next."
The Bulldogs played Corvallis earlier this year and won 4-0, but Lacey says the Blue Devils are a mature team that most likely are bringing their best soccer to the match. Whitefish will have to be ready and focus on playing its own style of soccer.
"It's fun to play good teams and good soccer because it pushes us to meet or beat that," the coach said. "We look at playoffs as a real opportunity to play our best, to play our fastest, to really embrace the fact that other teams are going to come play their best soccer against us."
Whitefish will host Corvallis in the Class A boys soccer playoffs first round game on Saturday at Smith Fields. Game time is 2 p.m.
Whitefish 4 2 — 6
Polson 0 0 — 0
WF — Gabe Menicke (Chase Sabin) 5:00
WF — Luke Roberts (Aaron Dicks) 8:00
WF — Roberts (Dicks) 13:00
WF — Joe Brandt (Collin Lyman) 25:00
WF — Brandt (Kane Nissen) 43:00
WF — Lyman (Townsend Reed) 77:00
Shots — WF 18, Polson 5. Goalie saves — WF 5 (Will Peppmeier, Ethan Schott, Ayden Mintz), Polson 13 (Kaden Nelson). Corner kicks — WF 8, Polson 2. Fouls — WF 12, Polson 4.
Bigfork 0 0 — 0
Whitefish 0 1 — 1
WF — Chase Sabin 65:00
Shots — WF 15, Bigfork 2. Goalie saves — WF 2 (Will Peppmeier), Bigfork 14 (Caden Riedesel). Corner kicks — WF 10, Bigfork 10. Fouls — WF 8, Bigfork 6. Cards — Bigfork 1.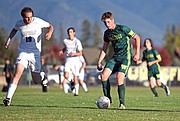 ---