Whitefish volleyball comes away with homecoming win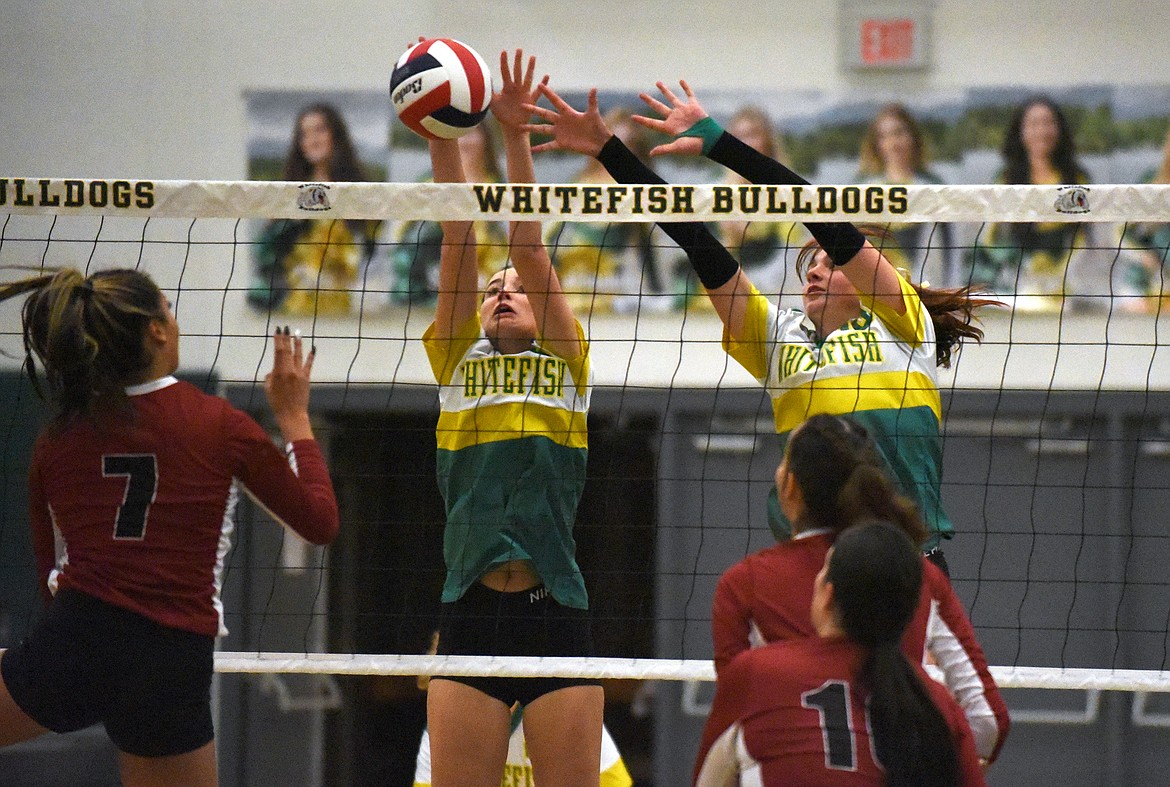 Whitefish seniors Taylor Means and Jadi Walburn get up for a block against Browning during their homecoming match on Tuesday, Sept. 28. (Whitney England/Whitefish Pilot)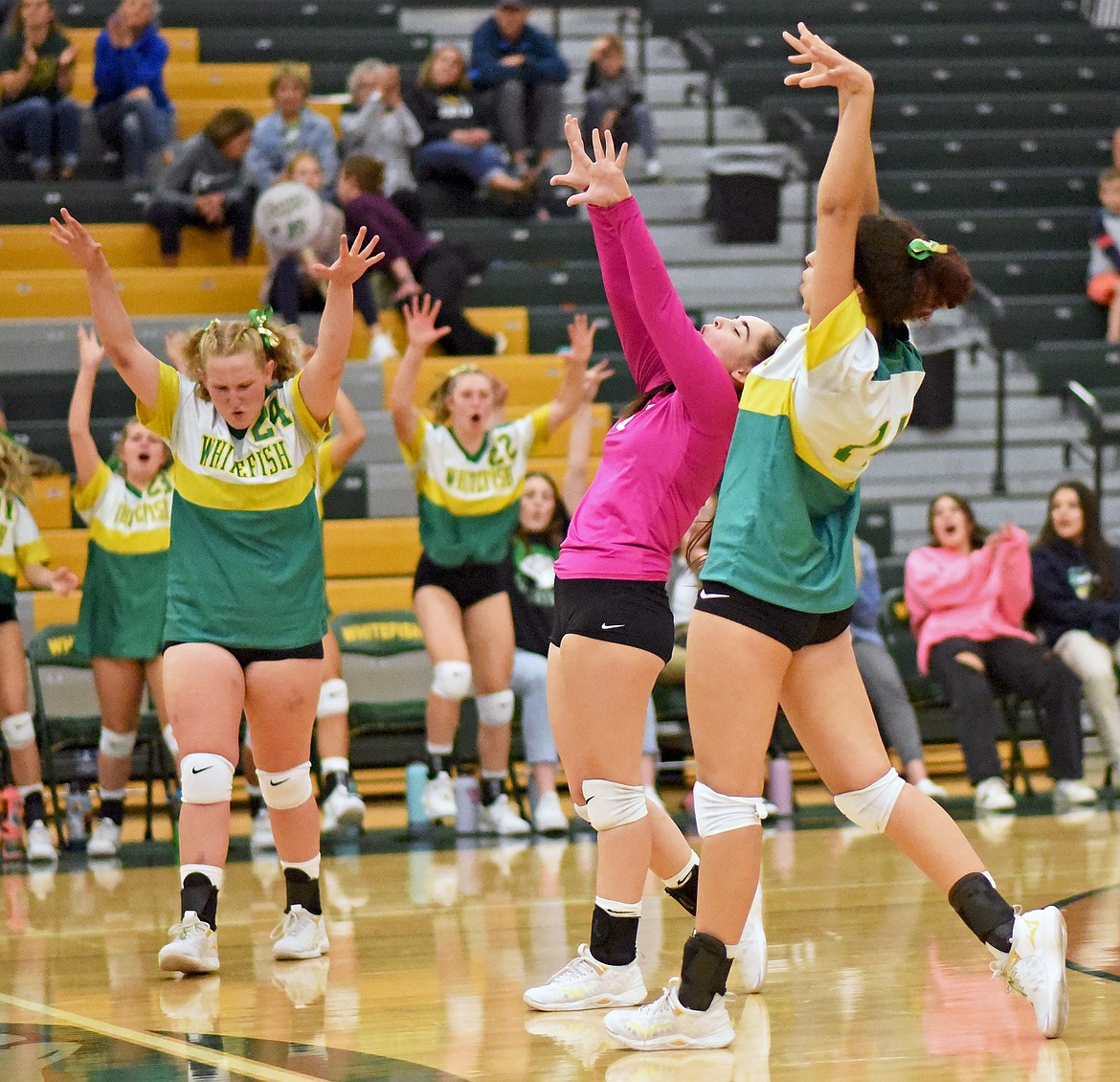 The Whitefish volleyball team celebrates a winning a point after a successful block at the net during a match against Browning on Tuesday, Sept. 28 in Whitefish. (Whitney England/Whitefish Pilot)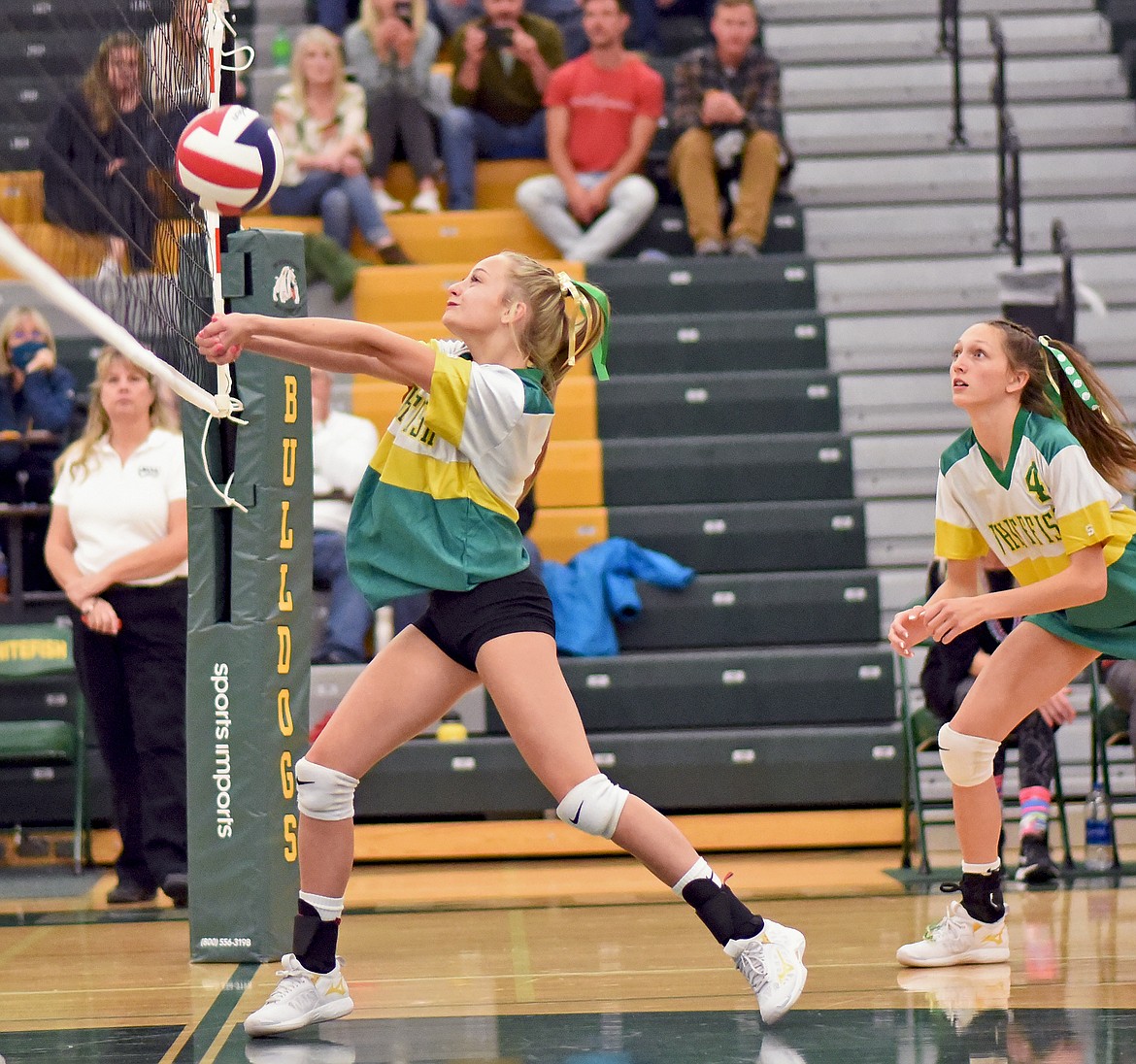 Whitefish freshman Kaydence Blackwell makes a pass on the front row during a match against Browning on Tuesday, Sept. 28 in Whitefish. (Whitney England/Whitefish Pilot)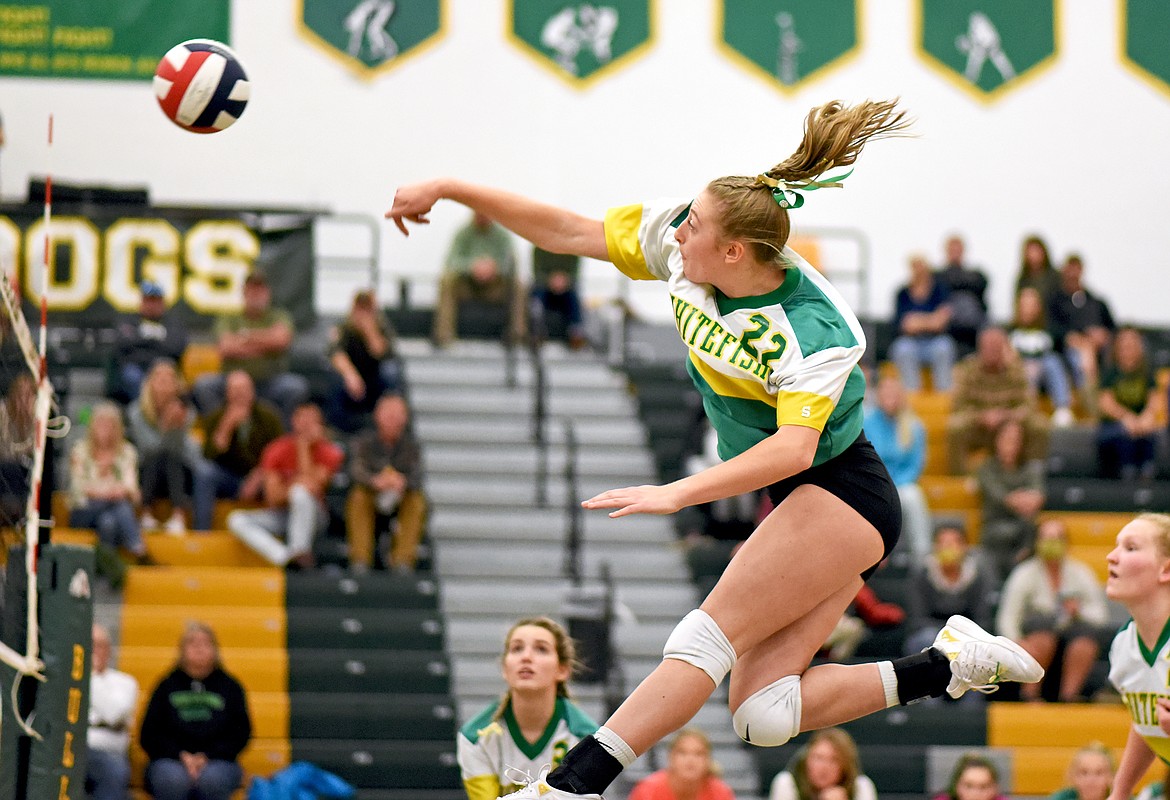 Bulldog Brooke Zetooney spikes the ball for a kill during a match against Browning on Tuesday, Sept. 28 in Whitefish. (Whitney England/Whitefish Pilot)
Previous
Next
by
WHITNEY ENGLAND
Whitefish Pilot
|
October 6, 2021 1:00 AM
The Whitefish Lady Bulldogs recorded their first win of the season on Tuesday, Sept. 28 when they beat Browning in straight sets for the homecoming game.
Later in the week the volleyball team hosted Columbia Falls and gave an all-out effort, coming up short in five sets against the cross-town rival.
Whitefish senior Jadi Walburn was a force at the net in both games, recording a team-high 12 kills against Columbia Falls and having five kills against Browning.
In the Browning game, Whitefish came out fired up and ready to compete. They jumped on Browning quickly, winning the first set 25-11. In the second and third sets Booke Zetooney and Walburn were forceful at the net and put away several kills for Whitefish.
Whitefish defeated Browning 25-11, 25-16, 25-19.
"Whitefish got their first win of the season on our Homecoming night," head coach Addy Connelly said. "Brooke Zetooney played well and brought us seven kills; Emma Trieweiler also played very well serving and front row."
She added that Walburn led the team in blocks while Ashleigh Markowitz has done a superb job in her new role as a libero.
Whitefish had 24 kills in the game with Zetooney leading the strike with seven and Walburn added five kills. Bulldog sophomore Ainsley Scott continued to lead her team in assists with eight.
On Thursday Whitefish took on Columbia Falls and gave them a fight.
The Wildkats won the first two sets, but Whitefish came roaring back in the third and fourth. In the fourth set the Bulldogs convincingly won 25-11, but in the fifth Whitefish came up short.
Whitefish dropped the match to Columbia Falls 25-19, 25-23, 22-25, 11-25, 15-9.
"The most fight Whitefish has had all season, they came ready to play and finally competed from beginning to end," Connelly said. "Game four for Whitefish was solid. We had great ball control, attacked aggressively and served well."
"Our energy levels were high and the cross-town rivalry was spicy," she added.
Walburn put down 12 kills and Zetooney added eight, Scott had 12 assists and Whitefish denied the Wildkats with nine blocks. Whitefish also had nine aces.
Whitefish has a quiet week coming up as the team was set to travel to Libby Tuesday after press time for a match. They'll have the rest of the week off from matches and will play Stillwater Christian on Tuesday, Oct. 12.
Col. Falls def. Whitefish 25-19, 25-23, 22-25, 11-25, 15-9
Kills — Col. Falls 38, Whitefish 26 (Jadi Walburn 12, Brooke Zetooney 8). Assists — Col. Falls 30, Whitefish 17 (Ainsley Scott 12, Kaydence Blackwell 4). Blocks — Col. Falls 3, Whitefish 9 (Zetooney 6). Digs — Col. Falls 22, Whitefish 48 (Emma Trieweiler 10, Walburn 8). Aces — Col. Falls 5, Whitefish 9
Whitefish def. Browning 25-11, 25-16, 25-19
Kills — Whitefish 24 (Brooke Zetooney 7, Jadi Walburn 5). Assists — Whitefish 15 (Ainsley Scott 8, Kaydence Blackwell 6). Blocks — Whitefish 7 (Walburn 3, Zetooney 2). Digs — Whitefish 28 (Scott 7, Walburn 5, Ashleigh Markowitz 5). Aces — Whitefish 12 (Emma Trieweiler 6). *The statistics for Browning were not available.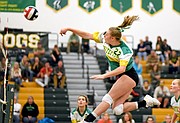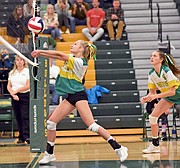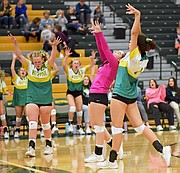 Recent Headlines
---