Whitefish tops rival CFalls in stoppage time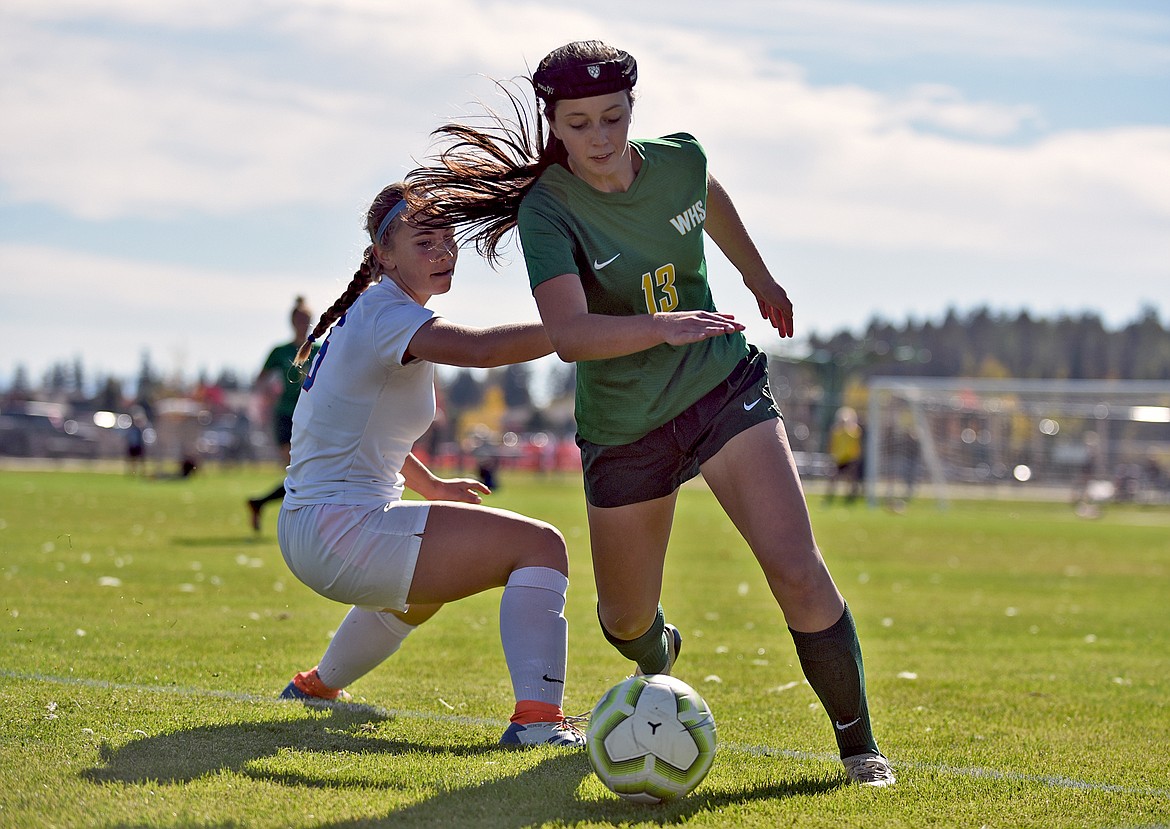 Whitefish defender Maya Lacey dribbles the ball up the sideline during a game against Columbia Falls in Whitefish on Saturday. (Whitney England/Whitefish Pilot)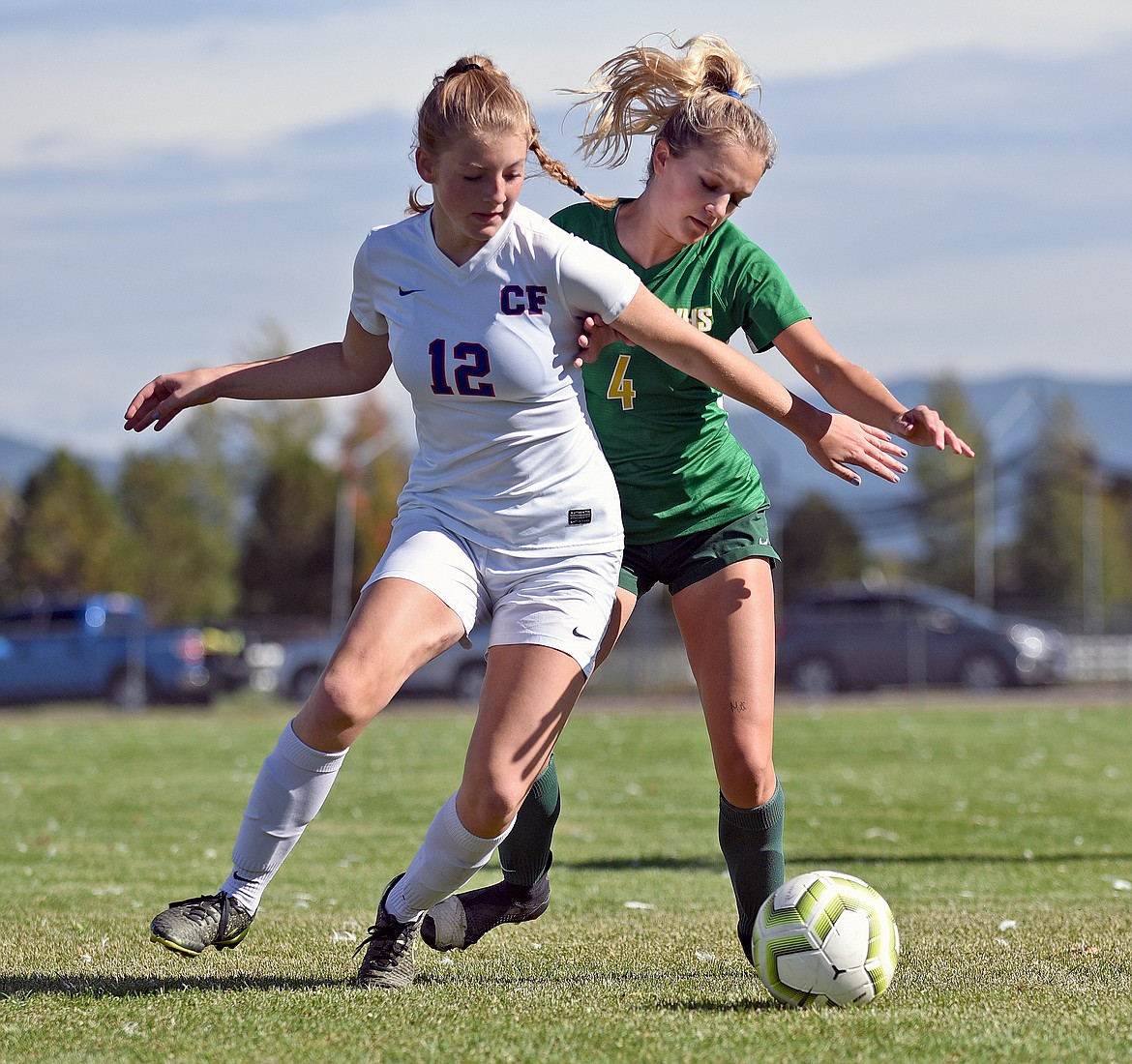 Lady Bulldog Sophie Olson battles with Wildkat Josie Harris during a game in Whitefish on Saturday. (Whitney England/Whitefish Pilot)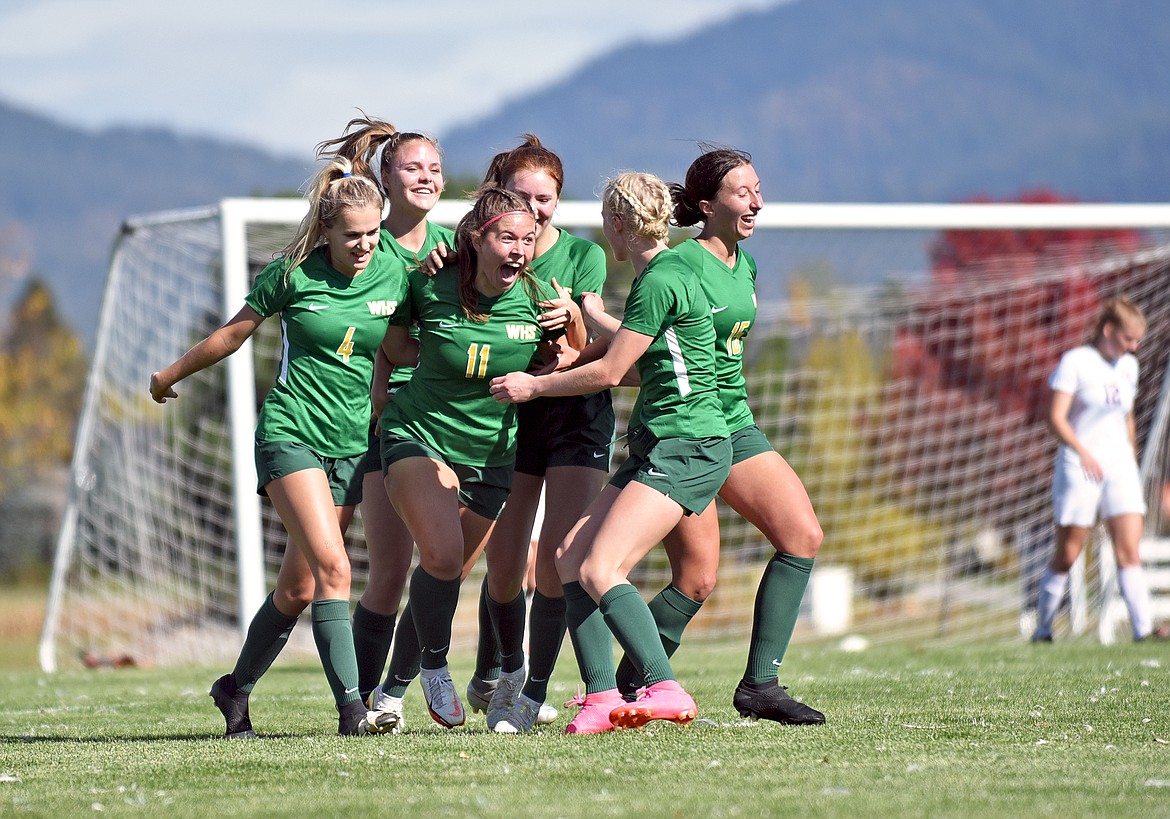 Whitefish senior Emma Barron (11) celebrates scoring a goal direct from a corner kick in the first half against Columbia Falls during a game in Whitefish on Saturday. (Whitney England/Whitefish Pilot)
Previous
Next
by
WHITNEY ENGLAND
Whitefish Pilot
|
October 6, 2021 1:00 AM
With just two minutes remaining in the game the Columbia Falls Wildkats had tied the score at 2-2 after Whitefish was out front throughout the entire second half.
The Bulldogs kept their heads though and in stoppage time senior Emma Barron curled in a perfectly-placed corner kick and fellow senior Lucy Lowry headed the ball across the goal line. The girls jumped up and huddled together celebrating the moment.
The Bulldogs hung on for another minute and the whistle blew announcing Whitefish's 3-2 victory over Columbia Falls. The win keeps Whitefish's record clean at 10-0 overall, and 6-0 in conference play.
"It's a testament for this team from last season to this year, the growth of being tied 2-2 and being able to respond — get forward quickly, try and create some chances which we did and eventually scored a great goal," Whitefish head coach Roland Benedict said.
Whitefish wasted little time at the start getting into Columbia Falls' territory as Bulldog Brooke Roberts scored just three minutes into the match. The Bulldogs went up early, but according to Benedict that goal made Whitefish comfortable in the game instead of hungry.
"After we scored early, we made it hard on ourselves as we got a little greedy in our buildup and tried to field yards by taking the longest route," Benedict said. "That's how they were set up to capitalize on us and once they were able to gain a little footing in the game it was tough for the girls."
Columbia Falls senior Maddie Robison tied up the score 1-1 on a breakaway and textbook bar down shot in the 35th minute. Whitefish had an answer though as Barron's direct kick from a corner sailed over both teams and into the goal untouched just before halftime.
The second half was full of even-matched play from both teams and Benedict liked the adjustments his team made in the final 40 minutes.
"At halftime we reevaluated what was going on and kudos to the girls, they kept playing and played the right way — we definitely took control of the second half," the coach added.
Just two weeks ago Whitefish won the teams' first match-up of the season 4-0, and Columbia Falls brought a different game plan into this one.
Whitefish keeper Norah Schmidt had quite the game herself with nine saves to keep the Bulldogs leading throughout most of the game; Columbia Falls keeper Zoey Byrd had five saves.
Whitefish also faced Libby at the Whitefish High School Memorial Field for its homecoming game on Thursday. The girls had zero issues taking care of business under the lights as they defeated the Loggers 10-0.
"When we're on our form and we're moving the ball the right way we can really tear teams apart," Benedict said. "Libby's a young program… but they're doing really good stuff up there."
Olivia Genovese had a hat trick in the game and Barron added two goals, as did Roberts. Sofie Saurey, Sadie Olson and Delaney Smith each had one goal as well.
Barron is among the top statistics leaders in Class A soccer, she's scored 16 goals and had six assists throughout the season.
With the two wins last week, Whitefish clinched the top spot in the Northwest A and guaranteed a spot in the playoffs.
In the final week of the regular season, Whitefish was set to play Polson on Tuesday after press time and then will host Bigfork for Senior Night on Thursday at 3 p.m. at Smith Fields.
Col. Falls 1 1 — 2
Whitefish 1 2 — 3
WF — Brooke Roberts (Adrienne Healy) 3:00
CF — Maddie Robison 35:00
WF — Emma Barron 40:00
CF — Cheyanne Johnston-Heinz 78:00
WF — Lucy Lowry (Barron) 81:00
Shots — CF 13, WF 18. Goalie saves — CF 5 (Zoey Byrd), WF 9 (Norah Schmidt). Fouls — CF 7, WF 18. Cards — CF 1, WF 1.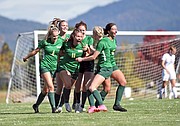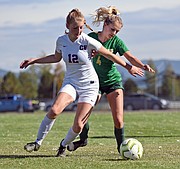 Recent Headlines
---