Smith, Whitefish boys golf finish second at state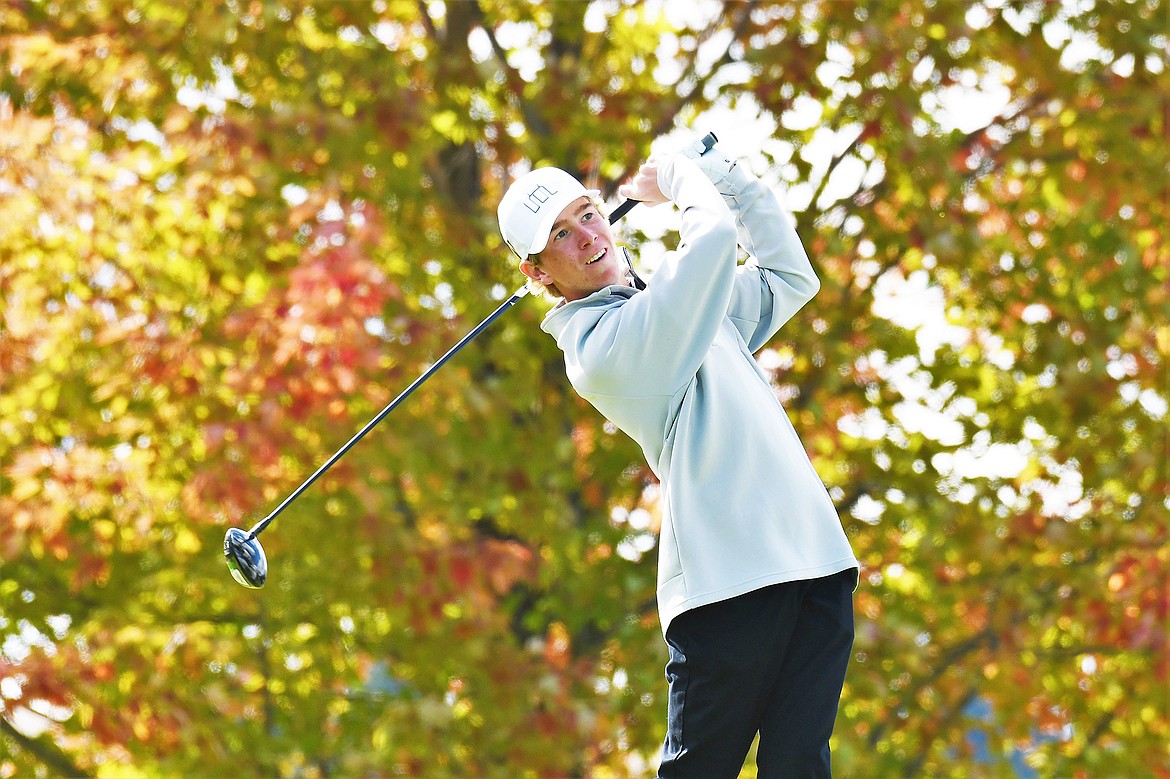 Whitefish's Billy Smith plays at the State A golf tournament in Polson. (Jeff Doorn photo)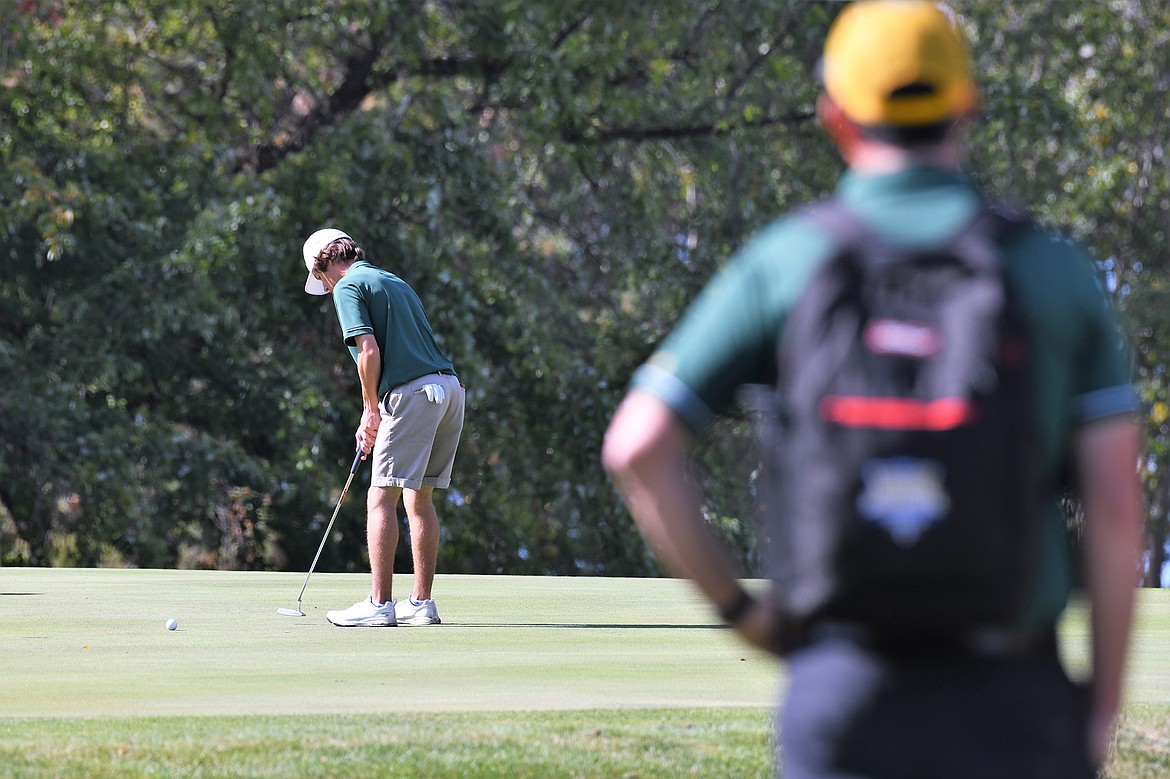 Bulldog Head Coach Tait Rocksund looks on as Marcus Kilman putts at the State A golf tournament in Polson. (Jeff Doorn photo)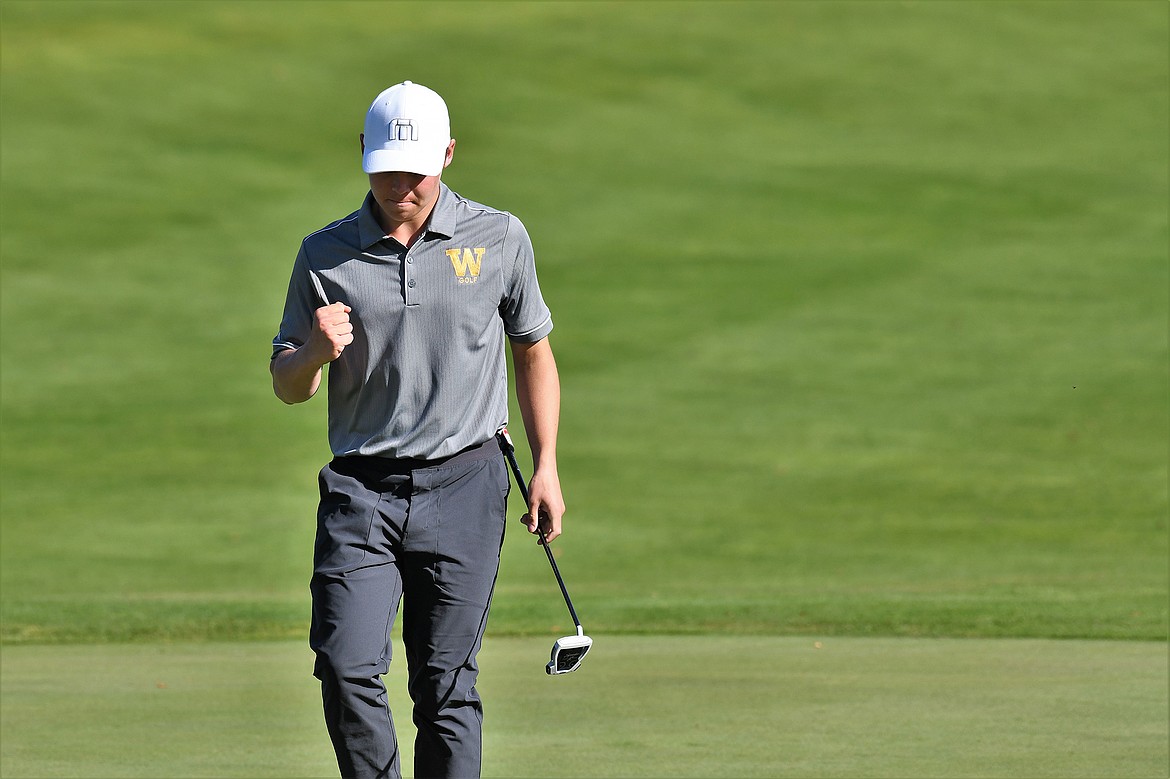 Bulldog Johnny Nix with the fist pump after making a birdie on hole No. 9 on the first day of the State A golf tournament in Polson. (Jeff Doorn photo)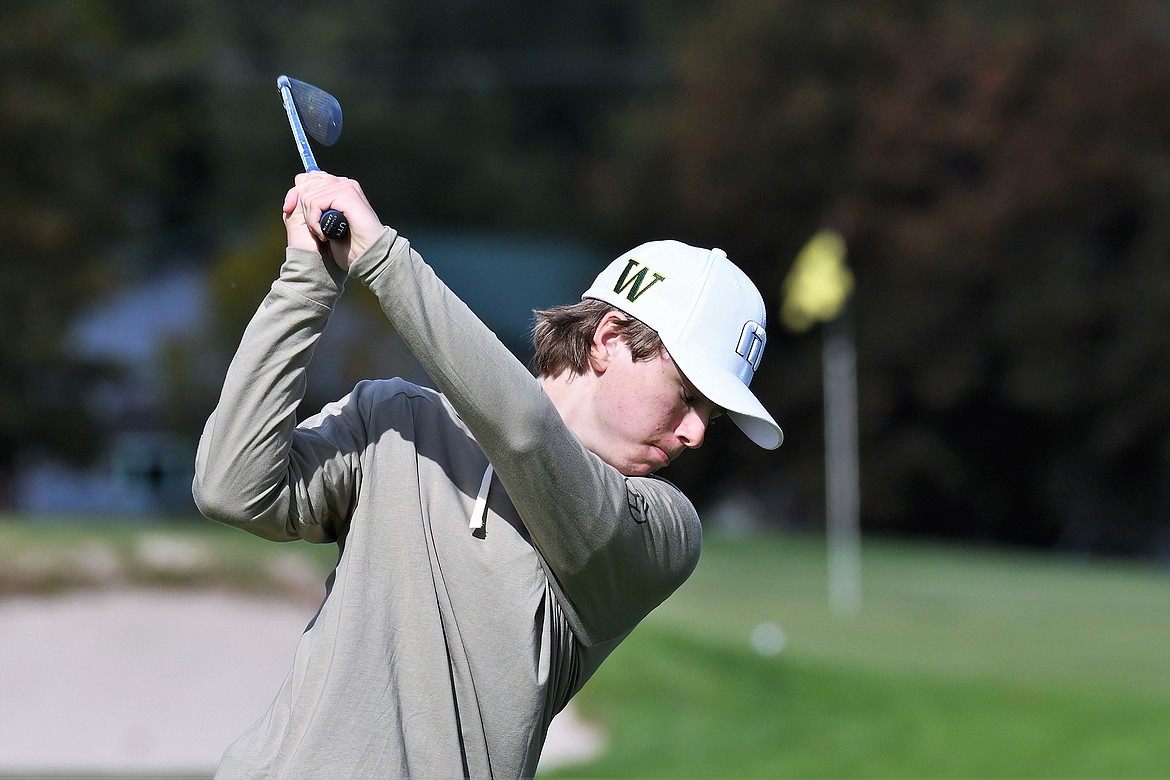 Whitefish's Bjorn Olson takes a shot at the State A golf tournament in Polson. (Jeff Doorn photo)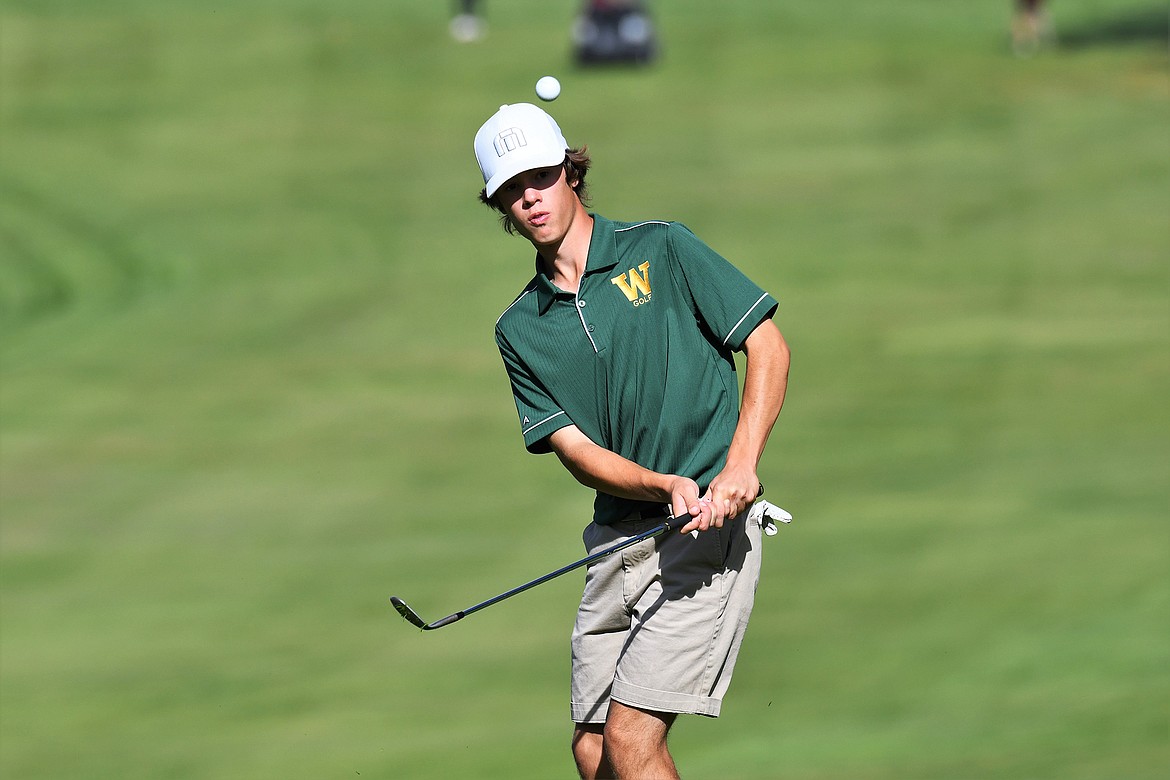 Bulldog Marcus Kilman watches his ball after taking a shot at the State A golf tournament in Polson. (Jeff Doorn photo)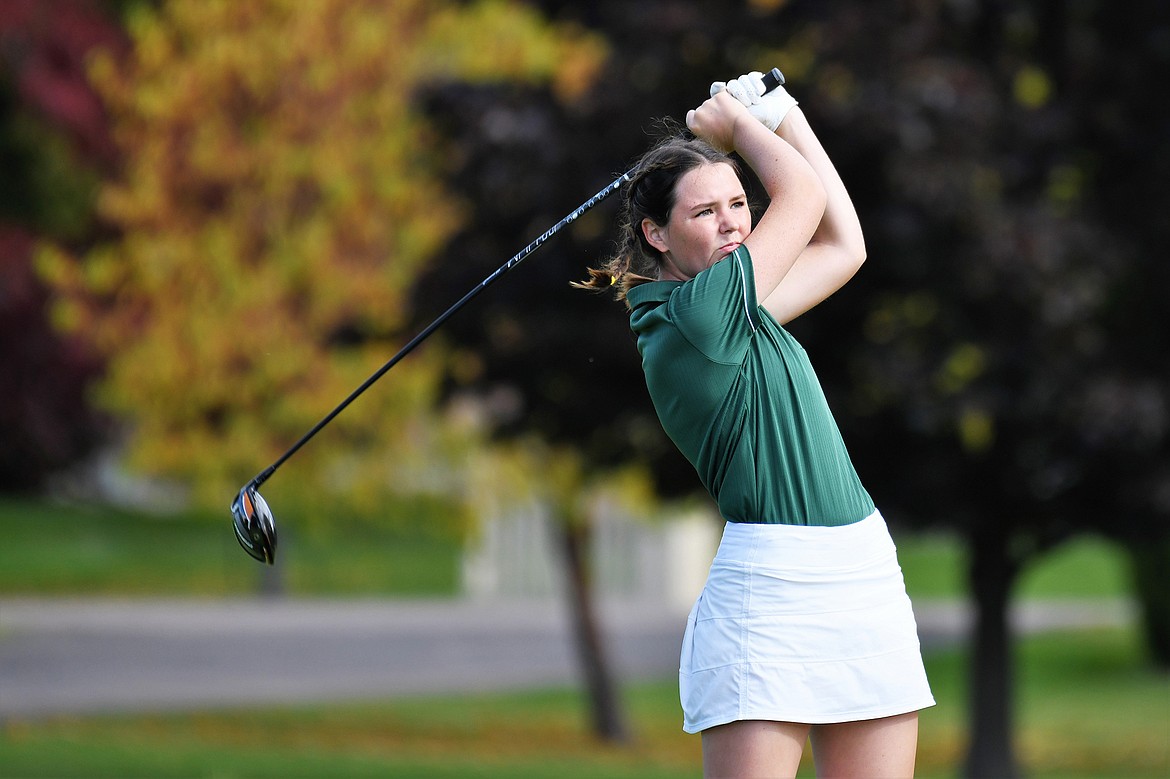 Bulldog Macy Whisenand takes a shot at the State A golf tournament in Polson. (Jeff Doorn photo)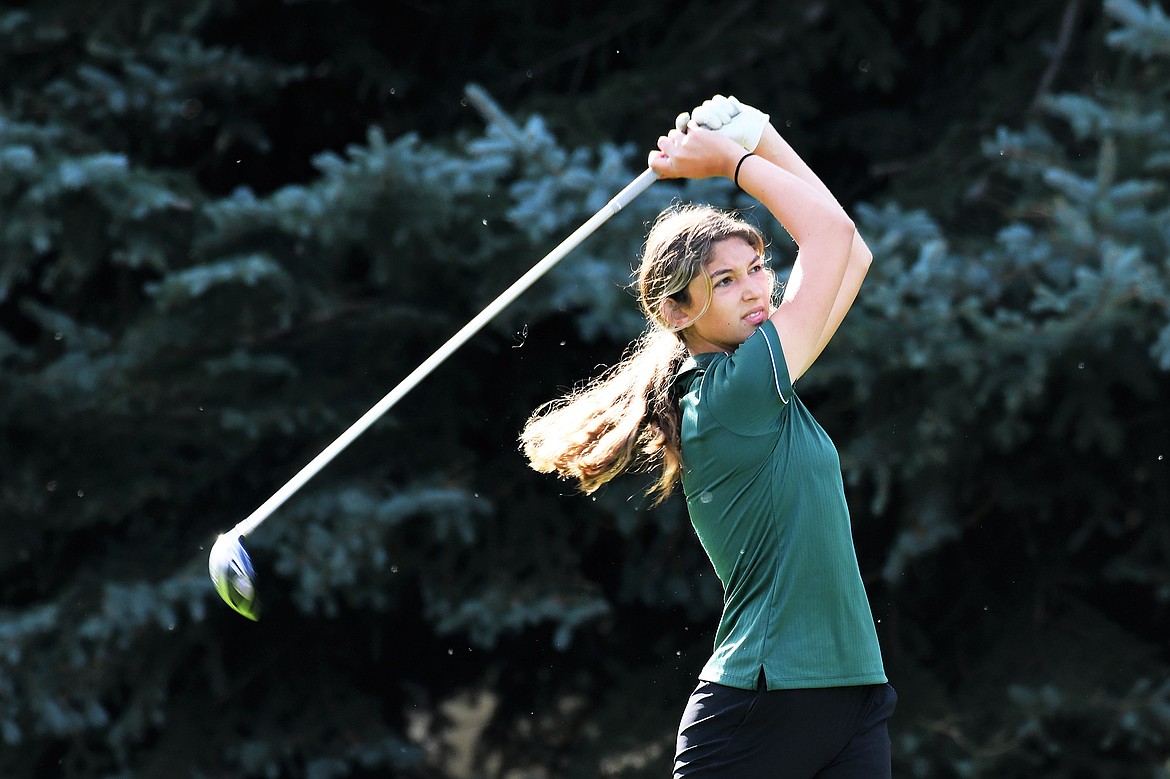 Bulldog Anyah Cripe follows her ball at the State A golf tournament in Polson. (Jeff Doorn photo)
Bulldog Riley Brown tees off at the State A golf tournament in Polson. (Jeff Doorn photo)
Previous
Next
by
WHITNEY ENGLAND
Whitefish Pilot
|
October 6, 2021 1:00 AM
Though the Bulldog boys had a four-stroke lead after day one, Laurel came out firing on the second day to overcome Whitefish at the State A golf tournament last week.
Laurel recorded a two-day score of 597 to top Whitefish which finished with 606. Whitefish junior Billy Smith shot a 72 on day one and was trailing Laurel's Cameron Hackmann by just one shot, however Hackmann had quite the day on the green on day two — he shot a low score of 67 while Smith had a 73. Smith took second at the state tournament for the second-straight year.
"A great finish for our boys team and Billy has been a leader for our team all year," Whitefish golf coach Tait Rocksund said. "Billy's ball striking was fantastic, but he couldn't keep up with Cameron Hackmann's putter which was red hot on day two."
Hackmann's two-day total of 138 was seven strokes ahead of Smiths, who ended up at 145. Smith was right there with Hackmann up until hole 17 when he shot a double-bogey. Hackmann's shots were right on all day, rolling in several birdie putts throughout the day.
Whitefish's No. 2 golfer Johnny Nix took ninth place shooting a 73 on day one and following that up with a 79 for the second day; Bulldog senior Marcus Kilman rounded out Whitefish's all-state golfers tying for tenth with Polson's Christian Lund and Conor Walsh of Billings Central with a two-day total score of 155. As a team the Bulldogs were nine strokes over Laurel to take second in the tournament.
"It's obviously a bit disappointing, but we hadn't seen Laurel all year and they are a great golf team," Rocksund said. "I couldn't be more proud of the boy's team and their relentless pursuit of improvement and their competitive spirit throughout this season."
There was also a rule controversy that was assessed and then withdrawn on Bulldogs' Nix. On hole No. 9 he took a practice swing and hit a branch, the penalty was apparently for clearing a swing path. Rocksund said although it did affect the Bulldog's play for the next few holes, ultimately the controversy did not determine the outcome of the tournament.
"I think that definitely impacted a few holes for a few of the Whitefish golfers, but that wasn't what decided the final outcome," he said. "Laurel beat us by playing better golf. Golf is a tough sport — some days it seems like the golf hole is as big as a bucket, where some days it seems like there's a lid on the cup."
The Whitefish girls finished just one stroke over the top-5 teams at the state tournament. The girls were led again by senior Anyah Cripe who shot an 87 on
day one and finished day two with a 91 to come in 11th.
"Anyah Cripe's 87-91 was a great way for her to end her golf career with WHS," Rocksund said. "She's been one of our most consistent golfers and is definitely the team MVP. It's great to go out on a high note, playing fantastic golf for Anyah."
Fellow Bulldog senior Macy Whisenand shot a two-day total of 186 to tie for 14th place and earn all-state honors along with Cripe. Whitefish freshman Stella Jaffe was not too far behind Whisenand as the Whitefish girls' third best golfer in the tournament.
"Our girl's team played great in the postseason, we put up some low scores at divisionals to help the team qualify for state and once we got there we continued to play well," the coach expressed. "Macy Whisenand is definitely one of the most improved golfers on either the boys or girls teams this year. Her 88 on day 1 was fantastic. Also a senior, it was a great way to conclude her one and only season with the Whitefish golf team."
Next year Whitefish girls will return Jaffe, Tallory Workman and Leia Brennan.
The boys team will have Smith and Nix both back for their senior year, and Riley Brown as a junior among plenty of other talented golfers. Rocksund says when the golf course closes for the winter the team expects to be in the golf simulator at Whitefish Lake Golf Club and will play golf together all summer before the high school season begins. He looks forward to seeing what the team does next year.
"I look forward to getting another shot to win state with Billy and Johnny who will be seniors next year," he says. "Not only are they great golfers, but just great leaders and teammates as well."
State A golf
Saturday
Polson Bay Golf Course
BOYS
Team scores — 1, Laurel 301-296 —597; 2, Whitefish 297-309 —606; 3, Polson 306311 —617; Livingston 316-319 —635; 5, Hamilton 325-330 —655; 6, Billings Central 343-314—657; 7, Lewistown 348-363 —711; 8, Corvallis 363-35 —713.
WHITEFISH — 2. Billy Smith 72-73 —145; 9. Johnny Nix 73-79 —152; 10. (tie) Marcus Kilman 7481 —155; 17. Riley Brown, 83-76 —159; 20. Bjorn Olson 78-84 —152.
GIRLS
Team scores — 1, Laurel 326-327 —653; 2, Hamilton 383-379 —762; 3, Livingston 386-384 —770; 4, Polson 388-396 —784; 5, Corvallis 397-391 —788; Whitefish 390-399 —789; Miles City 402-400 —802; Billings Central 443-441 —884.
WHITEFISH: 11. Anyah Cripe 87-91 —178; 14. (tie) Macy Whisenand 88-98 —186; 36. (tie) Stella Jaffe 106-104 —210; 40. (tie) Tallory Workman 109-106 —215; 48. Leia Brennan 115-115 —230.
Recent Headlines
---