Ronan no match for 6-0 Bulldogs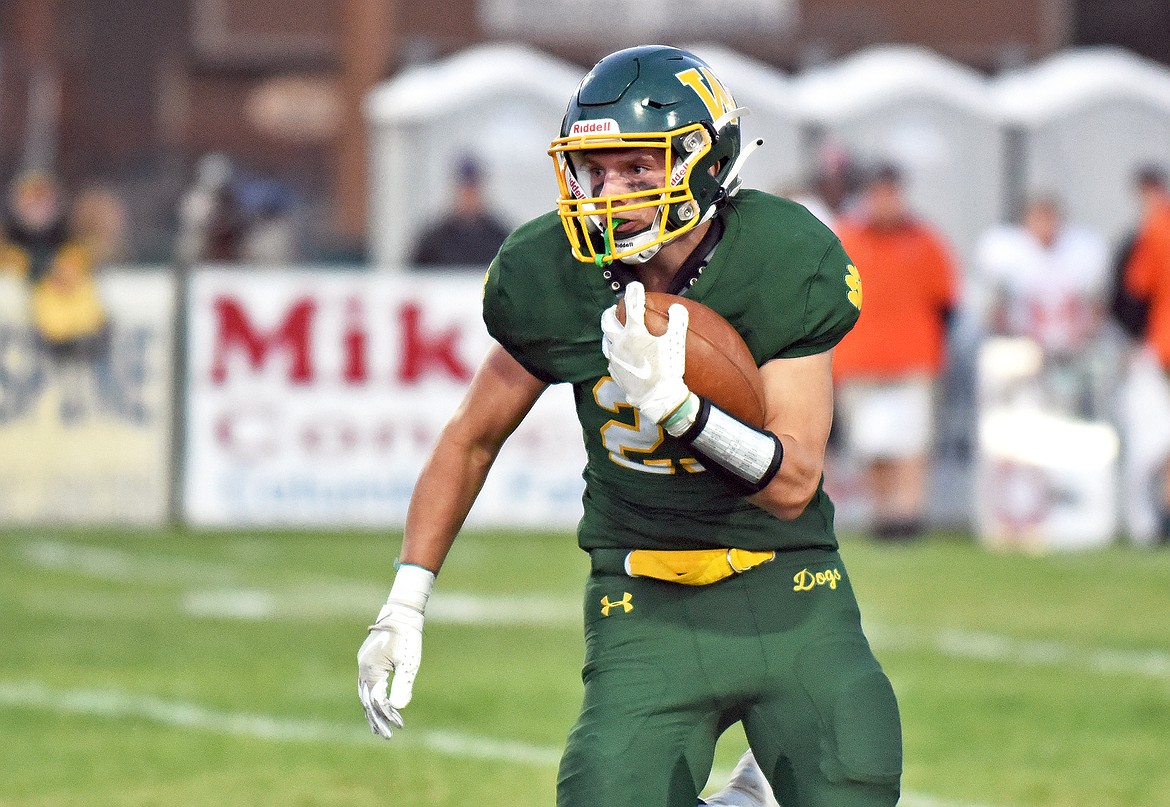 Bulldog junior running back Ty Schwaiger looks for a hole in the defense as he runs a route in the first half against Ronan on Friday during the homecoming game. (Whitney England/Whitefish Pilot)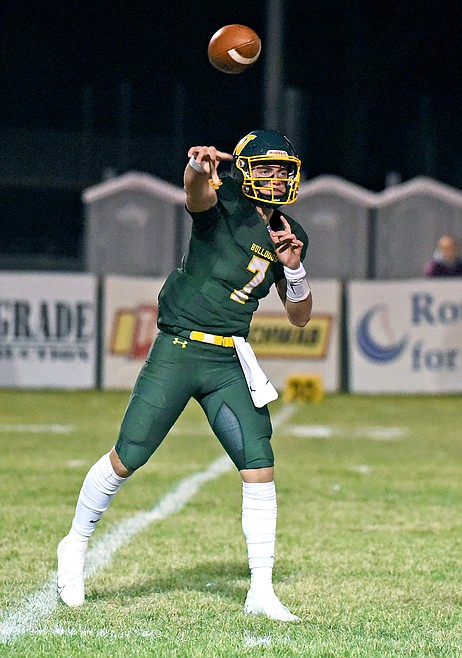 Whitefish quarterback Fynn Ridgeway completes a pass during the homecoming game against Ronan on Friday in Whitefish. (Whitney England/Whitefish Pilot)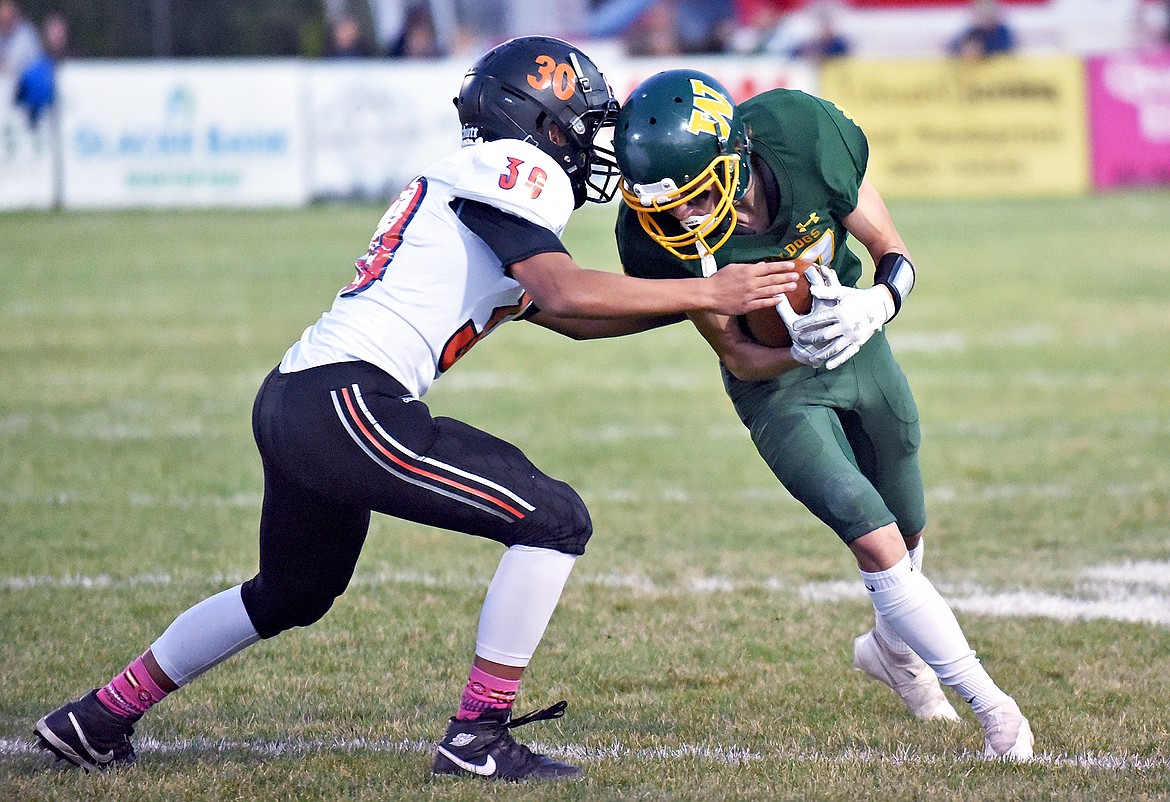 Whitefish sophomore Jesse Burrough tries to push past Chiefs' DaVonne Curley in a game against Ronan on Friday for homecoming. (Whitney England/Whitefish Pilot)
Previous
Next
by
WHITNEY ENGLAND
Whitefish Pilot
|
October 6, 2021 1:00 AM
It didn't take long for Whitefish to put numbers up on the scoreboard and the Bulldogs hardly let off the gas throughout the entire game on Friday night at Whitefish High School.
Whitefish had several players contribute to seven touchdowns on the way to a 48-12 win over Ronan in its homecoming game in front of a packed house. The win improves Whitefish to 6-0 on the season and most likely guarantees a spot in the playoffs.
"The homecoming atmosphere was incredible," Whitefish football coach Chad Ross said. "It doesn't seem like we've had that many people at a game in a long time. That was a lot of fun and brought a lot of excitement for the players too."
In the first quarter the Bulldogs came out ready to go and stacked up a 28-0 lead heading into the second. Bulldog starting quarterback Fynn Ridgeway rushed in for a touchdown, Ty Schwaiger added two and Cody Berry also scored in the opening quarter.
"It's neat to be able to see us finish, it seems like a lot of the games we've come out strong in the first couple drives and then we mess up, we get sacked, we drop the ball…" Whitefish football coach Chad Ross said. "This is the first game in a while that we've actually, through the first quarter, put together great drives. And defensively we had three 3-and-out stops."
Ridgeway was 6-for-6 passing for 138 yards including a 62-yard touchdown pass to receiver Bodie Smith in the third quarter. He also ran in a touchdown and had a pick-6 where he returned the interception 33 yards to the end zone.
Another Whitefish quarterback, Mason Kelch, got some time in the pocket as well and completed four passes for 22 yards. He found Ryder Barinowski in the second quarter for a touchdown. Just before the half Chiefs quarterback Colter Cornwall connected with a receiver on a touchdown pass.
The Bulldogs kept the pressure on in the second half and only allowed one late score by Ronan in the final quarter.
"Were finally able to continue the momentum that we start with in the game," Ross said. "That shows how much growth the team has shown together as a unit. They're finally all coming together to see great things happen."
The Bulldog running game was another highlight in the win over Ronan as the offensive line created the protection needed for the running backs to make their routes. Bulldog Decker Wold had three carries for 66 yards, Cody Berry had one 30-yard rush for a touchdown and Ty Schwaiger punched through to the end zone twice on five carries for 21 yards.
Logan Conklin and Jack Akey both recorded an interception each; Akey has picked off five all season and is among the top in the league.
"The defense has done a great job, I don't think we've given up 100 yards of rushing in a game…" Ross said. "We had three picks, Jack Akey has five on the season and I think he's one of the leaders in the West. They continue to get the job done too."
Ross is also impressed with each player's willingness to do whatever is necessary for the team to be successful. Whether that's blocking well, cheering on their teammates or filling in wherever they're needed.
"Jaxsen Schlaugh didn't catch a pass, but that was some of the best blocking he's had all year," Ross recalled. "It's neat to see that even when people aren't getting the ball they're still doing what they need to do."
Whitefish is now looking forward playing Libby on Friday. The Loggers are 3-3 this year, but Whitefish won't be taking them lightly.
"Libby's had our number; we haven't won in Libby since 2014 I believe…" Ross said. "The (players) know if they win one more game they can get home field advantage at least for the first game of the playoffs."
"It's a big game, we have that attitude that the playoffs are starting now, every game counts," he added.
Whitefish will play the Loggers in Libby on Friday starting at 7 p.m.
Ronan 0 6 0 6 - 12
Whitefish 28 6 14 0 - 48
W — Fynn Ridgeway 1 run (Ryder Barinowski kick)
W — Ty Schwaiger 8 run (Barinowski kick)
W — Schwaiger 7 run (Barinowski kick)
W — Cody Berry 30 run (Barinowski kick)
W — Ryder Barinowski 10 pass from Mason Kelch (kick failed)
R — Tristan Fisher 2 pass from Colter Cornwall (PAT failed)
W — Bodie Smith 62 pass from Ridgeway (Barinowski kick)
W — Ridgeway 33 interception return (Barinowski kick)
R — Tristan Fisher 4 run (pass failed)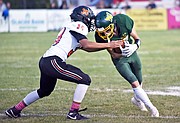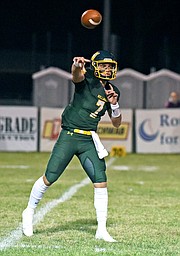 ---