Jeff Gregg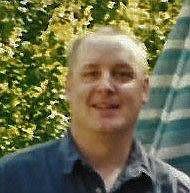 |
October 6, 2021 1:00 AM
It is with great sadness that we announce the passing of our brother Jeff Gregg. Jeff passed away on Sept. 17, 2021 from complications of COVID.

Jeff was born on July 18, 1959 to James and Gloria (Hoffman) Gregg. He was the third of five children. He was born and raised in Whitefish, attending kindergarten through high school in this community.
He was an avid fan of the Whitefish Bulldogs, Glacier Twins, Green Bay Packers, Cincinnati Reds, and Gonzaga. He loved classic westerns, horror films, classic cars (cherry red 1964 Mustang), Roy Rogers and Trigger. He loved antique toys, especially those from when he was a child. He enjoyed documentaries on the Civil War, WWI and WWII. He had an amazing ability for recalling dates, and facts. He was a believer in Big Foot, UFO's, and ghosts. He loved the Beatles, The Beach Boys, The Monkey's, and The Herman's Hermits. Jeff often joked that he was actually the fifth Beatle. He was a Beatles band historian.
He loved Halloween, Thanksgiving, Christmas and the Fourth of July. He loved a good joke, a good prank and a good story, especially if it was about ghosts. He loved BBQ ribs, chicken and our mom's homemade baked beans. He loved the Kalispell fair and rodeo.
During his youth he loved fishing, camping and huckleberry picking with his family. He loved Glacier Park, Big Creek, Tuchuck and the Canyon Creek area.
He especially loved his cousins the Gees and the Greggs, and often reminisced of family gatherings for the Fourth of July, Christmas, and Thanksgiving.
Jeff was a true and loyal friend to anyone who gave him a chance. His brother-in-law Trent described Jeff as authentic. He was never anything but himself.
Jeff's biggest dream was to win the lottery and buy a horse and cattle ranch. He always said if he won the lottery he would take care of all of his family. He had a great and generous heart. Humanity glows a little less bright with his passing.
We would like to extend a special thank you to his friend Roger Sayer and the Sayer family. Roger was his friend from high school to the day he passed away. Roger and his family often had Jeff over for dinner, went on trips to the Park or the Buffalo Jump in Missoula, and ghost towns. They included him in so many of their family activities, treating him like family.
We would also like to extend a heartfelt thank you to Eric and Amy May with the Whitefish Bulldog Saloon. They gave Jeff a job when he was in great need and kept him employed for over 12 years, even during COVID. Eric and Amy looked out for Jeff in so many ways. Eric and Amy had the following to say about Jeff: "Jeff was a long time employee of the Bulldog Saloon – part of the early morning cleaning crew who worked without complaint and was always willing to fill in when his coworkers needed him. Jeff was a true Whitefish sports fan; he worked alongside high school students and his genuine enthusiasm for their accomplishments on and off the field endeared him to everyone."

We love you brother! Till we meet again, may you have Strawberry Fields Forever. Now go ride.
Recent Headlines
---