Bulldog runners complete fastest race at home invite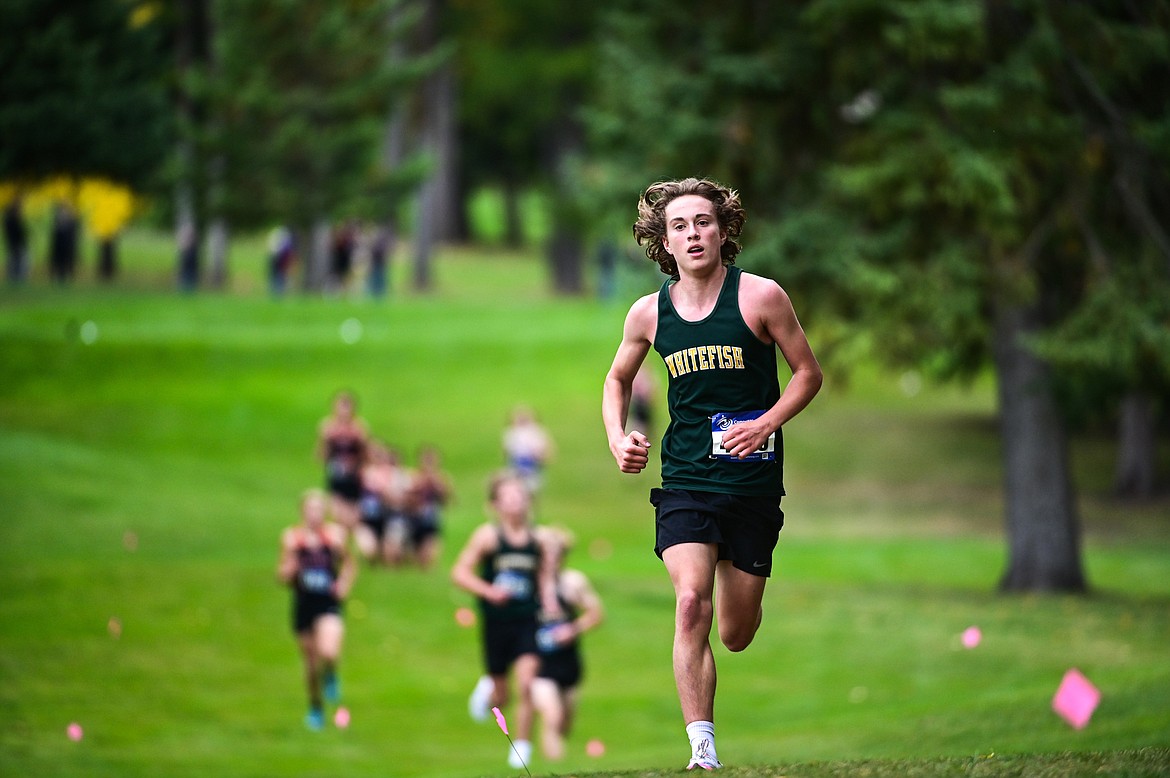 Whitefish's Deneb Linton took second place at the Whitefish Invite on the South Course of Whitefish Lake Golf Club on Tuesday, Sept. 28. (Casey Kreider/Daily Inter Lake)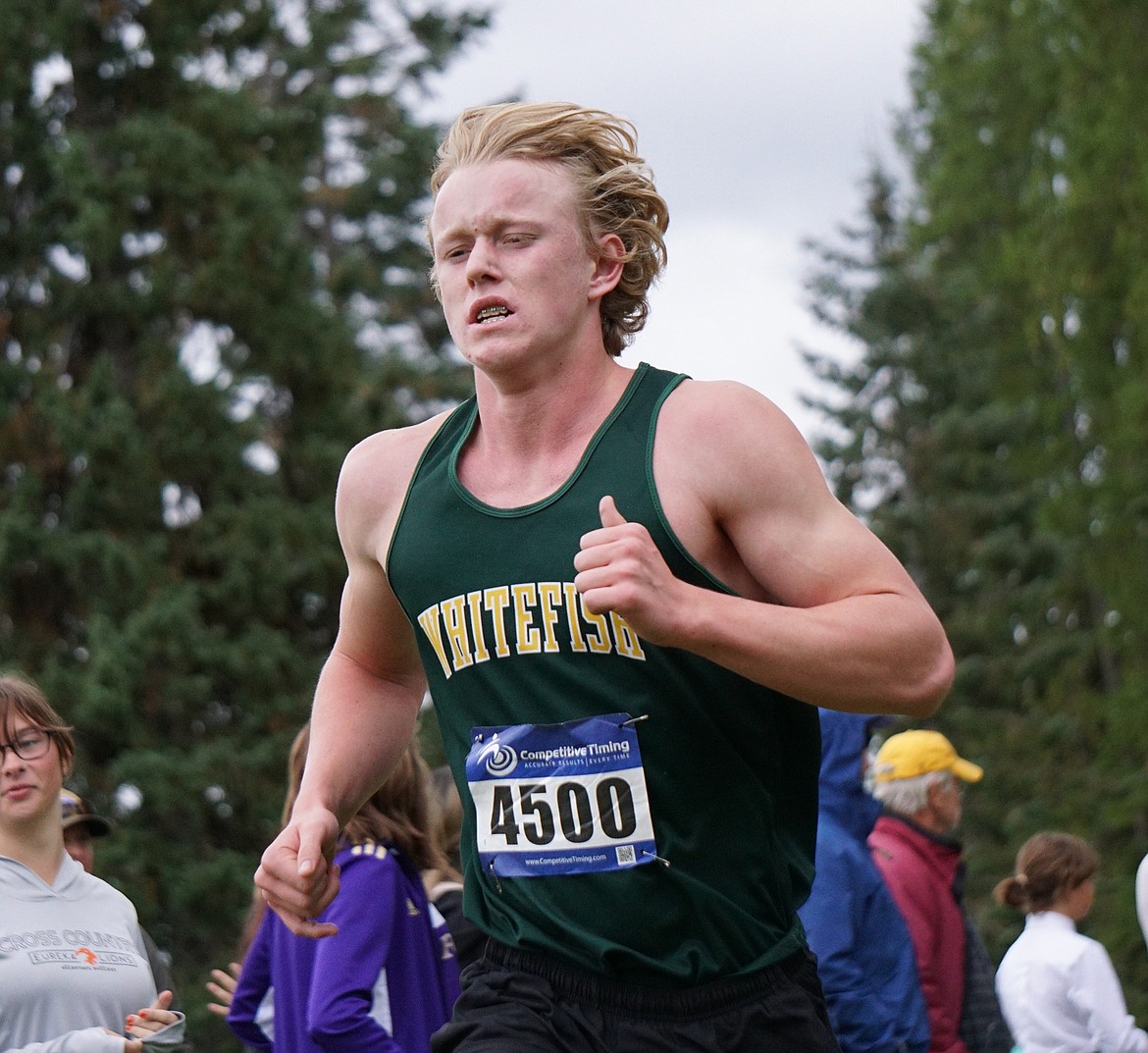 Bulldog senior Cole Cameron finishes at just under 20 minutes (19:56) at the Whitefish cross country invitational. (Matt Weller photo)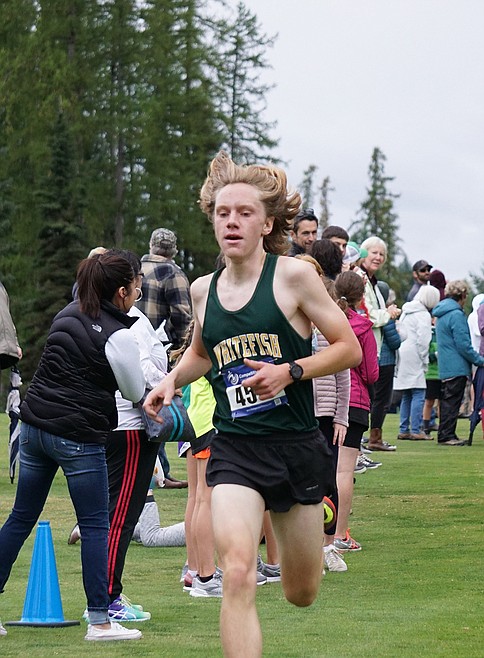 Whitefish senior Jacob Henson finishes fifth overall in the men's 5,000 meter varsity race with a time of 17:11 at the Whitefish cross country invitational. (Matt Weller photo)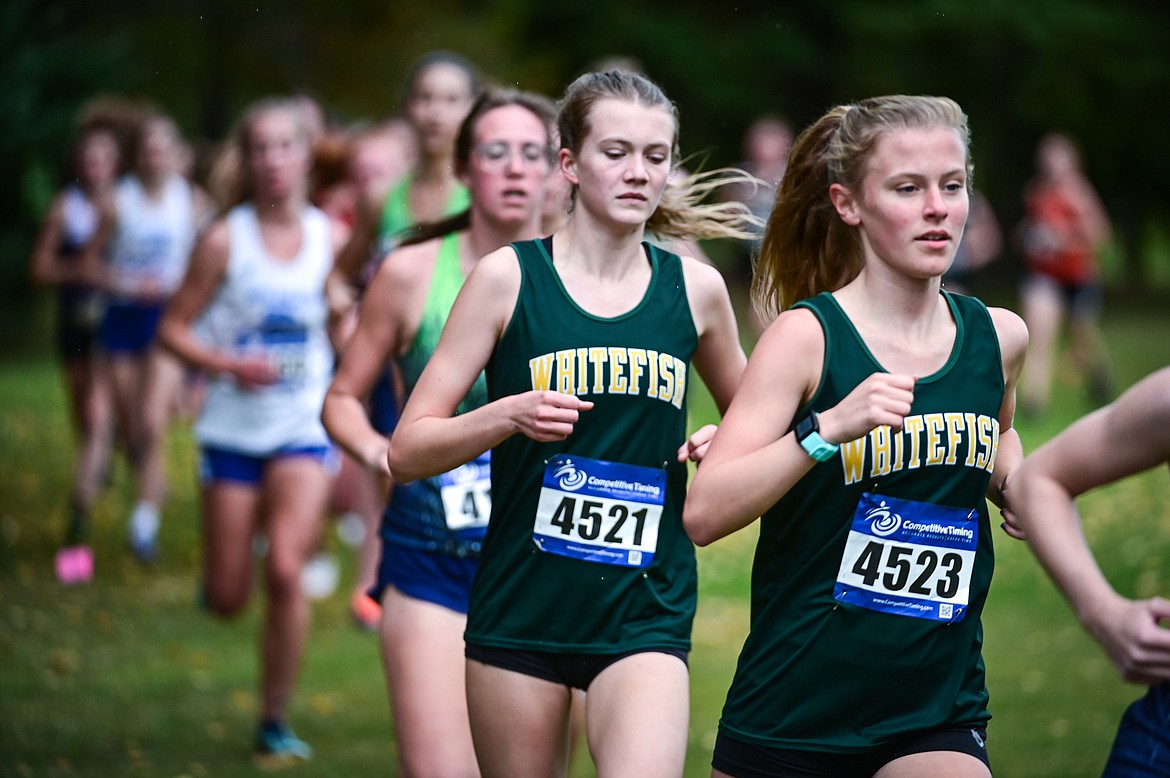 Whitefish's Morgan Grube (4523) and Paetra Cooke (4521) compete at the Whitefish Invite on the South Course of Whitefish Lake Golf Club on Tuesday, Sept. 28. Glacier's Ells took home the win. (Casey Kreider/Daily Inter Lake)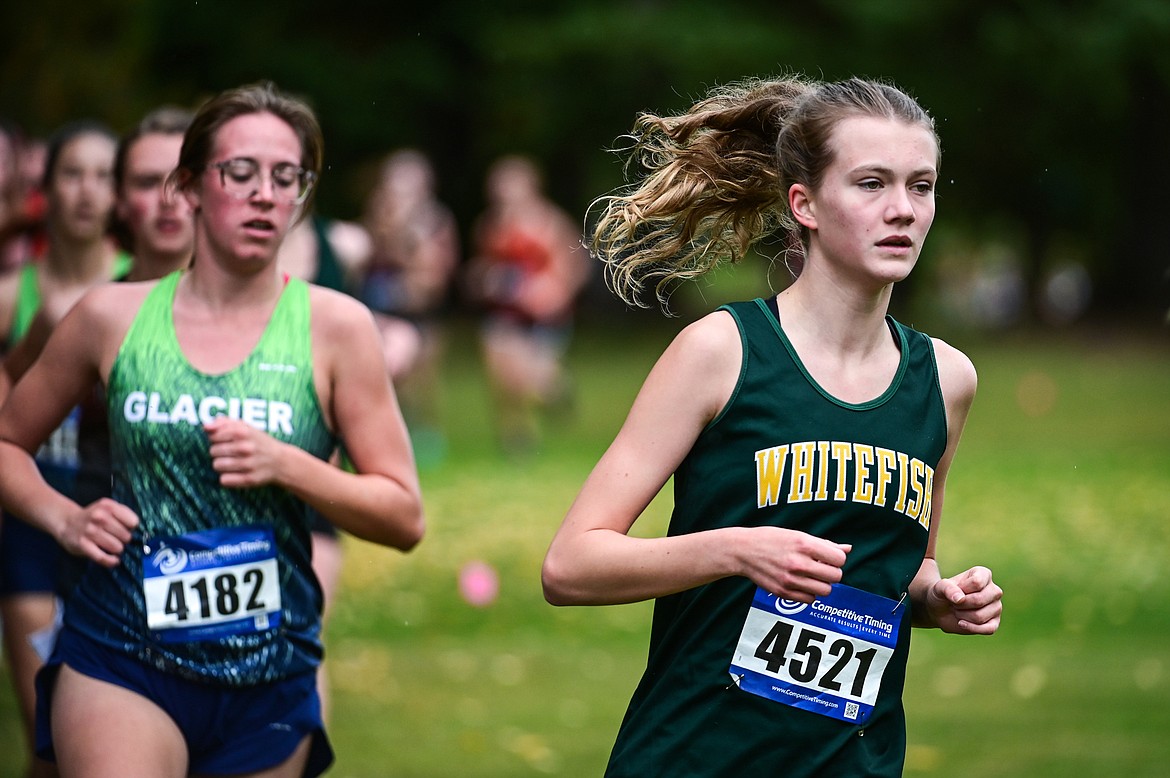 Whitefish's Paetra Cooke placed eighth at the Whitefish Invite on the South Course of Whitefish Lake Golf Club on Tuesday, Sept. 28. Glacier's Ells took home the win. (Casey Kreider/Daily Inter Lake)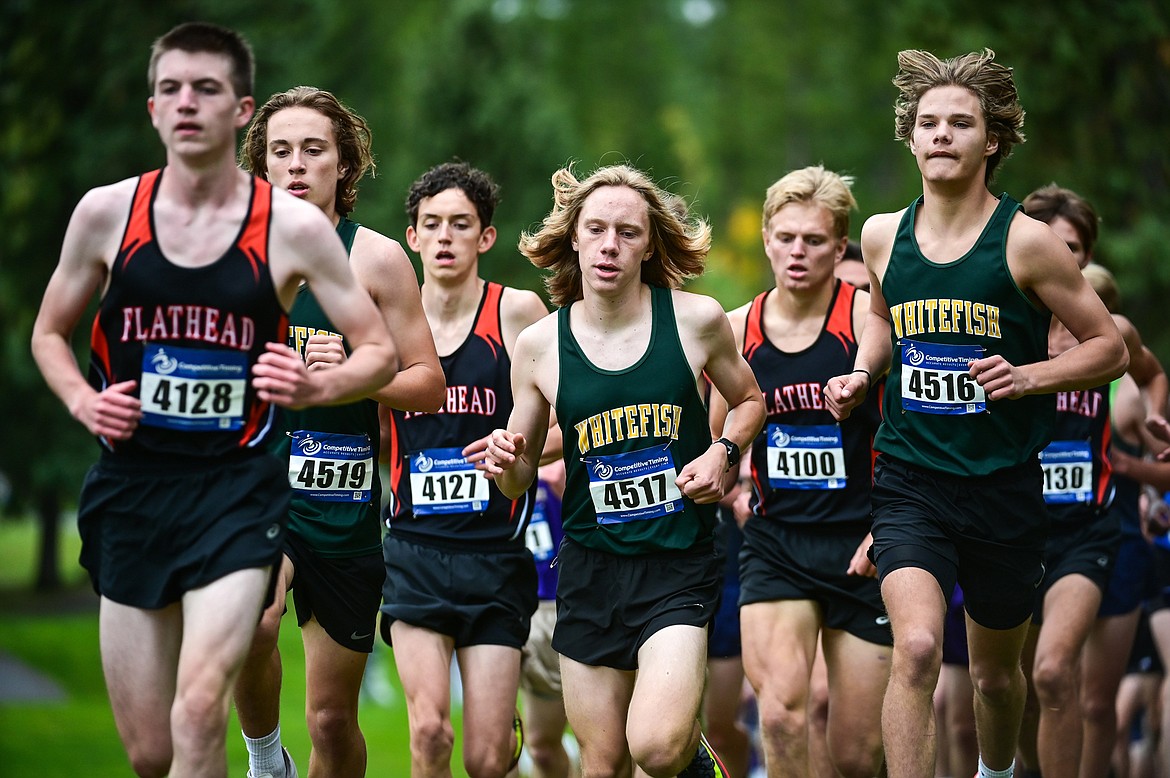 Whitefish boys Deneb Linton (4519), Jacob Henson (4517) and Mason Genevese placed second, fifth and fourth at the Whitefish Invite on the South Course of Whitefish Lake Golf Club on Tuesday, Sept. 28. (Casey Kreider/Daily Inter Lake)
Previous
Next
by
WHITNEY ENGLAND
Whitefish Pilot
|
October 6, 2021 1:00 AM
In both the boys and girls divisions, Whitefish cross country runners recorded some of their fastest times of the season at the Whitefish Invitational Tuesday, Sept 28 at Whitefish Lake Golf Course.
Bulldog sophomore Deneb Linton was beat out by less than half a second by Glacier High's Sam Ells. Ells took first place, but Linton's second-place finish of 16:33.40 was a personal best. Whitefish boys had a 2-4-5 finish with Bulldog Mason Genovese taking fourth at 17:04.92 and senior Jacob Henson coming in fifth with a PR of 17:11.38.
"The fastest team race of the season for both boys and girls; a sweet home race victory for boys varsity and JV teams," head coach Richard Menicke said. "Deneb's race was fun to watch… he just barely got beat out by a young man who I feel will contend for the AA title."
Whitefish boys took the team title with 50 points as Barrett Garcia ran a personal best of 18:00.70 to finish as the fourth fastest Whitefish runner. Flathead came in second and Glacier third in the team standings.
"Solid PR's from the rest of the boys varsity; Landon Brown made a big leap, dropping his time 30 seconds as our No.5," Menicke added. "So the boys are honing in on some good stuff, we'll keep training hard and try to get everyone a little faster, that's the dream."
The Whitefish girls were led by Paetra Cooke, who had her best time of 21:08.7 and finished eighth. Morgan Grube finished 14th for the Lady Bulldogs with a time of 21:49.97 and Rachel Wilmot took the 18th spot while Hazel Gawe slid in the top-20 runners with a time of 22:19.18.
"The girls were led by senior Paetra Cooke, who had a super strong outing," Menicke said. "Hazel Gawe and Rachel Wilmot continue to crush it, running their lifetime best times in the No.3-4 roles. The girls are getting faster each week and we'll celebrate all the PRs that come their way."
As a team the Whitefish girls finished third with 89 points while Flathead took first with 39 and Columbia Falls came in second with 56; Glacier scored 103 which put them in fourth overall.
The Bulldog cross country varsity team is heading to Helena for the Capital City 7 v. 7 on Thursday and the junior varsity team competes in Libby at the Wilderness Run on Saturday.
The cross country team is just over two weeks away from the state meet.
Whitefish Invitational
Tuesday
Whitefish Lake Golf Course
BOYS
Team scores — Whitefish 50, Flathead 56, Glacier 85, Columbia Falls 106, Eureka 106, Polson 141, Cut Bank 187, Browning 189, Ronan 227.
Team 20 Individuals 1, Sam Ells, Glacier, 16:33.02; 2, Deneb Linton, Whitefish, 16:33.35; 3, Gabriel Felton, Flathead, 16:50.02; 4, Mason Genovese, Whitefish, 17:04.92; 5, Jacob Henson, Whitefish, 17:11.38; 6, Bauer Hollman, Flathead, 17:25.54; 7, Logan Peterson, Columbia Falls, 17:33.97; 8, Eric Firestone, Glacier, 17:36.88; 9, Gavin Bates, Eureka, 17:40.02; 10, Isaac Reynolds, Eureka, 17:40.83; 11, Drifter Skillicorn, Polson, 17:53.13; 12, Ryan Dupuis, Polson, 17:54.88; 13, Jeff Lillard, Glacier, 17:55.56; 14, Samuel Aczas, Flathead, 17:57.59; 15, Caden Masa, Flathead, 17:58.54; 16, Preston Iron Heart, Browning, 17:59.53; 17, Barrett Garcia, Whitefish, 18:00.68; 18, Peter Wilson, Flathead, 18:04.37; 19, Reilly Johnson, Flathead, 18:06.56; 20, Jacob Buckingham, Eureka, 18:10.76.
GIRLS
Team scores — Flathead 39, Columbia Falls 56, Whitefish 89, Glacier 103, Polson 112, Eureka 173, Ronan 175, Browning 185, Cut Bank 210.
Top 20 Individuals
1, Lilli Rumsey Eash, Flathead, 19:03.73; 2, Hannah Sempf, Columbia Falls, 19:56.91; 3, Siri Erickson, Columbia Falls, 19:57.93; 4, Kiara Iron Heart, Browning, 20:33.14; 5, Josie Wilson, Flathead, 20:39.97; 6, Madelaine Jellison, Flathead, 20:41.68; 7, Ashtyn Wagner, Polson, 20:50.80; 8, Paetra Cooke, Whitefish, 21:08.65; 9, Olivia Heiner, Ronan, 21:09.37; 10, Isabella Lane, Glacier, 21:26.77; 11, Julia Martin, Columbia Falls, 21:27.50; 12, Halle Heninger, Polson, 21:35.84; 13, Mikenna Conan, Flathead, 21:38.87; 14, Afton Wride, Flathead, 21:40.32; 15, Morgan Grube, Whitefish 21:49.97; 16, Bailey Gable, Glacier, 21:52.83; 17, Courtney Hoerner, Columbia Falls, 21:56.75; 18, Rachel Wilmot, Whitefish, 22:07.92; 19, Adison Carlson, Polson, 22:12.91, Polson; 20, Hazel Gawe, Whitefish, 22:19.18.
---