Modern holiday classic 'Elf The Musical' brings magic to stage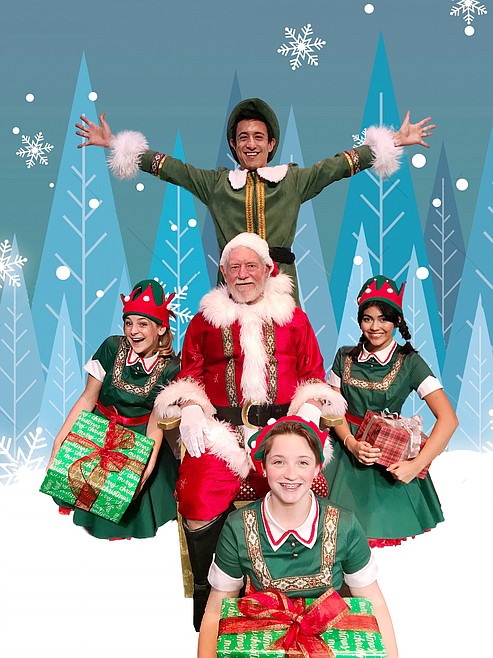 Cast members in "Elf The Musical" include, in back, Mikey Winn; middle row, Neva Shilling, Scotty MacLaren and Lavena James; and in front is Lily Strong (Photo courtesy of Whitefish Theatre Co.)
|
November 24, 2021 1:00 AM
Based on the beloved film, the modern holiday classic "Elf The Musical" comes to the stage at the O'Shaughnessy Center in Whitefish next month.
The Whitefish Theatre Company presents this magical and enchanting show which opens with a sneak preview night on Dec. 1 at 7:30 p.m. Performances continue on Dec. 2, 3, 4, 9, 10, and 11 at 7:30 p.m. and on Dec. 5 and 12 at 4 p.m.
"Elf The Musical" is the hilarious tale of Buddy, a young orphan child who mistakenly crawls into Santa's bag of gifts and is transported back to the North Pole. When he discovers that he is not really an elf — his enormous size and poor toy-making skills in Santa's Workshop should have tipped him off — he sets off for New York City to find his true identity. Faced with the harsh reality that his real father is on the naughty list and his half-brother does not even believe in Santa, Buddy is determined to win over his new family and help New York remember the magic of Christmas. With joyous songs to put you in the holiday spirit, you will soon agree that "the best way to spread Christmas Cheer is singing loud for all to hear!"
"This musical is full of everything we all need right now…laughter, love and magic!" says Director Kim Krueger. "This amazingly talented cast has taken every opportunity to grab hold of this show and embrace the entire process with an outstanding amount of energy and teamwork."
"The close bond they have created off stage makes the humor and heart shine through on stage," adds Krueger. "If you are like Buddy and 'smiling is your favorite thing,' this show is for you."
"Elf The Musical" debuted on Broadway in 2010 and has spawned numerous national and international tours. "Elf" features songs by Tony Award nominees Matthew Sklar ("The Wedding Singer") and Chad Beguelin (Disney's "Aladdin on Broadway"), with a book by Tony Award winners Thomas Meehan ("Annie", "The Producers", "Hairspray") and Bob Martin ("The Drowsy Chaperone"). The New York Times calls this production "splashy, peppy, sugar-sprinkled, holiday entertainment!"
The cast is comprised of 29 actors from around the Flathead Valley. Mikey Winn plays Buddy, Sophie Sieh plays Jovie, Rob Koelzer plays Walter Hobbs, Joy James plays Emily Hobbs, Landen Pullen plays Michael Hobbs, Anthony Mead plays the Manager, Amy Spicer plays Deb, John Fugitt plays Mr. Greenway, and Scotty MacLaren plays Santa. Other ensemble characters include Laura Abernathy, Becky Rygg, Alyssa Morales, Beth Sampson, Merannda Button, Lya Chandler, Jojo Strong, Michael Oaks, Christopher DeJohn, Connor Donahue, and Joel Welle. North Pole elves and NYC teens include Satory Lynam, Iona Sarraille, Neva Shilling, Badge Busse, Marcus Mercer, Noah Oaks, Lavena James, Kate Keith, and Lily Strong.
Karla West is the Music Director of this production, performing live with musicians Natalie Radosevich and Sarina Hart. Also contributing to the design of "Elf The Musical" are Robbie Moody, Lighting and Sound Designer, Scott Plotkin, Stage Manager, and Cathy Kraft, Props Master. The exceptionally detailed costumes are designed by Sarah Bell and her talented cast of dedicated seamstresses who've worked tirelessly to make over 75 costumes for the show.
Tickets are $25 for adults, $23 for seniors, and $10 for students with reserved seating. Tickets for the sneak preview performance on Dec. 1 are sold only at the door and are $12 for adults and $10 for students. WTC is also offering virtual tickets for this show. Visit www.whitefishtheatreco.org to purchase "Rent Video" tickets for each person watching the show. You can then watch the show online anytime from Dec. 2 to Dec. 12.
In addition to online, tickets can also be purchased at the WTC Box Office, 1 Central Ave., Whitefish, or by calling 862-5371. Box office hours are from 11 a.m. to 3 p.m. Monday through Friday and one hour before performance times. The show is sponsored by the Whitefish Credit Union with a free outreach performance for elementary students sponsored by Glacier Bank.
---