Glacier taking 'wait and see' approach to wolf trapping, hunts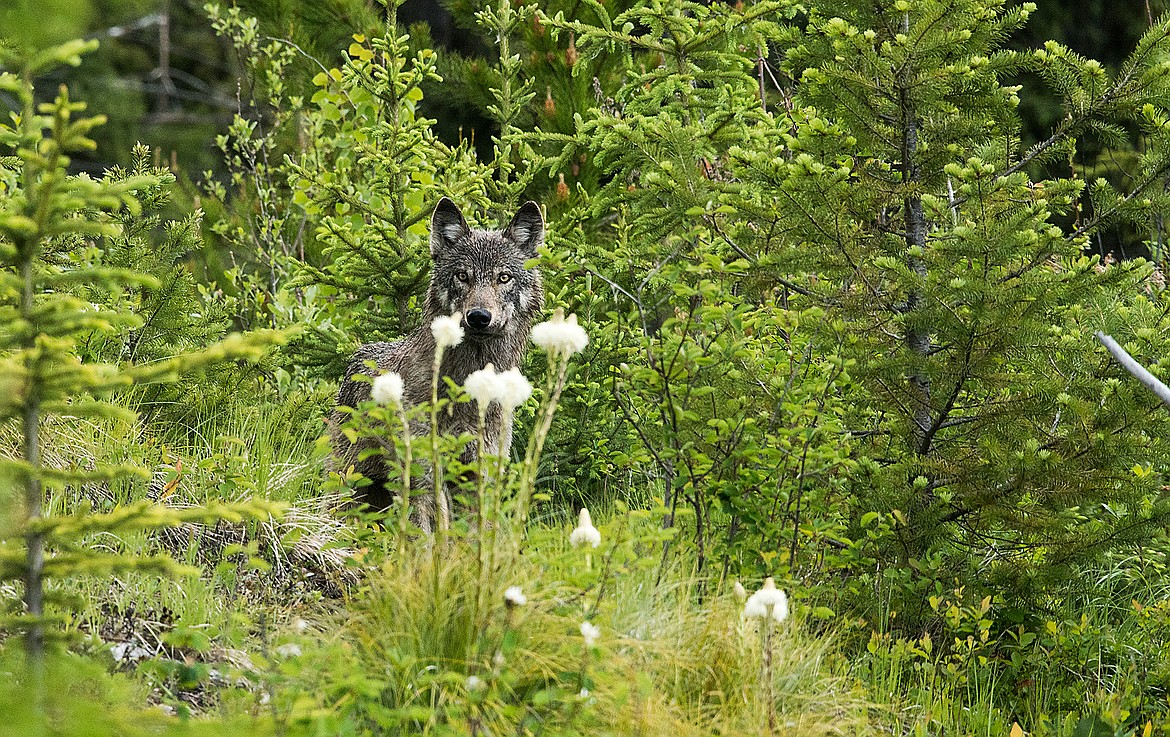 A wolf pauses on a trail in Glacier National Park. (Chris Peterson photo)
by
CHRIS PETERSON
Hungry Horse News
|
November 24, 2021 1:00 AM
Glacier National Park has expressed concerns about wolf hunting and trapping in the North Fork of the Flathead, though Park biologist John Waller said the Park is taking a "wait and see" approach at this time.
There used to a be two wolf quota each season in the North Fork in what is Wolf Management Unit 110. That was removed by the state Legislature in the last session. The quota was in deference to Glacier Park, where the first wolves returned in the late 1970s to the Park and eventually established several packs.
But the Republicans passed several bills aimed at reducing the wolf population across the state.
"We are concerned about the elimination of the wolf quota in WMU110 and the liberalized harvest methods but are taking a 'wait and see' approach. In previous years, the quota in WMU110 often went unfilled so we're hoping things won't change much. The recent commission action narrowing the season should help limit impacts too," Park biologist John Waller said in an email to the Hungry Horse News.
The FWP commission recently decided that snares would not be allowed in lynx recovery zones, which includes all of the North Fork.
Neck snares are a lethal means to trap wolves and other animals. Typically hung in a trail, when a wolf puts its head through a snare, the wire tightens around its neck, strangling the animal.
The commission also delayed the wolf trapping season in grizzly bear zones, which includes the North Fork until Dec. 31.
Yellowstone National Park also used to have a three wolf quota in a management unit on its northern border.
The legislature removed that as well. On the opening day of wolf hunting season in Montana, three wolves were killed from the Junction Butte Pack, immediately raising concerns by Yellowstone officials.
The pack dens close to a major road and is popular with tourists.
Yellowstone Superintendent Cam Sholly said the park is trying to convince Montana officials to reinstate wolf hunting and trapping quotas around the park to protect its wolves, the Associated Press reported.
In Yellowstone, wolf watching is far more prevalent, as the the landscape is more open.
In the North Fork, seeing a wolf is a rarity for most visitors.
To date, no wolves have been taken in WMU 110, according to the wolf dashboard on the FWP website. In Region 1, which is Northwest Montana, 21 wolves have been taken. Statewide, 68 have been taken. Hunters can individually take a combined 20 wolves, 10 by trapping and 10 by hunting.
---