Donation effort secures 210 turkeys for Browning seniors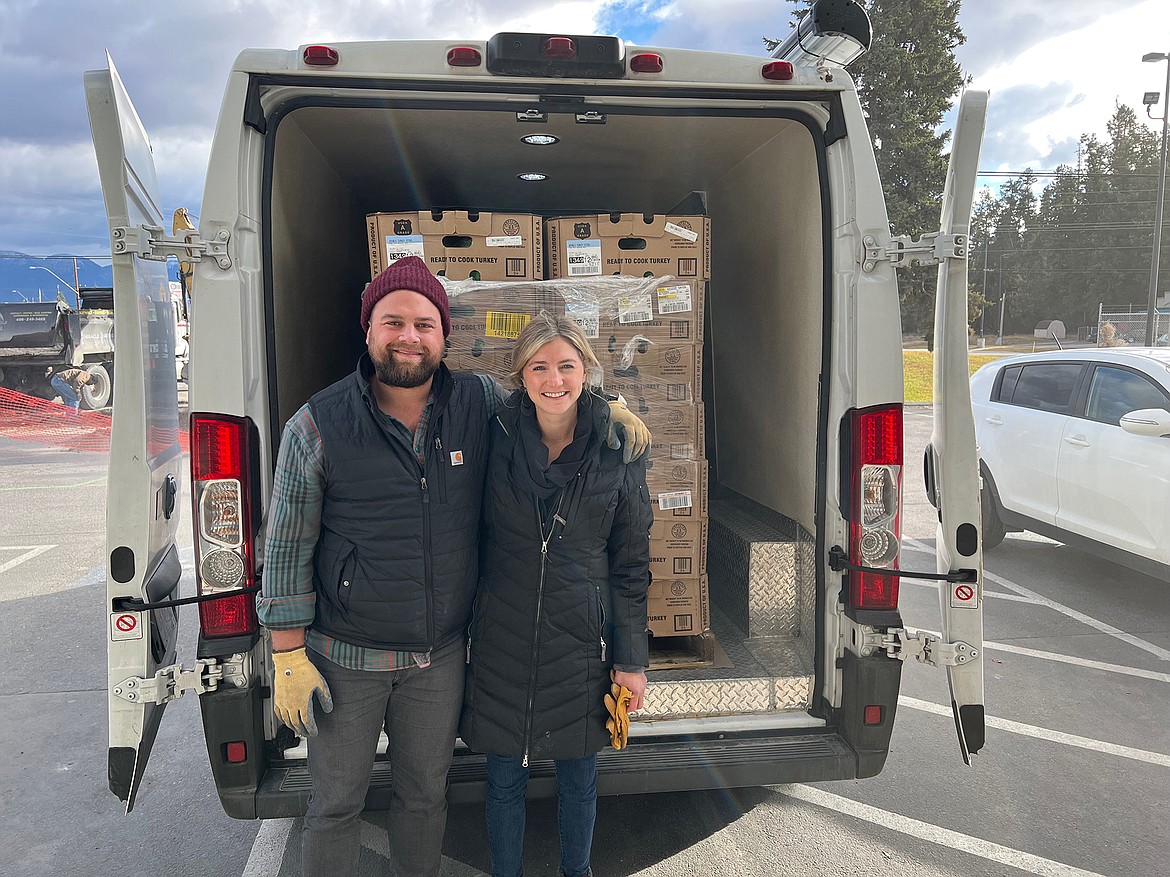 Nate Hidalgo of Fidelity Title and Kate Houlihan of Revel Real Estate recently teamed up to secure donations for turkeys for the Blackfeet Eagle Shield Center for seniors in Browning. (Courtesy photo)
by
HEIDI DESCH
Whitefish Pilot
|
November 24, 2021 1:00 AM
When Kate Houlihan saw a post on social media about the need for turkeys at a senior center in Browning she knew she had to act.
Houlihan, who is the operations manager for Whitefish-based Revel Real Estate, began reaching out to organizations and businesses in Whitefish and Kalispell asking if they'd be willing to donate.
"I saw a story that they weren't going to be able to give out turkeys because of the shortage and the cost of turkeys," she said. " I knew I had to do something."
Through her connections at work, she began reaching out to banks and title companies that immediately responded with donations. That's when Nate Hidalgo of Fidelity Title jumped in to assist with the effort.
Together they were able to raise $4,000 from a combination of 20 businesses and individuals from the Flathead Valley. The effort allowed for the purchase of 210 turkeys.
Just six days after they began, Houlihan and Hildago were able to deliver the turkeys last week to the Black Eagle Shield Center in Browning.
"It was great to see all these people come together and donate for the turkeys," Houlihan said. "After we dropped off the turkeys, we couldn't believe what we were able to accomplish — it was awesome."
US Foods Chef's Store in Kalispell helped put in a special order of turkeys and Vibrant Roots donated the use of a refrigerated truck to help with the delivery.
Kyna Williams, with Revel Real Estate, praised the efforts to secure the turkeys.
"She really took it upon herself to find turkeys for those who needed them," Williams said. "One of our ethos as a small real estate firm is to give back. We had already planned a drive to donate locally to North Valley Food Bank, but it was so amazing that she wanted to make sure that people in our larger community were able to have a turkey."
Other organizations and businesses that donated: Fidelity Title, Stockman Bank, Revel Real Estate, Compass Construction, Foodenhuis, Jewelry by Maebee, Glacier Payments, Moose's Saloon, Tailwaggers, James McNamara, Autumn Ascano, Kelle Osburn, Julie Erusha, Abruzzo Italian Kitchen, Tupelo Grille, Gunsight Saloon, Mercantile Steak & KM Bar, Buffalo Cafe and Rosebud.
---