Don K makes donation to Montana Land Reliance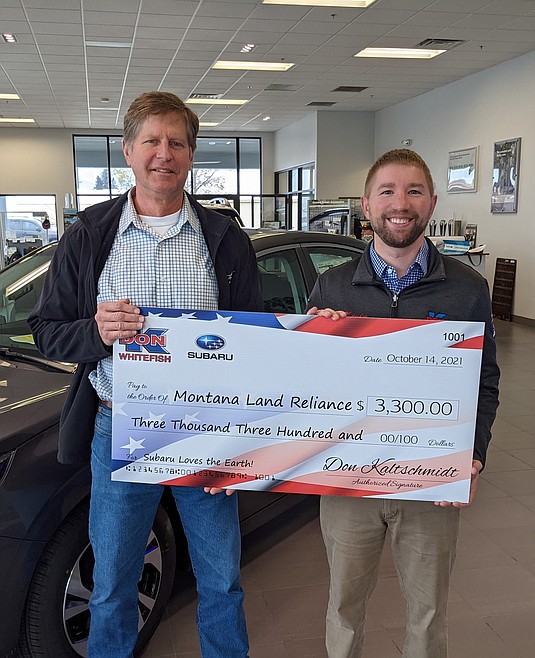 Kevin Kaltschmidt, General Manager of Don "K" Whitefish, right, presents a check to Mark Schiltz, Western Regional Manager of The Montana Land Reliance. (Courtesy photo)
|
November 24, 2021 1:00 AM
Don "K" and Subaru recently presented a check for $3,300 to The Montana Land Reliance on behalf of Don "K" Subaru and Subaru Loves the Earth program.
Kevin Kaltschmidt, General Manager of Don "K" Whitefish, presented a check to Mark Schiltz, Western Regional Manager of The Montana Land Reliance.
Kaltschmidt said the Don K dealership and Subaru strongly support conservation efforts like that of The Montana Land Reliance.
"Because we are more than a business, we are local families who live, work and raise our families here," he said. "We want to do what we can so they will enjoy the same strong economy based on the values and beauty of open spaces and the Montana lifestyle we cherish."
Schiltz said support from businesses like Don K is important to the work of The Montana Land Reliance.
"We are deeply grateful for the commitment of Don "K" Whitefish and Subaru to help us protect open spaces that will nourish many future generations of Montanans," he said.
The Montana Land Reliance, headquartered in Helena has been in existence since 1978. They work in partnserhip with Montana's landowners to permanently protect agricultural lands, fish and wildlife habitat and open spaces across the state.
Subaru Loves the Earth is an annual program promoted by Subaru of America among their dealership network focused on preserving the environment for future generations. Subaru's local dealers like Don "K" Subaru choose a Hometown Charity like The Montana Land Reliance to support each year with a financial contribution based on the alignment of the goals of Subaru Loves the Earth.
---