Fourth straight: Whitefish boys soccer overcomes CFalls in championship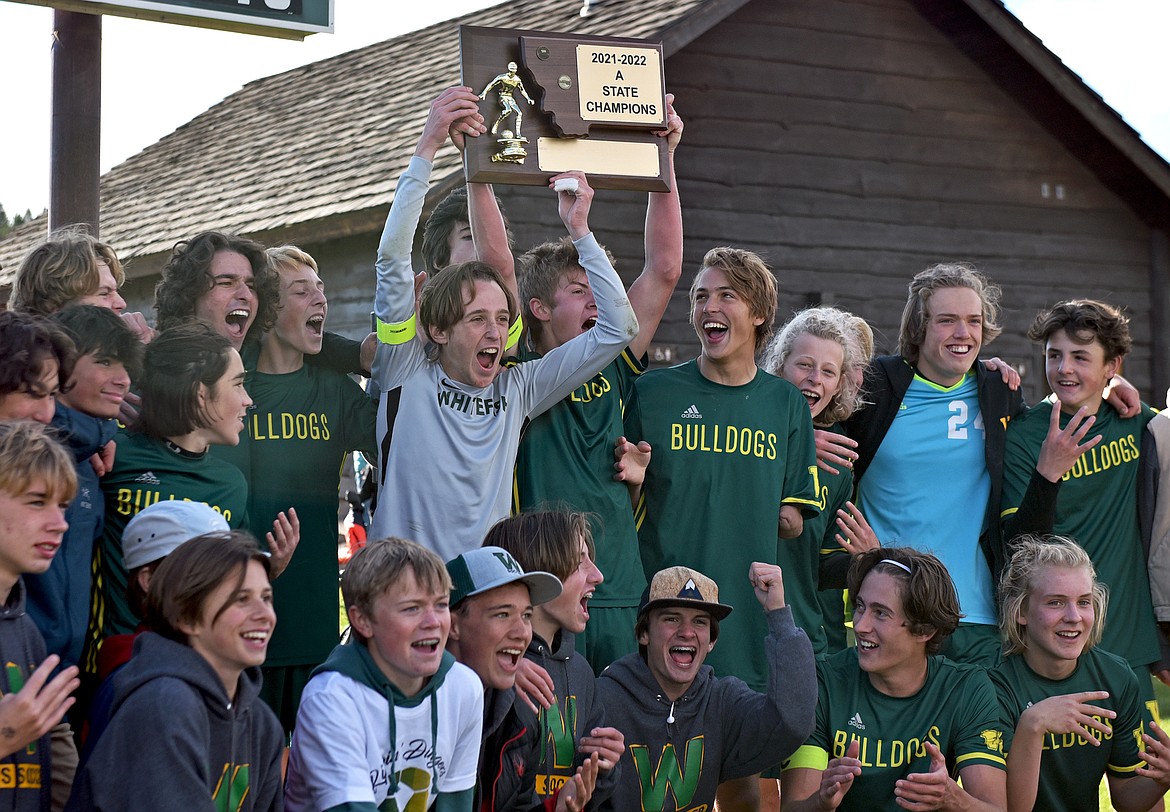 Whitefish boys soccer wins their fourth-straight State A title on Saturday at Smith Fields. (Whitney England/Whitefish Pilot)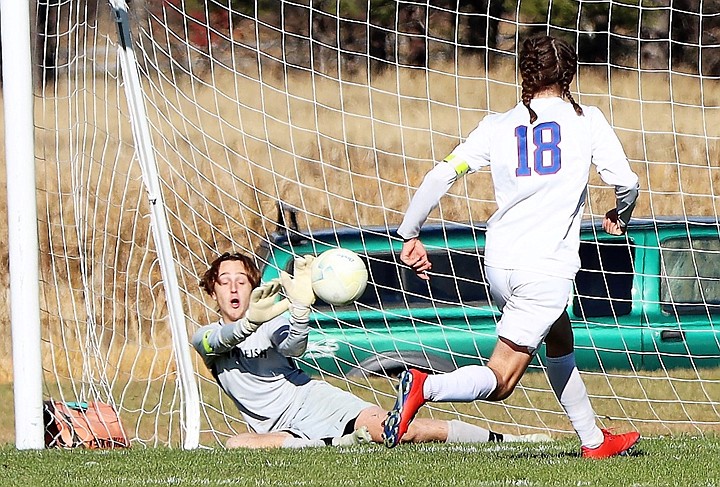 Whitefish keeper Will Peppmeier makes a PK save at the end of the game to secure the 3-2 win over Columbia Falls in the Class A boys soccer title game on Saturday. (Greg Nelson photo)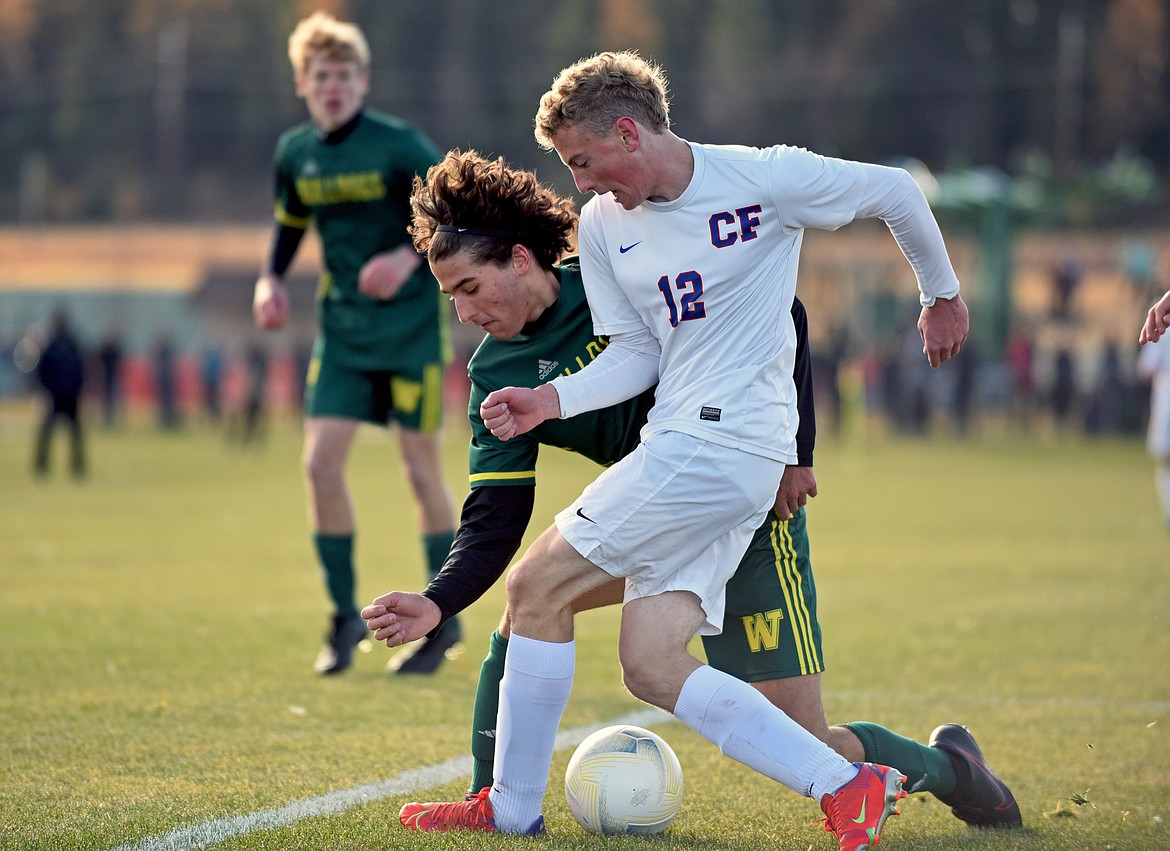 Whitefish's Austin Gunset works to keep the ball away from Wildcat Andrew Miner during the State A Championship against Columbia Falls on Saturday in Whitefish. (Whitney England/Whitefish Pilot)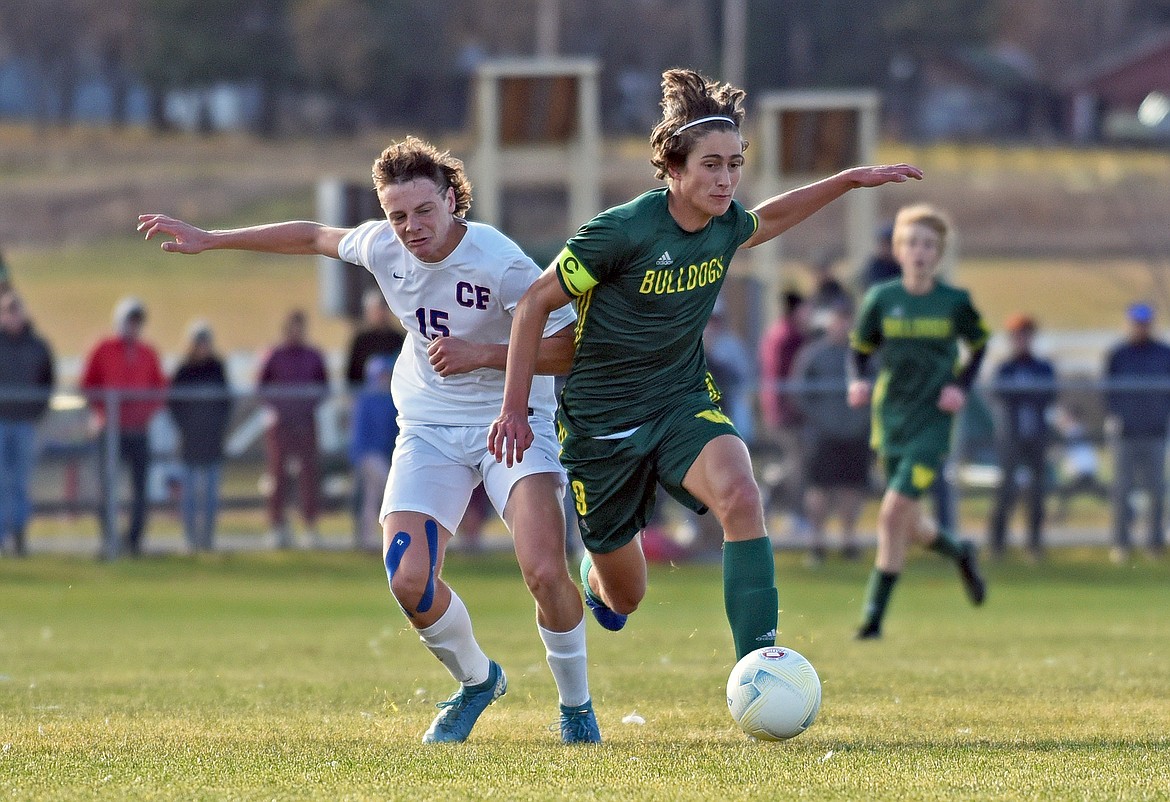 Whitefish senior Gabe Menicke battles with Wildcat Preston Trenerry during the State A Championship against Columbia Falls on Saturday in Whitefish. (Whitney England/Whitefish Pilot)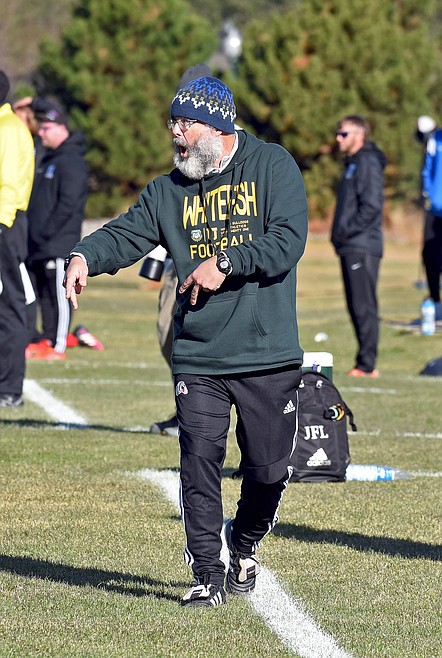 Whitefish head coach John Lacey shouts instructions to his players on the field during the second half of the State A Championship against Columbia Falls on Saturday in Whitefish. (Whitney England/Whitefish Pilot)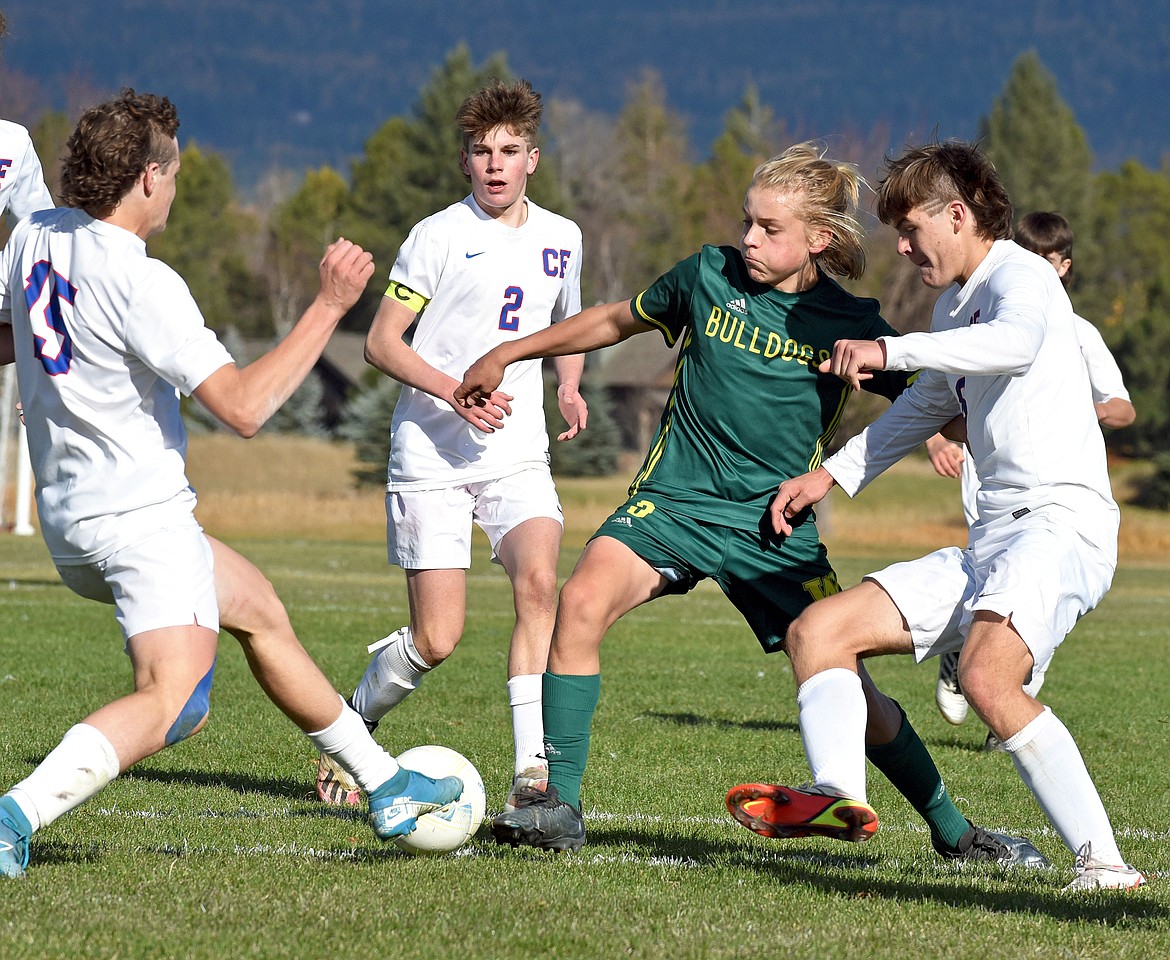 Whitefish senior Chase Sabin takes on three Wildcat defenders during the State A Championship against Columbia Falls on Saturday in Whitefish. (Whitney England/Whitefish Pilot)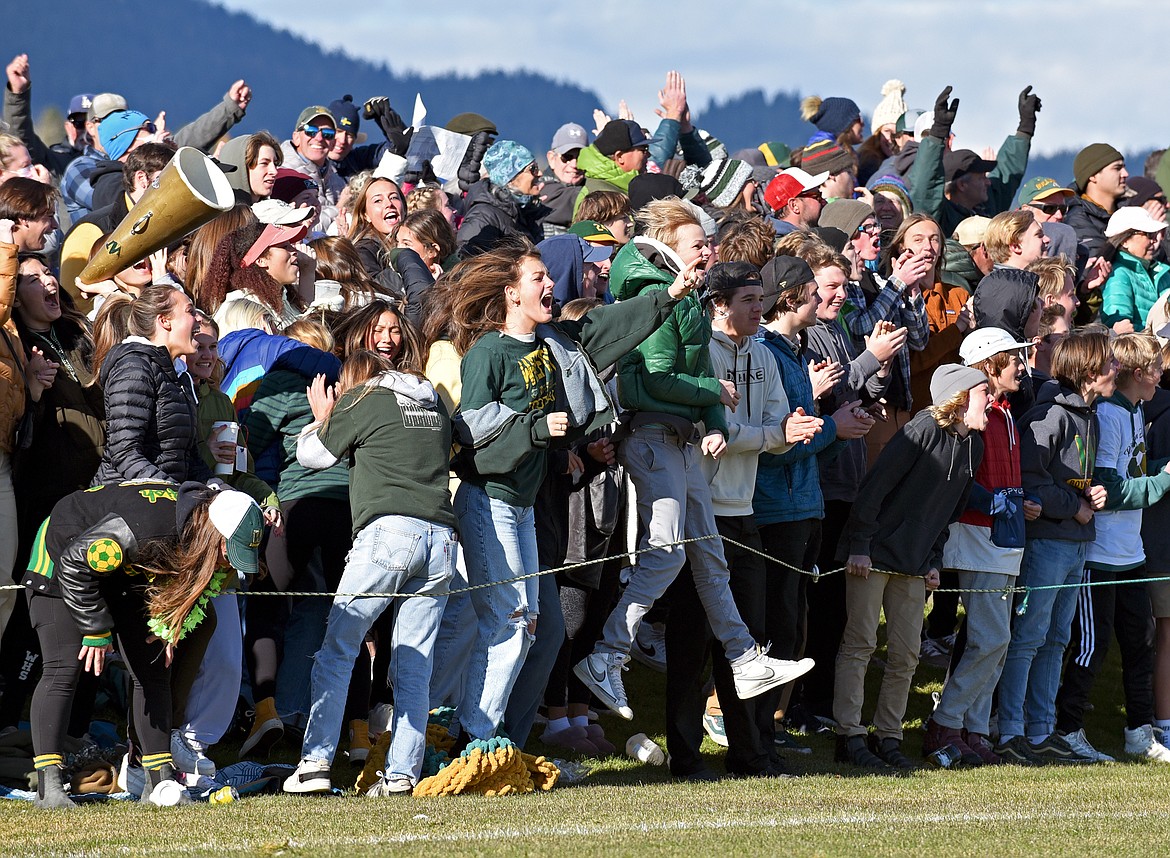 Whitefish fans celebrate the Bulldogs boys soccer team winning its fourth-straight State A Championship on Saturday in Whitefish. (Whitney England/Whitefish Pilot)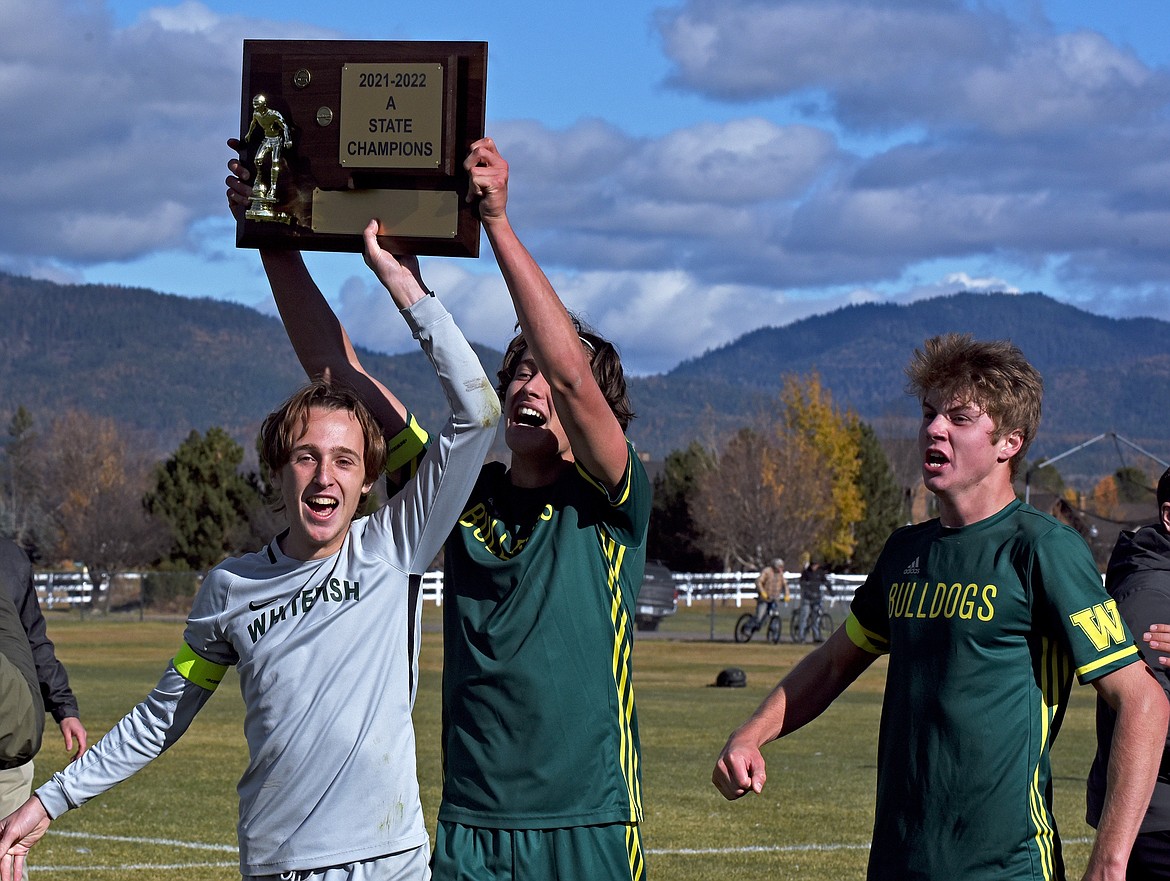 The Whitefish Bulldog boys soccer team celebrates winning its fourth-straight State A Championship on Saturday in Whitefish. (Whitney England/Whitefish Pilot)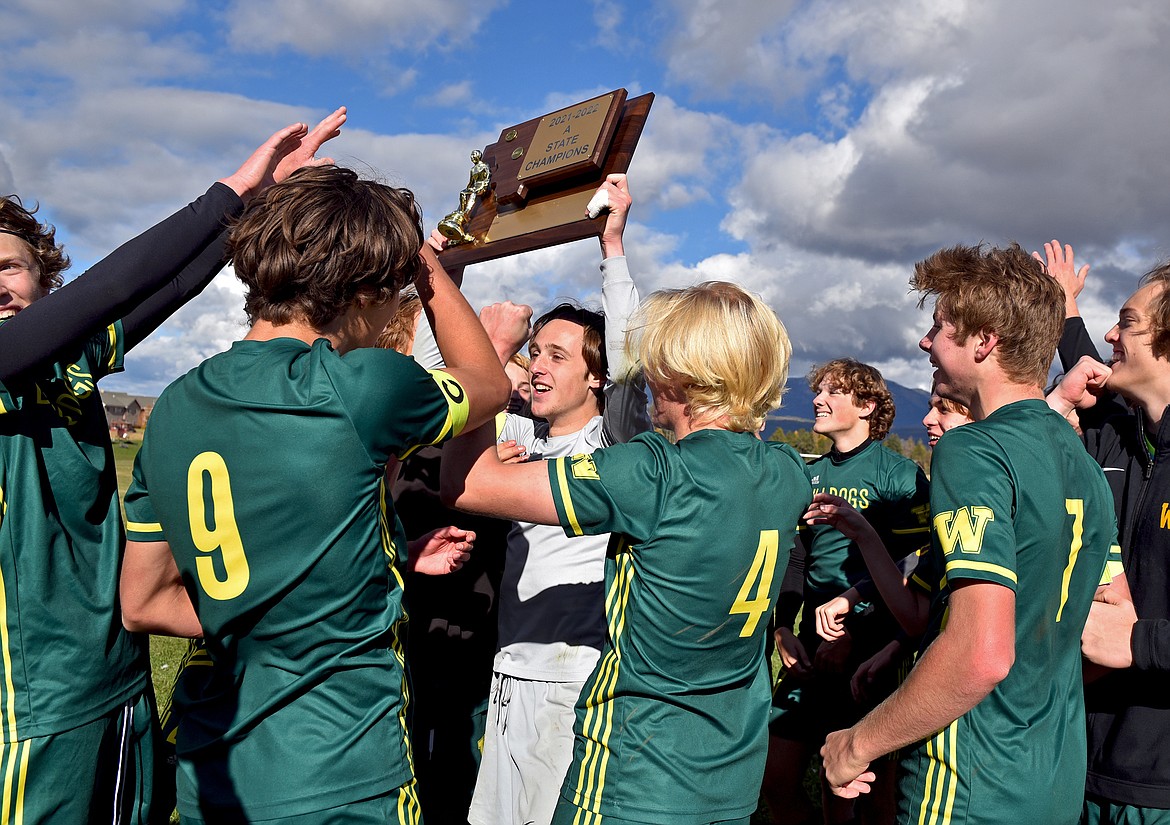 The Whitefish Bulldog boys soccer team celebrates winning its fourth-straight State A Championship on Saturday in Whitefish. (Whitney England/Whitefish Pilot)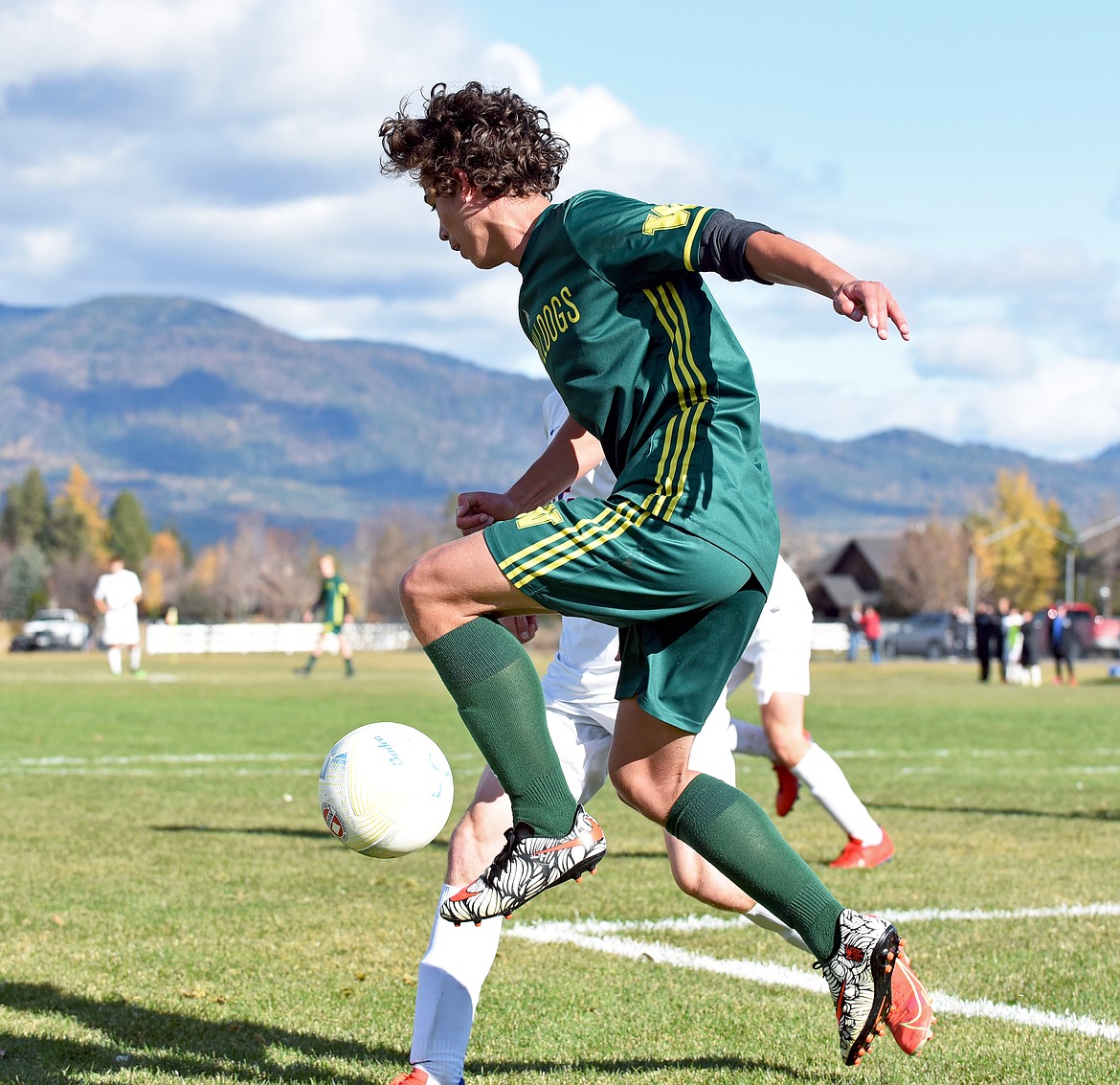 Whitefish midfielder Luke Roberts controls the ball along the end line during the State A Championship against Columbia Falls on Saturday in Whitefish. (Whitney England/Whitefish Pilot)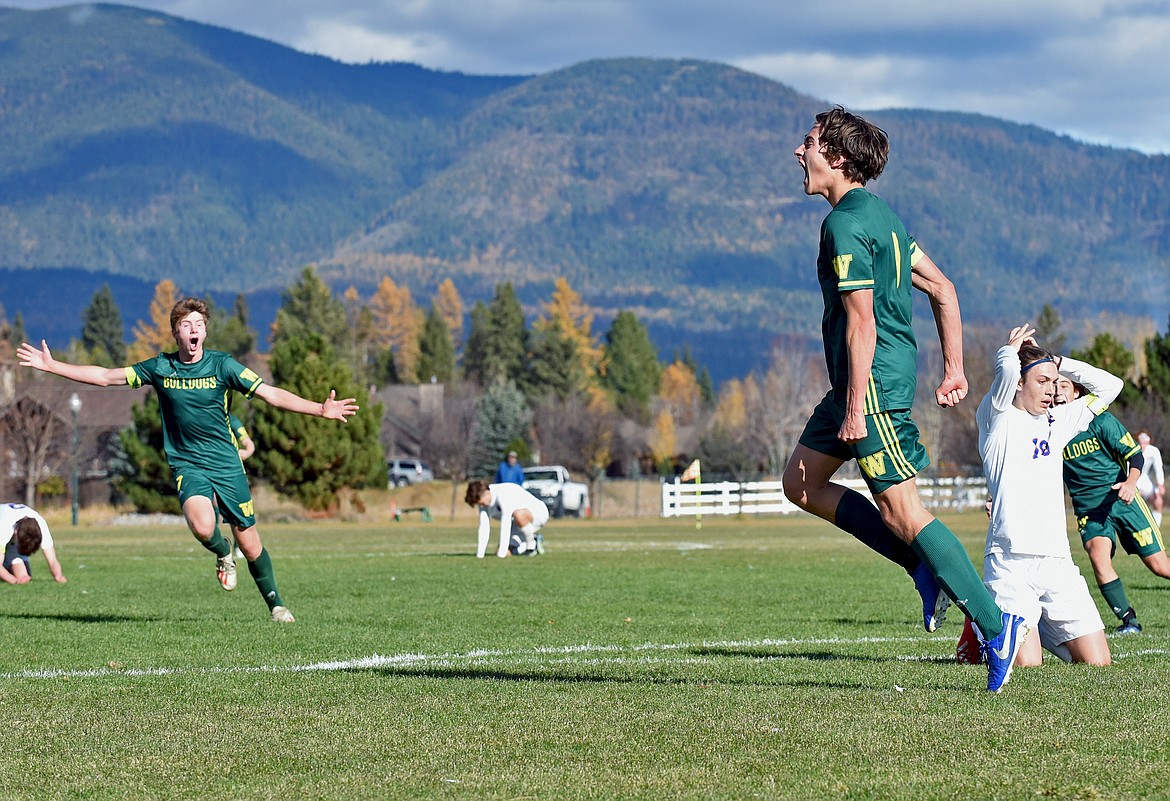 Bulldog Gabe Menicke celebrates his game-winning goal against Columbia Falls during Whitefish's fourth-straight State A Championship on Saturday in Whitefish. (Whitney England/Whitefish Pilot)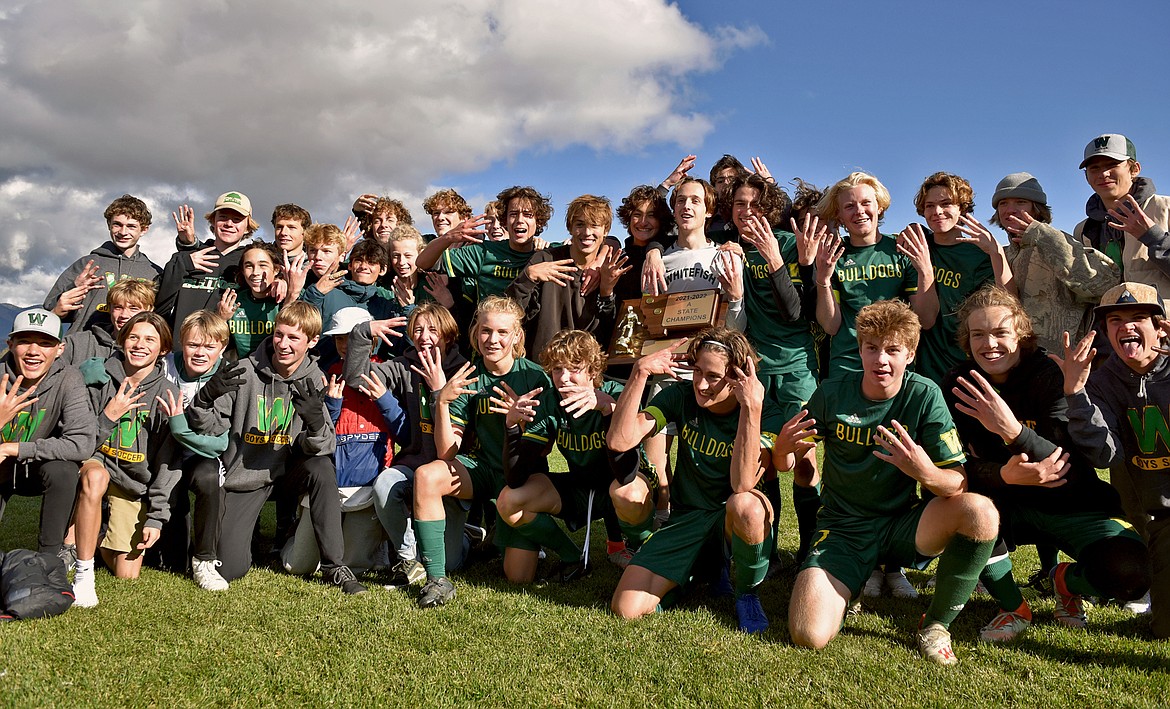 The Whitefish Bulldog boys soccer team celebrates winning its fourth-straight State A Championship on Saturday in Whitefish. (Whitney England/Whitefish Pilot)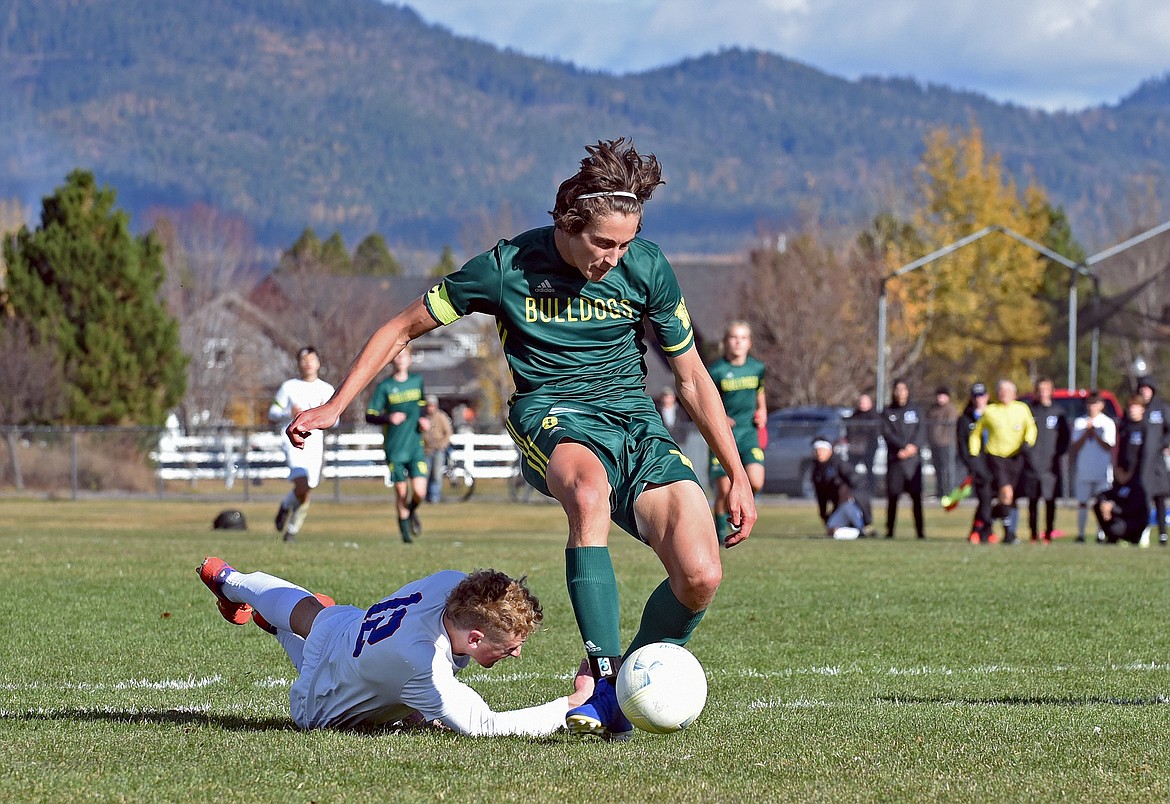 Bulldog senior Gabe Menicke scores the game-winning goal in the State A Soccer Championship against Columbia Falls on Saturday in Whitefish. (Whitney England/Whitefish Pilot)
Previous
Next
by
WHITNEY ENGLAND
Whitefish Pilot
|
November 3, 2021 1:00 AM
The final seconds in the game clock ticked away, and on Columbia Falls' final chance — a penalty kick — Bulldog senior captain Will Peppmeier made possibly the most important save of his entire career. Though for Peppmeier it was a happy chance he made the stop.
"You kind of just pick a side and hope he went my way, it worked out and I'm really glad it did," the senior goalie recalled. "It feels great to know I did my part."
The final whistle blew just after Peppmeier put his gloves over the deflected ball spinning toward the goal line and Whitefish collectively as a team threw their arms in the air in celebration of winning their fourth-straight State A boys soccer championship.
The 3-2 win over Columbia Falls Saturday at Smith Fields put the final stamp on a career for 10 seniors who have never lost a high school soccer game — a goal this group has believed in from the beginning of freshman year.
"We've been dreaming about this ever since we were freshmen and to get to fulfill that prophecy almost, it was just a dream come true," Whitefish senior midfielder Aaron Dicks expressed following the game.
Whitefish finishes this season 15-0 and its undefeated streak continues with wins totalling 57, with two ties also in the mix, since 2017.
For Bulldog head coach John Lacey, it's monumental to witness a team win four titles in a row and a group of players to remain undefeated for their entire high school careers.
"I don't know whether there's ever been a group of boys or girls in the state of Montana that's spent their entire career without a loss," Lacey said. "And obviously if this is that group, I think they've earned it, they've played great soccer, they've won all kinds of games, we've been pushed a bunch this year by some great teams — Columbia Falls has had a fantastic season and obviously they had some great goals today that could have won them a game.
"I think to the extent that these boys have had a four-year career and this is their last game, it's a great game to go out on," he added.
Whitefish senior and leading Class A goal scorer Gabe Menicke pounced on an opportunity to score early, putting the Bulldogs ahead of the Wildcats in the 2nd minute.
Columbia Falls replied back in the 23rd minute when Ethan Austin put his shot past Peppmeier's reach. The two teams battled in a highly competitive match and remained tied throughout the remainder of the first half.
"Great job to CFalls, they played 80 minutes of amazing soccer — this was the most intense game I've ever played," Dicks said. "It took a lot of talk and communication, just trying our best. We had to give 100% and the hardest work we've ever had to put in."
In the 50th minute Chase Sabin scored a go-ahead goal off an assist from Menicke, but the lead didn't hold as Wildcat Kai Golan scored on a speedy, turnaround shot with 10 minutes to go.
As the time wound down, the two teams went back and forth each having opportunities to score. But it was Menicke again in the 78th minute that netted the game-winner past Wildcat keeper Bryce Dunham, this time off a beautiful assist from Ryder Elliott.
"That last goal — I saw the opportunity… a gap opened up, I went for it, I knew it was my only chance," Menicke described following the game. "My mind just zoned in, I couldn't hear anything, everything blacked out; then I heard the sound of that ball hit the net, looked up and then just everything hit me, all the adrenaline. It was an awesome feeling."
Though, it's never over until the final whistle blows and with seconds remaining Columbia Falls was awarded the PK, but couldn't finish the chance past Peppmeier.
"I think that was the most clutch save he's ever made, wow," Dicks said.
Lacey said that was Peppmeier's moment to step up for the team, and he did just that. Throughout the game, and the entire season, the senior lineup put in the work to secure a record-breaking championship season.
"[The seniors] have gotten better every single year that they're here, they feed off each other, and it starts with just them showing up and doing the work," Lacey said. "I've had a privileged spot from the cooler to watch them and what was some great soccer over the years… We knew all along this year was going to be defined by what our seniors did and today they did it; it's the final stamp on an awesome career."
Winning another championship just makes the next crew of players eager to continue, Lacey says. And because of the legacy that's being established in Whitefish, he is positive the Bulldogs will have more championship games in the future.
"I feel lucky that what we've done here right now is we've got a whole bunch of boys who are looking forward to the next one because they've watched these four years," he said. "So I'm pretty excited about what's to come."
Columbia Falls 1 1 - 2
Whitefish 1 2 - 3
WF — Gabe Menicke (Collin Lyman) 2:00
CF — Ethan Austin (Kai Golan) 23:00
WF — Chase Sabin (Menicke) 50:00
CF — Golan 69:00
WF — Menicke (Ryder Elliott) 78:00
Shots — CF 8, WF 9. Goalie saves — CF 6 (Bryce Dunham), WF 6 (Will Peppmeier). Corner kicks — CF 3, WF 3. Fouls — CF 13, WF 10. Cards — WF 1.
---