Smyley's humility, willingness to give 100% in everything gives her the edge
by
WHITNEY ENGLAND
Whitefish Pilot
|
May 26, 2021 1:00 AM
Gracie Smyley gives the advice to younger athletes to give 100% all the time because "you don't know how fast it's going to go."
It's clear that she takes her own advice to heart because anytime this talented Whitefish athlete steps on the court, whether it be in tennis or basketball, she leaves it all out there. Last weekend she became the Northwestern A divisional champion again, she also won the title in 2019, by defeating Columbia Falls' Hannah Schweikert in straight sets in tennis.
Smyley is 20-0 this season, hasn't dropped a set to anyone throughout her challenging schedule and has only lost a handful of games within sets. She has a strong forearm swing and powerful serve among her numerous athletic talents. And this weekend she has a good shot at another state title to follow up her 2019 championship win as a sophomore.
She's been able to get to this point in her athletic career because of her own willingness to work hard, but also because of the humility she carries within herself.
At the start of the season, Whitefish girls tennis coach Patrick Dryden described Smyley's abilities on the court but credited her upbringing with helping her become the truly talented athlete she is today.
"They've (her family) given her a very humble outlook on things and I think that's really important," he said. "She knows that she could be beaten anytime she walks on the court if she doesn't play well. But what separates her from other kids is just her determination, her focus and her power."
Smyley was raised in a family of athletes. Her mom was a tennis professional and played through college; her dad was the basketball player. And Smyley says she got the best of both worlds. Her older brother was also always playing sports and inspiring Smyley to achieve more through her athletic endeavors — he now attends college in California and plays baseball there.
"Each family member definitely helped me progress," Smyley said. "I always looked up to my brother growing up when he played sports, so he most definitely inspired me.
"And both my mom and dad always pushed me to do the best that I could. They've always been there for me though everything — they've definitely influenced me and helped me get through the challenges," she added.
Smyley says she's been playing tennis since she could walk and picked up basketball in the sixth grade. Though she admitted to going through periods of not really loving tennis because she would grow tired of it, she's been pretty addicted ever since she started taking it more seriously.
Smyley explains that she loved growing up in Whitefish, but it was during her two-year stint living in Florida from seventh to ninth grade that gave her inspiration to take her basketball and tennis to the next level of competitiveness.
"When I went to Florida basketball and tennis were so different and way more intense than here," she said. "But it kind of gave me a new lens and I definitely got to see where I could progress in those sports. I started enjoying it and taking it more seriously."
Sophomore year when she returned to Whitefish, her new found focus and inspiration turned her into an athlete that Whitefish High School sports will remember for years to come.
A highlight of Smyley's senior year was definitely the Lady Bulldog basketball team's turnaround, winning season that led Whitefish to a fourth place finish at the state tournament.
"When I came back my sophomore year I would not expect our outcome this year," she said. "I always thought in the back of my mind we could do it, but I'm really glad that came true because a lot of our girls were working really hard and focused… I'm glad I got to experience it in my last year."
"And beating CFalls, that felt so good. That's a little rivalry, there always is, but to finally do it was super satisfying," she added. "The whole experience was amazing and I love all of those girls."
She became a leader for the basketball program as a top scorer, excellent outside shooter and an example to the younger girls. In fact being a leader and a part of a team is an aspect she loves about playing sports.
"It's really fun, I love helping (my teammates) out when they ask," she said. "Or if they're not sure what a coach is saying, to hear a player tell them something from a different perspective is really fun to do."
Smyley is certainly a leader on the tennis team too and has been ever since sophomore year when she became the State A singles champion. That year Whitefish's No. 1 doubles team of Aubrey Hanks and Olivia Potthoff also took the state title and Smyley says it was a whirlwind experience that she's grateful to have experienced.
"That was crazy, I didn't even process it until after — it was insane," she recalled. "I was super happy about that one, that felt good… I even look back at it now and think that it was insane that we did that somehow."
Since then, and through a canceled junior season due the the COVID-19 pandemic, Smyley has felt the pressure and expectations on her shoulders of being the defending state champion — it's something that she handles by keeping her own thoughts in check.
"It's kind of difficult to deal with, but just taking it match by match; have zero expectations, don't have high or low expectations with anybody that you play," she said. "I kind of just have to focus on each match and just forget that I'm playing for anything to be successful."
In addition to basketball and tennis, Smyley loves to workout, hang out with her family and relax when she's not on the court. He favorite subject in school is history and she also is part of a Youth Civil Reform group that is working to diversify the Whitefish Schools curriculum.
Next year Smyley is planning to attend Whitworth University in Spokane, Washington, and hopes to major in race and ethics. She is also planning on trying out for both of the college's basketball and tennis teams.
For now she has one last weekend of high school tennis remaining and is keeping her goals for the state tournament focused on a team effort.
"To win state as a team would be awesome, I'd love to see that," she said.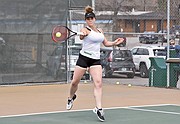 ---