City moves toward curbside recycling program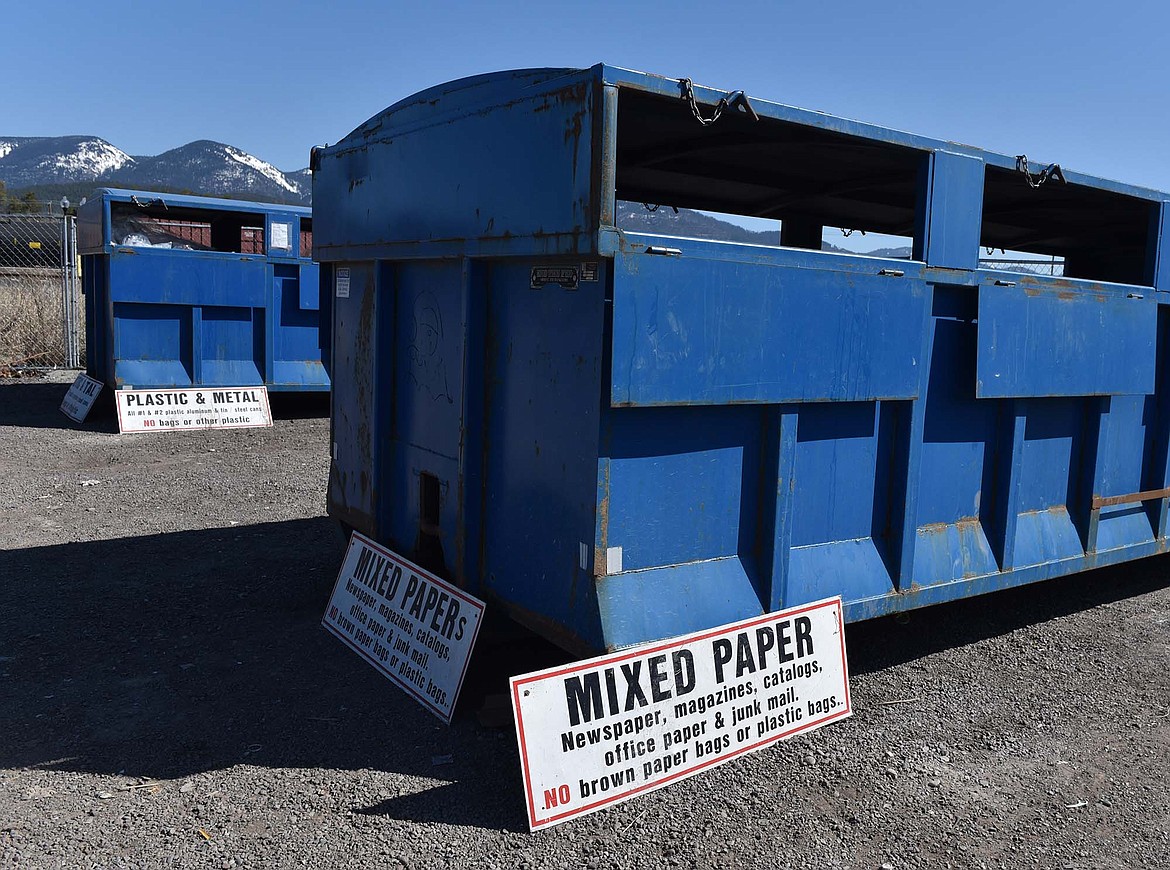 The City of Whitefish's previous centralized recycling site at the corner of Columbia Avenue and Railway Street. It closed in January 2022. (Heidi Desch/Whitefish Pilot file)
by
HEIDI DESCH
Daily Inter Lake
|
May 26, 2021 1:00 AM
Whitefish is moving forward with a plan to collect recyclable materials directly from homes.
City Council last week gave its endorsement of a mandatory curbside recycling program, but still has to approve an ordinance implementing it and a contract with the hauler to collect recyclables.
"I'm pretty daggum excited to have a curbside recycling program in town," Councilor Steve Qunell said. "If we're going to spend money on this, we should be doing it the right way. We know the issues at the central site we have now [with garbage left at the site], and the curbside program is the best way to capture more recycling anyway."
Right now the city has a centralized recycling site at the corner of Columbia Avenue and Railway Street on the city's snow lot. But that property has been designated for an affordable housing project so the city has been exploring options whether to relocate to a new location for the central site or move to a curbside program.
After examining options during several meetings and holding a public hearing last week on the program, Council approved moving to a curbside program.
A single-stream residential curbside recycling program is one of the strategies listed in the city's climate action plan, Public Works Director Craig Workman notes.
"Diverting more waste from the landfill is one of the most direct strategies Whitefish can pursue to reduce the environmental impacts of the city's consumption," Workman said. "Implementing a committed and thoughtful single-stream curbside recycling program can have a substantial positive impact on community waste diversion, reduce contamination issues associated with multi-stream recycling, and support community participation."
Developing a new recycling site was estimated to cost about $183,000 and the cost to manage the site through a contractor was expected to cost about $100,000 annually. The cost of the site and management would have been passed to all taxpayers. If that option had been selected, a home valued at $400,000 would have paid $37 for the first year of the central site, and then about $15 per year afterward.
Republic Services was the lowest bidder for the curbside recycling program with about 3,500 residential customers. It's bid was a cost of $262,500 for a year. For each pickup stop the yearly cost is estimated to be about $75 and the charge for service will be mandatory for residences in the city regardless of use, which is similar to the city's current garbage service.
Workman says the curbside program is structured with a user fee because individual service is provided to each residence.
During public comment, Kate McMahon, who serves on the city's climate action plan committees, says recycling is the biggest issue the group has talked about.
"I want to commend the city for taking on the recycling issue," she said. "This is a big issue in the community."
The recycling program is set to accept flattened cardboard and paperboard, aluminum/tin/steel cans, and newspaper, magazines, office paper, catalogs and junk mail.
Speaking to Council, Mayre Flowers, with Citizens for a Better Flathead, asked that plastic be removed from the list of recyclable materials allowed because there's concerns that plastic being collected isn't actually being recycled.
"We have tried to do some exhaustive research and can't find any firm that can commit that plastic gets recycled in the U.S.," she said. "Most of the plastic gets shipped overseas and most of that plastic ends up in oceans or villages and adds to pollution."
While Chuck Stearns pointed out to Council that if plastic isn't allowed it would likely mean more contamination because people would put plastic in the bins anyway.
"I support the curbside program, but if you go with single-stream, but don't include plastic then you'll have a lot of contamination because people will put plastic in there," he said.
Regarding the issue of plastic recycling, Chad Bauer, with Republic Services, said No. 1 and No. 2 plastics are only accepted because that's what can be recycled.
"Everything we're looking at in this program is a commodity that has value somewhere in the U.S.," he said. "None of the materials are recycled in Montana, they all get shipped elsewhere. But everything we take gets recycled predominantly in the U.S., but some of the materials may be going elsewhere because it's about supply and demand and if the mills are full in the U.S. it gets shipped elsewhere. We will guarantee everything that we take gets taken to a recyclable facility."
As part of getting the program up and running, Bauer said the company plans an education campaign that would explain how to properly recycle and what should be placed in the bins. A bin found to be contaminated with the wrong materials would also be kept separate from the rest of the recyclable materials when pickup occurs so as not to contaminate the entire truckload.
"Our drivers look for contamination and then tag those bins showing why it couldn't be recycled and educating the customer," he said. "At that point in time the city will be notified, and for the first one to two times this is free of charge, and then at some point there will be a charge because there needs to be a penalty for not recycling properly."
The curbside recycling program as currently planned only provides mandatory collection for residential properties. Commercial businesses would have to contract directly with Republic Services or another contractor for recycling services.
Workman says as part of implementation the city and its contractor will have to determine how collection will operate for multi-family residential buildings such as townhomes and apartments, including determining where containers will be placed for these properties.
Single-family homes with alley collection will likely add a new 96-gallon rollout cart for recyclables.
While some have raised concerns about recyclable containers becoming a bear attractant, Republic Services says that properly disposed recycling should be free of food residue and thus not pose an issue.
Councilor Rebecca Norton asked that city staff look into adding glass recycling and food compost to the program in the future.
Recent Headlines
---