Ralph Albert Ammondson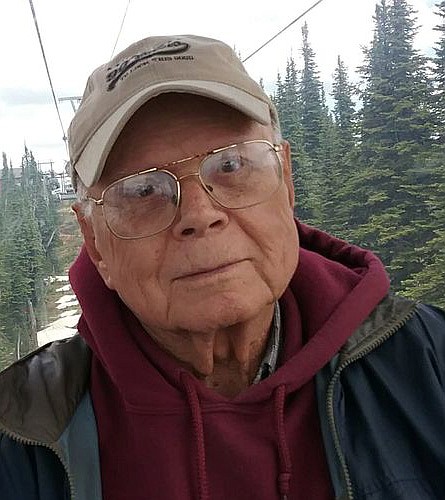 Ralph Albert Ammondson, 94, passed away peacefully on May 12, 2021 from natural causes.
Ralph was born in Decorah, Iowa on Oct. 27, 1926. He was the second of four boys, Clayton, Ralph, Lester and Curtis, born to Gladys and John Ammondson. The family moved to Fairfield, Montana where Ralph attended school and graduated from Fairfield High School in 1944.

Ralph attended Luther College in Decorah, Iowa, where he played football. While there he met and married Shirley Ann Black on April 21, 1945. Ralph joined the Army and was stationed in Japan when their first child, Leslie Jo, was born. After being honorably discharged, Ralph accepted a job at the Fairfield Times Newspaper that began a long printing career.
Leslie Jo was followed by son Randall John and daughter Barbra Jane.

In 1956, the family moved to Columbia Falls where Ralph worked for the Hungry Horse News. In 1969, Ralph, Shirley and Barbra moved to Missoula and Ralph became an accomplished offset printer. He continued that career in Missoula and Eugene, Oregon, until his retirement in 1995. During his time in Eugene, he attended Lane Community College and became a licensed massage therapist.

Ralph and Shirley moved back to the Flathead in 1999 and settled in Whitefish. They were married for 61 years until her death in 2007.

During his younger years Ralph enjoyed fly fishing and camping, moving into RVing in later life and always taking care of others throughout his life. After he sold his RV, he enjoyed socializing with all of his friends and family in Whitefish and Columbia Falls over a coffee, an IPA or a Grizzly football game.

Ralph is survived by one brother, Lester, of Missoula, daughter Leslie Darling, of Columbia Falls, grandsons, Kenny (Tanna), Kevin and Kyle (Melinda), son, Randall (Joyce) Ammondson of Peoria, Illinois, granddaughter, Cyndi (Dan Haupt) and daughter, Barbra (Bruce) McEvoy, of Whitefish, granddaughter, Heather (Eric Vezina), five great-grandchildren and many nieces, nephews and friends.

The family suggests memorials to the VFW or the Moose Lodge in Whitefish or the Eagles in Columbia Falls where he had active memberships.
Please join for a "happy hour tour" on May 24, 2021 to celebrate Ralph's life at the Moose Lodge in Whitefish at 4:30 p.m. and the VFW in Whitefish at 6 p.m.
Recent Headlines
---