Flathead Fusion hockey celebrates outstanding regular season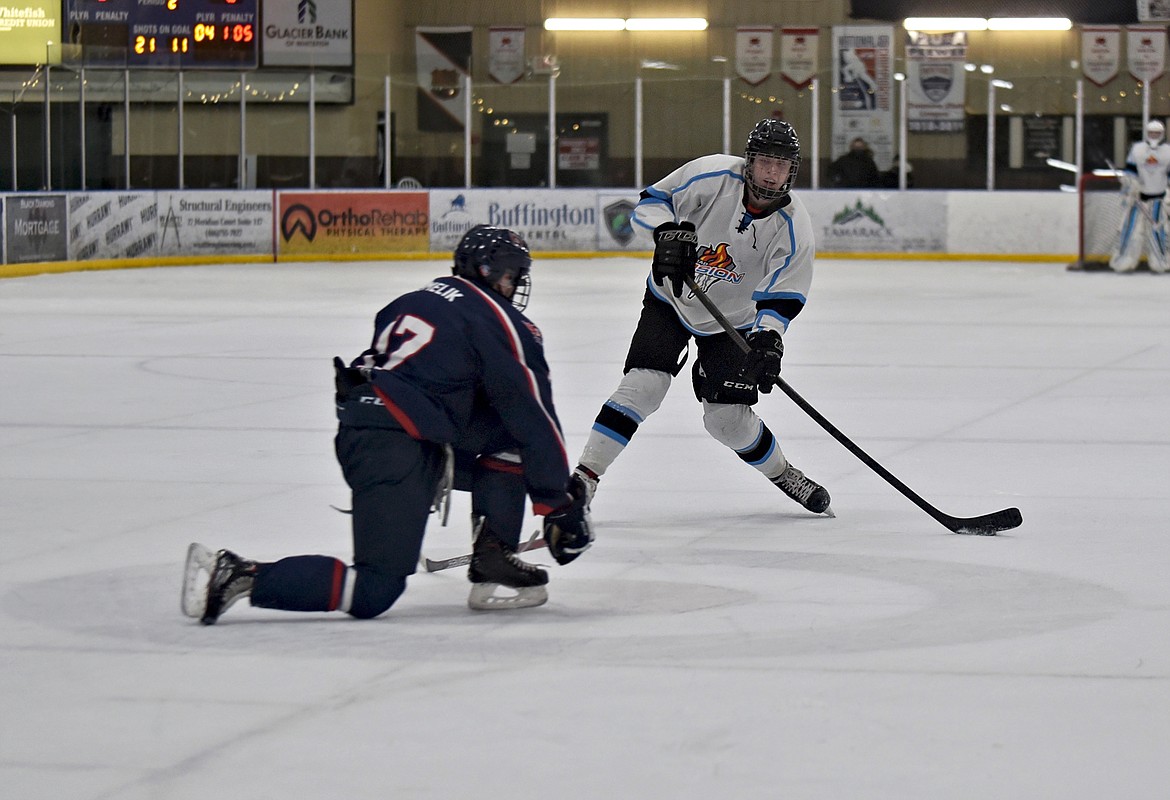 Flathead's Darby McCarthy lines up a shot in an exhibition game against Coeur d'Alene in February. (Whitney England/Whitefish Pilot)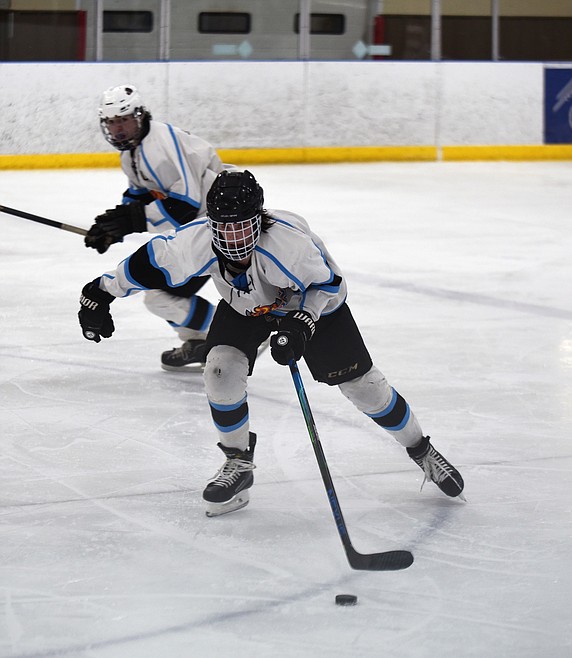 Finn Davidson along with George Herne look to advance the puck into the offensive zone in a game at Stumptown Ice Den earlier this season. (Whitney England/Whitefish Pilot)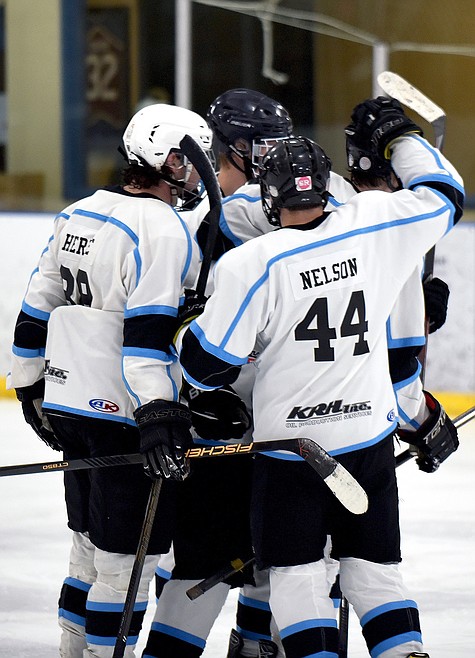 The Flathead Fusion celebrates a goal scored against Coeur d'Alene during an exhibition game in February. (Whitney England/Whitefish Pilot)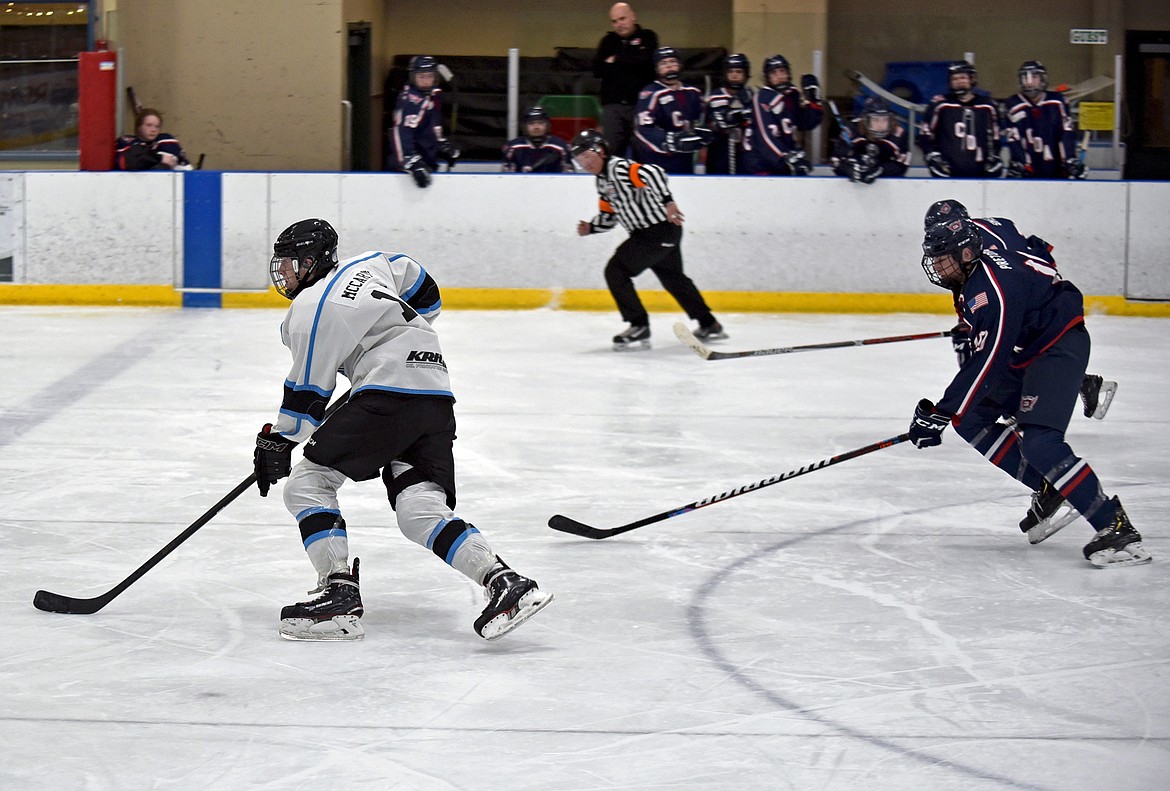 Flathead's Darby McCarthy lines up a shot in an exhibition game against Coeur d'Alene in February. (Whitney England/Whitefish Pilot)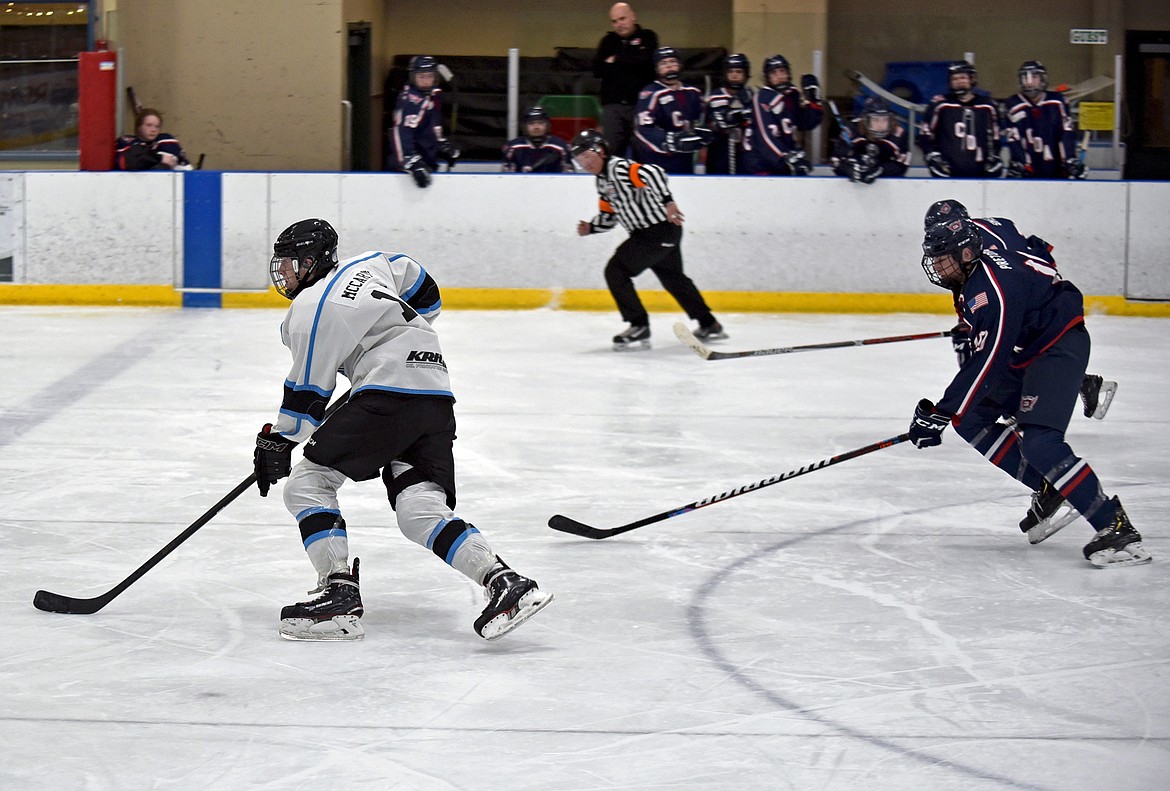 Flathead's Darby McCarthy lines up a shot in an exhibition game against Coeur d'Alene in February. (Whitney England/Whitefish Pilot)
Previous
Next
by
WHITNEY ENGLAND
Whitefish Pilot
|
March 17, 2021 1:00 AM
In the six years that Alex Lundbohm has been the head coach of the Flathead Fusion high school hockey team, this year's 17-1 league record throughout regular season play was the best his team has achieved.
Last year the team was runner up in the state championship game despite having a mediocre regular season. Lundbohm said he knew the potential was there and this season really came together.
"We had a lot of the same guys returning, so expectations were high; and actually due to COVID, some kids that normally would play in Canada or other locations had to stay local so that also just increased our depth and gave us more options with players," he said.
Also due to COVID-19 though, the season was never definite. Lundbohm wasn't sure if they'd be able to finish the season or have to cancel too many games because of the protocols related to the pandemic, but it went off with only a couple hiccups.
"We've been very fortunate, we had to reschedule and then ended up dropping two of our games with Glasgow. Other than that, this season's gone really smoothly and probably better than we could have hoped for really," he added.
Throughout the season the Fusion, which is based out of the Stumptown Ice Den in Whitefish, dominated most games. They led the league with the best goal differential, meaning they scored 140 goals and only allowed 56 goals against them.
Lundbohm said the team featured a powerful offense this year as well as excellent goaltending, leading to streaks of wins throughout the season.
"We have a high-powered offense — we have some guys that really like to score," he said. "That's a strength, but our goaltending has been good all year as well."
Another strength according to the coach is the depth on the bench. The Fusion featured a heap of seniors that have been with the program for the last three to four years as well as some key additions.
George Herne is a senior and the team captain, the leader on the ice. Herne scored 19 goals and had a team-high 31 assists with limited penalty minutes this season.
Alongside Herne in the high-powered offensive line is Darby McCarthy and Finn Davidson. McCarthy scored the most goals on the team with 23 and had the same number of assists. Davidson put in 13 shots and assisted on 19 goals.
Lundbohm said two more offensive strengths were Benji Rainford, with 16 goals, and Zane McCallum who put in 13 goals this season.
The defense was grounded by four seniors Max Kowalka, James Thompson, Josh Nelson and Mason Rediger.
As far as goalies, Gates Gilman statistically led the Fusion. He touted a save percentage of 91.3% only allowing 20 goals out of 231 shots. Right behind him though was Charlie Hinchey and Kane Morisaki who both had a save percentage of around 89%.
"This group of kids has done really well at every level coming up," Lundbohm said.
The team also had a few transfers and players that usually play in Canada that had to stay in Whitefish this year due to COVID-19 which only strengthened the team's depth, according to Lundbohm.
This was the first time Flathead Fusion had finished on top of the league in recent years, as far as the coach could recall.
"We have improved our regular season standings every season that I've coached, so that tells you enough where we started in six years," Lundbohm expressed.
The Fusion played at the varsity state tournament on March 5-6 and went into it as the topdog. Lundbohm thought they would have had a good chance taking the state championship this season, but unfortunately the team lost in the semifinals to Missoula who ended up winning the tournament.
"We've established ourselves as the top team," Lundbohm said prior to the state tournament. "But it doesn't mean you just get the trophy handed to you, you still got to earn it."
At state the Fusion beat Glasgow 7-1 in the opening round, then tied with Helena 2-2. On Saturday, March 6, Flathead lost 4-0 to Missoula and then won over Bozeman 3-2 in the consolation round.
Although that isn't the outcome Lundbohm and his team were hoping for from the state tournament this season, the program has made huge strides regardless.
The Flathead Fusion may have an opportunity to compete in the 2021 USA Hockey National Championships in the high school division. According to Lundbohm teams are selected by region by chance, not based on league record. The Fusion put their name in the hat and were selected to compete in the tournament this year.
"It will be very interesting and something we're looking forward to because it's hard out here in Montana to get a pulse on where you could rank against the rest of the country…" Lundbohm explained. "So this is a great opportunity to put Montana on the map a little bit more in the hockey world."
Although Flathead was selected to compete at nationals in Omaha, Nebraska, during April 15-19, details of whether the team will be able to go are still being determined.
The hockey team is selling raffle tickets for half a pig and also has a GoFundMe page at https://www.gofundme.com/f/nationals-high-school-hockey-tournament to help raise money for travel costs for the trip to nationals.
---