Lady Bulldogs make noise at state, get first win over CFalls this decade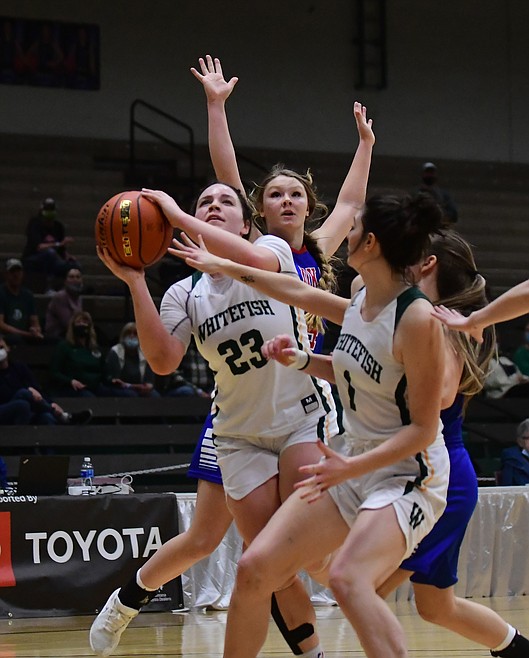 Whitefish senior Gracie Smyley drives through the lane in a game against Columbia Falls at the MHSA Class A State Tournament on Friday in Great Falls. (Teresa Byrd/Hungry Horse News)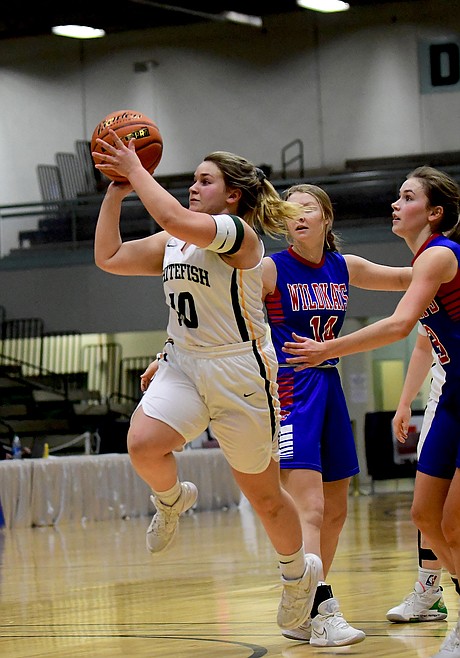 Whitefish's Ashton Ramsey looks for a pass in a game against Columbia Falls at the MHSA Class A State Tournament on Friday in Great Falls. (Teresa Byrd/Hungry Horse News)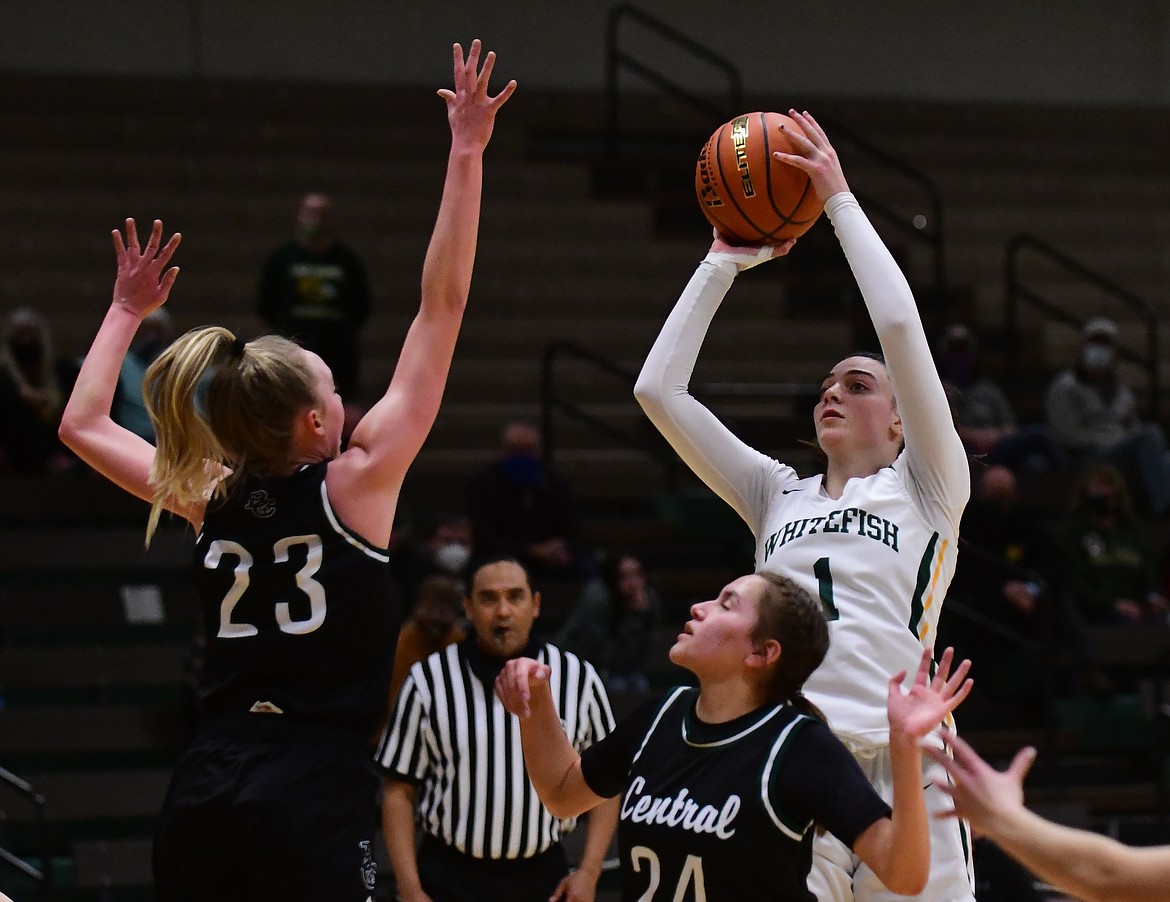 Whitefish's Jadi Walburn rises up over Billings Central defense for a shot during a game at the MHSA Class A State Tournament on Wednesday, March 3 in Great Falls. (Teresa Byrd/Hungry Horse News)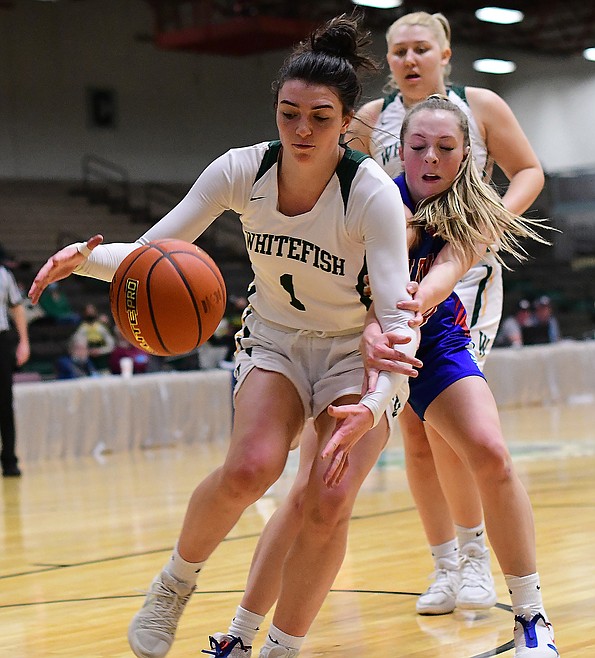 Bulldog Jadi Walburn grabs the ball against Columbia Falls at the Montana Class A State Tournament in Great Falls. (Teresa Byrd/Hungry Horse News)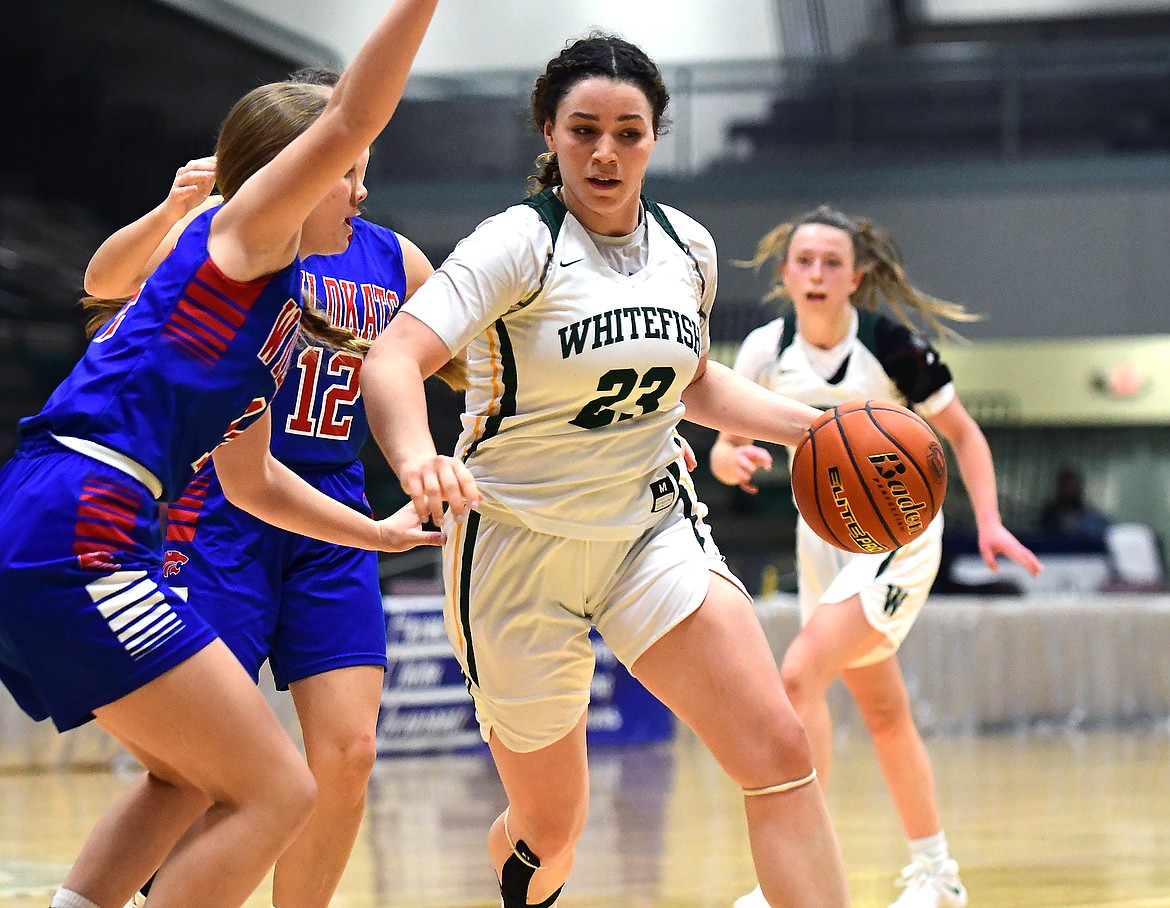 Gracie Smyley moves past defenders in a game against Columbia Falls at the state A tournament in Great Falls on Friday. (Teresa Byrd/Hungry Horse News)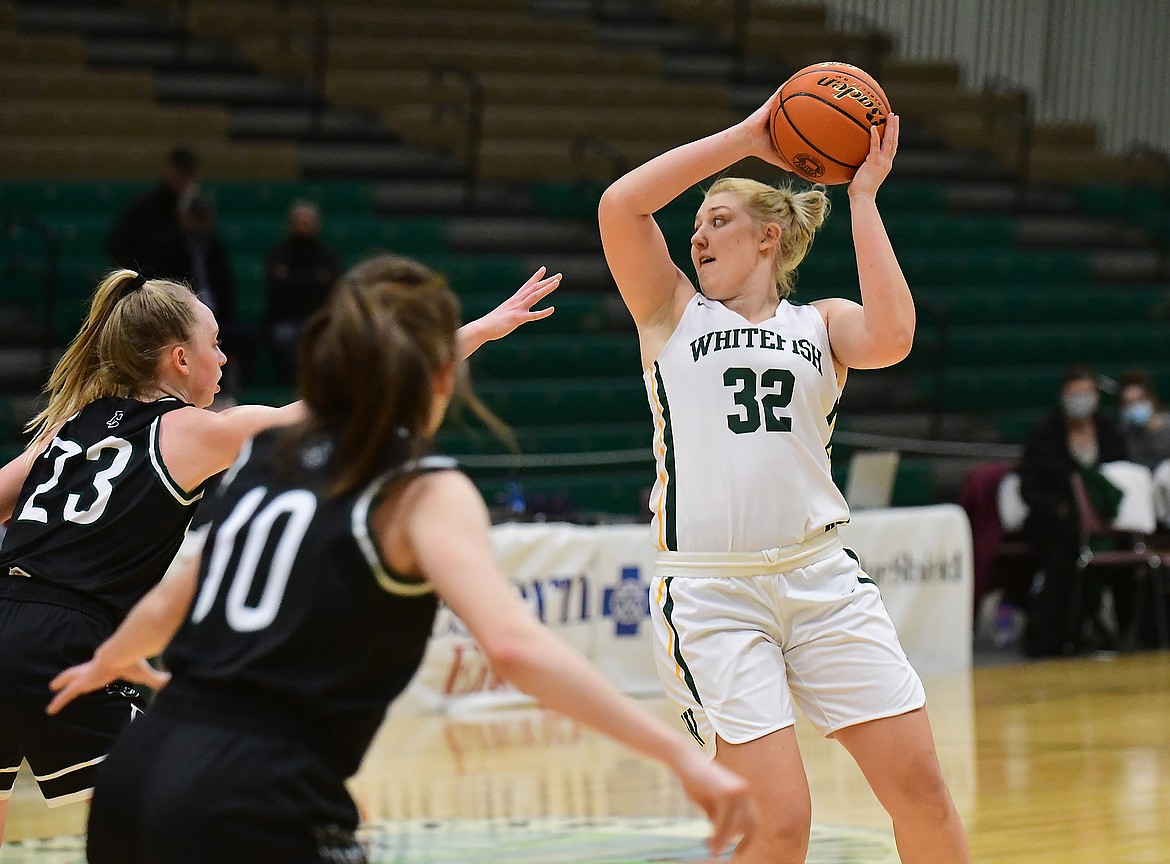 Whitefish's Book Smith looks to make a pass against Billings Central at the Montana Class A State Tournament in Great Falls on Wednesday. (Teresa Byrd/Hungry Horse News)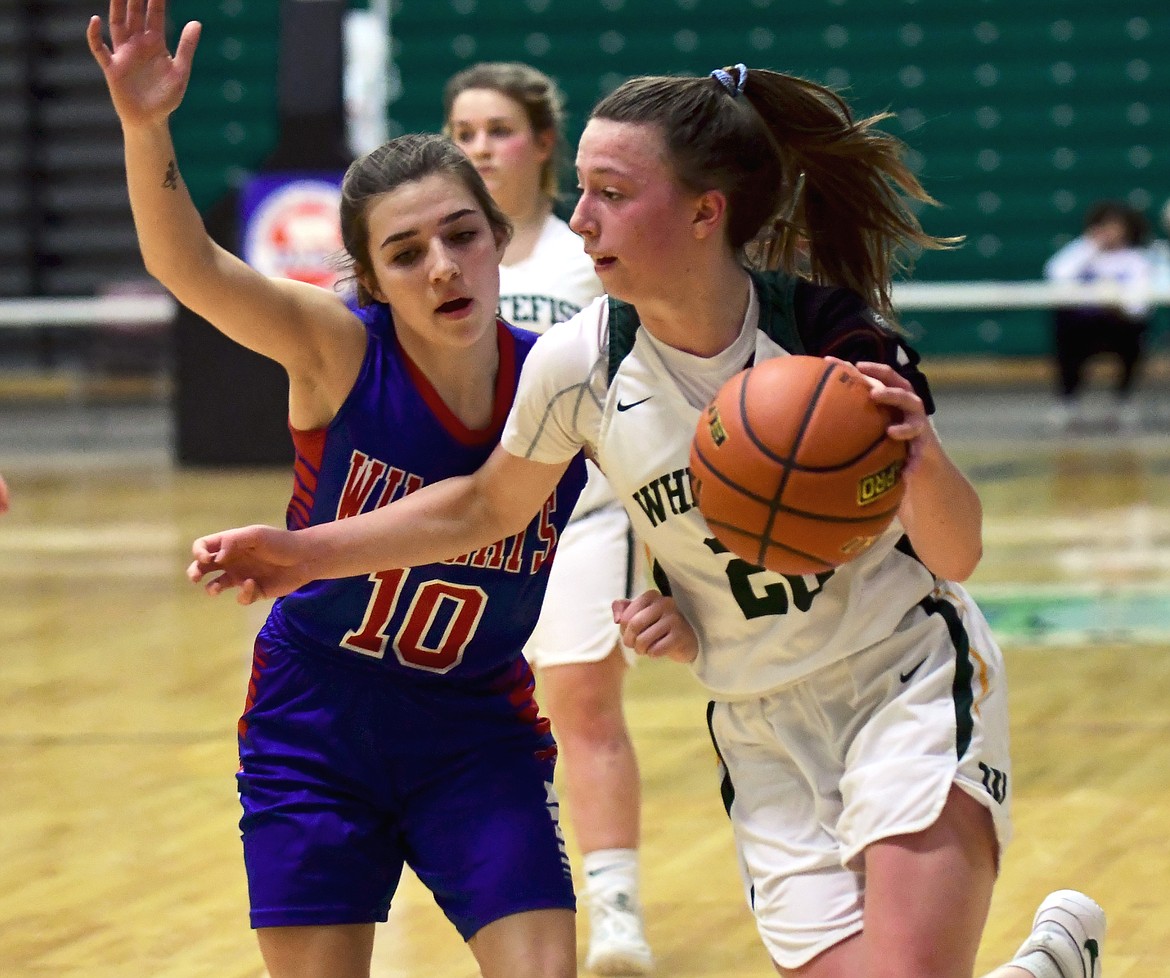 Whitefish's Mikenna Ells tries to dribble around Columbia Falls' Alexis Green during a loser-out game at the State Class A Girls Basketball Tournament on Friday. (Teresa Byrd/Hungry Horse News)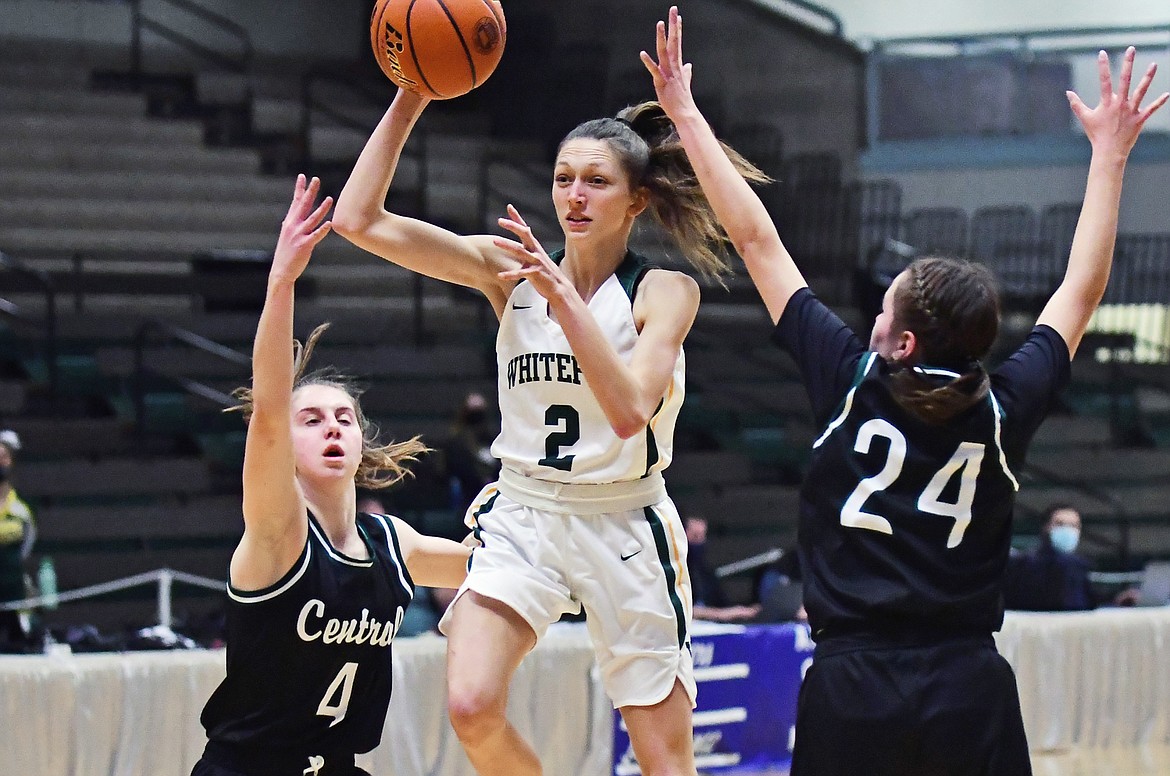 Whitefish's Erin Wilde drives in the lane against Billings Central at the Montana Class A State Tournament in Great Falls on Wednesday. (Teresa Byrd/Hungry Horse News)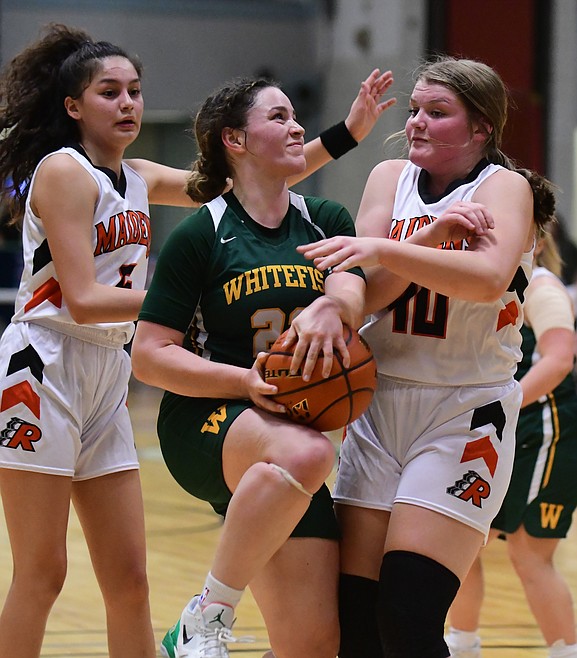 Whitefish's Gracie Smyley goes up for a shot against Ronan during the first loser out bracket game of the state A tournament in Great Falls on Thursday. The Bulldogs beat Ronan 56-49. (Teresa Byrd/Hungry Horse News)
Previous
Next
by
WHITNEY ENGLAND
Whitefish Pilot
|
March 10, 2021 1:00 AM
In sports, people love a good underdog story.
That's exactly what the Whitefish girls basketball team put together this season. In recent years leading up to now, the Lady Bulldogs have struggled just to make their record above .500 and qualify for divisionals. But not this year, they well exceeded expectations from previous seasons.
Finishing the season second in the Northwest A conference, check.
A fourth-place divisional finish which qualified the girls to compete at state for the first time in 13 years, check.
A win over Columbia Falls for the first time in 13 years, at the state tournament no less, check.
And finishing fourth at state which is the highest place Whitefish has achieved at the state tournament since 2003 when they lost in the championship game — check.
"I think that was important for our program, that we were able to compete — we competed at stretches in all four of our games and I told the girls that they should be proud of not only their season, but how the season ended," Whitefish head coach Bob Bolam said.
Heading into the Class A State Tournament in Great Falls last week, Whitefish had to tip off the tournament against the No. 1 team from the east and last year's co-champion, Billings Central. That was a tough draw for the Lady Bulldogs, but the girls gave it their best effort despite losing 57-35.
"They knew (Billings Central) was going to be a tough game, they knew who we were playing and they played as hard as they could," Bolam said. "Coming out on the losing side of it, we kept it in perspective. It wasn't like we were upset that some team came and upset us so we should be hanging out heads.
"No it was a tough team that we played, so we could still hold our heads high and know that we competed with them for a while in that game. It was a learning experience and that's how we took it," Bolam expressed.
In a similar fashion to divisionals just the weekend before, Whitefish found themselves in an elimination game the next day. But the difference was they would face Ronan, a team they had beaten twice already this season and a familiar Northwest A foe. According to Bolam, they liked their chances facing the Maidens.
As the Lady Bulldogs have all season, they performed well under pressure. Whitefish only led by two at the end of the first quarter, but turned up the heat in the second period to take a 10-point lead into halftime.
Ronan attempted a fourth-quarter comeback, but with a strong performance inside from Whitefish senior Brook Smith, who scored 21 points in the game, the Lady Dogs held off the Maidens to stay alive in the tournament. Whitefish won that game 56-49.
"We had our backs against the wall in divisionals and at state losing our first game, so we did pretty well with our loser-out games," Bolam said.
With the way the bracket fell, Whitefish's next loser-out game set up a rematch with its rival Columbia Falls. The Wildkats had beat Whitefish twice already this season, and the Lady Dogs were ready for a little revenge.
"If we were going to play anybody in that situation, we were excited to play Columbia Falls," Bolam said. "It was the last chance we were going to get to, with the team that we had and our expectations, play them with this group."
Whitefish started out a little slow in the game and got behind in the first quarter. The Wildkats led 24-20 at the half. The Lady Bulldogs came out of the locker room after halftime fired up and outscored the Wildkats 26-14 in the second half to take the lead.
"The game started out a little rough for us getting behind in the first quarter, but we slowly came back," Bolam said. "Once we got back up with them, it was kind of even most of the way until the end; we just played back-and-forth basketball."
"By the fourth quarter we got ahead by a few points and the excitement was starting to build, but it still came down to that our girls had to finish," he added.
Columbia Falls' Hannah Schweikert got in foul trouble early and Whitefish didn't make it easy on her. At the end of the game it came down to the Lady Bulldogs needing to make their free throws to remain in the lead, which they did make 17 of 22 shots from the charity stripe.
The girls came away with a 46-38 win and this marked the Lady Bulldogs first victory over Columbia Falls in 13 years — and according to Bolam it was rewarding to put an end to that drought.
"Being able to win that one was probably the capper of all things, to move past that and get that win to stay in the tournament," he said. "Obviously everyone's really excited about that win and we enjoyed it; it had been such a long time since we'd beaten Columbia Falls."
To finish up the tournament, Whitefish played Hardin in the consolation semifinals. Hardin jumped on Whitefish early in the game, leading 18-6 after the first eight minutes. Whitefish came out well after halftime, but couldn't overcome the large deficit, losing 53-37 in that final round.
Despite finishing the tournament with a loss, the entire Whitefish program is proud of what the girls were able to accomplish throughout the season and ending up in fourth place at state was a highlight for the team.
"Overall it was a great experience and hopefully it brings some excitement to the girls coming back in our program and the girls moving up into our program," Bolam said. "We hope that its a springboard to get more girls out and playing and try to keep rolling through the next years, be competitive and see what we can do."
Whitefish 6 7 16 8 – 37
Hardin 18 9 8 18 – 53
WHITEFISH – Jadi Walburn 2, Erin Wilde 3, Ashton Ramsey 5, Jenny Patten 3, Mikenna Ells 2, Gracie Smyley 12, Brook Smith 10.
HARDIN – Kylee Old Elk 5, Nevaeh Alden 4, Dierra Takes Enemy 7, Alyssa Pretty Weasel 11, Katerena Morrisson 1, Kamber Good Luck 11, Breanna Old Elk 3, Aiyanna Big Man 5, Lexis Hogan 2, Alaina Woods 4.
Col. Falls 13 11 7 7 – 38
Whitefish 8 12 14 12 – 46
COLUMBIA FALLS – Maddie Robison 12, Clarissa Erb 10, Grace Gedlaman 6, Hope McAtee 2, Hannah Schweikert 8.
WHITEFISH – Jadi Walburn 5, Taylor Means 6, Ashton Ramsey 5, Mikenna Ells 15, Gracie Smyley 9, Brook Smith 6.
Whitefish 14 18 11 13 - 56
Ronan 12 10 10 17 - 49
WHITEFISH — Jadi Walburn 3 2-2 8, Mikenna Ells 2 4-5 9, Brook Smith 7 7-9 21, Gracie Smyley 3 4-4 12, Ashton Ramsey 0 3-4 3, Jenny Patten 1 0-0 3, Erin Wilde 0 0-0 0, Taylor Means 0 0-0 0. Totals 16-37 20-24 56.
RONAN — LaReina Cordova 1 0-0 2, Danielle Coffman 3 0-0 6, Areanna Burke 4 0-0 12, Jaylea Lunceford 3 4-4 10, Madeline McCrea 0 0-0 0, Jaeleigh Gatch 3 9-10 15, Leina Ulutoa 0 0-2 0, Olivia Heiner 1 1-2 3, Haylie Webster 0 1-2 1. Totals 15 15-22 49.
Whitefish 11 3 12 9 - 35
Billings Central 13 16 11 17- 57
WHITEFISH — Jadi Wilburn 8, Mikenna Ells 2, Brook Smith 5, Gracie Smyley 10, Ashton Ramsey 6, Erin Wilde 4.
BILLINGS CENTRAL — Solei Elletson 7, Mya Hansen 21, Molly Molvig 2, Belle Erickson 15, Maria Stewart 2, Kendall Wahl 4, Ellie Koerber 2, Hailey Euell 3.
---