Boys swim runner up at state, girls take third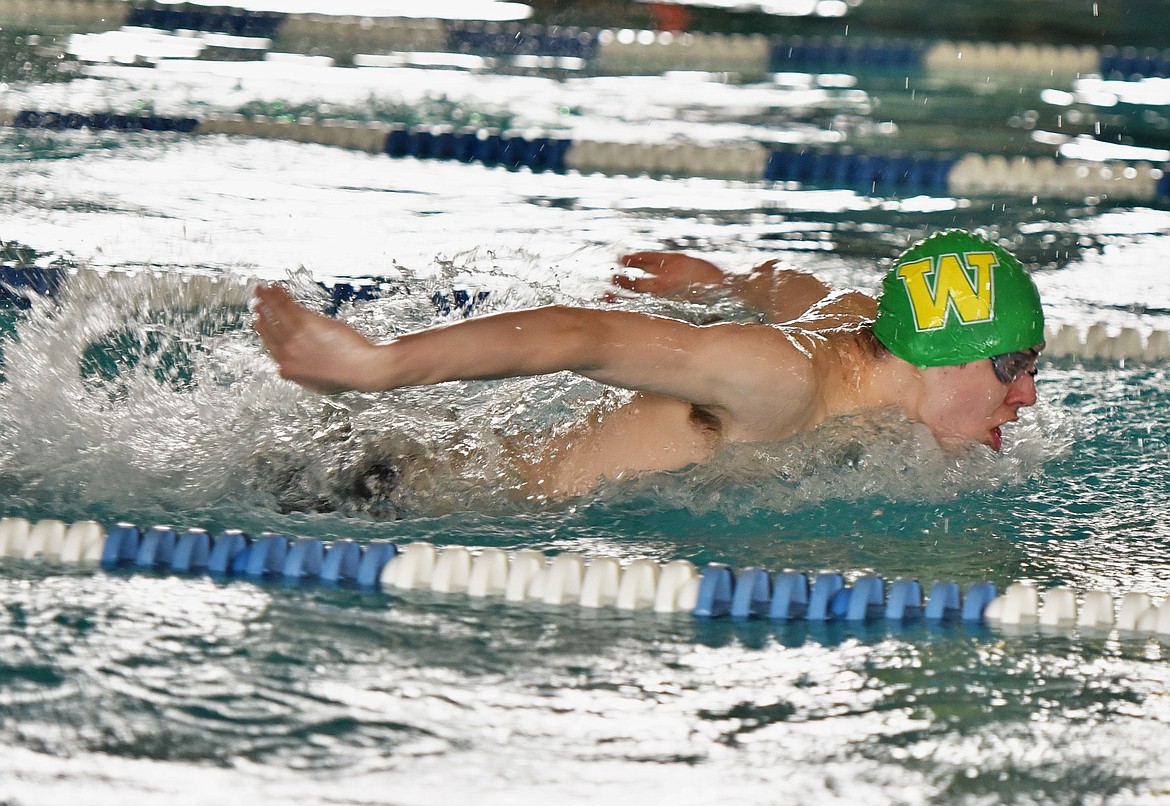 Whitefish swimmer Logan Botner races to a state title in the 100 Yard Butterfly event at the Montana Class A State swim meet on Saturday, March 6 in Polson. (Scot Heisel/Lake County Leader)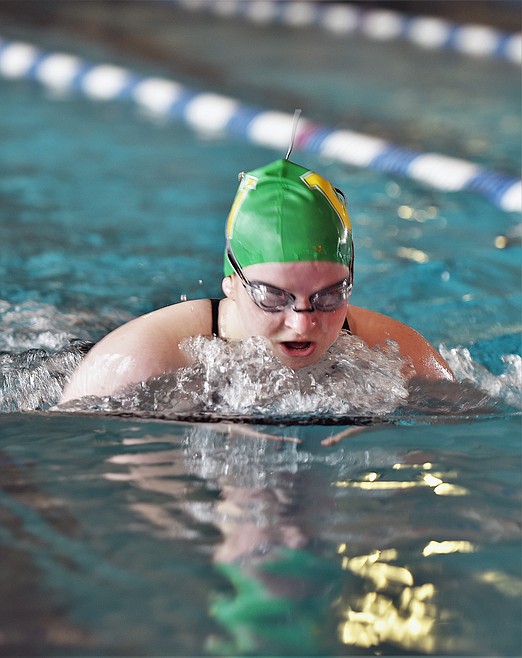 Whitefish's Patricia McDaniel swims in the 100 Yard Breaststroke event at the Montana Class A State swim meet on Saturday, March 6 in Polson. (Scot Heisel/Lake County Leader)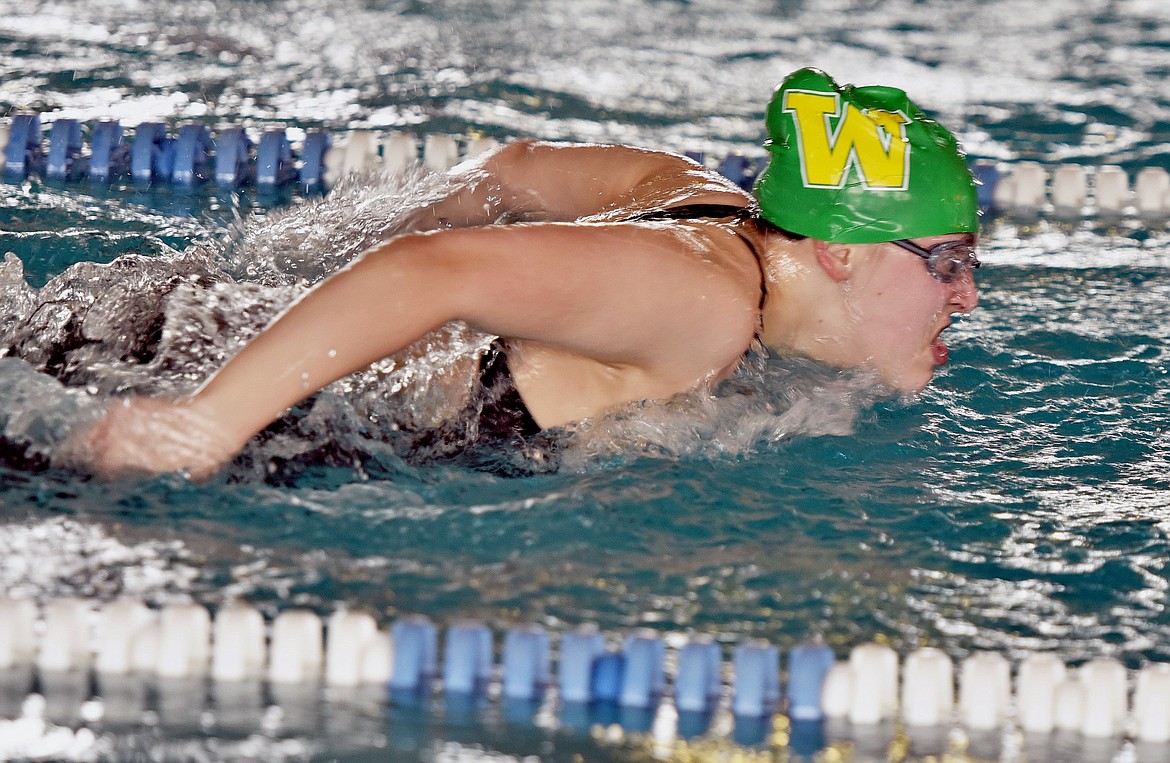 Bulldog Nia Hanson swims in the 100 Yard Butterfly race at the Montana Class A State swim meet on Saturday, March 6 in Polson. (Scot Heisel/Lake County Leader)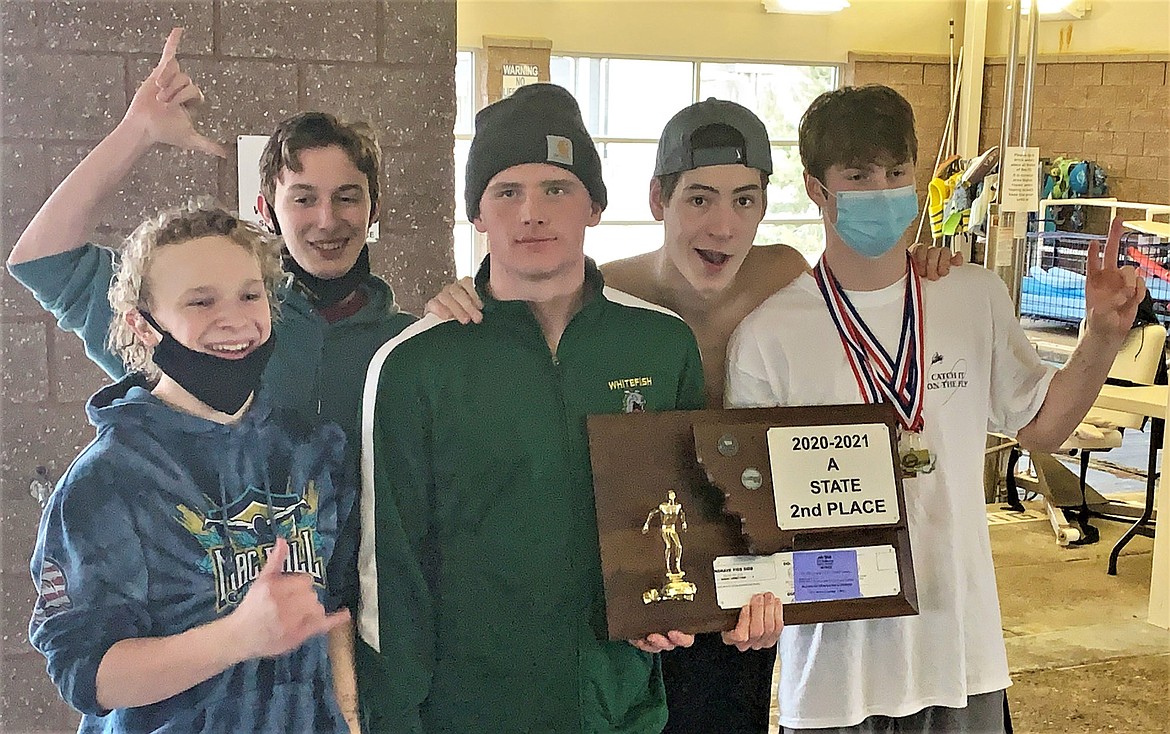 The Whitefish Boys Swim team recieves the State A second place plaque on Saturday, March 6 in Polson. (Scot Heisel/Lake County Leader)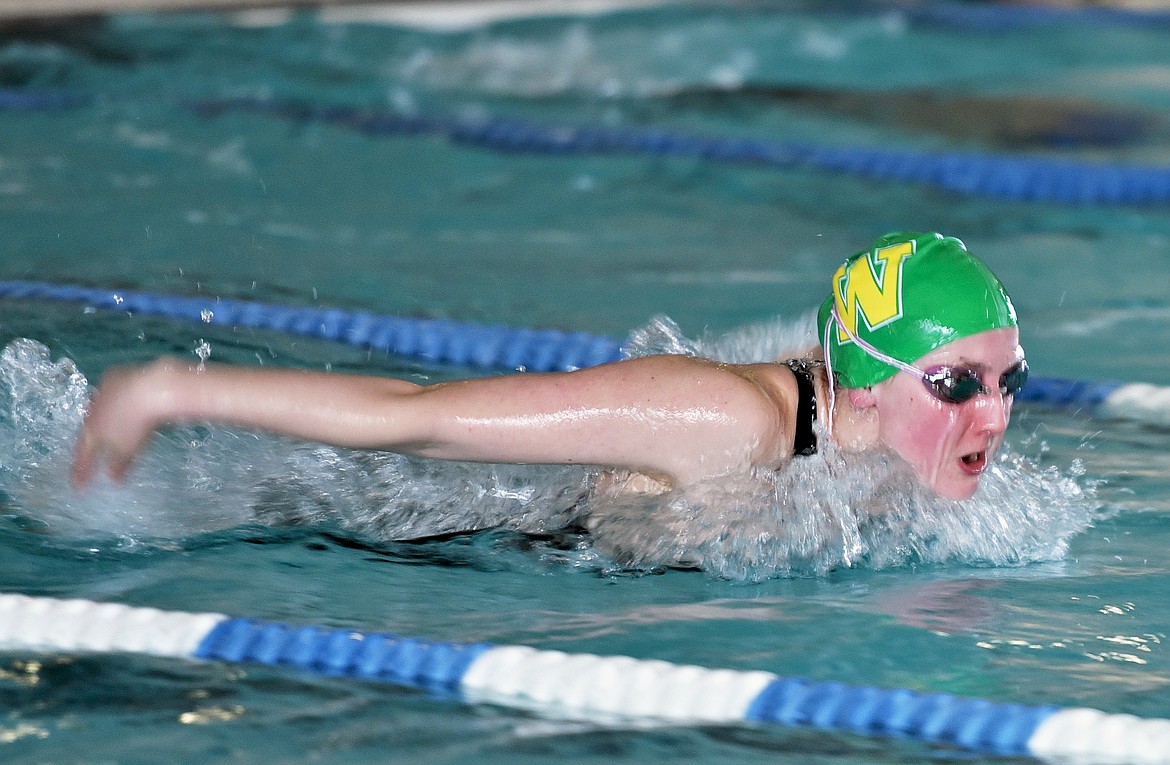 Whitefish's Ada Qunell swims to a state title in the 200 Yard IM event at the Montana Class A State swim meet on Saturday, March 6 in Polson. (Scot Heisel/Lake County Leader)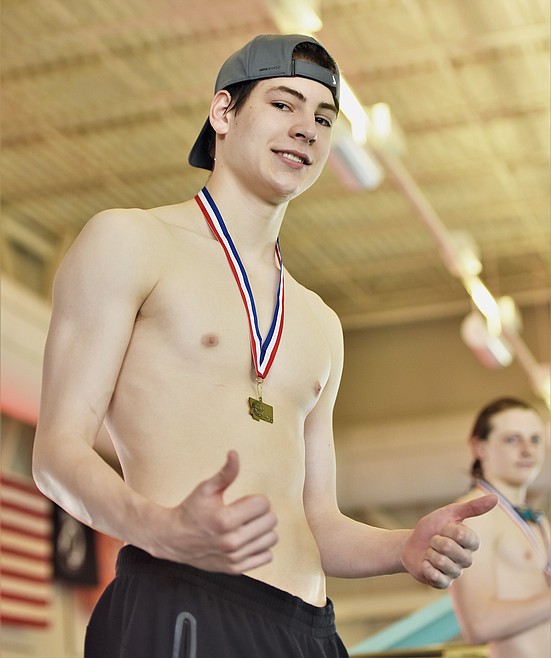 Whitefish's Logan Botner recieves a medal for a first-place finish in the 500 yard freestyle race at the Montana Class A State swim meet on Saturday, March 6 in Polson. (Scot Heisel/Lake County Leader)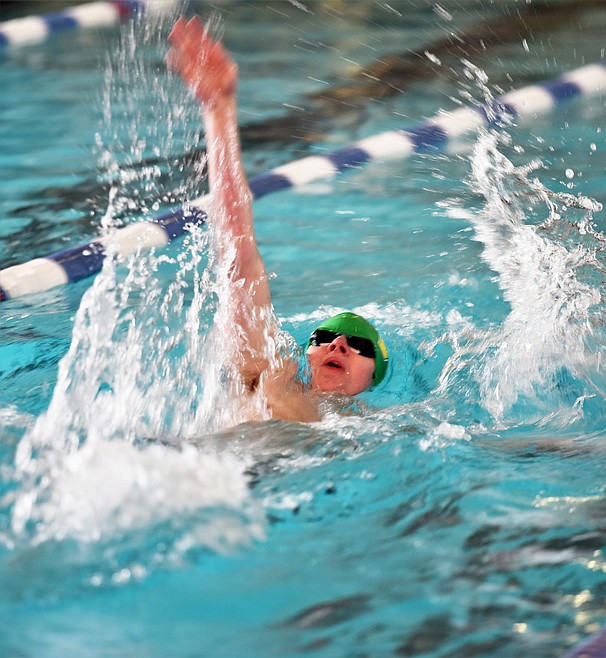 Bulldog Aaron Dicks swims in the 100 Yard Backstroke race at the Montana Class A State swim meet on Saturday, March 6 in Polson. (Scot Heisel/Lake County Leader)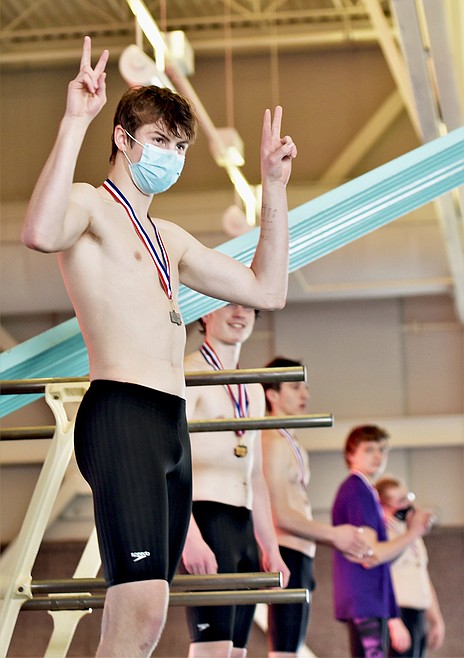 Whitefish's Aaron Dicks earns a second-place medal in the 100 Yard Backstroke event at the Montana Class A State swim meet on Saturday, March 6 in Polson. (Scot Heisel/Lake County Leader)
Previous
Next
by
WHITNEY ENGLAND
Whitefish Pilot
|
March 10, 2021 1:00 AM
The Whitefish boys swim team came up just three points shy of earning back-to-back state titles after a stellar performance at the State AB Swim Meet on Saturday in Polson.
The Bulldogs scored 71 points, but were edged for first by Billings Central, with 74 points.
Individually, two Whitefish boys swam to first place, and another earned second in various events.
Junior Logan Botner earned state titles in the 100 yard butterfly with a time of 54.59 and also the 500 yard freestyle event. In the 500 Free, Botner outpaced the second-place finisher by more than 20 seconds to earn the title.
State titles are not new for Botner though as last year he took first in the 100 yard backstroke and 200 yard freestyle races.
Sophomore Jack McDaniel swam to a first-place finish in the 100 yard freestyle race to earn a state title. He also placed second in the 50 yard freestyle.
Junior Aaron Dicks' best finish of the day was second in the 100 yard backstroke and he also swam to fourth in the 100 yard butterfly event.
The Whitefish boys team earned first place in both the 200 yard medley relay and the 200 yard freestyle relay.
On the girls side, Whitefish swam to a third place finish overall with 42 points. The girls came in behind Billings Central with 102 points and Bigfork High School with 52 points.
Last season the Whitefish girls came in second place, also behind Billings Central.
The girls took third in both the 200 yard and 400 yard freestyle relays.
Junior standout swimmer Ada Qunell defended her 200 yard IM title for the third year in a row with a time of 2:09.12. She also nabbed a title in the 500 yard freestyle race, finishing more than 20 seconds before the second-place swimmer.
Nia Hanson took second in the 100 yard butterfly and third in the 200 yard freestyle event.
2021 MHSA State Swim Meet
Final results
Polson
Saturday
All distances in yards (25-yard pool)
Girls
1 Billings Central Catholic High School 102
2 Bigfork High School 52
3 Whitefish High School 42
4 Hardin High School 34
5 Havre High School 30.50
6 Columbia Falls High School 11.50
7 East Helena High School 0
7 Polson High School 0
Boys
1 Billings Central Catholic High School 74
2 Whitefish High School 71
3 Columbia Falls High School 43
4 Havre High School 35
5 Hardin High School 20
6 Polson High School 17
7 East Helena High School 1
Individual
Girls 200 Yard Medley Relay
6 Whitefish High A 2:17.18
Boys 200 Yard Medley Relay
1 Whitefish High A 1:50.53
Girls 200 Yard Freestyle
1 Early, Alyson SO Central 2:01.85
2 Anderson, Katelyn JR Central 2:09.18
3 Hanson, Nia JR Whitefish High 2:09.60
4 Kills Night, Kiauna FR Hardin 2:17.60
5 McKeon, Eloise SO Cfalls High 2:19.09
6 Ralston-Gust, Mia JR Central 2:24.02
7 Uffelman, Abby JR Hardin 2:26.62
8 Bagley, Norah FR Cfalls High 2:30.24
9 McKee, Aspen Polson 2:31.53
10 Messineo, Tori SR Havre 2:37.76
11 Brevik, Soraya JR Bigfork 2:37.95
12 Mercer, Rayna SO Whitefish High 2:38.70
13 Baker, Chloe FR Hardin 2:38.97
14 McCrady, Linnea SO Whitefish High 2:39.21
15 Burmeister, Olivia SR Central 2:40.77
16 Leonhardt, Gabbie JR Cfalls High 2:49.72
17 Harmer, Madison SR Hardin 2:52.16
18 Pendlay, Olivia JR Bigfork 3:01.66
Girls 200 Yard IM
1 Qunell, Ada JR Whitefish High 2:09.12
2 Beers, Megan SO Central 2:22.20
3 Burchard, Kobi SR Havre 2:34.67
4 Burchard, Kyla FR Havre 2:34.95
5 Templin, Emerald SR Cfalls High 2:35.24
6 Pallone, Carmen FR Hardin 2:44.86
7 Milburn, Lliana JR Central 2:57.14
8 Martin, Aspen SO Central 2:58.83
9 Friar, Jolie FR Cfalls High 3:04.94
10 Herman, Brooklyn SO Hardin 3:05.68
11 Eaton, Brighid SR Central 3:22.30
Boys 200 Yard IM
1 Cheff, Connor JR Cfalls High 2:19.32
2 Hraban, Aedan FR Central 2:27.03
3 Borgen, Thane FR Cfalls High 2:30.93
4 Cammon, Hiram JR Havre 2:35.79
5 Kay, Christian JR Central 2:37.93
6 Hagstrom, Wyatt JR Havre 2:38.85
7 Walks Over Ice, Buren JR Hardin 2:45.17
8 Poling, Joseph FR Central 2:53.87
9 Niles, Nathan FR Whitefish High 3:02.51
Girls 50 Yard Freestyle
1 Thompson, Shelby SR Bigfork 26.05
2 Kogolshak, Rylee SO Hardin 26.35
3 Slawter, Sydney JR Bigfork 27.14
4 Weaver, Kay SO Whitefish High 27.29
5 Fink, Ava SR Central 28.13
*6 King, Kaylee SO Cfalls High 28.56
*6 Flammond, Morgan SR Havre 28.56
8 Lines, Blakelee SR Havre 28.98
9 Morrison, Hope Polson 29.26
10 Richter, Sarah SO East Helena 29.65
11 Reichner, Allie SR Bigfork 30.10
12 Qunell, Emi FR Whitefish High 31.16
13 Seeley, Isabel Polson 31.23
14 McGrail, Mollie SR Central 31.28
15 Whiteman Runs Him, Laci SO Hardin 31.52
16 Eaton, Brighid SR Central 32.47
17 Shillam, Coralynn JR Bigfork 32.80
18 Taylor, Adeline SO Whitefish High 36.48
Boys 50 Yard Freestyle
1 Mark, Caleb JR Hardin 23.35
2 McDaniel, Jack SO Whitefish High 23.82
3 Dalen, Ben SR Whitefish High 24.76
4 Malmberg, Peyton SR Cfalls High 24.97
5 Blackwell, Brigham SR Havre 26.41
6 Wyman, Trey Polson 27.99
7 Ripplinger, Kiernen SO Central 28.98
8 Meuter, Zane FR Whitefish High 29.19
9 Miller, Collin JR Havre 29.39
10 Schreiber, Kyle JR Central 29.51
11 Laman, Grant SO East Helena 29.72
12 Snyder, Philip SR Central 30.20
13 O'Neill, Connor SR Central 35.39
Girls 100 Yard Butterfly
1 Logue, Sophi JR Bigfork 1:05.77
2 Hanson, Nia JR Whitefish High 1:07.81
3 Bodine, Lauren SR Central 1:09.13
4 Pallone, Carmen FR Hardin 1:12.57
5 Bagley, Norah FR Cfalls High 1:15.63
6 Miller, Megan SR Havre 1:16.33
7 McKeon, Eloise SO Cfalls High 1:17.36
8 Kunz, Riley SR Central 1:19.44
9 Ralston-Gust, Mia JR Central 1:19.61
10 Morrison, Hope Polson 1:20.89
11 Osborn, Ashlee JR Hardin 1:21.52
12 Friar, Jolie FR Cfalls High 1:26.56
13 Stoddard, Emma SO Cfalls High 1:28.59
14 Medicine Horse, Taylor JR Hardin 1:30.00
15 Milburn, Lliana JR Central 1:30.66
16 Seeley, Isabel Polson 1:31.86
17 Herman, Brooklyn SO Hardin 1:36.50
18 Dean, Mackenzie FR Havre 1:44.10
Boys 100 Yard Butterfly
1 Botner, Logan JR Whitefish High 54.59
2 Dalen, Ben SR Whitefish High 1:02.99
3 Richert, Ethan SR Central 1:06.38
4 Blackwell, Brigham SR Havre 1:09.62
Girls 100 Yard Freestyle
1 Early, Alyson SO Central 55.85
2 Thompson, Shelby SR Bigfork 56.08
3 Kunz, Myah FR Central 58.14
4 Burchard, Kobi SR Havre 1:01.47
5 Flammond, Morgan SR Havre 1:03.16
6 King, Kaylee SO Cfalls High 1:03.22
7 Three Irons, Andrea JR Hardin 1:03.37
8 Snell, Maria JR Central 1:03.41
9 Nedens, Aubrey FR Hardin 1:04.58
10 Weaver, Kay SO Whitefish High 1:05.15
11 McGrail, Mollie SR Central 1:09.16
12 Mercer, Rayna SO Whitefish High 1:09.34
13 Messineo, Tori SR Havre 1:11.26
14 Leonhardt, Gabbie JR Cfalls High 1:15.67
15 Shillam, Coralynn JR Bigfork 1:16.55
16 McGill, Ashlyn FR Bigfork 1:17.69
17 Thompson, Anna FR Bigfork 1:29.02
Boys 100 Yard Freestyle
1 McDaniel, Jack SO Whitefish High 52.87
2 Snyder, Philip SR Central 54.32
3 Ross, Christian JR Central 58.87
4 Bartholomew, Jordan JR Central 1:04.09
5 Walks Over Ice, Buren JR Hardin 1:04.25
6 Laman, Grant SO East Helena 1:04.94
7 Schreiber, Kyle JR Central 1:07.83
8 Miller, Collin JR Havre 1:10.07
Girls 500 Yard Freestyle
1 Qunell, Ada JR Whitefish High 5:14.27
2 Beers, Megan SO Central 5:37.24
3 Templin, Emerald SR Cfalls High 6:04.48
4 Kills Night, Kiauna FR Hardin 6:14.86
5 Lines, Blakelee SR Havre 6:36.62
6 Uffelman, Abby JR Hardin 6:36.81
7 Pratt, Aliviah JR Havre 6:40.85
8 McKee, Aspen Polson 6:45.02
9 Davison, Abigail SO Central 6:49.56
10 Martin, Aspen SO Central 7:05.62
11 Brevik, Soraya JR Bigfork 7:10.32
12 Baker, Chloe FR Hardin 7:14.17
13 Crantz, Grace JR Havre 7:18.98
14 Burmeister, Olivia SR Central 7:23.75
15 Harmer, Madison SR Hardin 7:46.05
Boys 500 Yard Freestyle
1 Botner, Logan JR Whitefish High 5:15.43
2 Schrader, Adam SO Cfalls High 5:38.86
3 Mark, Toby SO Hardin 6:06.09
4 Walks Over Ice, Wynn SR Central 6:07.64
5 McGovern, Brendan SO Central 7:01.04
6 Blankenship, Johnathan SO Cfalls High 7:10.26
7 Burmeister, Jacob FR Central 7:43.18
8 Gaudreau, Patrick JR Central 8:20.42
Girls 200 Yard Freestyle Relay
1 Central A 1:46.93
2 Bigfork A 1:48.97
3 Whitefish High A 1:51.87
4 Havre A 1:52.87
5 Hardin A 1:53.51
6 Cfalls High A 2:00.17
7 East Helena A 2:30.21
Boys 200 Yard Freestyle Relay
1 Whitefish High A 1:37.60
2 Cfalls High A 1:38.25
3 Central A 1:42.51
4 Havre A 1:47.97
Girls 100 Yard Backstroke
1 Kunz, Myah FR Central 1:02.71
2 Logue, Sophi JR Bigfork 1:04.91
3 Slawter, Sydney JR Bigfork 1:08.07
4 Anderson, Katelyn JR Central 1:08.38
5 Kunz, Riley SR Central 1:10.23
6 Miller, Megan SR Havre 1:11.16
7 Burchard, Kyla FR Havre 1:11.45
8 Three Irons, Andrea JR Hardin 1:15.41
9 Osborn, Ashlee JR Hardin 1:15.55
10 McDaniel, Patricia SR Whitefish High 1:16.77
11 Crantz, Grace JR Havre 1:18.13
12 Snell, Maria JR Central 1:19.87
13 Qunell, Emi FR Whitefish High 1:20.15
14 McCrady, Linnea SO Whitefish High 1:21.33
15 Stoddard, Emma SO Cfalls High 1:23.37
16 Hull, Evalyn JR Cfalls High 1:23.81
17 Medicine Horse, Taylor JR Hardin 1:29.29
18 Pendlay, Olivia JR Bigfork 1:32.58
Boys 100 Yard Backstroke
1 Mark, Caleb JR Hardin 59.24
2 Dicks, Aaron JR Whitefish High 1:05.33
3 Borgen, Thane FR Cfalls High 1:07.15
4 Hagstrom, Wyatt JR Havre 1:08.09
5 Wyman, Trey Polson 1:08.51
6 Richert, Ethan SR Central 1:10.94
7 Bartholomew, Jordan JR Central 1:16.67
8 Meuter, Zane FR Whitefish High 1:20.28
9 Blankenship, Johnathan SO Cfalls High 1:24.28
10 Burmeister, Jacob FR Central 1:25.84
11 Molloy, Aidan FR Central 1:28.48
Girls 100 Yard Breaststroke
1 Kogolshak, Rylee SO Hardin 1:10.89
2 Bodine, Lauren SR Central 1:15.67
3 Pratt, Aliviah JR Havre 1:20.55
4 Nedens, Aubrey FR Hardin 1:22.43
5 Hadley, Hannah SO Central 1:24.12
6 Fink, Ava SR Central 1:24.28
7 Davison, Abigail SO Central 1:26.49
8 McDaniel, Patricia SR Whitefish High 1:26.87
9 Reichner, Allie SR Bigfork 1:26.88
10 Richter, Sarah SO East Helena 1:30.54
11 Stewart, Grace SR Bigfork 1:43.13
12 Dowling, Erika FR Bigfork 1:50.63
13 Kinslow, Kylie FR Bigfork 1:53.47
Boys 100 Yard Breaststroke
1 Sloan, Mason Polson 1:05.18
2 Cheff, Connor JR Cfalls High 1:10.04
3 Malmberg, Peyton SR Cfalls High 1:10.67
4 Dicks, Aaron JR Whitefish High 1:11.07
5 Kay, Christian JR Central 1:12.76
6 Hraban, Aedan FR Central 1:12.86
7 Mark, Toby SO Hardin 1:13.79
8 Cammon, Hiram JR Havre 1:17.23
9 McKay, Conner SO Havre 1:17.87
10 Niles, Nathan FR Whitefish High 1:21.74
11 Ripplinger, Kiernen SO Central 1:30.09
12 Poling, Joseph FR Central 1:30.72
Girls 400 Yard Freestyle Relay
1 Central A 4:01.71
2 Havre A 4:11.15
3 Whitefish High A 4:12.82
4 Hardin A 4:27.88
5 Cfalls High A 4:55.96
6 Bigfork A 5:07.97
---