Whitefish native Lee Walburn becomes national champ for Carroll College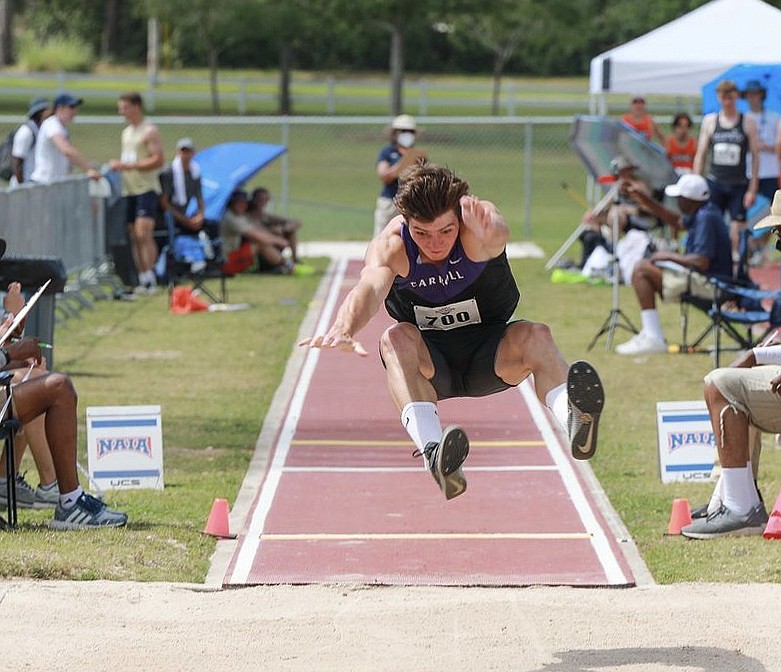 Carroll College's Lee Walburn competes in the long jump as part of the decathlon at the NAIA National Championship in Alabama on May 26-28. (Courtesy photo)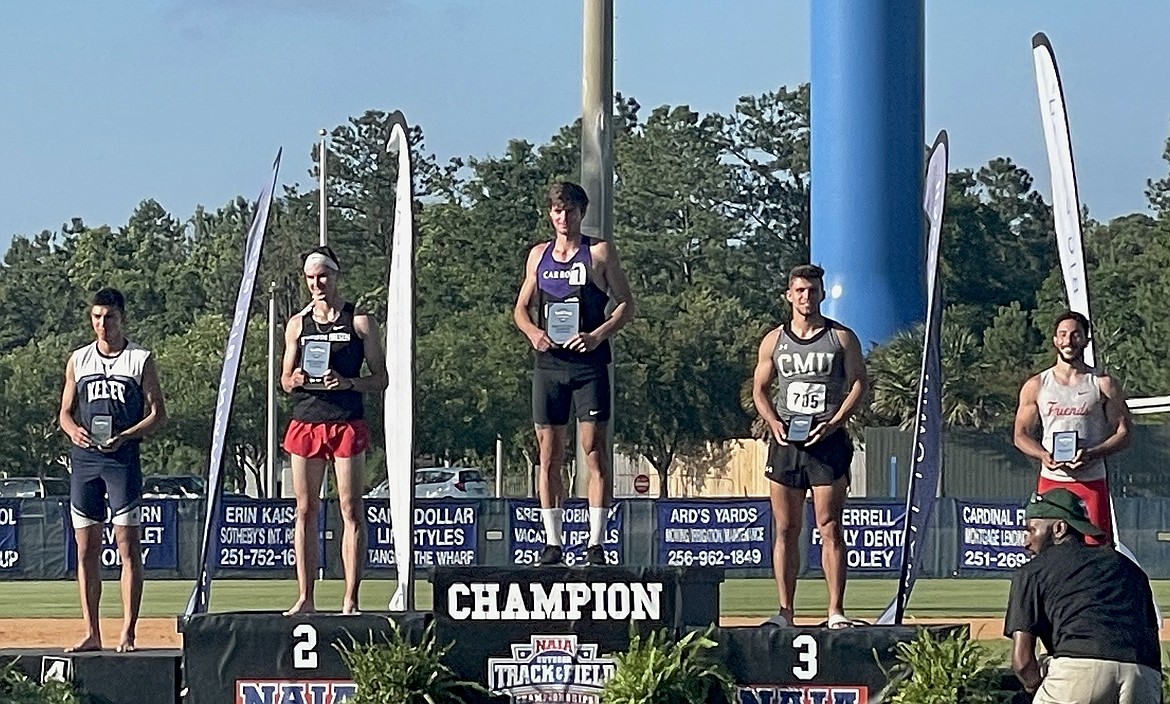 Carroll College's Lee Walburn becomes a national champion in the decathlon event at the NAIA Men's Outdoor Track and Field National Championships in Alabama on May 26-28. (Courtesy photo)
Previous
Next
by
WHITNEY ENGLAND
Whitefish Pilot
|
June 23, 2021 1:00 AM
Lee Walburn was preparing for his first ever decathlon event — a strenuous track and field competition that involves competing in 10 different events over two days.
Walburn, a former Whitefish High School multi-sport athlete that was recruited by Carroll College in 2019, had one chance in April at qualifying for the NAIA National Championships in the decathlon and this was it. Unfortunately the deck seemed to be stacked against him.
In the week leading up to Carroll College's home meet, Helena received over a foot of snow. This meant practicing in the snow and doing more treadmill work. Then the day before Walburn was set to compete, he came down with a sickness; Walburn was throwing up almost the entire day before the competition.
On the day of the Trudnowski Open, he knew it was going to be a hard couple of days competing.
"It was just kind of a brutal meet," he recalled. "When you still just feel sick and lack energy, but mentally it kind of helped — like if I get through this sick, I can't wait until I'm healthy."
He battled through it, placing first in the decathlon at the meet. But more importantly, later that day he found out he qualified for nationals and was ranked third in the NAIA national rankings.
"It was cool," Walburn said. "As soon as we finished that meet, once I saw that I was ranked third that was really shocking and I got super excited."
Making it through the qualifying meet in that fashion, it only sparked his confidence. When it came time for the NAIA Nationals, Walburn was ready.
Going into the final event, the 1500 meter run, Walburn led in the scores but needed to stick with the athlete in second if he wanted a chance at taking the decathlon title. But the runner sitting in second place was a talented 1500-meter athlete, putting the pressure on Walburn.
"That race was pretty stressful, but I was able to stick by him," Walburn said. "Once we crossed the finish line I knew I was close; I thought that I had done it… then the woman who started the race with the gun brought the (starting gun) shell over to me. That was cool, that's when I knew."
Walburn describes becoming a national champion in the decathlon as a surreal experience, but he's not satisfied there. He says that although his score gave him first in the NAIA and is comparable to the decathletes in the Big Sky Conference and the Pac-12, Walburn and his coach feel his potential extends much beyond what he accomplished this year.
"When I was all done with it, it didn't really feel like oh that was my best performance ever and that's why I won," he said. "I'm just so excited to go back next year and try to get a better score."
Walburn was born and raised in Whitefish and spent his younger days playing sports and enjoying the outdoors. He likes fishing and hiking, and he also played basketball for Whitefish High.
During the track and field season at WHS Walburn was a standout hurdler — both the short hurdles and the 300 hurdles. But he also was well rounded in the track and field scene, dabbling in the jumping events and some throwing.
Although Walburn had no idea he would become a talented decathlete, his coach at Carroll saw his potential right away. Walburn says when his coach recruited him during his senior year in 2019, he mentioned that Walburn would be a good "multi" — meaning an athlete that competes in several different events and is a good candidate for the decathlon or heptathlon.
When he started training with Carroll, his coach had him practicing in all sorts of events and learning things he'd never done before such as pole vault.
"I was like oh this is way more fun than just doing 400 repeats on the track; I liked it a lot, so it just all came together I guess," he said.
His freshman year, Walburn competed during the indoor season and was named Carroll College's Track Performer of the Year. Then the COVID-19 pandemic canceled his freshman outdoor season, which he says was disappointing but gave him time to work on his weaker events.
Now after winning the decathlon at the NAIA National Championship, Walburn says the bar is set high for the future. He is majoring in business and would like to teach high school as well as coach track at the collegiate level if it became available.
As far as the immediate future though, he's focused on improving his marks in each event in order to steadily up his decathlon score. Walburn is aiming for his scores to be among the highest levels in the country despite sporting association or division, and hopefully that creates an opportunity to shoot for the Olympics one day.
"The Olympic trials, that is the dream," he says.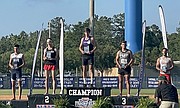 ---