Glacier Twins dominate Lewistown tourney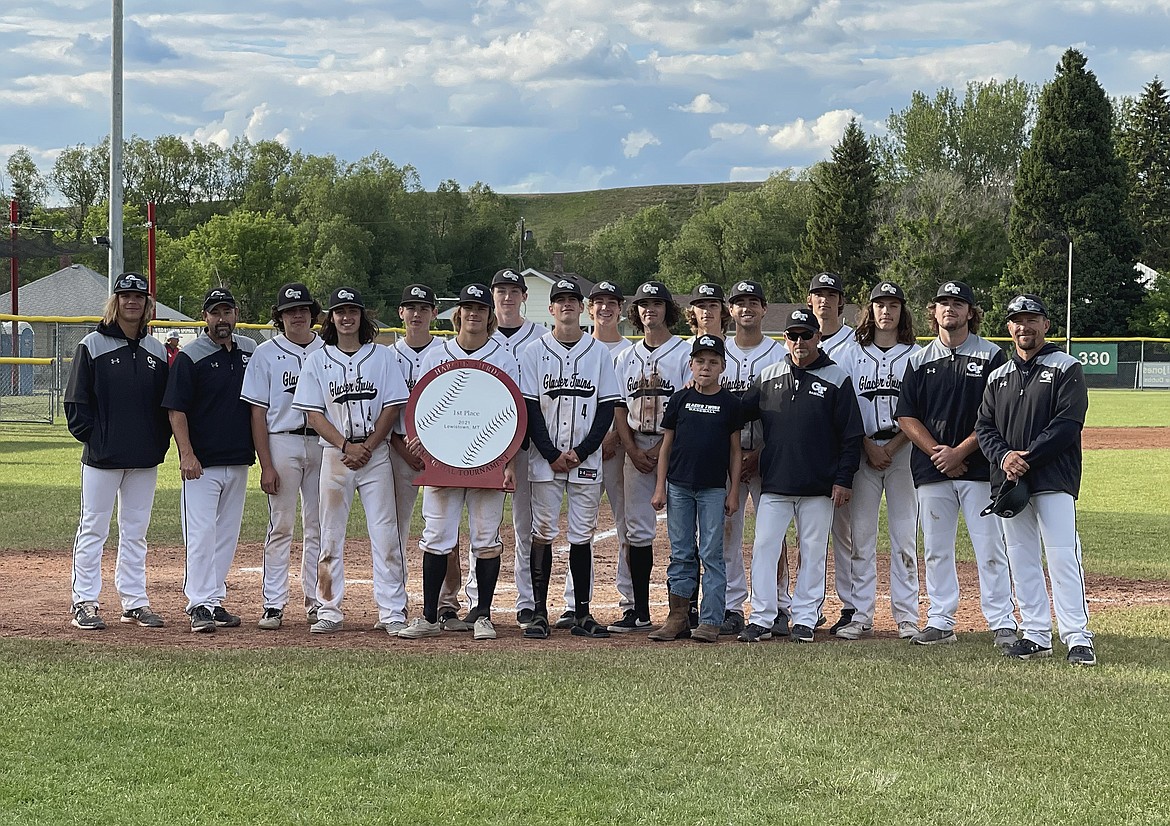 The Glacier Twins took first at the Gjerde Memorial Tournament in Lewistown last weekend. The Twins were undefeated in the tournament and beat the Lewistown Redbirds 8-3 in the championship game on Sunday. (Courtesy photo)
by
WHITNEY ENGLAND
Whitefish Pilot
|
June 23, 2021 1:00 AM
The Glacier Twins went undefeated last weekend including three shutouts at the Gjerde Memorial Tournament in Lewistown.
After defeating four teams over the course of a few days, the tournament boiled down to a championship game between the home team, the Lewistown Redbirds, and the Twins.
In a close game, the Twins came away with four runs in the fourth inning to break open the score and held on to the lead to beat Lewistown 8-3 taking the championship game. In that fourth inning, Glacier's Jake McIntyre hit a 2-run double with two out that surged the Twins into a commanding lead.
McIntyre's hit was the fourth hit of the inning; Hayden Meehan hit a triple and Stevyn Andrachick hit Meehan home on a grounder. Zach Veneman and Jacob Polumbus each had hits in the inning as well.
George Robbins was on the hill for the Twins and he went five innings, allowing two runs on six hits and striking out five.
The Twins had already defeated Lewistown in their opening game of the tournament on Thursday, they took down the Redbirds 8-0.
Robbins also led things off on the pitcher's mound in the first game, giving up zero runs on two hits over five innings, striking out four and walking zero. Meehan served as relief and delivered the shutout.
Veneman led Glacier in the 8-0 win by going 2-for-3 at the plate and driving in four runs.
On Friday the Twins had a close matchup with the Havre Northstars. Glacier got off to an early lead, but allowed four runs in the fourth inning as Havre surged ahead. In the bottom of the fifth, Glacier regained the lead going up 8-7.
In the fifth inning, Mason Peters singled on a 2-1 count which gave the Twins the lead. The Twins had 12 hits in the game and won 9-8.
In the next two games of the tournament, the Twins crushed the Mead Panthers 13-0 and the Gallatin Valley Outlaws 14-0.
The Twins improved to 25-8 for the season after their commanding 5-0 tournament weekend.
The Glacier Twins were scheduled to play the Bitterroot Red Sox on Tuesday after press time. Then the Twins will host the Ed Gallo A Tournament beginning Thursday, June 24 and running through Sunday, June 27.
---