Retiring counselor encourages students to be lifelong learners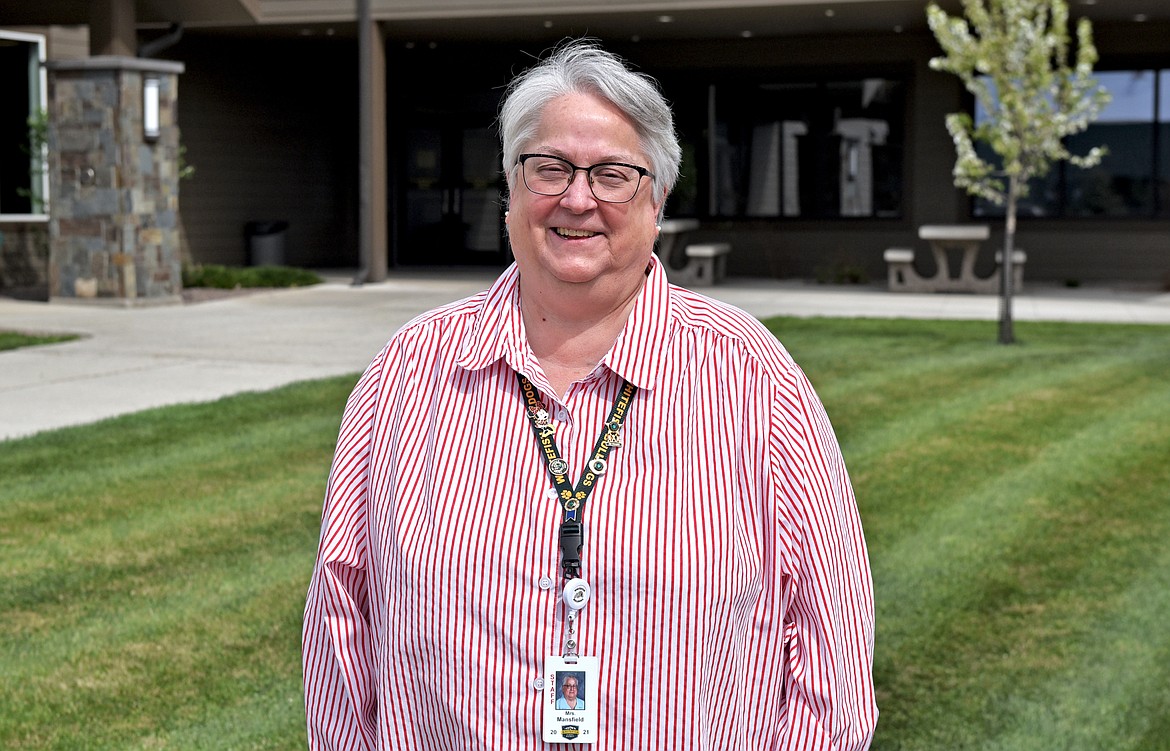 Barbara Mansfield has been a counselor at Whitefish High School for 24 years and is retiring this month. (Whitney England/Whitefish Pilot)
by
WHITNEY ENGLAND
Whitefish Pilot
|
June 16, 2021 1:00 AM
Whitefish High School counselor Barbara Mansfield can recall endless anecdotes of helping kids along their path to adulthood.
She's had numerous students return to say thank you for helping them get to where they needed to go, or achieve their goals — those moments of hearing their success are what fill Mansfield with pride in her work year after year.
"To me it's just to be able to say, hey maybe I played a tiny role just to help them along their way," she expressed. "I was one of the pieces that was there. The greatest compliment is when they come back."
Mansfield is retiring after 44 years in education with 24 of those years spent at Whitefish High School. She's had the opportunity to teach and advise countless students and her job as a high school counselor has led to a fulfilling career, she says.
Mansfield grew up in Havre and upon high school graduation she began her post-secondary schooling at Northern Montana College, now known as MSU-Northern. She says while growing up education was always important to her family.
"My parents were very educational conscious and wanted their kids to have college degrees," she said.
In addition, going into the field of education is a commonality in her family — her sister is a retired teacher with a master's, her brother was a teacher in his earlier days before making a career change to the railroad industry and several extended family members are also teachers.
Mansfield began her teaching career at 21-years-old in Geyser, Montana, where she taught K-12 science for two years. She met her husband, who was a math teacher at the same small town school, and after their marriage the couple moved to Jordan, Montana.
They lived in Jordan for 18 years and Mansfield was a high school science teacher. While teaching in Jordan many students started coming to her to seek advice; being a small school district there was only a counselor at the school for limited hours one day a week.
"I was in Jordan and I just had kids that asked a lot of questions; I just felt if I was going to give them some information I better have some knowledge," she said. "I just felt I needed to do it for the kids."
This spurred her to spend summers for the next several years working to obtain her master's in guidance and counseling. After she completed her degree, Mansfield then took on the K-12 guidance counselor position for Jordan Public Schools as well as continuing on teaching high school science. After a while of doing both though, she started realizing counseling was becoming more enjoyable for her than being in the classroom.
She sought out a full time school counselor position and was hired at Whitefish High School in the late 1990s. For the last two decades Mansfield has seen the school go through many changes, but says she's always been impressed with the administrators and staff's motivation to stay current and continually improve.
"I think Whitefish looks at what we're doing well and also how we can improve even though we're doing well," she said. "Looking at every student, not just the students who have the most difficult time or the students who are at the top, but taking a look at the middle kids all of them to say what can we do to help every single one."
That's also how Mansfield has approached her own work as a counselor at WHS. She says when she first started teaching she had the mindset of needing to prepare every kid for college. But soon after a few years went by she realized that not every student needs to go to college to be successful, and college isn't always the right fit for them either.
But what she does believe in is using each student's personal interests to drive them toward an enjoyable career path and encouraging them to keep learning in whatever field they choose. Additionally, she advises students to keep an open mind, always try new things and never believe that they are stuck in whatever choice they made.
"That's what I always tell kids, it doesn't matter if it's a four-year degree or a two-year degree or an apprenticeship, you need training, you need to be a lifelong learner," Mansfield explained. "We all can learn something at any point and it's just to help us, keep us going."
Mansfield says high school is her favorite age group to counsel because guiding the students is filled with true conversations.
"Teenagers, they're alike and they're not alike; each one is so unique and each one is an individual," she said. "They have their passions, that's what you love to see is when they have found that little niche, the enthusiasm and the smiles; and you hope that for all of them."
Mansfield has dedicated so much energy to her work over the years and is looking forward to a new found freedom in her retirement. She says of course she will miss the students and the fulfilling role she's been able to play, but also she feels it is just the right time to make this move.
"I still enjoy my work, but I also feel that it is time," Mansfield said.
"I'll have a new routine… now I can go out there and try something new," she added. "I'll be just like the seniors — I'm going to be opening a new chapter."
As the thought of retirement settles in, reflection on her career is also imminent. She considers one of the most rewarding parts of school counseling as being able to witness the generous community donate and fund scholarships that in turn she is able to assist her students in achieving those awards.
"I'm proud of the money that the kids get offered, I'm proud of the fact that our students go places, the colleges they get to and what they're offered," Mansfield expressed while holding back tears. "If I've helped even a little bit getting there, that's something that I'm very proud of."
She says a compliment she received years back was that she's like a motherly figure for a lot of these kids, and that's been the greatest privilege to take on that role.
"I'm just proud of the fact that I have been there for kids," she concluded. "You don't know how you'll touch a kid's life — that's what makes it all worth it, just even the one little person that says thank you because you were there to just nudge them along."
---