Whitefish students' marketing internship rebrands adult ed program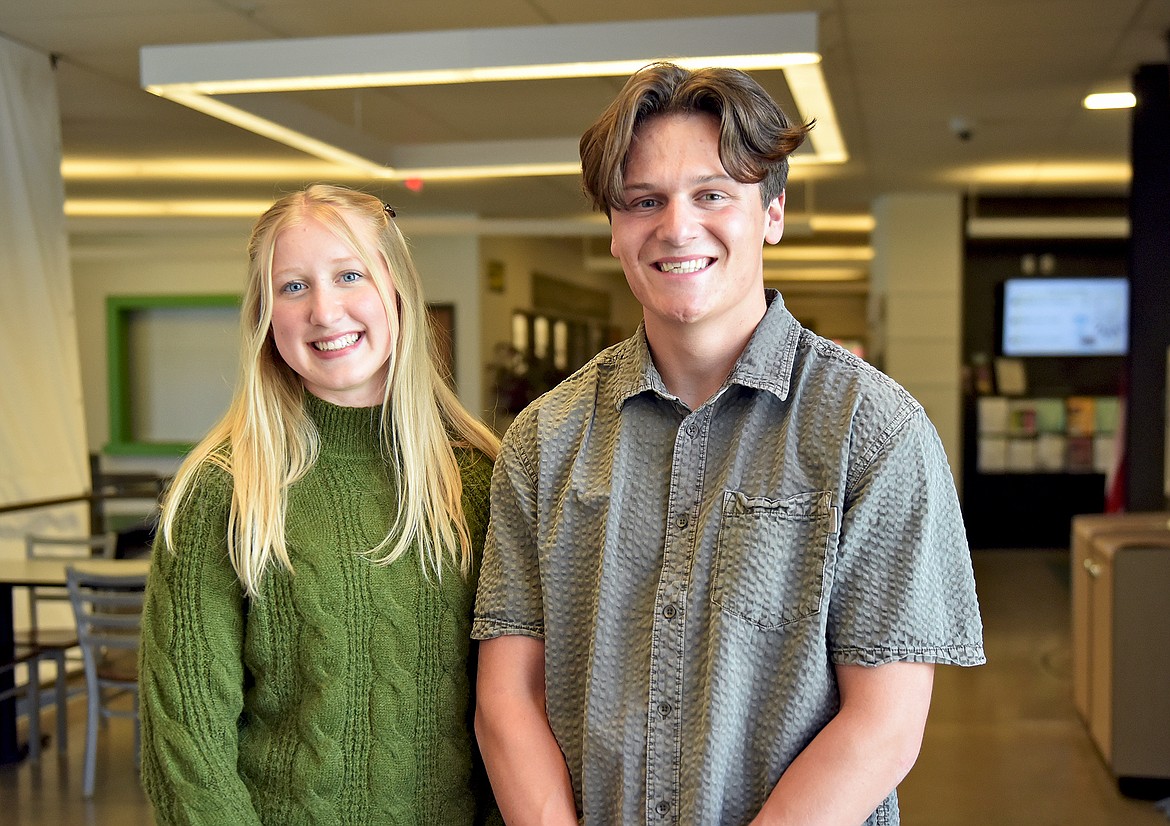 Whitefish High School students Lily Boyes and Jack Alton recently became DECA state champions after working as interns to rebrand the Whitefish School District's community education program. (Whitney England/Whitefish Pilot)
by
WHITNEY ENGLAND
Whitefish Pilot
|
June 9, 2021 1:00 AM
Whitefish High School students Jack Alton and Lily Boyes became state champions at the 2021 Montana DECA Career Development Conference in March, but the branding packet the pair put together to achieve first place wasn't just a hypothetical scenario.
Alton and Boyes had the opportunity to work with a local marketing and design expert, Kara Panico, through a new internship offered at WHS. During this internship they worked to create a new brand guide for the school district's adult education program. This included an extensive packet with new logos, typography, letterheads and poster designs planned to rebrand the program as Whitefish School District Community Education Exchange.
The district expects to roll out the new branding created by the two students in the fall upon approval from the Whitefish School Board.
"This was a really good opportunity for us to get some real work experience in school and we really appreciated the ability to work on this project," Alton said. "And to work with Kara who is a top-level designer in town and get experience in a field we were both interested in; we're just very appreciative to be able to work on this."
The idea for the internship came from a collaborative effort with David Donaldson, district adult education director, Ryder Delaloye, district curriculum director, and Willie Roche, WHS business teacher and DECA advisor. The idea was to get students involved in an opportunity that would result in a real-world experience.
According to Donaldson, the idea of rebranding the WSD Adult and Community Education program was already an ongoing conversation. Then when deciding to partner with two students on their DECA project, the rebranding project turned out to benefit community education as well.
Alton and Boyes created a 20-page packet that includes everything from a redesigned logo to powerpoint slide templates and poster or flyer designs that all tie in to the new brand and are ready for use.
School board trustee Nick Polumbus praised the student's work during a recent school board meeting.
"The posters are actually great," he said. "It's such a professional packet. But what you've done is taken that logo and that layout and dropped it in on something a little bit more creative and artistic — and it works. It flows nicely, but allows for that creativity to come out."
Boyes said that she appreciated the opportunity to work on a real marketing project for the DECA conference this year versus the hypothetical scenarios that typically makeup the competition.
"In the past I've done DECA and it's all about hypotheticals like creating a startup business and we'd present it and we never really got to see it in action," she said. "So to see our hard work come to be, it was really eye-opening and an awesome experience."
Alton agreed, saying he was excited to be able to utilize the knowledge he's gained through his technology classes at WHS.
"The biggest thing for me was being able to connect the stuff I've learned, through Mr. Herbert's classes and Mr. Roche's classes, and actually apply that to the real world," he said. "To feel like all those photoshop and illustrator skills and multimedia that I've learned were really being used was really cool for me."
Alton and Boyes took first in the Integrated Marketing Campaign (Services) category at the Montana conference, which was held virtually. Last year the pair competed in the Start-up Business Plan category and placed seventh.
Teacher Willie Roche, who helped organize the internship, was impressed by the pair's dedication to the project and hopes to be able to offer internships like this for more students in the future.
"I just wanted to say how awesome Jack and Lily have approached this; they've given up a lot of time working on this project," Roche told the board. "They put a ton of effort and energy into this so I could not speak more highly of them."
He also added his appreciation to Panico, the designer that volunteered to work with the students and enhance their experience.
"I also speak highly of Kara Panico who donated her time on this," he said. "It was a great learning experience for the kids to see in the real world, what the world of marketing looks like when developing a brand guide."
---