School founder remembered for her dedication to music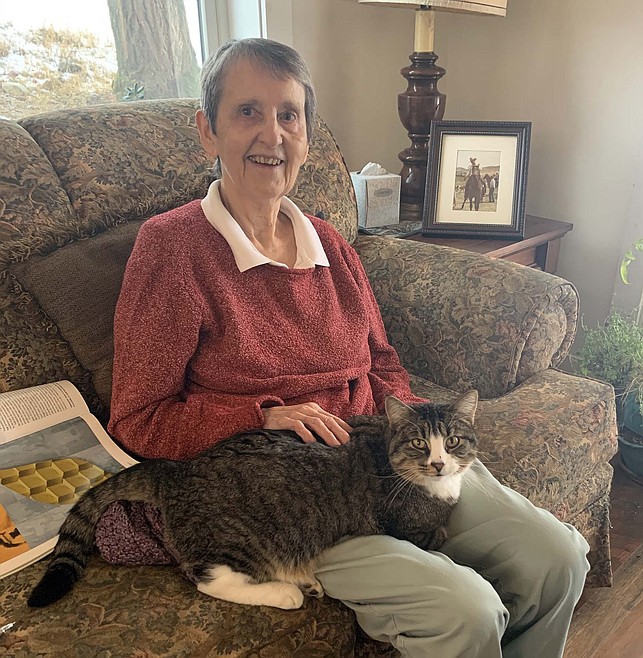 Betty Lou Wambeke at home with her cat. (Courtesy photo)
by
HEIDI DESCH
Whitefish Pilot
|
June 9, 2021 1:00 AM
Each Saturday morning Betty Lou Wambeke would load her young children up in the car driving the 65-mile journey from their home to Calgary for weekly music lessons.
Wambeke made music a priority even though there were plenty of chores to do at home on the ranch, and when the family moved to Whitefish she continued to make music a priority for her children and others. Wambeke, along with Betsy Kohnstamm, in 1997 started North Valley Music School.
Wambeke died on April 22 at the age of 84. She had five children, nine grandchildren and three great-grandchildren, many of whom still play music as a hobby or professionally.
Carrying on the family legacy, her daughter Jennifer Wickland and granddaughter Rachel Wambeke both teach at the nonprofit music school, which is nearly a quarter-century old.

Wambeke taught private piano lessons and also in a one-room schoolhouse. She was a graduate of the Royal Conservatory of Music of Toronto.
She met Lloyd Wambeke at a grange hall dance where he was also a musician and member of a theater group.

Wambeke left the music instruction of her own children to other teachers. Wickland recalls those Saturday mornings when they'd leave the ranch behind for music lessons saying it showed her mother's commitment to music.
"The value of music was so important to her," Wambeke said. "That was her dedication to making sure we had lessons. There would be people working on the ranch and here we're going to music lessons. I'm sure they felt like she was taking all the workers away, but she said this is what's happening."
Even while at home, playing music was at the center of the family.
"If we were doing something frivolous it was probably playing music," she said. "When we were children and expressed an interest in an instrument the next week there it would be — a bango, a cello."
The music school started following a conversation at the Post Office between Wambeke and Betsy Kohnstamm. Both wanted their children to take music lessons, but weren't able to find what they were looking for so they started the music school.
The school began in the basement of the old United Methodist Church offering lessons in piano, violin and cello. The number of students has grown substantially over the years and the music programs have multiplied with the school based now out of a house on Spokane Avenue.
Kohnstamm says Wambeke was a great piano teacher. She describes how Wambeke would schedule her lessons to overlap so that at the end of each session her students would play a duet together.
"So they were playing together with someone else," she said. "That's really when music is the most fun is when you're playing it together."
Kohnstamm says Wambeke was always focused on teaching and interacting with her students.
"She followed the Suzuki method, which follows a triangle between the teacher, the student and the parent," she said. "Parents would sit in on the private lessons so she could teach them about how to coach their child while they were practicing."
"She was such a gentle soul," Kohnstamm added.
Wambeke suffered a stroke in 2001 that left her paralyized on one-side of her body and impaired her speech. She played the piano with one hand for a time, but then moved onto learning to paint. When painting became a challenge, she began doing pencil drawings.
She would paint birthday and Christmas cards for her family.
"She was a life-long learner," Wickland said. "She loved learning and that would drive her onto the next thing. That's one thing I loved about her."

"She had perseverance and tenacity," she added. "She never gave up on whatever she wanted."
---