Riding Smyley's state championship victory Whitefish girls earn second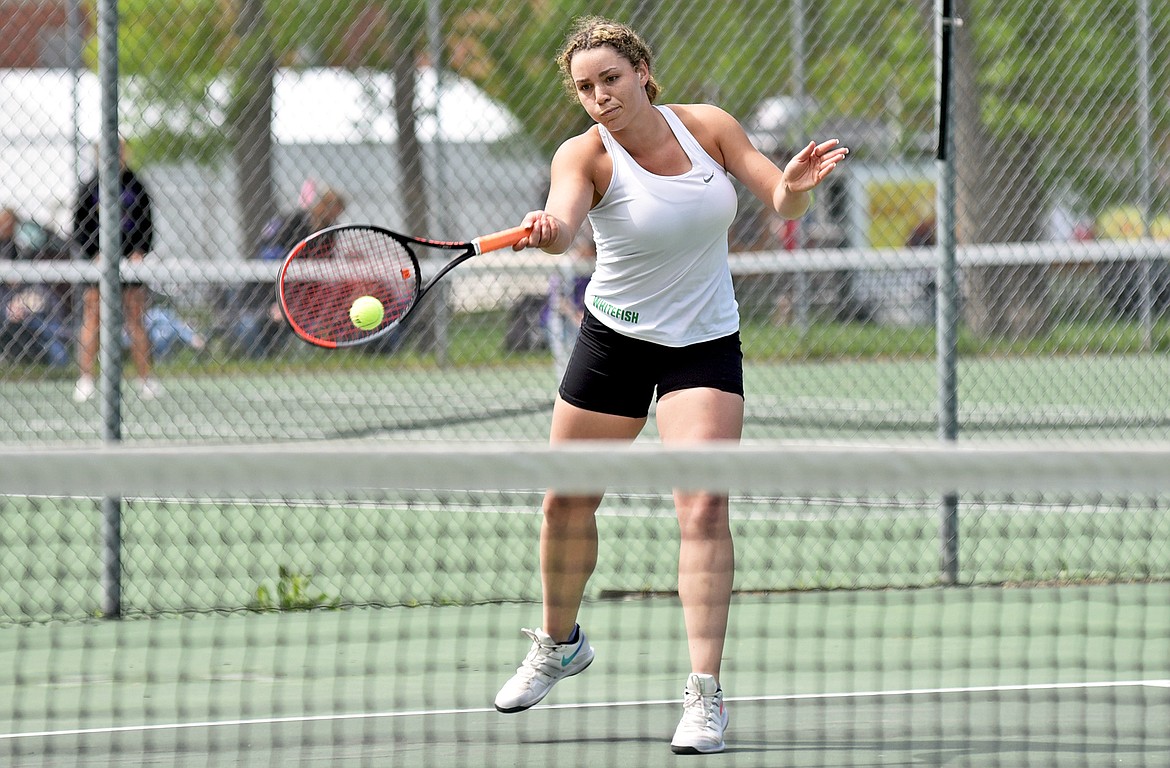 Whitefish's Gracie Smyley defeats Columbia Falls' Hannah Schweikert in the girls singles championship at the Montana Class A Tennis State Tournament in Billings on Friday afternoon. (Whitney England/Whitefish Pilot)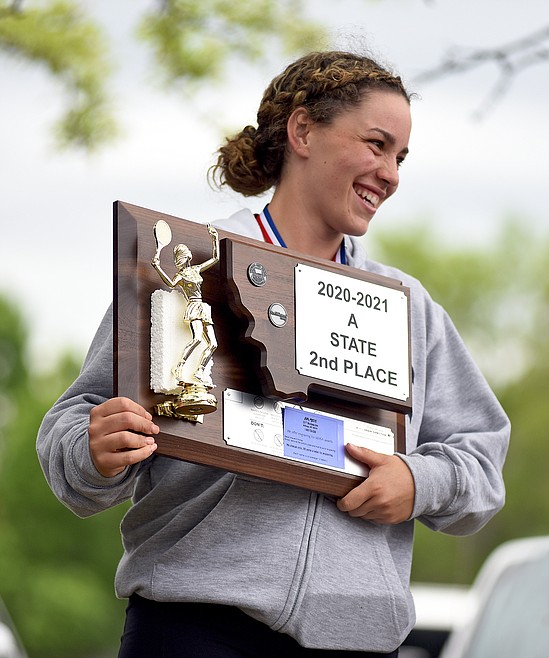 Whitefish senior Gracie Smyley accepts the second-place team award following the State A tennis tournament in Billings on Friday. (Whitney England/Whitefish Pilot)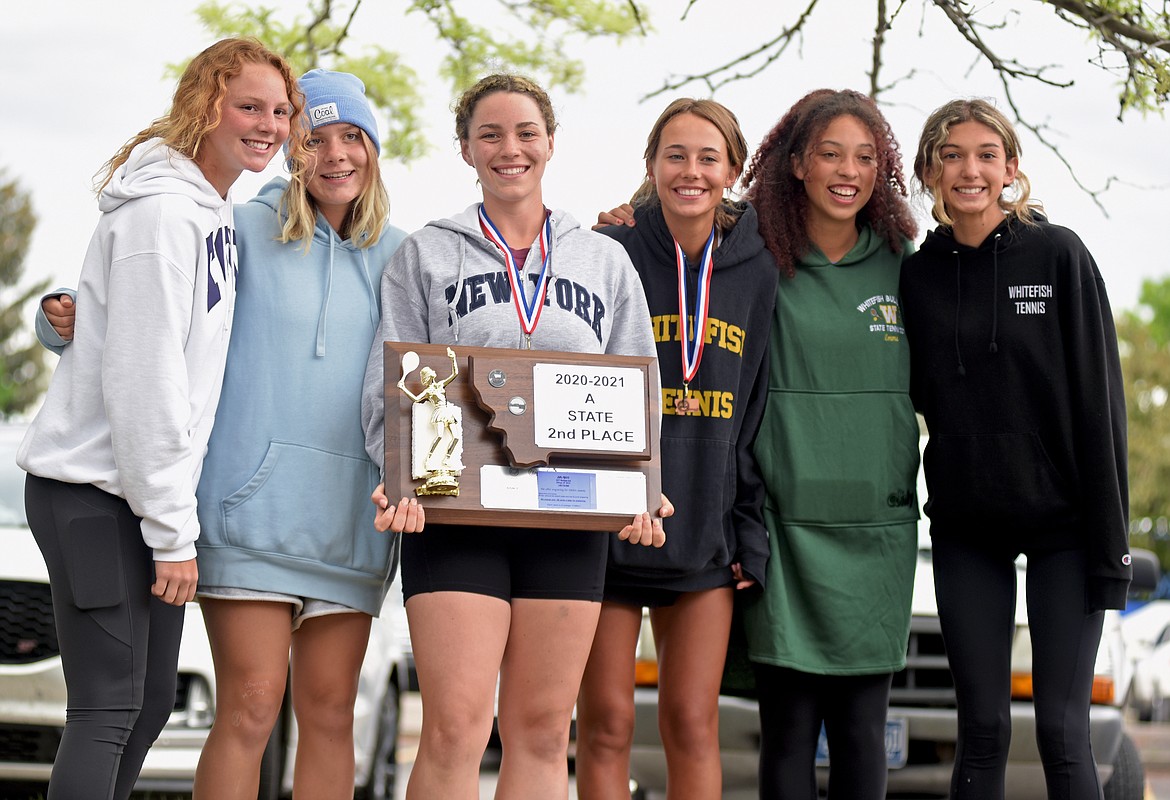 The Whitefish girls tennis team earns second place at the State A tennis tournament in Billings on Friday. (Whitney England/Whitefish Pilot)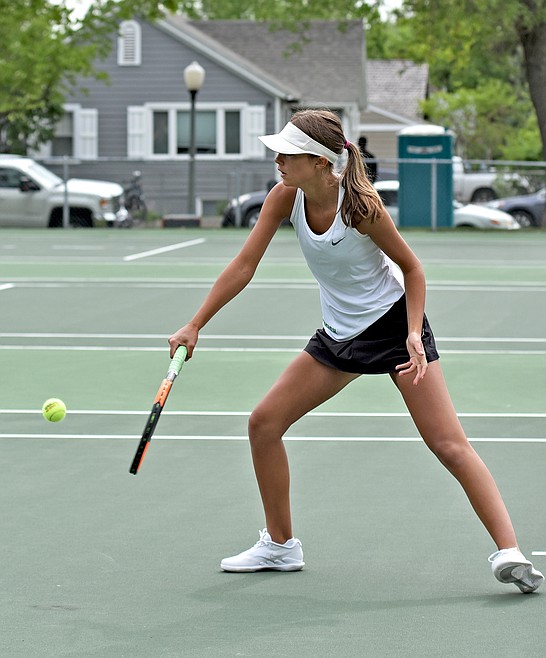 Lady Bulldog Lauren Brown plays in a match against Libby the State A tennis tournament in Billings on Friday. (Whitney England/Whitefish Pilot)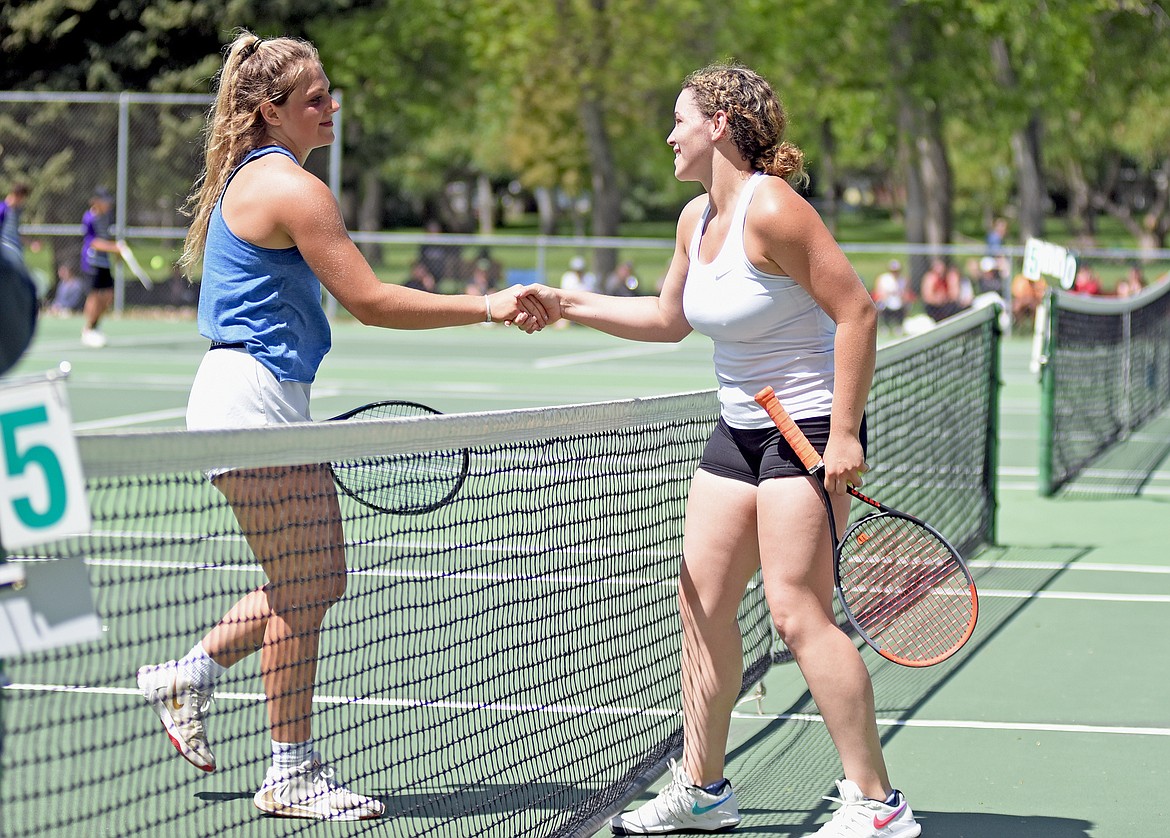 Columbia Falls' Hannah Schweikert congratulates Whitefish's Gracie Smyley following the girls singles championship match at the State A tennis tournament in Billings on Friday. (Whitney England/Whitefish Pilot)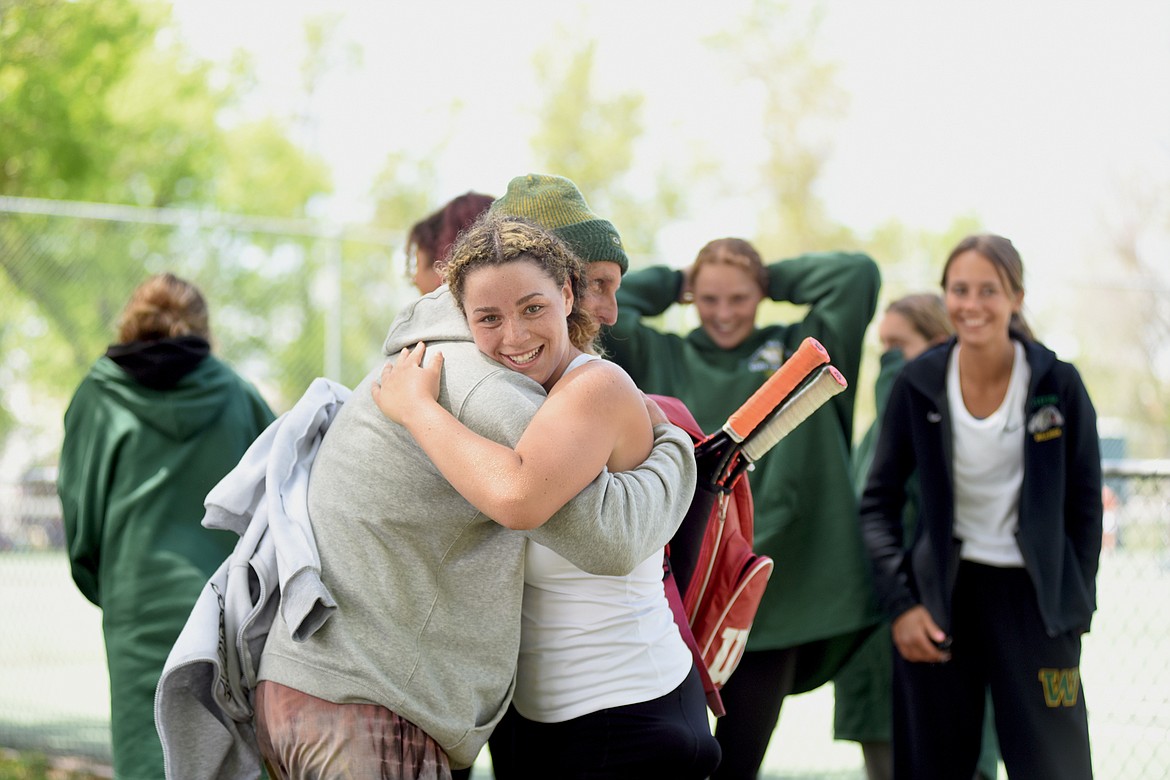 Lady Bulldog Gracie Smyley hugs her coach Patrick Dryden and is congratulated by her teammates after becoming a repeat state champion at the State A tennis tournament in Billings on Friday. (Whitney England/Whitefish Pilot)
Previous
Next
by
WHITNEY ENGLAND
Whitefish Pilot
|
June 2, 2021 1:00 AM
It was all smiles from the girls on the Lady Bulldog tennis team Friday afternoon as they accepted the State A second-place trophy.
In fact head coach Patrick Dryden says the girls surpassed his own expectations for the tournament.
"On the whole, getting second place was a very pleasant surprise," he said. "Yeah, I'm tickled that we ended up second; I don't think we could have done any better, it just wasn't possible."
The final day of the state tournament this year was a lengthy day filled with seemingly countless matches topped off with lightning delays and venue switches due to afternoon rain — but through it all the girls battled and finished with 19 points for second place behind Polson's 37-point first place.
The Polson girls doubles teams swept places 1-3 in the doubles bracket to earn first.
On the singles side though, all eyes were on Whitefish senior Gracie Smyley who was the defending State A champion from 2019.
"Gracie had a target on her back the entire year," Dryden said. "We didn't really talk about the pressure, but the pressure was there — everybody was gunning for her."
Smyley breezed by her opponents in the opening rounds of the tournament before facing off against a familiar rival from just 10 miles down the road — Columbia Falls' Hannah Schweikert. The two had already met three times this season including Smyley's win over Schweikert for the Northwest A divisional title the week prior.
"To have your biggest rival only 10 miles down the road, that was really interesting…" Dryden said. "All the matches (between the two), including the state championship match, kind of followed the same pattern — Hannah would jump out to a lead in the first set which would be really intense and Gracie would somehow pull it out by changing her tactics and then cruise through the second set. And that's kind of what happened in the championship match as well."
In the championship match both Smyley and Schweikert looked impassioned from the time of the first serve and the games quickly grew heated early in the first set. Smyley was hitting the ball hard and fast, but a number of unforced errors had her down early to Schweikert.
Smyley was able to clean up her game and the pressure mounted as the players called in a line judge to help ensure the right calls were being made, but Smyley came back strong to win the first set. In the following set, Smyley found her groove and ran away with the championship 6-4, 6-2.
Smyley became a repeat Class A girls tennis singles champion, as she also won the title as a sophomore then her junior season was canceled due to the COVID-19 pandemic.
"It was just really an emotional time when she was walking off that court because you know that's the last time she's going to walk off the court representing Whitefish High School," the coach recalled. "It was nice, her parents were there, her teammates, and it was really one of those moments you live for."
According to Dryden, Smyley is 50-0 for her high school career and has only lost one set in two years of play.
Smyley was there to cheer on her teammates as well who also played a vital role in the team earning second place in Class A.
Whitefish's other singles player Lauren Brown played six matches that all lasted around two hours to end up placing sixth. She lost in the first round to Custer County's No. 1 seed Emily Doughty 7-5, 6-3. She then won her next three matches soundly to stay alive in the tournament before dropping her match in the consolation semifinals and fell again to Doughty in the fifth-sixth place match.
"The other big story from state was definitely the play of Lauren Brown… she really improved as the season progressed I think she gained a lot of confidence and also added a few weapons to her repertoire," Dryden said. "She knocked out a couple of really tough girls from Hardin — knocked off the No. 1 player from Hardin and the No. 2 player — that really helped us in the team race."
As far as the doubles team of Tallory Workman and Ali Hirsch, the duo came considerably close to taking down the No. 1 team out of Hardin in the first round.
Hirsch and Workman came out confident and won the first set against Hardin's Macie Flamm and Rilee Green. Hardin came back to take the second set and in the final set Whitefish led 5-4 and were up 30-love when a close ball was called out.
"That shouldn't be a big deal, but it really changed the momentum of the match," Dryden expressed. "We were able to get it into a tie breaker and fell behind in the tiebreaker, then battled back… losing that match was really gut wrenching."
The Hirsch-Workman team ended up losing that round to Hardin 3-6, 6-2, 7-4. Whitefish bounced back in round three defeating a team from Havre, but then fell to Corvallis' No. 1 team of Molly Powell and Bailey Jessop.
But every match won helped Whitefish secure their spot in the team standings and the experience gained was vital for the future of the program.
"Whitefish tennis looks really bright for the future," Dryden said. "Adding coach Doris Puglisi to the program was a big boost.
"We're losing Gracie Smyley, but Anyah Cripe, Lauren Brown and Emma Shaffer are going to jump in there and carry the banner; we're losing Ali Hirsch from our doubles lineup but I think a lot of girls got good experience this year in doubles," he added.
State A Tennis
Friday
Team scores — Polson 37, Whitefish 19, Corvallis 14, Columbia Falls 13, Hamilton 10, Hardin 10, Miles City 6, Glendive 3, Libby 3, Livingston 3, Dillon 2, Havre 1.
Singles
Semifinal
Hannah Schweikert (Columbia Falls) d. Eliana Foss (Hamilton) 6-2, 6-2. Gracie Smyley (Whitefish) d. Maddie Weber (Stevensville) 6-0, 6-1.
Championship
Smyley d. Schweikert 6-1, 6-2.
Third place
Foss d. Weber 7-5, 6-1.
Fifth place
Emily Doughty (Miles City) d. Lauren Brown (Whitefish) 6-0, 7-5.
Doubles
Semifinal
Berkley Ellis/Qia Harlan (Polson) d. Macie Flamm/Rilee Green (Hardin) 6-1, 6-2. Ara Mercer/Megan Rost (Polson) d. Taylor Collinge/Clara Todd (Polson) 3-6, 6-2, 7-2.
Championship
Ellis/Harlan d. Mercer/Rost 6-1, 6-1.
Third place
Molly Powell/Taylor Jessop (Corvallis) d. Collinge/Todd 4-6, 6-3, 6-2.
---