Brian Joseph Lumpkin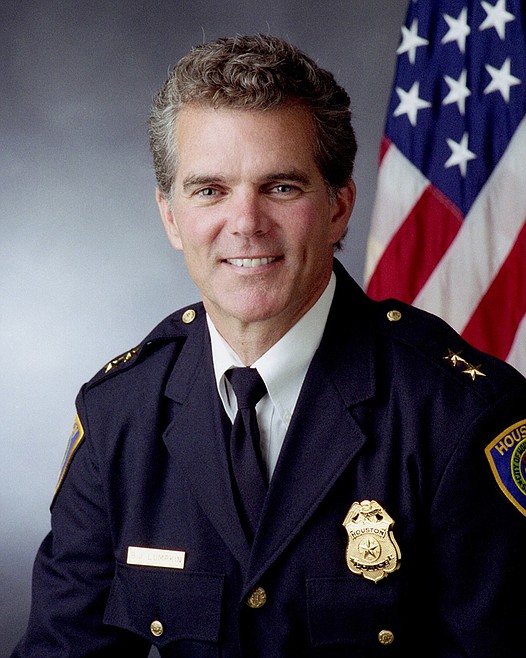 Brian Joseph Lumpkin, 62, resided in Whitefish, Montana, returned to his heavenly home on May 23 after a valiant battle with a long illness.
His devotion to his family and his firm belief in God supported him in his struggle and ultimately gave him peace. The grace, dignity and humor in which Brian fought his final battle was amazing. He was an inspiration to all that were fortunate enough to know him.
Brian was born July 18, 1958 to Katie Lumpkin and the late Frank (Pops) Lumpkin in Levittown, Pennsylvania. Brian was blessed with a large, amazing loving Irish Catholic family.
Brian began his police career as a Police Officer at the North Wildwood Police Department, New Jersey in 1979. He joined the Houston Police Department 1982. Brian retired, Assistant Chief of Police with the Houston Police Department with over 34 years of Police experience. Through the years he had worked through the ranks. Chief Lumpkin was assigned to East Patrol Command, which oversaw the patrol operations at four patrol stations. He had extensive experience in the development and implementation of police initiatives that had been proven to enhance community trust of law enforcement. Throughout his career he had received numerous awards and community commendation for his ability to address problems. In addition to serving as a training consultant for Strategies for Youth. Brian was an adjunct instructor at the University of Houston-Clear Lake and an instructor at the University of Illinois.
Chief held a bachelor of arts from Lycoming College, Williamsport, Pennsylvania and a master's degree from the University of Houston in Criminology. He graduated from the FBI Academy in 2000. He was a SARA instructor, a TCLEOSE certified Master Instructor and a chair of the TCLEOSE Patrol Curriculum.
Brian met the love of his life, Janie Frazar on a blind date in Whitefish, Montana when he was in town with the Houston Ski Group. Brian was looking for a dinner companion for the week. Sitting next to Jake Berry at the Hellroaring Saloon, Jake sent a selfie to Janie of Brian and himself. Just dinner was the note!!! Sparks flew on the first date for both of them. Brian, dimples blue eyes and sparkling personality, moved to Montana with his 13 medium-size boxes shortly after. The local 406 Magazine put an article in the magazine of their incredible love story.
Brian was very passionate about cycling and the World of Cycling. He loved the Tour de France and the Giro d'Italia every year. He would watch the replays on podcast when the actual races were not on. He was a Certified Spin Instructor. His other passions were beekeeping and cooking, in the last couple of years he enjoyed reading cook books, finding and conquering difficult recipes.
Brian "lived like he was dying" every day from his diagnosis. He traveled the world, embraced life, loved like there was no tomorrow. Brian and Janie loved local galas and supporting the local community and charities. They spent countless hours talking, laughing and dancing on their back patio. He loved his four legged step-children, Zooey and Mayzie. Zooey rested with him after he passed and kissed him goodbye.

Brian is survived by his two children, Ryan and Nikki Lumpkin, Houston, Texas. His beautiful redheaded fiery loving mother Katie Lumpkin, Langhorne, Pennsylvania. Siblings Frank L., Jr. and Melissa of Helena, Alabama, Gregory M. and Helen of Newtown, Pennsylvania., Gary J. and Gerri of Newtown, Pennsylvania, Cathi A. Smith and Scott of Buckingham, Pennsylvania, Dennis N. and Angie of Vineland, N.J., Patti A. Wachtman and Eric of Buckingham, Pennsylvania, Timothy M. and Melissa of Royersford, Pennsylvania.
The love of his life, Janie Frazar, Zooey, and Mayzie. Life's greatest friends and acquaintances in his personal and professional life.
Celebration of Life will be held Saturday, June 5 at Columbia Mortuary 1010 4th Ave West Columbia Falls, Montana at 1 p.m. Reception of follow at Janie and Brian's home 308 Shady River Lane, Whitefish.
Celebration of Life, Friday June 18, HP Officers Union Hall, 1600 State Street Houston, Texas 4 p.m.
Memorial Mass, Thursday, June 24, St. Joseph's Catholic Church, 4308 Landis Avenue, Sea Isle, New Jersey 11 a.m.
In lieu of flowers, Brian has requested donations to some of his favorite local charities, Dream Adaptive.org, Flathead Animal Shelter, Special Olympics Montana, or Whitefish Legacy Partners.
Austin Funeral & Cremation Services in Whitefish is caring for the family.
Recent Headlines
---