Boys tennis snags second place in state tourney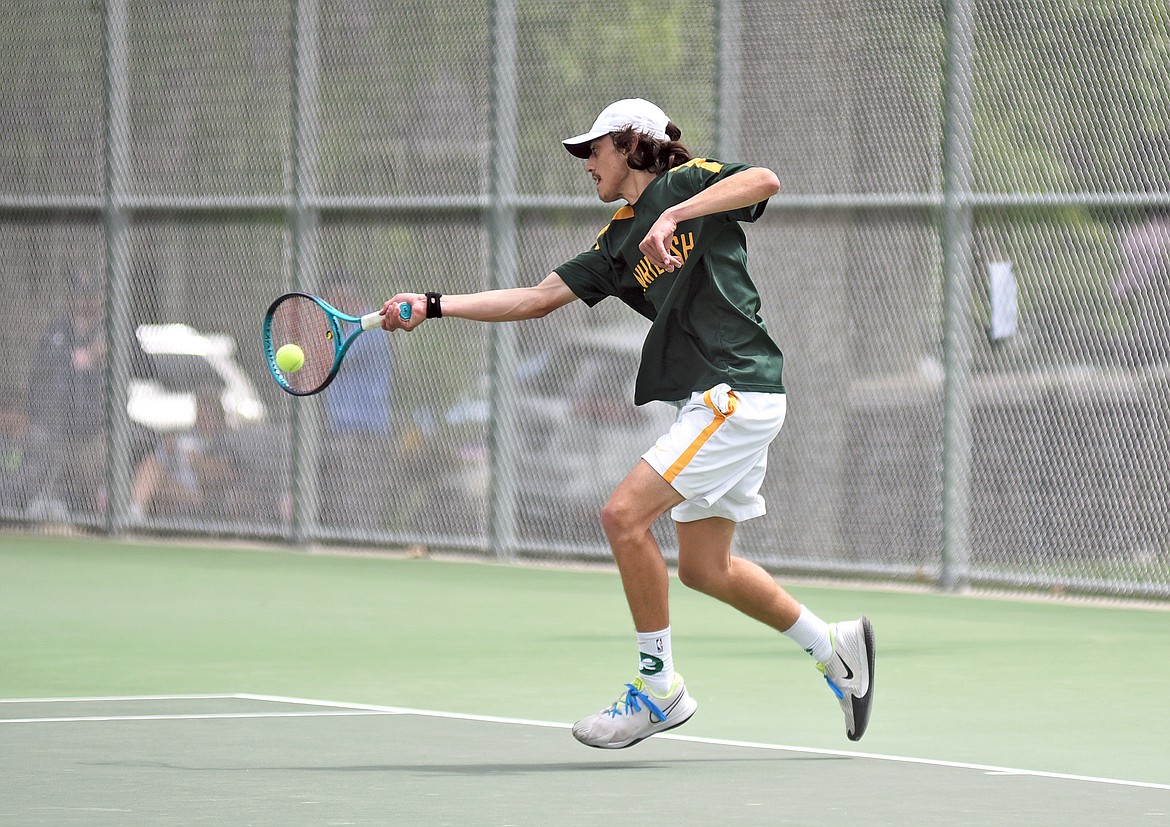 Whitefish's Jayce Cripe plays against Andy Purcell of Hamilton on his way to a boys singles third-place finish at the Montana Class A Tennis State Tournament in Billings on Friday afternoon. (Whitney England/Whitefish Pilot)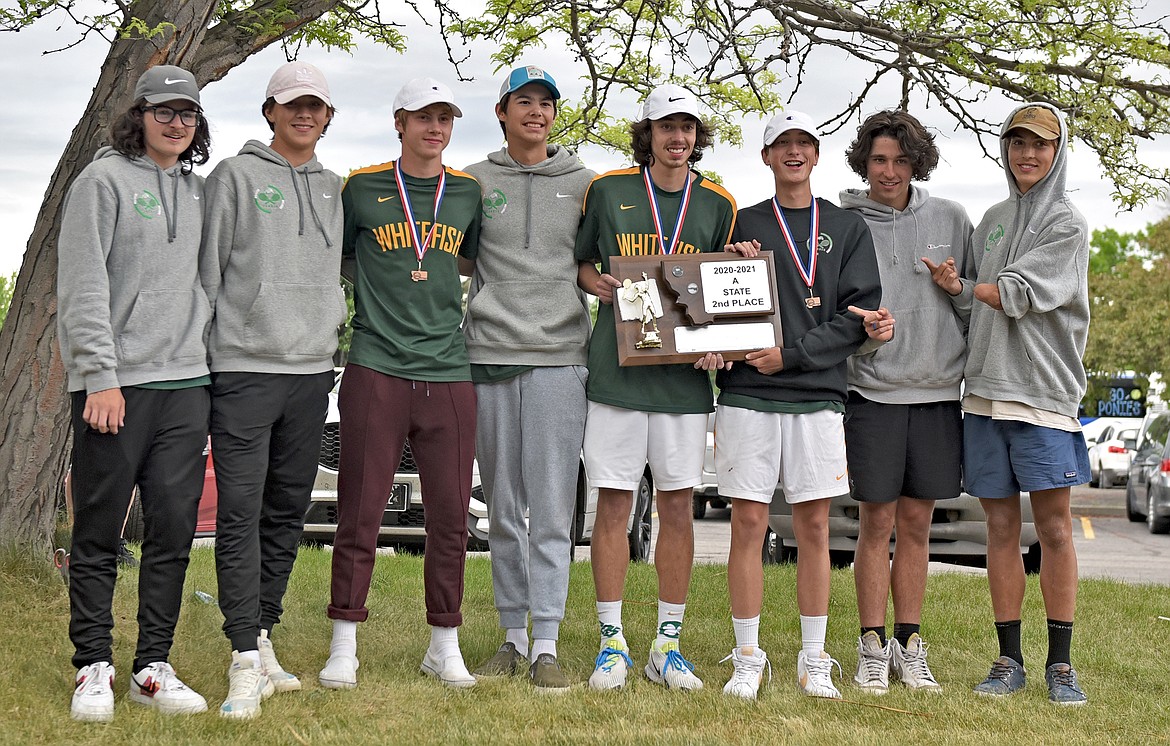 The Whitefish boys tennis team earns second place at the State A tennis tournament in Billings on Friday. (Whitney England/Whitefish Pilot)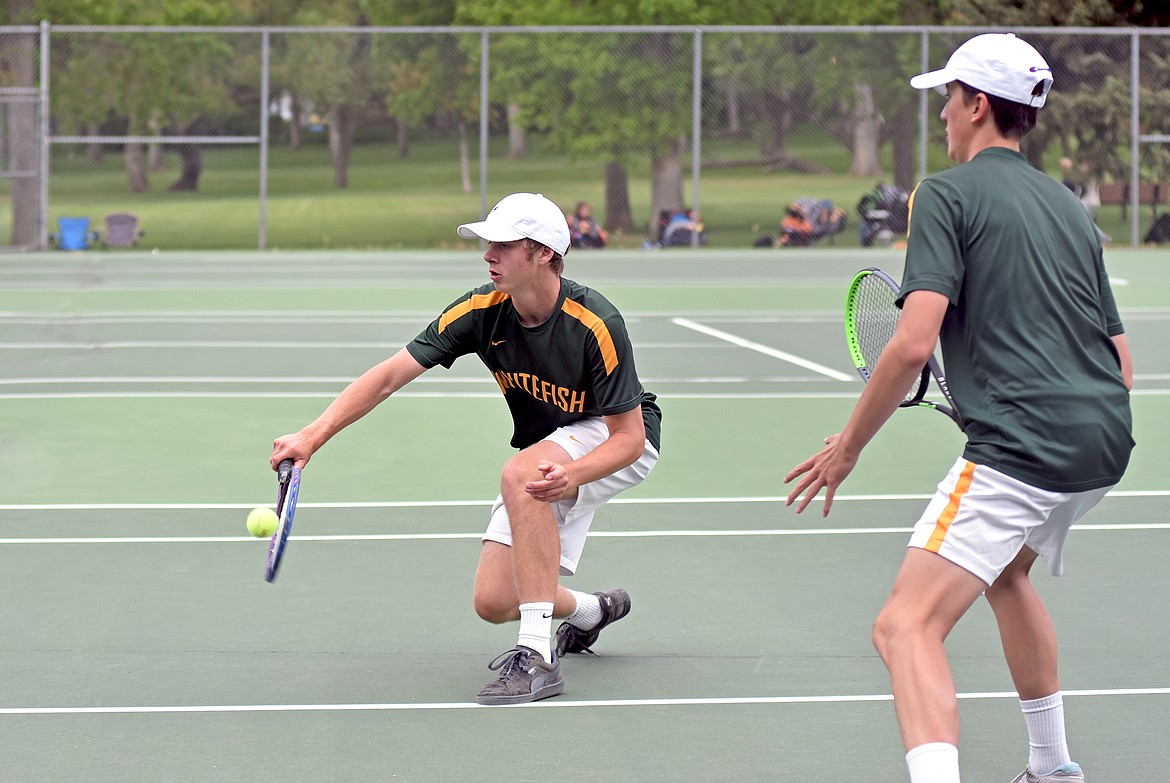 Whitefish's Aaron Dicks hits a volley as as his partner Highland Lee-French watches while playing in a doubles match during the State A tennis tournament in Billings on Friday. (Whitney England/Whitefish Pilot)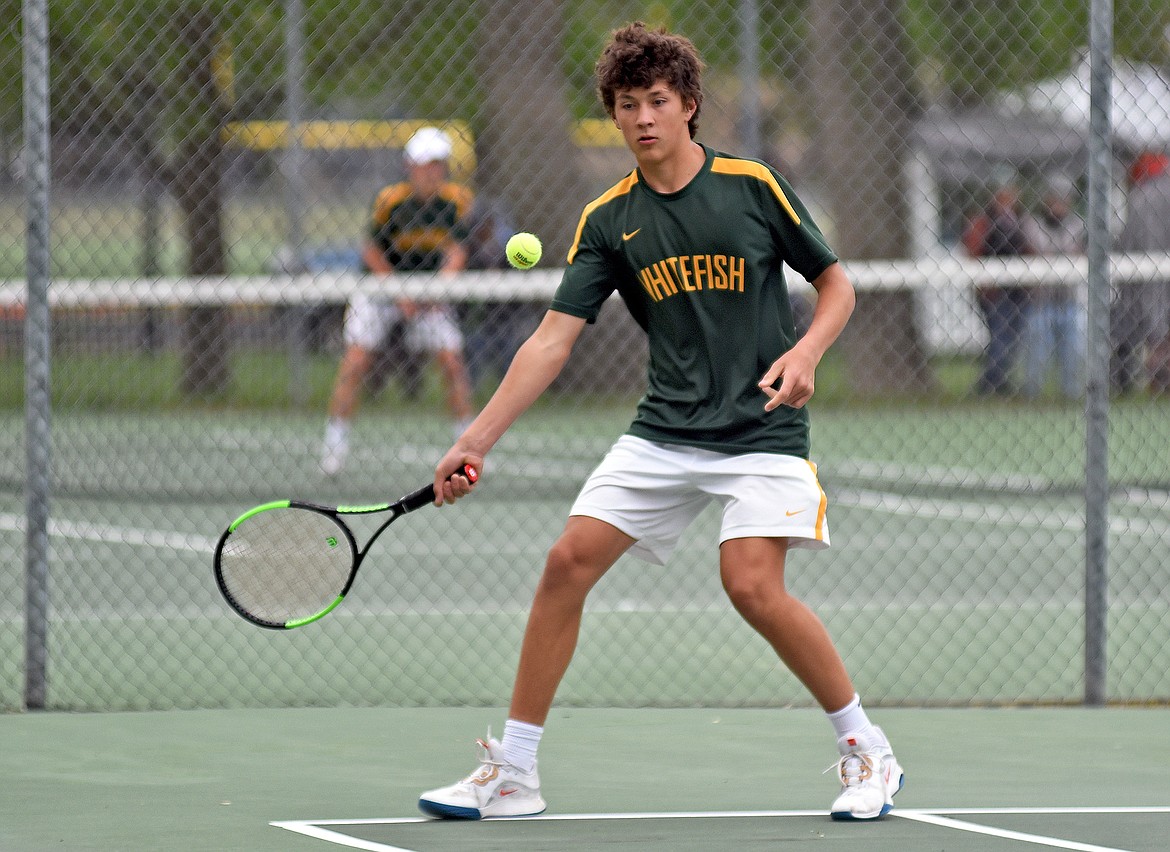 Bulldog Mason Kelch plays in a doubles match at the State A tennis tournament in Billings on Friday. (Whitney England/Whitefish Pilot)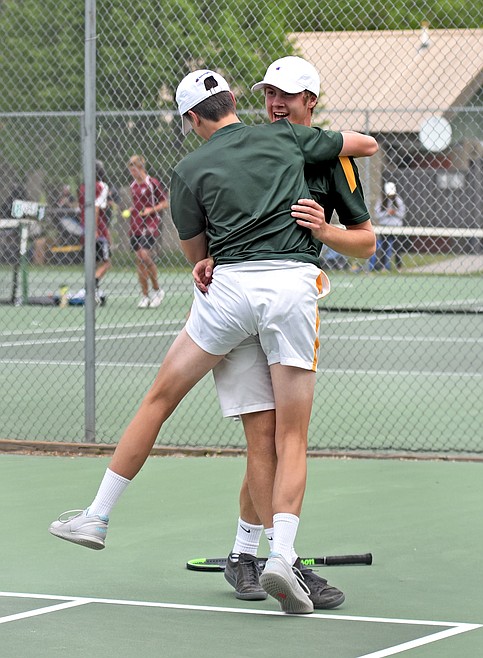 Whitefish's No. 1 doubles team of Aaron Dicks and Highland Lee-French celebrate a win the State A tennis tournament in Billings on Friday. (Whitney England/Whitefish Pilot)
Previous
Next
by
WHITNEY ENGLAND
Whitefish Pilot
|
June 2, 2021 1:00 AM
During the Bulldogs' run at state, every point was crucial.
The Whitefish boys tennis team earned second place in the State A tournament on Friday and only missed out on first by just two points — Whitefish scored 21 points to Havre's 23 points that earned them the title. And at 20 points, Hardin finished in third.
"All those points were so critical… every point mattered and I was just so proud of the guys for how hard they just kept pushing," Bulldog head coach Chris Schwaderer said.
Schwaderer said for years he felt like Whitefish just couldn't quite get to that highly competitive level to be in the mix at the state tournament, but now they are both qualifying for state and showing up in the scorebook.
"For a lot of years we'd get kids to state and we'd go down there and we'd do OK… I always felt like we were on the outside looking in," he said. "There were all these really great programs that year after year would be at the top, and I thought wow it's just so difficult to get there."
But he added in recent years, especially the second-place team of this season, Whitefish has found a way to show up and be confident even at the highest level and on the biggest stage of the season.
"We qualified more people than we've ever qualified for state and everybody contributed, everyone scored points," he expressed. "It just says a lot about these kids and who they are and what they've accomplished to be able to play at such a high level and get us a second-place trophy because those trophies are really hard to come by."
On day one of the Class A state tournament in Billings, Whitefish senior Jayce Cripe came out rolling smoothly through his matches. He defeated Miles City's Justin Morris and then Dillon's Sam Jones both in straight sets.
Then on Friday he ran into a little trouble.
"I thought Jayce had a great tournament, he was definitely one of the favorites to win the whole thing but sometimes you get a tough road," Schwaderer said.
Cripe began the second day facing off with Miles City's Dalton Polesky, the No. 1 seed out of the Northeast A. Schwaderer says it was a match that Cripe could have won, however the ball just didn't seem to bounce favorably for him that morning. Cripe lost to Polesky in the semifinal round 6-1, 6-4.
"He had a really tough path to get to the finals and he lost to the eventual state champion in the semifinals," Schwaderer said. "He was right in it and he had all the ability to win it but it just didn't go his way. But I think it was really impressive that Jayce was able to bounce back."
After dropping the semifinal match, Cripe turned around and got two more big wins to eventually earn third place in the tournament. In the third-fourth match, which had to be moved to the Elks indoor tennis courts due to a rain delay, Cripe defeated a familiar foe of Columbia Falls' Niels Getts 6-3, 6-1.
"We talked about it and we said hey we need you, this tournament's not over and as a team there's a lot that we can accomplish," Schwaderer recalled. "I need you to bounce back and give it everything you've got and he did."
"It was cool, he went out on a win; it wasn't the state championship that he wanted but he finished his career with a win and it really helped us to narrowly get that second place trophy," the coach added.
Whitefish also had big performances from their two doubles teams that qualified for the state tournament — the team of Highland Lee-French and Aaron Dicks and the team of Jack Robertson and Mason Kelch. Robertson and Kelch lost in the first round but were able to nab two wins in the consolation bracket. Lee-French and Dicks defeated Corvallis in the opening round in a three-set battle, then lost to Havre in the next round. Lee-French and Dicks still pulled out three more intense matches in the consolation bracket which made a real difference in the team scores.
"They stayed alive, the doubles draw was incredibly competitive," Schwaderer said. "Both teams just fought and had three-set matches, were really challenged and had to step up; they did and they won points."
Whitefish also had their No. 2 singles player Joe Brandt qualify for state. He lost in the first round, but easily soared to a win in the consolation bracket over East Helena's Connor Brown.
"(Joe) is one of those kids that's such a hard worker and competitor," the coach said. "That singles draw was tough and he made the most of it."
Schwaderer is already looking ahead to next season and hoping to continue building the program.
"I'm glad, with the exception of Jayce and Jack Robertson, that I've got a good part of that crew coming back next year; they're just going to keep getting better and more competitive," he added.
State A Tennis
Billings
Friday
Team scores — Havre 23, Whitefish 21, Hardin 20, Miles City 17, Polson 13, Dillon 13, Columbia Falls 9, Hamilton 6, Corvallis 5, Glendive 3, Billings Central 1, Livingston 1.
Semifinal
Josh Currie (Havre) d. Niels Getts (Columbia Falls) 6-3, 3-6, 6-3. Dalton Polesky (Miles City) d. Jayce Cripe (Whitefish) 6-1, 6-4.
Championship
Polesky d. Currie 6-1, 6-2.
Third place
Cripe d. Getts 6-3, 6-1.
Doubles
Semifinal
Michael Smith/Torrin Ellis (Polson) d. Jace Guptill/Sean Mehling (Hardin) 6-2, 4-6, 6-4. Ben Noteboom/Kent Swisse (Hardin) d. Josh Warp/Trenton Maloughney (Havre) 6-2, 6-4.
Championship
Noteboom/Swisse d. Smith/Ellis 6-3, 6-4.
Third place
Warp/Maloughney d. Highland Lee-French/Aaron Dicks (Whitefish) 6-4, 6-1.
---