WHS boys golf takes memorable trip to Pinehurst for national tournament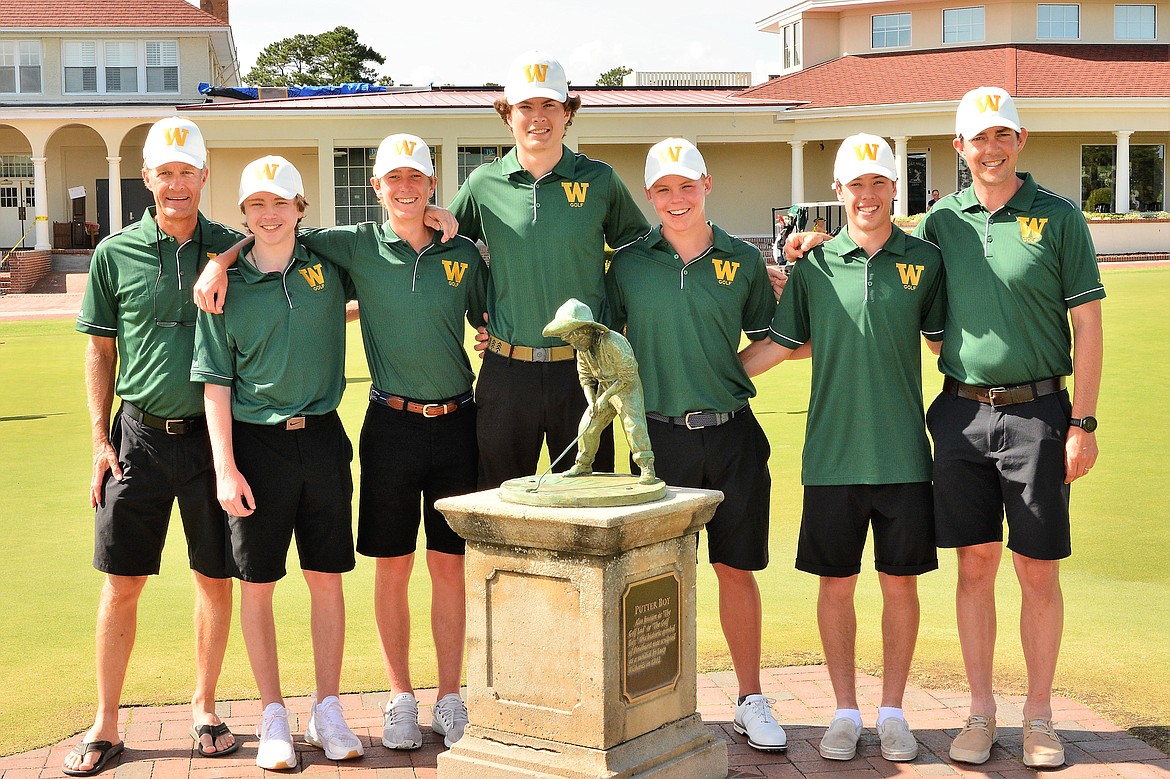 The Whitefish High School boys golf team recently competed at the High School Golf National Invitational at Pinehurst Resort. Pictured from left to right, assistant coach Jeff Doorn, Bjorn Olson, Billy Smith, Gates Gilman, Johnny Nix, Marcus Kilman, and head coach Tait Rocksund. (Jeff Doorn photo)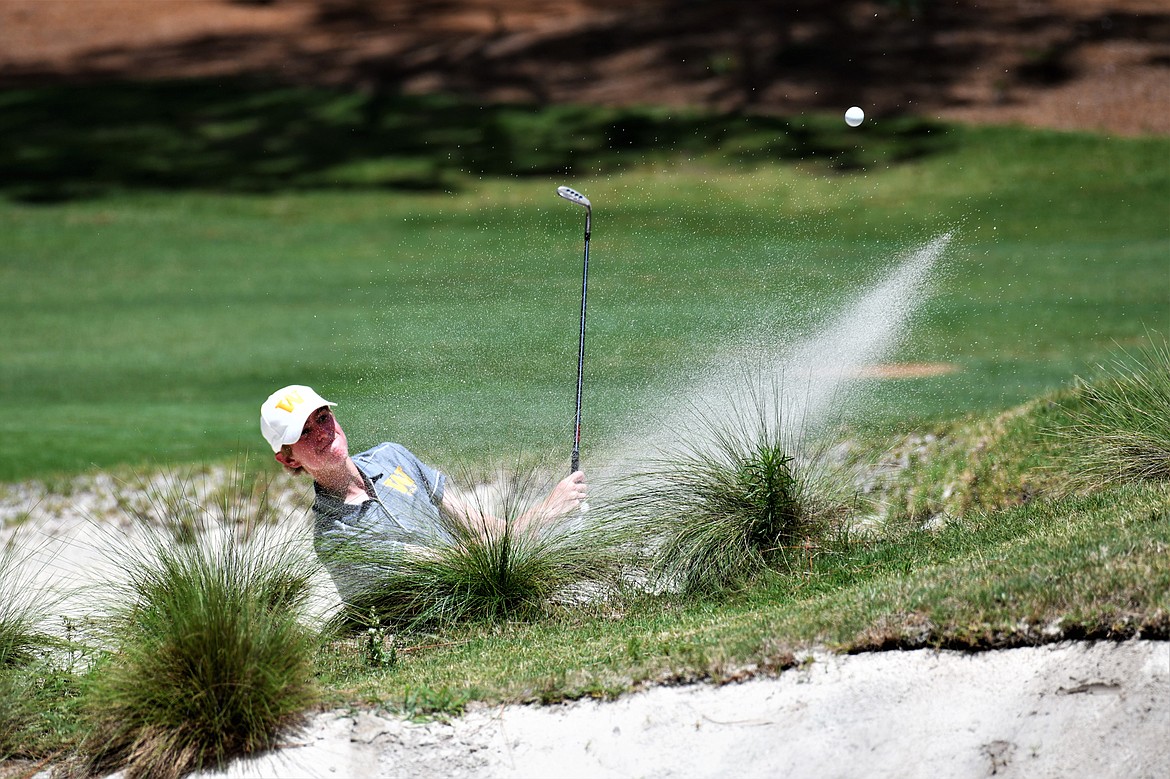 Whitefish's Billy Smith hits a ball out of the sand while recently playing at the High School Golf National Invitational at Pinehurst Resort. (Jeff Doorn photo)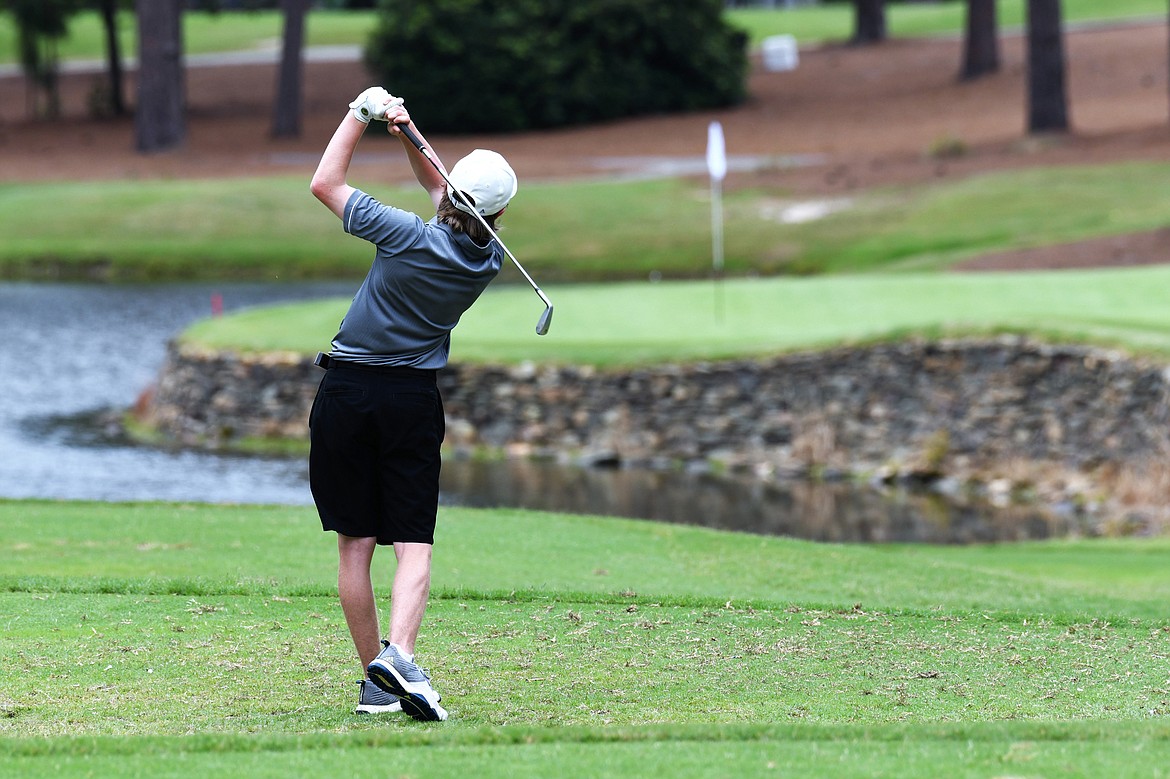 Bulldog Bjorn Olson watches his shot while recently playing at the High School Golf National Invitational at Pinehurst Resort. (Jeff Doorn photo)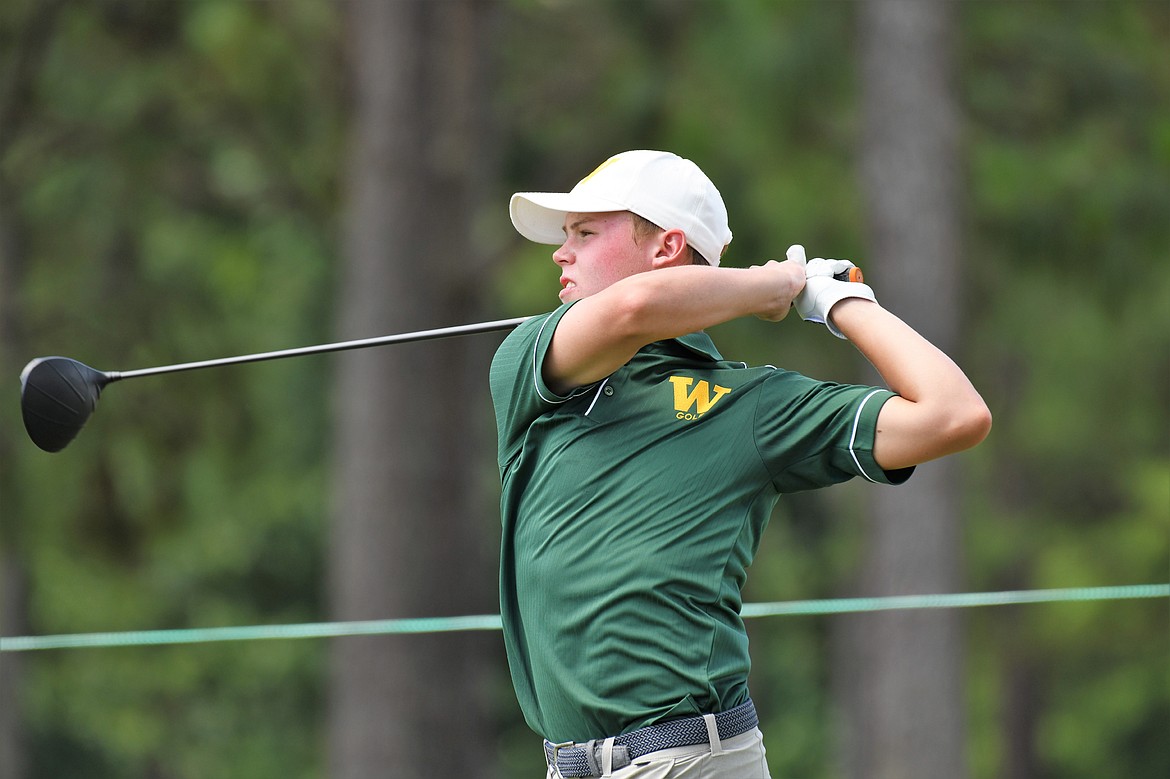 Whitefish's Johnny Nix watches his shot while recently playing at the High School Golf National Invitational at Pinehurst Resort. (Jeff Doorn photo)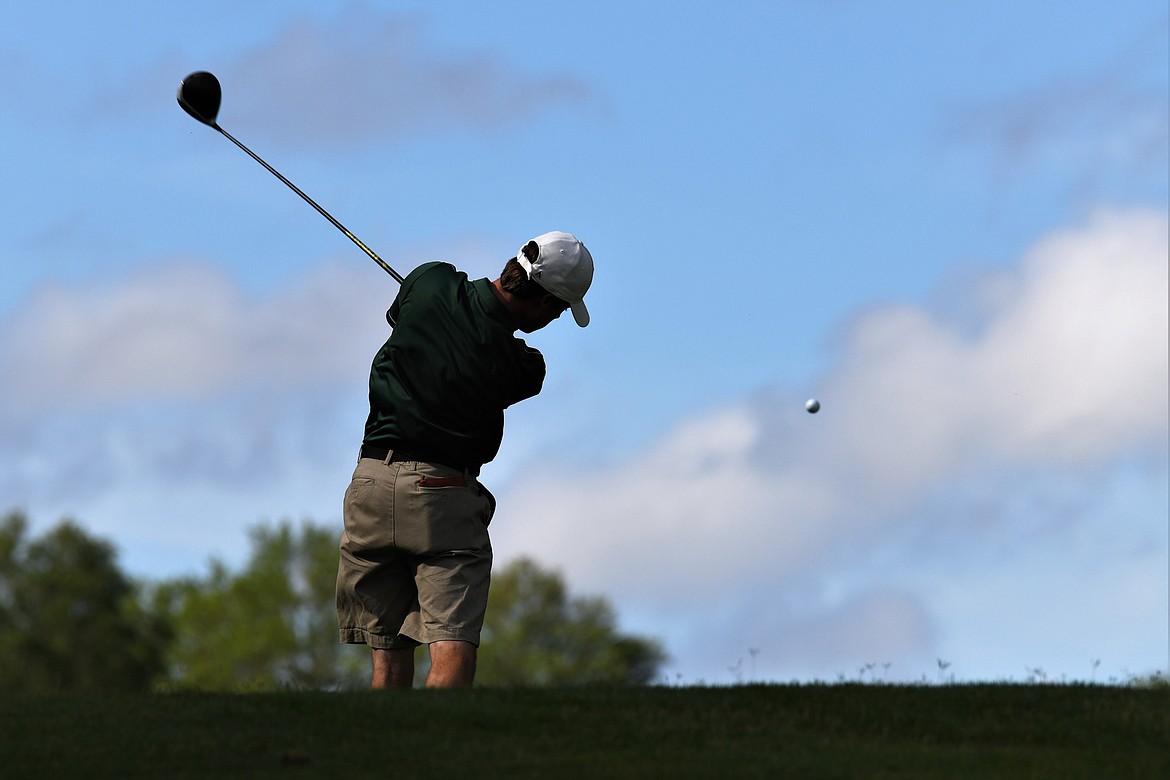 Bulldog Marcus Kilman competes recently at the High School Golf National Invitational at Pinehurst Resort. (Jeff Doorn photo)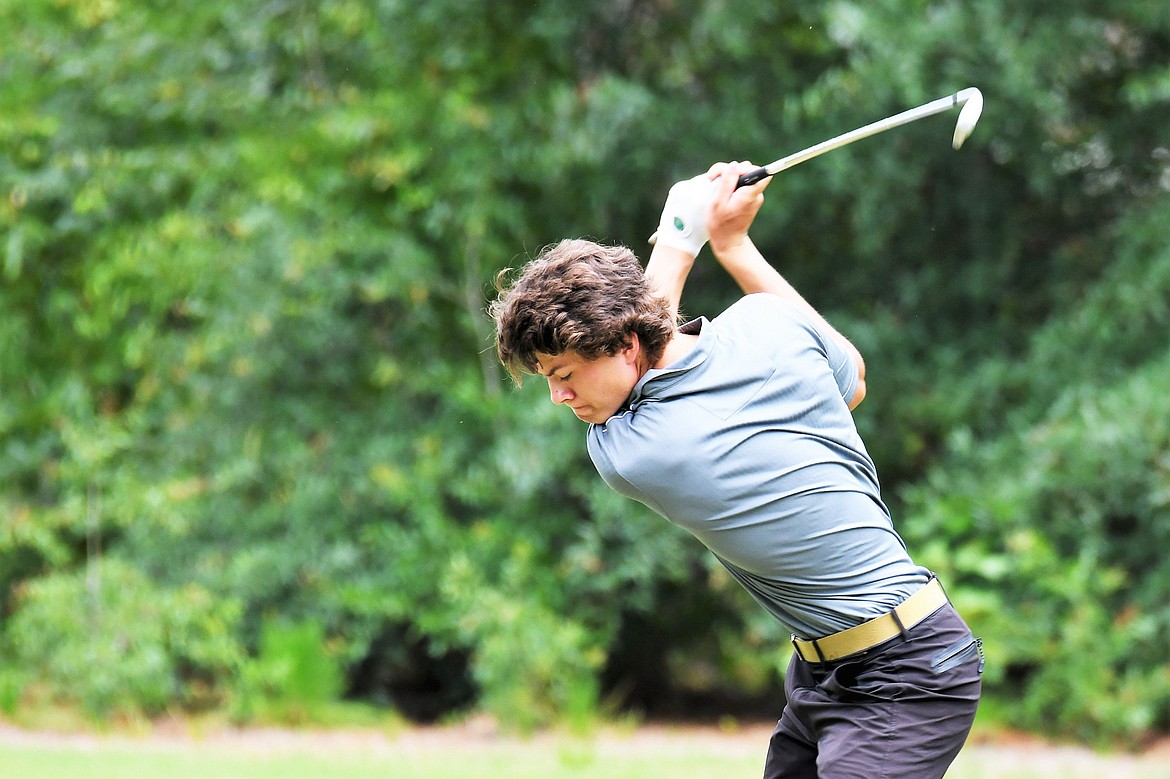 Whitefish's Gates Gilman lines up a shot while recently playing at the High School Golf National Invitational at Pinehurst Resort. (Jeff Doorn photo)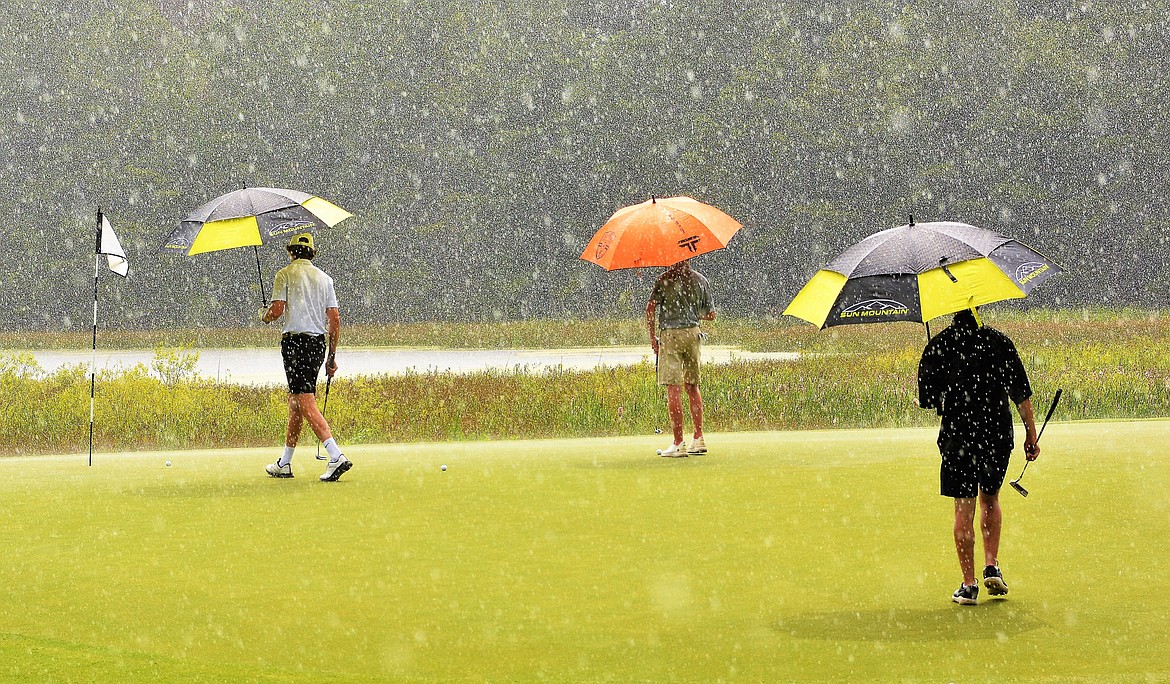 The Whitefish golf team gets caught in a rain storm while recently playing at the High School Golf National Invitational at Pinehurst Resort. (Jeff Doorn photo)
Previous
Next
by
WHITNEY ENGLAND
Whitefish Pilot
|
July 21, 2021 1:00 AM
After the Whitefish High School boys golf team earned a state championship last fall, the team didn't stop practicing. Instead, they turned their focus to attending the national tournament for high school golfers held recently at Pinehurst Resort.
After nine months of dedicated work to organize the trip and countless hours of preparation on the golf course, and five boys from the WHS golf team successfully attended the High School Golf National Invitational in North Carolina over the last week in June. The experience gave those golfers and the coaching staff memorable moments to look back on and a flood of excitement for the future.
"They've been so dedicated to this tournament for months now," WHS boys golf head coach Tait Rocksund said. "I'm just really proud of them to have that commitment to something and see it through all that way because it really took a lot — the planning and then going there and actually playing."
To the coaching staff's knowledge, this was the first time WHS golf has ever sent a team to compete at a national level. In the past, some high school golfers out of Whitefish have competed individually at a national tournament, but never traveled and competed as a whole team.
The five boys that competed includes Billy Smith, Johnny Nix, Marcus Kilman, Bjorn Olson and Gates Gilman. Whitefish standout Cameron Kahle, the individual Montana State A champion, was not able to attend nationals because he had already reported to basic training for the Air Force Academy; thus Gilman went in his place.
According to Rocksund, former head coach Bill Kahle was the first to toss around the idea of sending the team to Pinehurst. And from that idea came about a winter of practicing in the simulator at Whitefish Lake Golf Club, which allowed them to simulate playing Pinehurst No. 8, and then since WLGC opened for the season the team has had tee times weekly.
"We are out at the golf course working with golfers pretty much year-round at this point," he said.
The team was able to make the trip through the dedicated work of organizing it by Bill Kahle, Rocksund and assistant coach Jeff Doorn, and also from the support from the Whitefish Lake Golf Club and the Gary Norby Junior Golf Foundation.
The preparation paid off too, as Rocksund recalls the boys feeling prepared and confident even on the complex courses of Pinehurst.
"I think the boys were ready for it because we had mentally prepared for this for so long…" Rocksund said. "They want that pressure, they want to be in that moment and see where they stack up — that's why we play golf.
Playing at the High School Golf National Invitational provided several challenges for the Whitefish team. The grass at Pinehurst is Bermuda grass versus the bentgrass the golfers are used to in Montana. The Bermuda grass plays much differently and required the boys to adapt their games, according to Rocksund.
Also, there were five tournament rounds — two practice rounds and three competition rounds — plus competitions on Pinehurst's Thistle Dhu putting track and a par 3 short course called The Cradle — all played in the heat and 90 percent humidity.
"Those tournament rounds really just take so much mental energy out of you because you're just focused and you're grinding; every shot is so important, it takes a lot out of you," the coach expressed. "It was really like a golf marathon, that's what we were joking about by the end of the trip."
As far as the actual results, Whitefish ended up 38 while beating teams from Kansas, Nevada, Oklahoma, Wyoming, North Dakota, South Dakota, and West Virginia. Considering Whitefish was only playing against state championship-winning teams from all over the country, most of which don't battle the elements the same way golfers in Montana do, Rocksund was pleased with their result.
"It really was the ultimate test of golf, I mean they're playing golf courses designed by the most famous golf architects," he said. "They really played some of the toughest golf courses against literally the toughest high school field that they could."
A way to measure their success is to look at the team's results compared to another Montana team competing at nationals. Sentinel High School, a AA golf program out of Missoula, also competed at the tournament and Whitefish finished just five places behind them and only 18 strokes off their score. Over the course of the tournament, the difference in score is only a little over one stroke from each golfer per day of competition.
"So we're right in there, and I think that kind of our goal is to be keeping up with the best in the state," Rocksund said. "It's cool Sentinel was there for us to be able to kind of measure ourselves that way… it shows where we're at as a team but also gives us good motivation that if we do want to be the best in the state we've still got a little work to do."
With the high school golf season soon approaching, the Whitefish boys team is riding this wave of momentum into the season. Defending their state championship and staying one of the best in the state is readily on their minds, and now also an opportunity to return to Pinehurst next year provides an extra boost in spirits as August approaches.
"It was such a great experience that the idea of doing it again is obviously very interesting and something that would be motivating," Rocksund said.
"Coming out of this we know we have a little work to do because we left some shots out there in Pinehurst, but if anything that's just going to motivate us and give us more confidence for the fall. It really was a great opportunity to get us ready to go back and defend our state title," he added.
---