Twins give up late runs in championship, finish second to Coeur d'Alene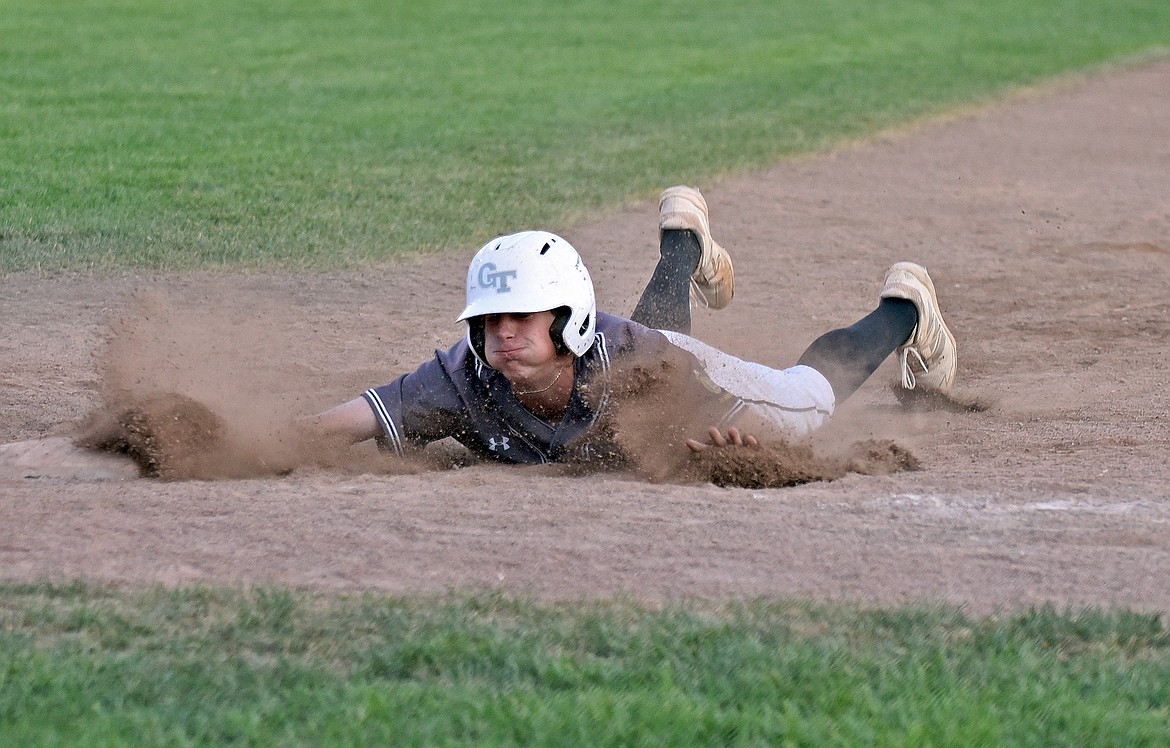 Glacier Twins' Hayden Meehan dives back to first base on an attempted pick-off throw from the Spokane Cannons pitcher during a game at the Sapa-Johnsrud Memorial Tournament in Whitefish on Friday evening. (Whitney England/Whitefish Pilot)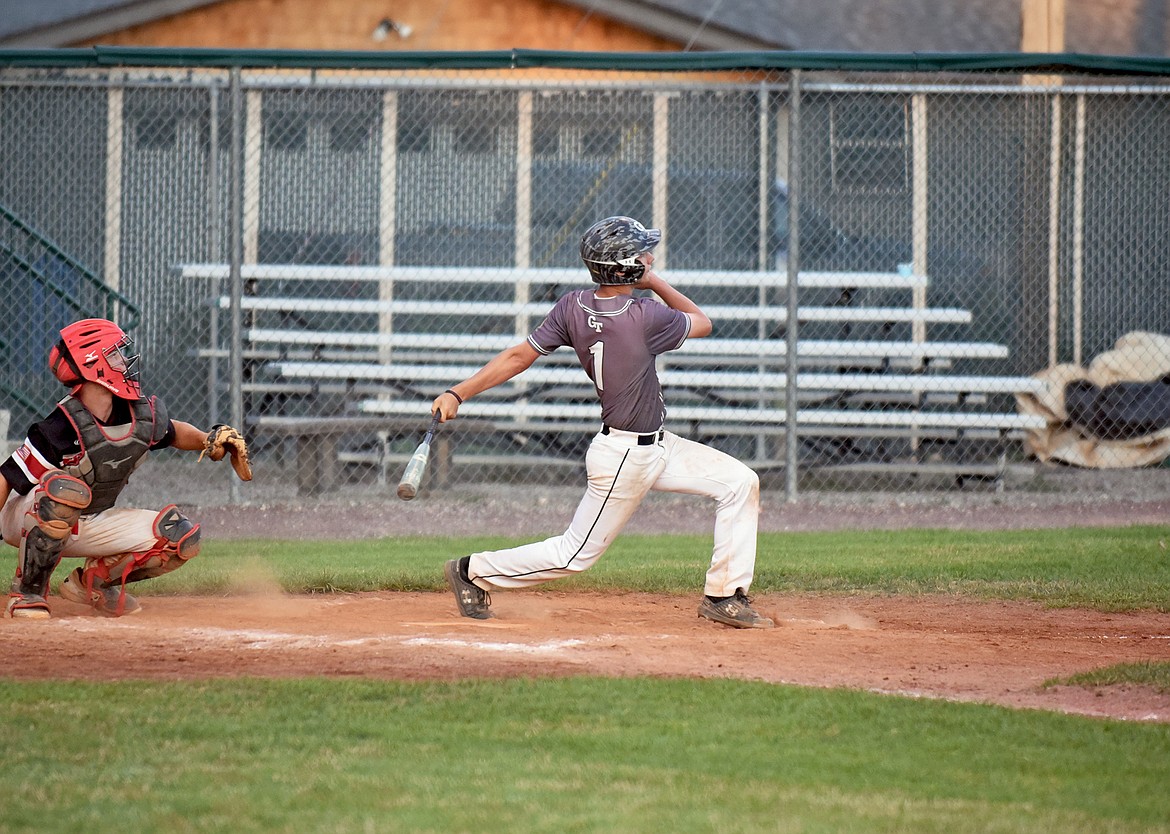 Glacier Twins' Stevyn Andrachick watches as the ball sails over the fence resulting in a home run during a game against the Spokane Cannons at the Sapa-Johnsrud Memorial Tournament in Whitefish on Friday evening. (Whitney England/Whitefish Pilot)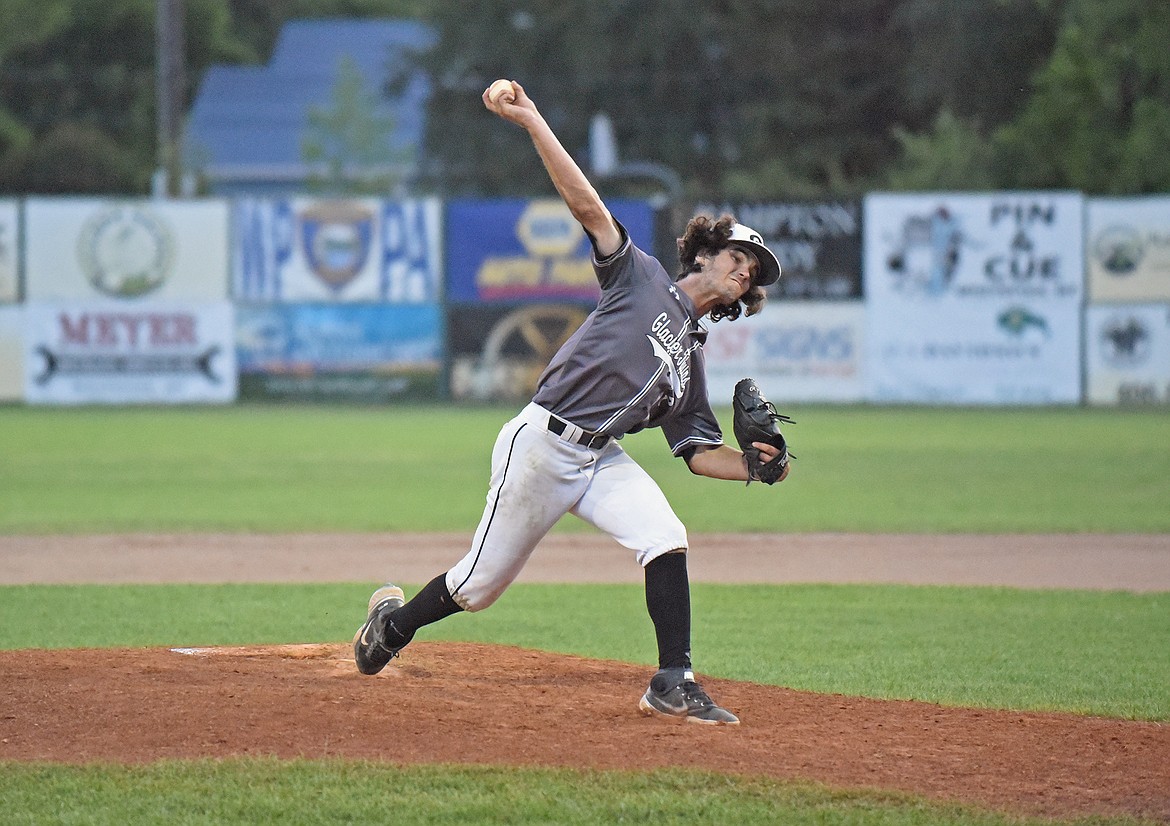 Twins pitcher Jacob Polumbus winds up a pitch during a game against the Spokane Cannons at the Sapa-Johnsrud Memorial Tournament in Whitefish on Friday evening. (Whitney England/Whitefish Pilot)
Previous
Next
by
WHITNEY ENGLAND
Whitefish Pilot
|
July 14, 2021 1:00 AM
Sunday night the Glacier Twins faced the Coeur d'Alene Lumbermen in the championship game of the Sapa-Johnsrud Memorial Tournament in Whitefish — a team that had beat them soundly, 9-3, in the opening round just a few days prior.
The Twins hung tough with the AA foe in the championship game, but ultimately gave up a run in both of the final two innings to fall to the Lumbermen 3-1 and take second place in the tournament. Coeur d'Alene was the only team to beat the Glacier Twins all weekend, as the twins went 4-2 at the tournament.
In the championship game the pitching was strong from both teams as the Lumbermen struck out eight and the Twins struck out four. Glacier pitcher Mikey Glass started out on the mound, pitching four innings while only giving up one run and two hits, in the low-scoring affair. Hayden Meehan threw three innings in relief as well.
The Twins and the Lumbermen were neck-and-neck throughout the game. In the top of the fourth inning Coeur d'Alene notched one run, but Glacier responded in the same inning with a run off a single by Jacob Polumbus. The Twins ended up giving up a key run in the sixth inning, giving the Lumbermen a lead, and then Coeur d'Alene sealed the deal tacking on one more run in the seventh.
Twins player Stevyn Andrachick led his team at bat going 2-for-3 in the game.
Starting out the tournament after the Twins dropped their first game to Coeur d'Alene, Glacier responded by winning their next four games.
The Twins blew out the Spokane Cannons 13-2 after scoring a whopping nine runs in the bottom of the third inning. The big inning included a home run on a 2-1 count by Andrachick which scored three runs.
On Saturday, Glacier's Zach Veneman threw a complete game shutout leading his team to an 18-0 win over the North Idaho Lakers. Veneman allowed three hits, zero runs and struck out eight Lakers. Twins' Mason Peters had a game-high four hits including a double in the fourth inning.
Later that evening the Twins also beat the Missoula Eagles 19U team 9-1. On Sunday prior to the championship game, Glacier held onto an early lead to defeat the Spokane Expos 8-5. The Twins scored four runs in the first inning after Andrachick got things going with a double to score one run.
The Twins took second place at the Sapa-Johnsrud Memorial Tournament and improved their overall record to 42-13 for the season.
To close out regular season play this week, Glacier is set to play a doubleheader against the Missoula Mavs A on Wednesday for senior night starting at 3 p.m. in Whitefish and then will host the Bitterroot Bucs A on Sunday beginning at 2 p.m.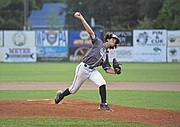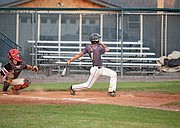 ---