Olympic rugby player shares coffee with world stage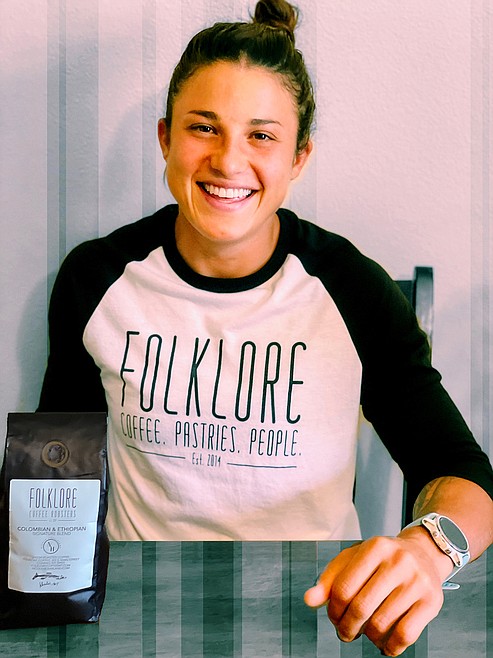 Whitefish native and USA Rugby player Nicole Heavirland recently partnered with Folklore Coffee to create her own signature blend coffee and help promote local small businesses as she prepares to take the Olympic stage this summer in Tokyo. (Courtesy photo)
by
WHITNEY ENGLAND
Whitefish Pilot
|
July 14, 2021 1:00 AM
Nicole Heavirland is set to head to Tokyo this summer to play rugby on the world's biggest athletic stage — the Olympic Games.
Heavirland, who grew up in Whitefish, had quite the journey to becoming an Olympic rugby player and is striving to positively represent her country, hometown and herself at the Tokyo Olympics. She has recently developed a brand that represents her passion and the story of developing into the athlete she is today, and hopes to use that brand to inspire others while sharing the things that mean the most to her.
"Using my leverage as a professional rugby player who is going to the Olympics, I just want to give a shout out to all those small companies that have helped me along the way and get their name out there," she told the Pilot in a recent phone call.
A new addition to her brand is developing her own signature blend coffee this summer by partnering with Montana-based Folklore Coffee. Heavirland's brand and a replica of her fish tattoo on her forearm, which both represents where she's from and her love of flyfishing, are printed alongside the Folklore logo on the coffee bag.
The beans are a blend of Columbian beans to honor her own heritage and the Ethiopian beans she fell in love with on her first visit to the shop. Heavirland was swooned by Folklore when they opened their Whitefish storefront in 2018 after she went with her mother to try out the new coffee in town.
"I just remember having a delicious Ethiopian pour-over and being like, holy crap Whitefish is getting in the coffee game," she recalled. "It was a really memorable and good experience."
Because of that experience, and many others as she continued to frequent the coffee shop, she had a desire to partner with Folklore who didn't hesitate to bring her on board as an ambassador. With her own Folklore Coffee signature blend, she plans to share it with whoever she meets all over the world as she travels playing rugby.
She's had an interest in coffee for many years and makes it a point to try different coffee as she travels all over the world playing rugby on the women's national team. Heavirland says it's even become a tradition with her team to go to different coffee shops and it ends up making the team closer being able to share that interest.
"It's definitely a team activity that we do and I've been fortunate to meet a lot of cool people throughout that," she says.
She has been to places like Dubai, South Africa and Australia because of rugby, but has made the habit to try the coffee everywhere she goes. Even many of the teams she plays against, after they get done tackling each other will share some coffee together.
"Coffee is so universal and you can go anywhere in the world and have a cup of coffee, share it with someone who doesn't even speak your language, but it's universal in the sense that you can bond over that," Heavirland said. "For me, it's coffee because I feel like I really speak that language and understand it."
Heavirland fits many different hobbies and interests into her life such as coffee. She also is an avid flyfisher which she says is a way to unwind outside of her obligations and brings her back to her Montana roots. She also utilizes yoga to help with muscle recovery and her mindset, and has her brand she's developing on top of everything else.
"I think it just goes hand in hand because I'm super passionate about rugby, and super passionate about all these other hobbies," she said. "I make time for those things because I truly find meaning in them."
The moves with her brand and her new coffee blend are engaging for Heavirland, but still, the focus right now is on rugby with the Olympics quickly approaching.
Heavirland grew up in Whitefish playing little guy football and little guy wrestling. She was a talented basketball player as well, and when she was a sophomore in high school picked up rugby. As an all-around athlete and her experience with football, rugby came pretty naturally.
"I just excelled (in rugby) and I like to think it's a really unique experience in the sense that not all towns would have accepted a girl playing tackle football or wrestling; so I'm very thankful for that because I think it really did excel me," she recalled.
She played basketball at a prep school in New Hampshire out of high school before transferring to the U.S. Military Academy at West Point to fulfill a dream of playing Division I basketball. After checking that off her to-do list, she transferred to the rugby team and was soon chosen as an All-American. That's when she was recruited by the U.S. women's national team and began playing rugby professionally.
In early 2020 Heavirland was preparing for the 2020 Olympic Games and then because of the COVID-19 pandemic her dreams were put on hold. Although disappointed she couldn't to travel to Tokyo last summer, she instead soaked up extra time being back at home in Whitefish. And she found other ways besides rugby to stay in shape.
"I biked Going-to-the-Sun Road in Glacier National Park and that 40-mile bike ride made me feel very humble," she said.
Now after a world of adjustments back at the national team's training center in San Diego, Heavirland is thrilled to be heading to Tokyo in the coming weeks — finally. She says playing in the Olympics is a dream coming to reality and she hopes that the team does well to bring more awareness of the sport to the United States.
"What I'm looking forward to the most is just to represent my country on the highest athletic stage possible," she said. "I think it's a huge honor to step out there with the red, white and blue and compete against really good teams, and hopefully take gold."
"I think the better we do the more people will know about rugby; so that's also a big motivator for myself is to grow this sport in this country because I would like one day for rugby to be a first option for kids growing up in sports not a third or a fourth," she added.
As Heavirland travels to Tokyo this summer she plans to bring her Folklore Coffee with her, with her own brand shining through on the world stage. She wants her brand to be a representation of where she's from and her journey to becoming an Olympic athlete, something that's worth sharing with the world.
And she believes the best way to share her story with the world is over a cup of joe.
"I love just sitting down and enjoying a cup of coffee with someone, I think that's really special," she says.
Recent Headlines
---