Make that two in a row: Whitefish 12U baseball defends state championship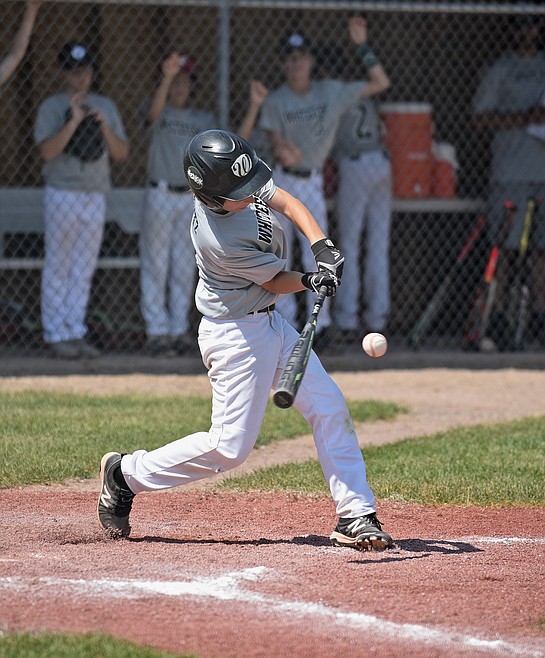 Whitefish's Ashtyn Mintz lines up a hit in a baseball game Friday against Mission during the Cal Ripken 12U Montana State Tournament in Whitefish. (Whitney England/Whitefish Pilot)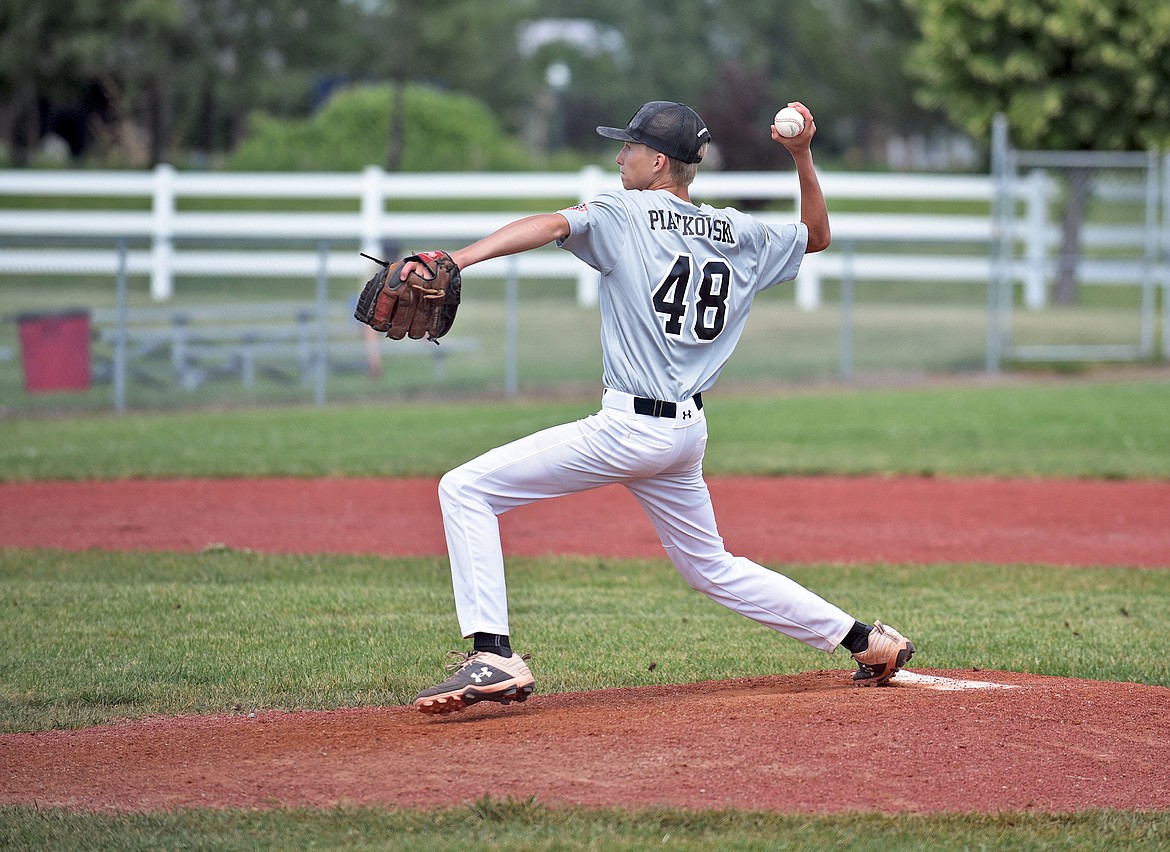 Whitefish's Talus Piatowski pitches in a baseball game Friday against Mission during the Cal Ripken 12U Montana State Tournament in Whitefish. (Whitney England/Whitefish Pilot)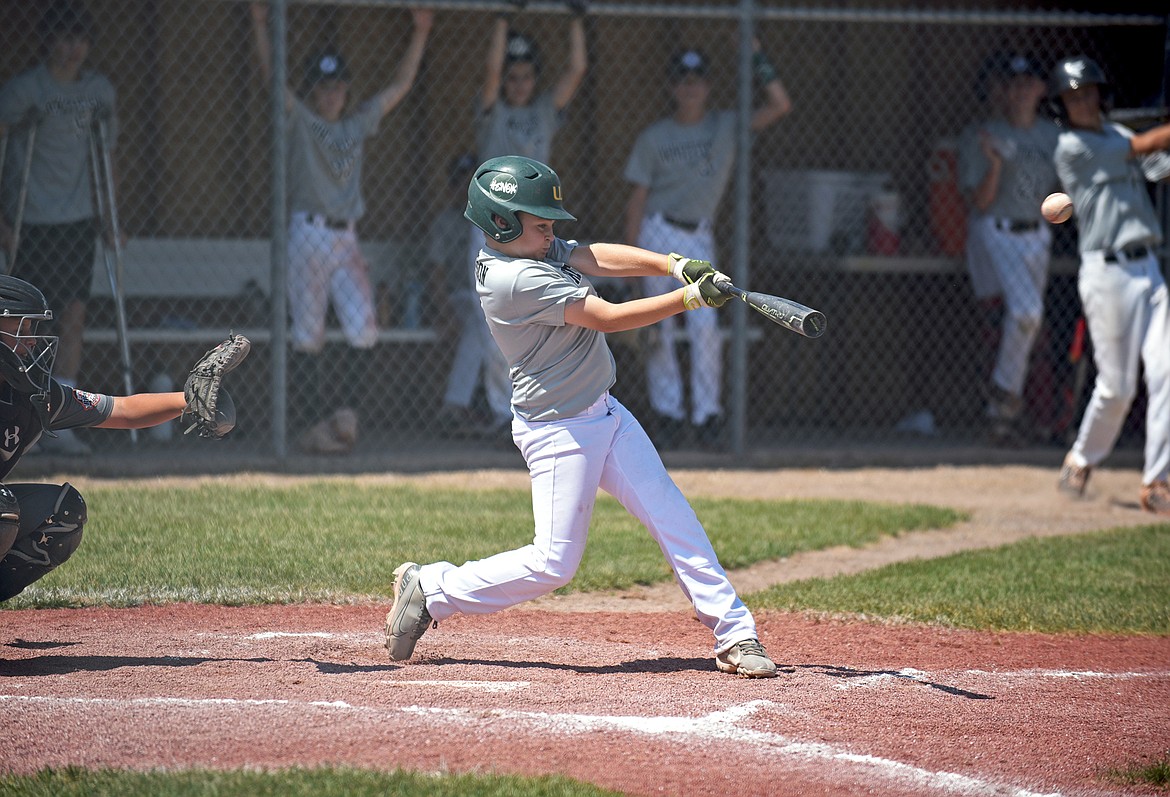 Whitefish's Will Sisson makes contact with the ball for a hit in a baseball game Friday against Mission during the Cal Ripken 12U Montana State Tournament in Whitefish. (Whitney England/Whitefish Pilot)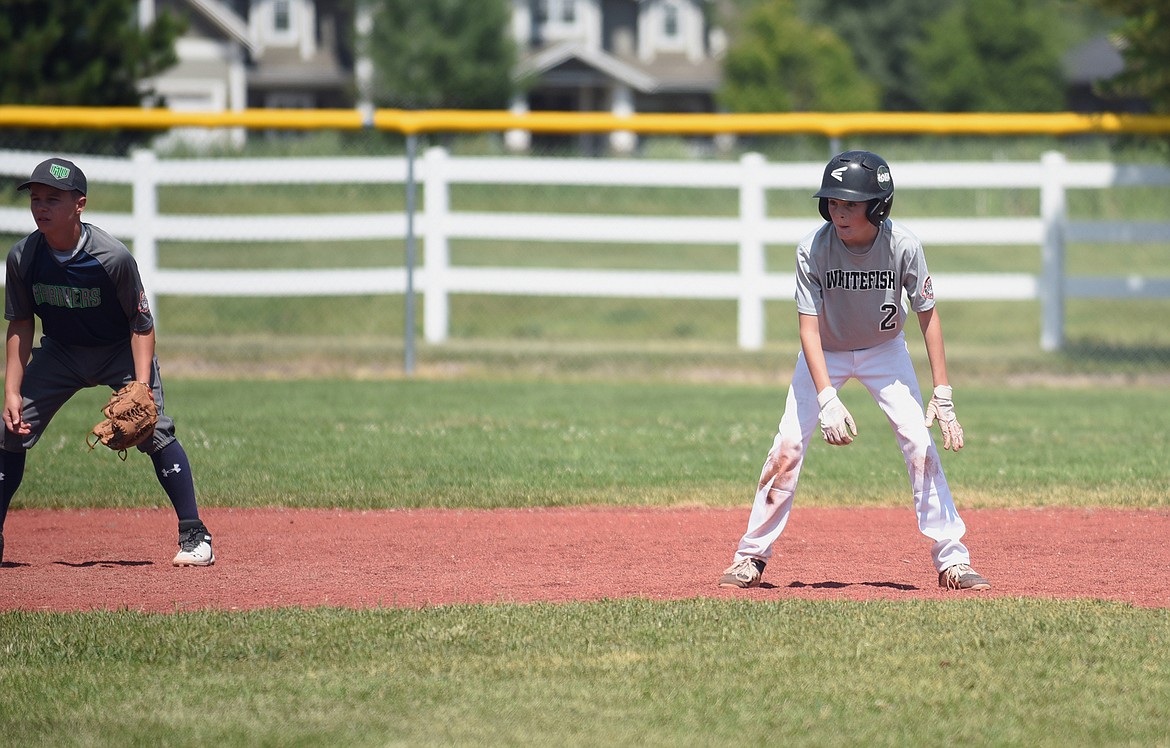 Whitefish's Drew Queen takes a lead off second base while watching the ball in a baseball game Friday against Mission during the Cal Ripken 12U Montana State Tournament in Whitefish. (Whitney England/Whitefish Pilot)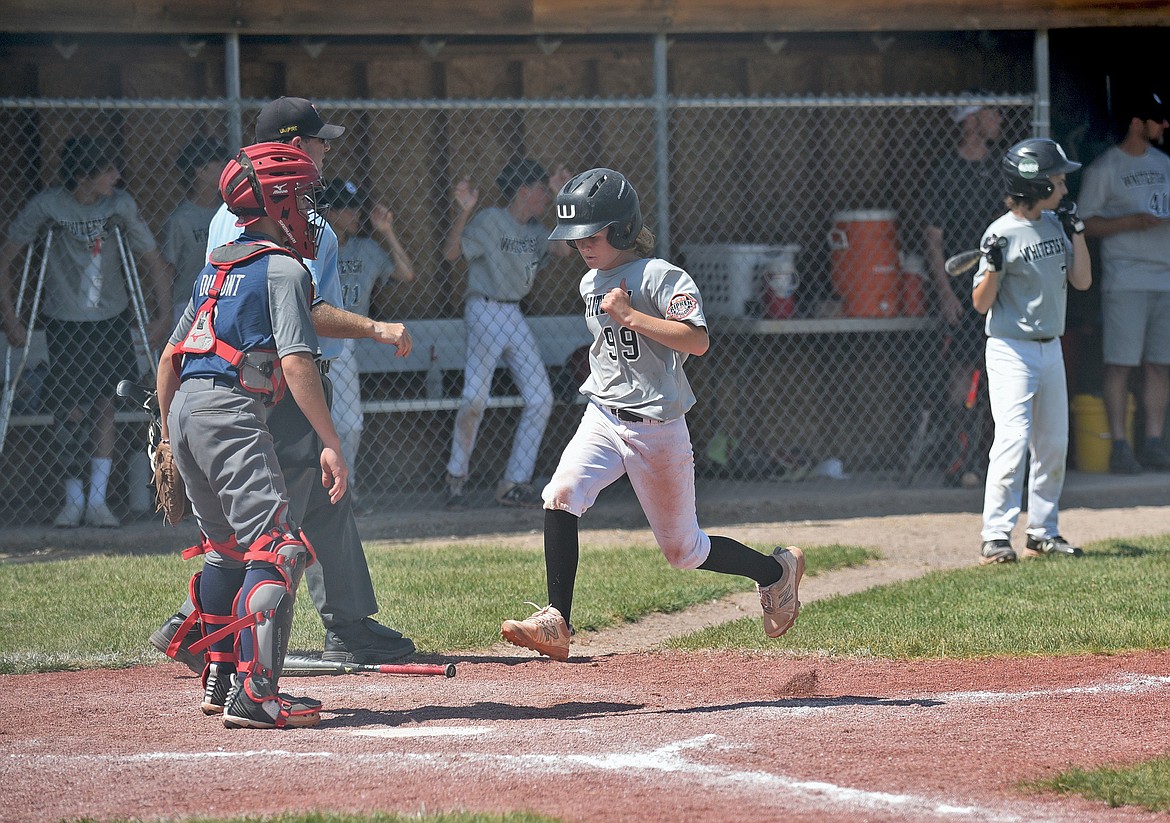 Whitefish player Carter Godsey runs across home base to score a run in a baseball game Friday against Mission during the Cal Ripken 12U Montana State Tournament in Whitefish. (Whitney England/Whitefish Pilot)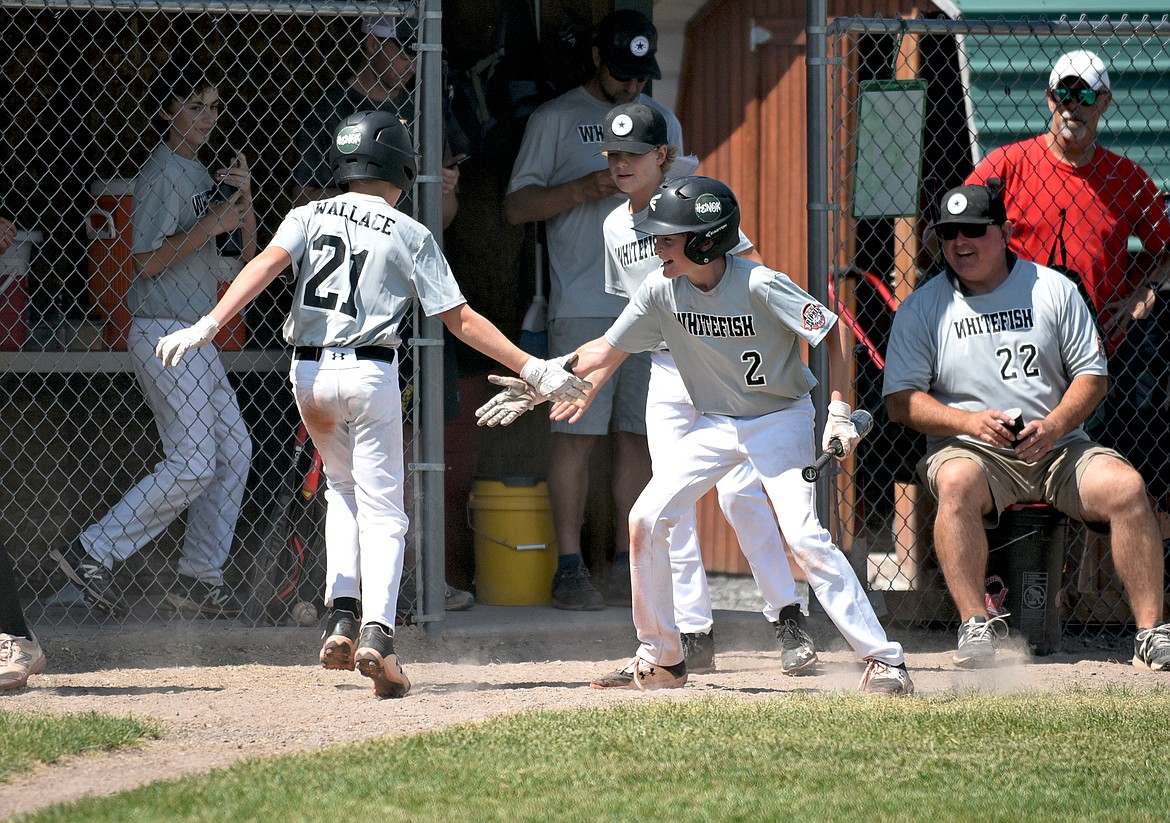 Whitefish player Cullen Wallace celebrates scoring a run with high fives to Drew Queen (front) and Luke Dalen (back) in a baseball game Friday against Mission during the Cal Ripken 12U Montana State Tournament in Whitefish. (Whitney England/Whitefish Pilot)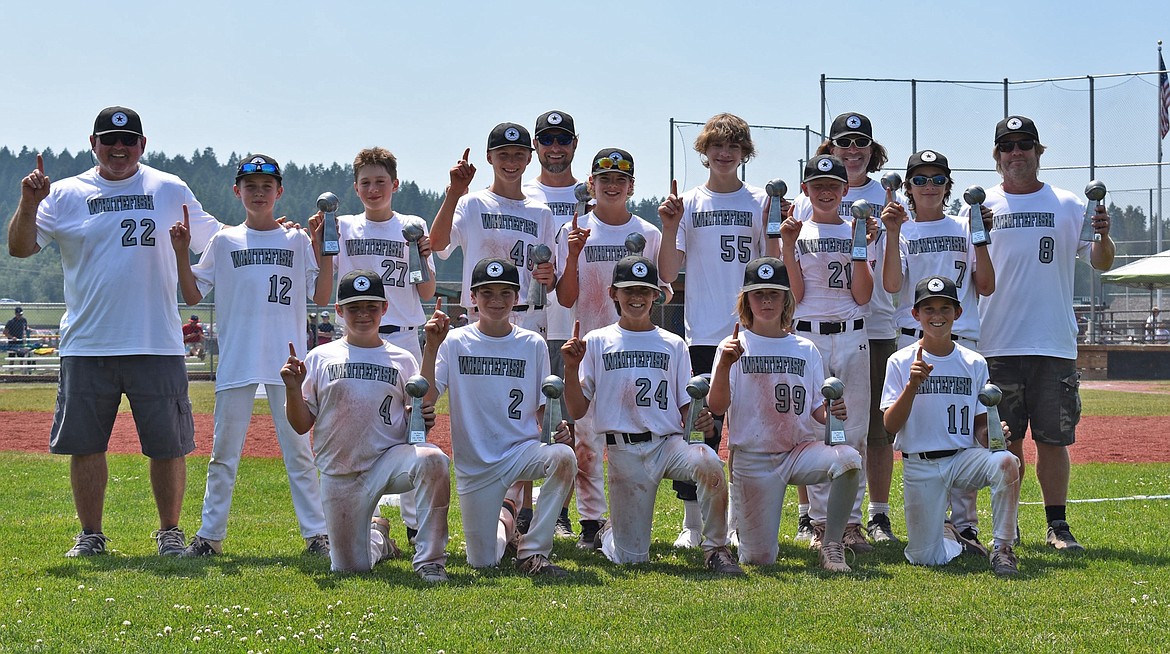 The Whitefish 12U baseball team went 5-0 in the state tournament and won the championship game over Helena on Sunday at Smith Fields in Whitefish. From left to right, back row, coach Ray Queen, Landon McGavin, Gustav Alevizos, Talus Piatkowski, coach Rich Piatkowski, Luke Dalen, Jett Pitts, Cullen Wallace, coach Josh Mintz, Ashtyn Mintz, and coach Chap Godsey; front row, Will Sisson, Drew Queen, Reyd Hobart, Carter Godsey, and Finn Hobart. (Courtesy photo)
Previous
Next
by
WHITNEY ENGLAND
Whitefish Pilot
|
July 14, 2021 1:00 AM
The Whitefish 12U baseball team has been taking the field together since they were hitting baseballs off a tee and just learning the game.
In all those years the group has formed a team chemistry almost unmatched by those in their age group across Montana. This bond, in addition to the hard work of developing their athletic skills, has led to three-straight state championship appearances and two titles including Sunday's 8-3 win over Helena.
The team lost in the state championship in 2018 and won state the next year before the COVID-19 pandemic canceled the 2020 state tournament. Then last weekend the Whitefish team captured a second championship.
The team plays in the Cal Ripken League and hosted the state tournament from July 8-11. Whitefish beat teams from Eureka and Libby, Mission Valley and Helena to win the state championship.
Ray Queen, a coach on the Whitefish team, says the kids played like they wanted to win throughout the tournament and it showed.
"Everything worked out really well; our offense really poured it on and we were clicking on all cylinders this weekend," Queen told the Pilot. "It was really neat to watch these kids play their hearts out, they really did. They were focused and they were determined."
In the state tournament, Whitefish first defeated the combo team out of Eureka and Libby 15-0. Then the boys played Mission twice, with a 10-run win in each game, before defeating Helena in a more closely matched game 8-3.
Against Helena, who was the team that beat them in 2018 in the state championship, the Whitefish boys knew they needed a big game to defeat the well-coached Helena team. All went according to plan as Whitefish's hitting game was on and Helena had to work hard for their outs.
"We knew that we were going to have them come at us and our kids just came out right away putting the bat on the ball," Queen said, adding that there were multiple times players got clutch hits with two outs on the board. "These kids were just determined to win."
The team was also able to have success at state without one of their top pitchers, Jett Pitts, who can throw the ball 70 miles an hour, according to the coach. Pitts suffered a severe knee injury outside of baseball and is still recovering.
Queen said the success of the state tournament wasn't only from what happened on the field, the parents, coaches and players all worked together to make it an enjoyable weekend.
"Our parents really stepped up and just allowed us coaches to coach," he said. "It was really neat, a great group of people that are all in it together and on the same page."
According to Queen, the players on the 12U team all get along with each other, support one another and are accomplished kids outside of baseball as well.
"These kids are smart, athletic and just know how to occupy their time really well on the field and off," he said.
Since winning state, the team now will move on to regionals which take place in Meridian, Idaho beginning July 22. Queen believes because the team is skilled both at hitting and pitching, they will have a good shot at doing well at the regional tournament.
"We're going to go to regionals and we'll see if we can lay it all out on the line — I think we've got what it takes," Queen said.
This is their last year in the Cal Ripken league and next year this group will move into the Babe Ruth League.
"We'll see what happens with this group of kids, they're pretty special," Queen said.
---