Moore, Acharya claim second titles at tourney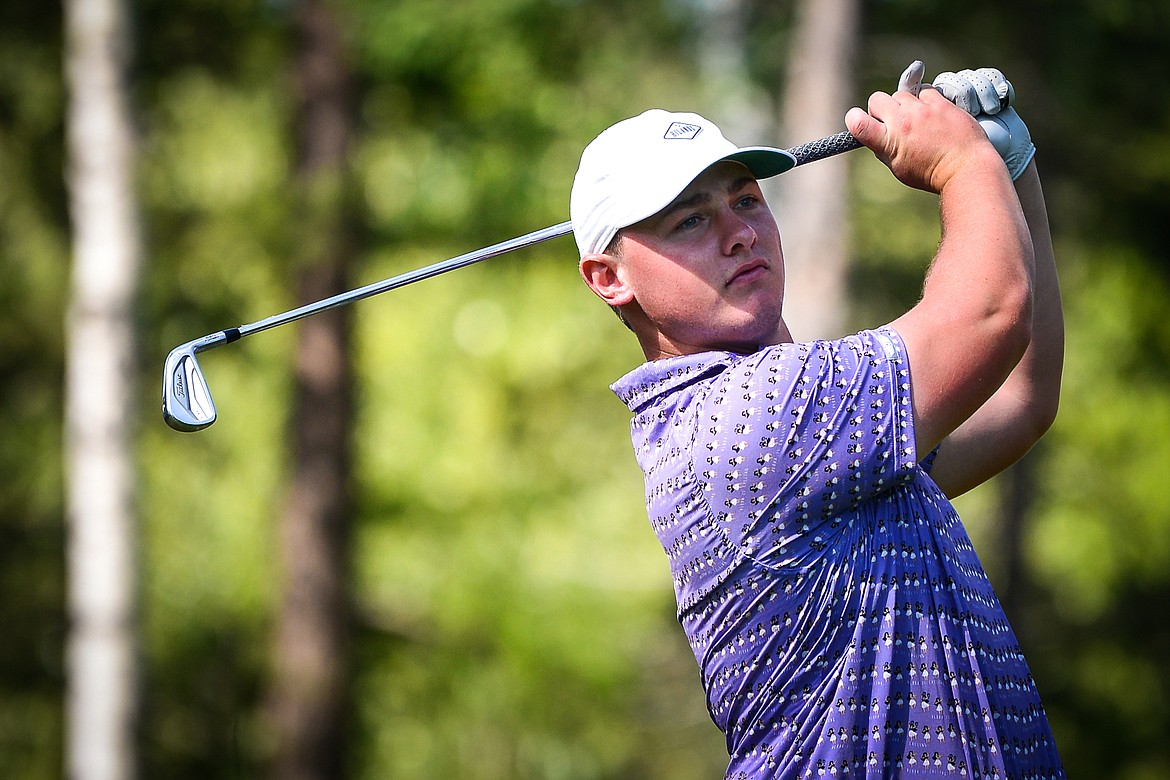 Joey Moore watches his tee shot on the fourth hole of the North Course during the second round of the Earl Hunt 4th of July Tournament at Whitefish Lake Golf Club on Friday, July 2. (Casey Kreider/Daily Inter Lake)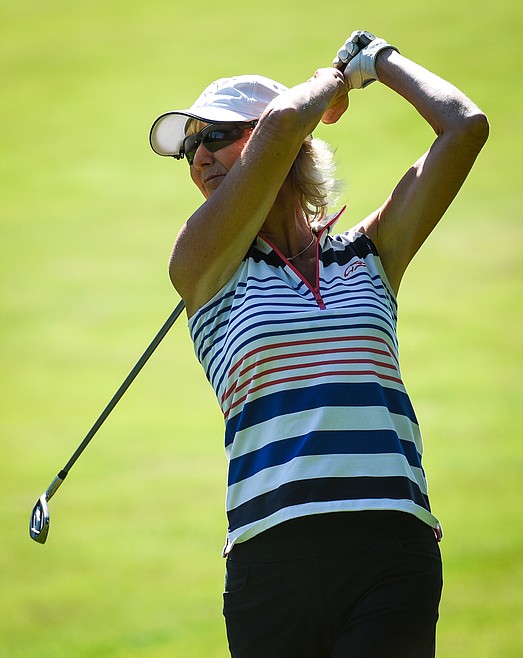 Karen Jacobson, of Whitefish, watches her approach shot on the 13th hole of the North Course during the opening round of the Earl Hunt 4th of July Tournament at Whitefish Lake Golf Club on Thursday, July 1. (Casey Kreider/Daily Inter Lake)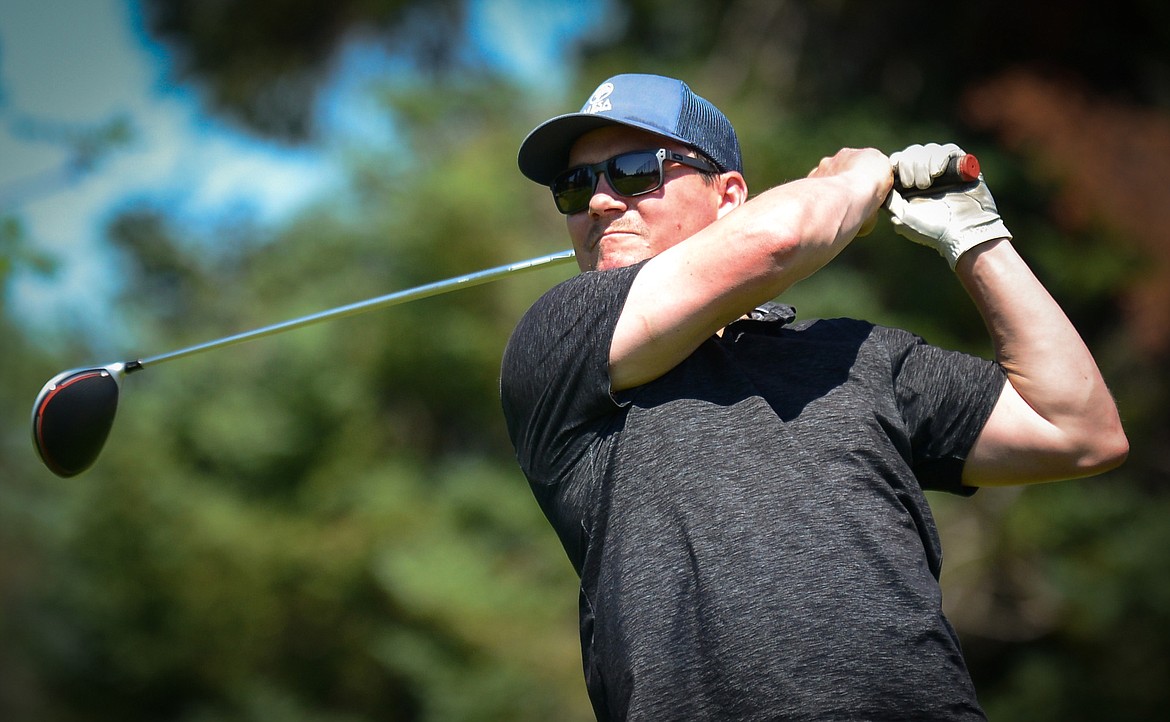 Dan Conkling, of Whitefish, watches his drive off the first tee of the South Course during the opening round of the Earl Hunt 4th of July Tournament at Whitefish Lake Golf Club on Thursday, July 1. (Casey Kreider/Daily Inter Lake)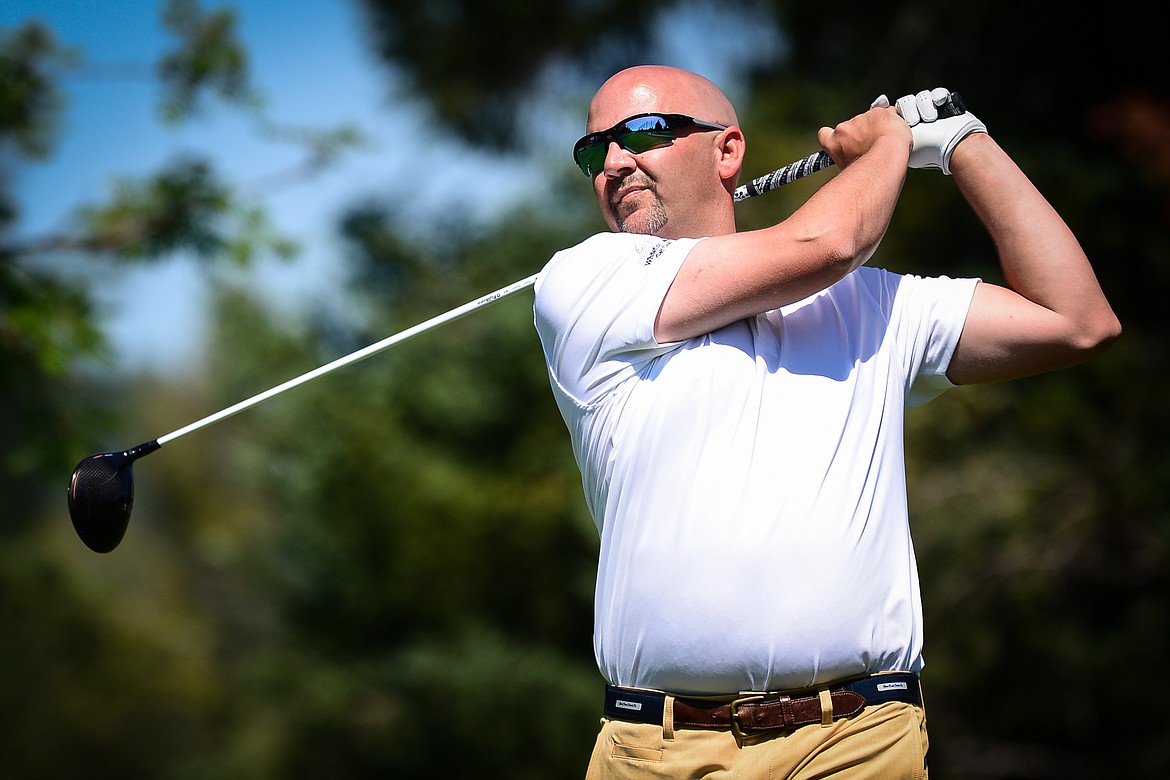 Shawn Tucker, of Whitefish, watches his drive off the first tee of the South Course during the opening round of the Earl Hunt 4th of July Tournament at Whitefish Lake Golf Club on Thursday, July 1. (Casey Kreider/Daily Inter Lake)
Jasi Acharya watches her tee shot on the eighth hole of the North Course during the third round of the Earl Hunt 4th of July Tournament at Whitefish Lake Golf Club on Saturday, July 3. (Casey Kreider/Daily Inter Lake)
Previous
Next
by
STAFF REPORT
Staff Report
|
July 5, 2021 9:00 AM
Both 2018 men's and women's champions won their second titles Saturday at the 85th annual Earl Hunt 4th of July Golf Tournament at Whitefish Lake Golf Club.
Jasi Acharya, of Carver, Minnesota, shot 2-under on the par 72 South Course (72-69-70—211) and bested second place Morgan O'Neil by 16 strokes. Acharya had the lowest women's round of the day.
Bigfork's Marcella Mercer carded 76-76-75—229 over the three-day tournament to finish in third. The 2020 Earl Hunt champion Cora Rosanova finished with 76-80-81—237 in fifth place.
Three-time champ Cathie Tronson of Great Falls was fourth.
Previous champion Darah Newell Smith was seventh and Hannah Rosanova was eighth.
Billings' Joey Moore edged Andrew Medley by five strokes, 62-74-64—200 to win the men's title. Moore's 64 on the par 71 North Course was the lowest round of the day (he shot 62 on the same course Thursday).
Medley, of Scottsdale, Arizona, and two-time winner, shot a total 62-74-64—200.
Helena's Riley Lawrence was one stroke behind in third. Oscar Maxfield and Ben Hayes finished with 208 strokes each. Sixth place Liam Clancy of Billings shot 65 Saturday, his lowest round of the tournament.
Kalispell's Tyler Avery finished 31st (73-80-81—234).
Joe Cielak of Libby won the men's senior title by one stroke over Missoula's Ron Ramsbacher. Tommy Lindell of Kalispell was third, and Greg Hetzer of Whitefish was fourth.
85th Annual Earl Hunt 4th of July Tournament
Whitefish Lake Golf Club
July 1-3
Saturday
Women's Championship Flight
Jasi Acharya Carver, MN 72-69-70—211
Morgan O'Neil Laurel 76-76-75—227
Marcella Mercer Bigfork 78-76-75—229
Cathie Tronson Great Falls 80-75-79—234
Cora Rosanova Bozeman 76-80-81—237
Lauren Nielson Belgrade 80-80-77—237
Darah Newell Smith Helena 79-79-80—238
Hannah Rosanova Bozeman 93-86-78—247
Kenzie Walsh Billings 84-80-84—248
Women's First Flight
Laurel Ward Bozeman 78-70-71—219
Isabella Johnson Billings 72-75-73—220
Shelby DeVore 74-80-80—234
Marcy Holt Spokane 80-79-81—240
Janell Tanner-O'Neal 78-79-84—241
Emily Kelly Butte 82-78-81—241
Kathy Dodd Whitefish 82-79-85—246
Rikka Holiday Bozeman 81-83-82—246
Liz Hewson Whitefish 86-82-84—252
Bobbie Lacklen Libby 85-84-85—254
Karen Jacobson Whitefish 89-87-81—257
Marcia Reimers Missoula 82-97-83—262
Women's Second Flight
Cheryl Briedenbach Sammamish, Wash. 86-85-84—255
Trina Diehl 90-89-86—265
Louise Cholette-Haley Polson 92-87-88—267
Cheryl Walter Lethbridge, Alta., CA 86-92-90—268
Tracey Whisenand Whitefish 89-91-89—269
Jeanette Chaney Columbia Falls 87-96-89—272
Stacy Denning Whitefish 90-94-89—273
Linda Ray 93-96-86—275
Ruth Fenn Libby 89-100-90—279
Kristin Hetzer Whitefish 101-96-96—293
Michelle Alamo Englewood, Colo. 96-100-98—294
Jen Warden Boise, Ida. 92-103-100—295
Men's Championship Flight
Joey Moore Billings 62-74-64—200
Andrew Medley Scottsdale, Ariz. 69-69-67—205
Riley Lawrence Helena 68-71-67—206
Oscar Maxfield 70-69-69—208
Ben Hayes 69-68-71—208
Liam Clancy Billings 71-73-65—209
Brian Hanson San Diego 72-71—69—212
Jason Johnstone Scottsdale, Ariz. 68-74-73—215
Robert Hasquet Missoula 69-76-71—216
Justin Dorr Spokane 71-73-72—216
Devin Carrey 71-75-73—219
Payton Taylor Hamilton 70-74-76—220
Sean Ramsbacher Missoula 70-73-77—220
Ross Kronberg New Canaan, Conn. 69-78-74—221
Matthew Hobbs Polson 76-76-70—222
Cameron Hackmann Laurel 71-76-75—222
Byron Olson Houston, Tex. 81-73-71—225
Chris Goldan Bozeman 74-79-73—226
Joey Lovell Bozeman 72-77-77—226
Bill Dunn Missoula 73-75-78—226
Brice Warden Boise, Ida. 74-80-74—228
Mark Mance Whitefish 75-77-76—228
Tristan Hanson Hamilton 75-73-80—228
Joe Wagner Missoula 77-76-76—229
Maxime Blandin Dallas, Tex. 76-76-77—229
Akku Acharya Missoula 78-73-79—230
Benjamin Kaul Great Falls 76-79-76—231
Paull Veroulis Kalispell 75-80-77—232
Jack Johnston Missoula 74-76-82—232
Mike Watson 77-77-78—232
Tyler Avery Kalispell 73-80-81—234
Men's Senior Championship Flight
Joe Cielak Libby 73-74-77—224
Ron Ramsbacher Missoula 77-72-76—225
Tommy Lindell Kalispell 76-75-75—226
Greg Hetzer Whitefish 74-73-80—227
Gary Holt Spokane 79-72-78—229
Jim O'Neil Laurel 79-78-77—234
Baker Montgomery Dallas, Tex. 82-79-76—237
Rick Reimers Missoula 83-77-80—240
Nalin Maxfield Salt Lake City 77-83-81—241
Terry Aikin Englewood, Colo. 79-81-86—246
Tom Shea Whitefish 86-80-81—247
Bill Kleinecke Novato, Colo 84-81-83—248
Todd Ward Bozeman 83-82-83—248
Dave Lucey Marietta, Ga. 84-84-82—250
Bryon Mayala Billings 87-82-84—253
Tom Rea Kalispell 85-84-88—257
---