Swimmers splash into season at Kalispell Invite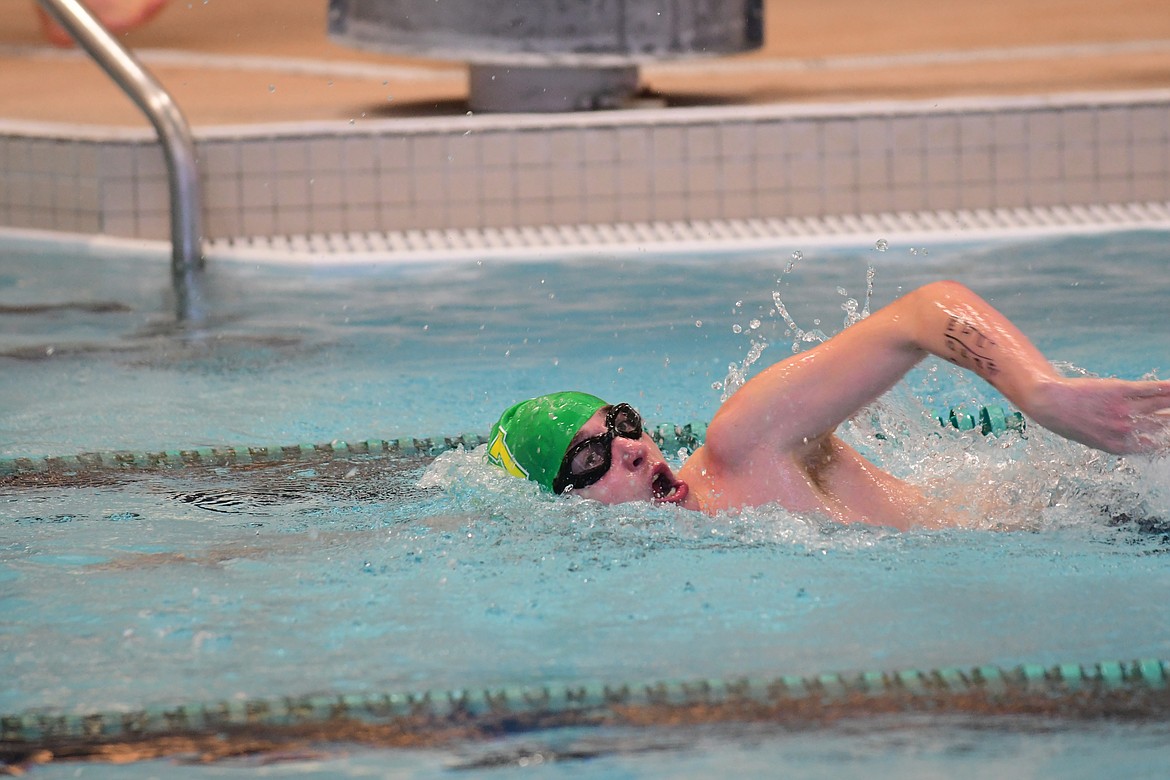 Whitefish's Zane Meuter competes in the mixed 100 yard freestyle. (Teresa Byrd/Hungry Horse News)
by
WHITNEY ENGLAND
Reporter
|
January 13, 2021 1:00 AM
On Saturday Whitefish competed against four area swim teams at the Summit for the Kalispell Invite hosted by the Flathead and Glacier teams.
Whitefish faced off with Flathead, Glacier, Bigfork and Columbia Falls.
The Whitefish girls team relay took first place and the boys team took second in the 400 free relay. The girls relay team for this race was composed of Nia Hanson, Helena Kunz, and Kay Weaver. The boys relay was Ben Dalen, Aaron Dicks, Nathan Niles and Logan Botner.
Also in the 200 freestyle relay race a different Lady Bulldog relay team came in third.
On the girls side, Whitefish junior Ada Qunell had a stellar day in the pool as she finished first in the firls 200 freestyle with a time of 1:55.30 and the 500 freestyle in 5:17.28.
Nia Hanson and Kay Weaver also had a handful of top-five performances in various races. Hanson finished third in the girls 200 individua medley and 100 butterfly, while Weaver took third in the girls 50 freestyle and fourth in the 100 backstroke.
For the boys team, Logan Botner continued his excellent swimming shown at the state tournament over the last two years as he took first in the boys 100 backstroke and fourth place in the 50 freestyle.
Jack McDaniel came away with a strong performance as well, finishing third in the oys 50 freestyle and also the 100 freestyle.
Whitefish swimmers are set to race again on Saturday, Jan. 16 at the Polson Invite.
Kalispell Invitational Meet
Saturday, Jan. 9
Girls 200 Medley Relay
Whitefish 2:36.97
Boys 200 Medley Relay
Whitefish 2:13.56
Girls 200 Free
Ada Qunell, WHS, 1:55.30
Boys 200 Free
Ben Dalen, WHS, 2:37.96
Girls 200 IM
Nia Hanson, WHS, 2:50.37
Girls 50 Free
Kay Weaver, WHS, 27.78
Boys 50 Free
Jack McDaniel, WHS, 24.45; 4. Logan Botner, WHS, 24.48
Girls 100 Fly
Nia Hanson, WHS, 1:22.16
Girls 100 Free
Emi Qunell, WHS, 1:12.31; 10. Linnea McCrady, WHS, 1:13.54; 14. Adeline Taylor, WHS, 1:32.84
Boys 100 Free
Jack McDaniel, WHS, 54.57; 7. Aaron Dicks, WHS, 59.83; 12. Zane Meuter, WHS, 1:09.17
Girls 500 Free
Ada Qunell, WHS, 5:17.28
Girls 200 Free Relay
Whitefish 02:03.96
Girls 100 Back
Kay Weaver, WHS, 1:19.04; 6. Emi Qunell, WHS, 1:24.25; 7. Linnea McCrady, WHS, 1:27.58; 12. Adeline Taylor, WHS, 1:52.62
Boys 100 Back
Logan Botner, WHS, 1:00.23; 4. Aaron Dicks, WHS, 1:07.71; 7. Zane Meuter, WHS, 1:22.86
Girls 400 Free Relay
Whitefish 4:20.89
Boys 400 Free Relay
Whitefish 4:34.45
---