Stillwater looks to manage winter recreation increase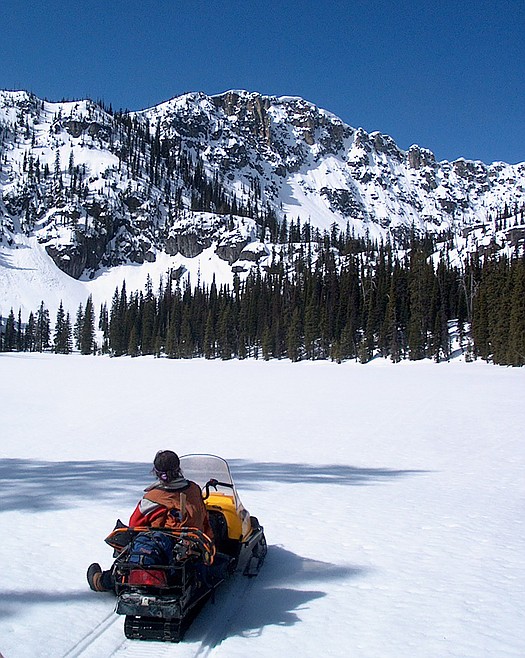 Bob Traina, a retired state Department of Natural Resources and Conservation employee, sits on Stryker Lake while looking up at Stryker Ridge located on Stillwater State Forest. (Photo courtesy DNRC)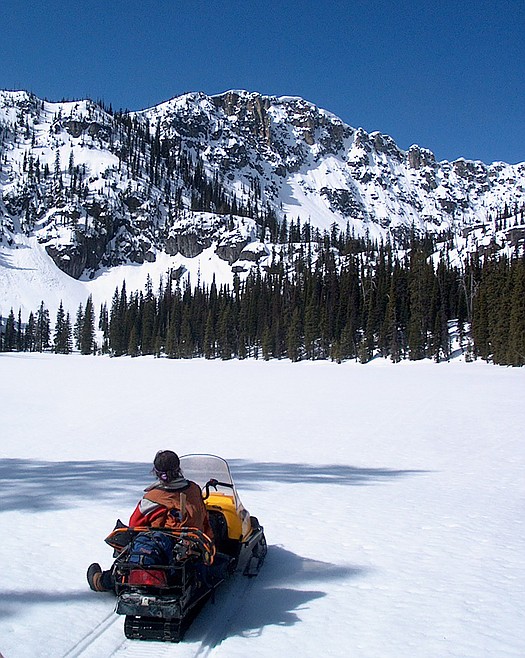 Bob Traina, a retired state Department of Natural Resources and Conservation employee, sits on Stryker Lake while looking up at Stryker Ridge located on Stillwater State Forest. (Photo courtesy DNRC)
Previous
Next
by
HEIDI DESCH
Editor
|
January 13, 2021 1:00 AM
The Stillwater State Forest located in the snowbelt of the Whitefish Mountain Range is a prime area for winter recreation, and forest managers have noticed an increase in use in recent years.
The Stillwater is managed by the Montana Department of Natural Resources and Conservation and includes about 106,500 acres of forestland.
Nicole Stickney, Special Uses Program Manager on the Stillwater, said recreation has increased from both commercial and general public winter use.
"The trend over the last 10 years has been an increase in recreation," she said. "That's come from the businesses that have licenses and the general public. Together it's been an upward trend in use."
The increase in usage has led to congestion in high use areas and in some cases friction between different user groups, Stickney notes. Thus, in an effort to better understand these issues, the Stillwater is collecting data on winter recreation and has launched a survey focusing on winter recreation.
"There could be conflicts happening that we don't know about so we're trying to get information so we can better mitigate the situation," Stickney said.
For example, she said, one of the parking lots at a trailhead had 65 vehicles parked in it on one day and other vehicles were being forced to park on the road — but the goal is to figure out are there a lack of parking spaces or are people parking incorrectly thus causing a shortage of space.
She said by learning more about what's happening related to recreation it will help DNRC staff on management related to public outreach and education, additional signage and availability of maps, and mitigating user conflicts and congestion.
The survey focuses on questions related to what types of winter recreation activities users are participating in on the Stillwater and about their overall experience.
Currently, the Stillwater State Forest licenses nine winter operators providing guiding and rental services for activities such as snowmobiling, Nordic skiing, cat-skiing, snowshoeing and dog sledding. The Flathead Snowmobile Association also grooms approximately 75 miles of snowmobile trails on the Stillwater State Forest and maintains three trailheads which tie into the Flathead National Forest Service system of groomed trails.

For the last two years, the Stillwater has placed trail counters at trailheads and at popular destination points, including the Olney trailhead, Whitefish/Swift Creek trailhead, Fitzsimmons trailhead, Stryker Ridge Road and Upper Whitefish Lake. It also collects usage data from its licensed operators giving it the ability to compare users numbers connected with the operators and the general public.

The Olney trailhead saw the most snowmobile traffic in winter of 2019 with an average of more than 17 snowmobiles per day. However on Saturdays, the daily average spiked to almost 45 snowmobiles per day.
Recreation use has also increased in the summer months with camping and all-terrain vehicle use, but particularly last summer when the Upper Whitefish Lake Campground saw donations at the campground triple, Stickney noted.
"Everybody wants to get out in the woods especially with COVID," she said. "But winter is still our biggest time for recreation."
The Stillwater Forest is part of the Montana Trust Lands, which has a purpose to generate income for the state's public school and universities. Recreation on State Trust Land generated more than $1.4 million in revenue in fiscal year 2020.
A recreational use license at a cost of $10 is required for any recreational activities on the land and may be purchased at Montana Fish, Wildlife and Parks licensing locations or at fwp.mt.gov/buyandapply
To access the winter recreation survey for the Stillwater, visit https://s.surveyplanet.com/bximUPvzj or visit the DNRC webpage at dnrc.mt.gov/recreation. The survey is available online through March 15.

For more information, contact the Stillwater Unit office at 406-881-2371 or visit the Stillwater State Forest Headquarters at 7425 Highway 93 North in Olney.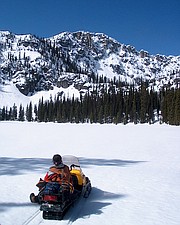 ---