Lady Dogs off to a winning start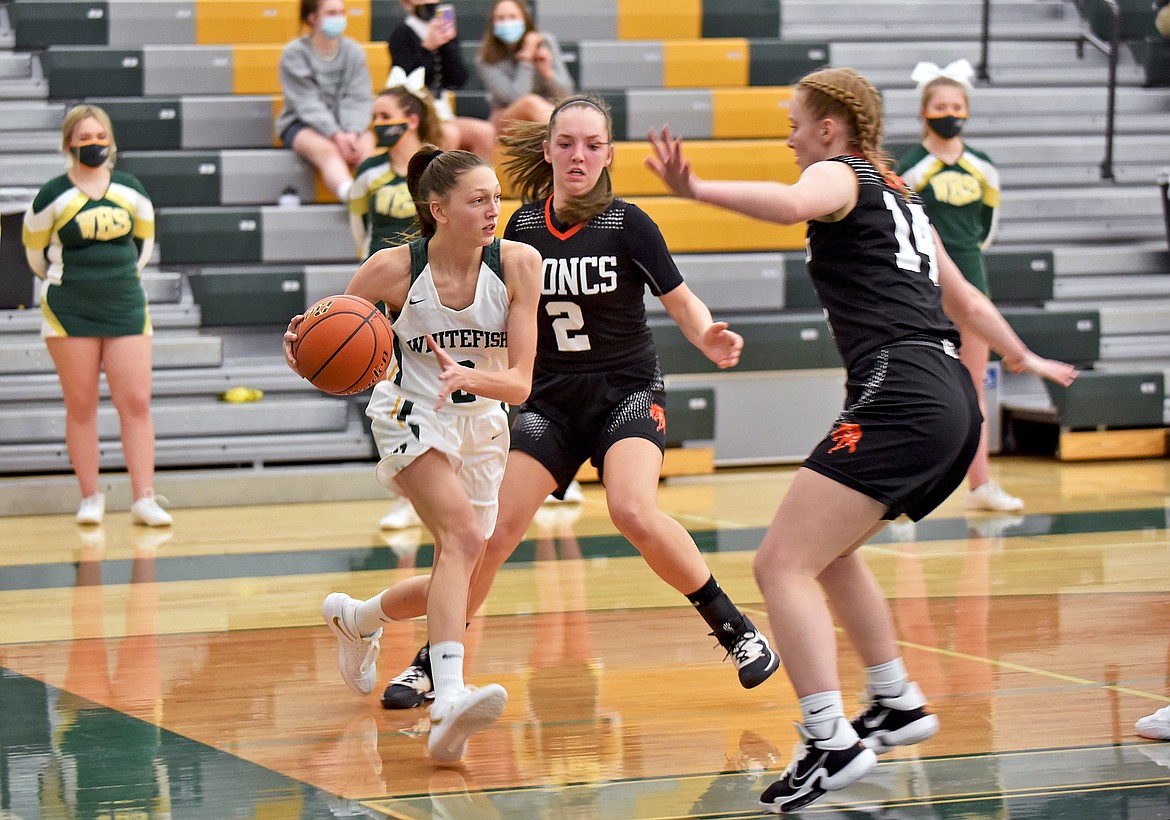 Lady Bulldog Erin Wilde drives along the baseline in a game at home against Frenchtown Thursday evening. (Whitney England/Whitefish Pilot)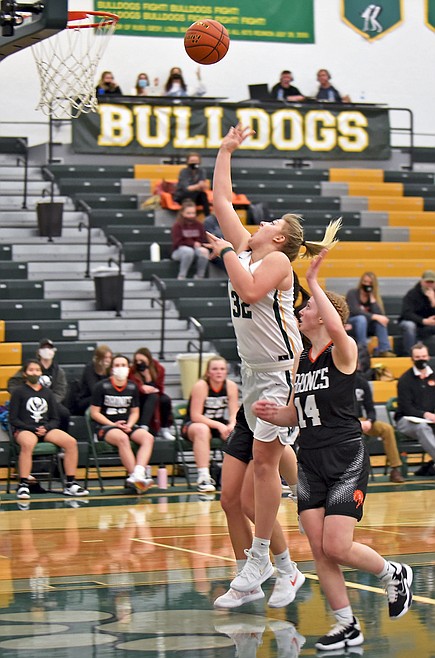 Whitefish senior Brook Smith drives through the lane to put up a shot against Frenchtown on Thursday night. (Whitney England/Whitefish Pilot)
Lady Bulldog Jadi Walburn gets around Frenchtown's defense to score a layup during a game at Whitefish on Thursday evening. (Whitney England/Whitefish Pilot)
Previous
Next
by
WHITNEY ENGLAND
Reporter
|
January 13, 2021 1:00 AM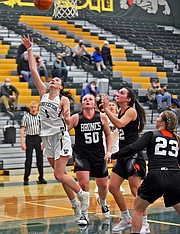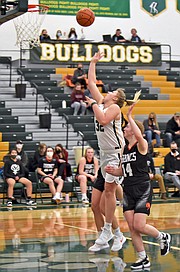 Despite being notified that they would be missing their leading scorer just moments before taking the court Thursday evening, the Whitefish girls basketball defeated Frenchtown 44-37 in their season opener at home.
Gracie Smyley, who led the Lady Bulldogs last season scoring an average of 9 points per game, had to sit the game out for Covid-related reasons. Whitefish's head coach Bob Bolam said despite that unfortunate news, the team stuck to the plan.
"We have solid kids," he said. "They didn't let it affect them, they didn't let it get them down. They went out and played well, trusted in themselves and what they could do; it was good to see."
Whitefish got up on Frenchtown early and by halftime the home team led by 10 points. In the first half senior Ashton Ramsey netted two three-pointers boosting the team's confidence.
The third period was a tight battle after frenchtown emerged from halftime with increased intensity. The Broncs put the pressure on Whitefish as they chipped the lead away and with just four minutes remaining Frenchtown had cut the lead to 34-33.
But the Lady Bulldogs responded with back-to-back steals that led to easy layups, first by Erin Wilde and then by Ramsey. Whitefish held off the Broncs to start the season off with a 1-0 winning record.
"We're excited to get started finally and play games, we've practiced for so long," Bolam said. "We played really aggressive and that was good to see. We didn't always execute at the best level that we would hope to, but it was our first game so those things can be expected."
Whitefish's Jadi Walburn was aggressive in the paint and put up 13 points and Ramsey had the stroke from the outside also netting 13 points in the game. Bolan was impressed by their play as well as the defensive effort from Wilde and Mikenna Ells.
"I think defensively we did a decent job causing some chaos for them especially late in the game," he said. "We played a good group from Frenchtown, they were pretty physical and they had good size, our girls battled really well to win that game."
Whitefish was scheduled to travel to Hamilton for a game on Saturday, however the game was postponed due to Covid-related reasons.
This week the Lady Bulldogs were set to take on Corvallis at home on Tuesday evening after press time. Then the girls will travel over to Columbia Falls on Thursday for a tough matchup with their rival. Gametime is 7:15 p.m.
"Thursday is going to be a test. Columbia Falls is always tough, very aggressive, quick, they move the ball well and play good defense," Bolam commented. "If we take care of the ball in that one then we'll be OK. We have to make them work for everything they get."
Frenchtown 9 5 8 15 - 37
Whitefish 14 10 7 13 - 44
FRENCHTOWN - Demi Smith 12, Sadie Smith 11, Maddy Eggers 6, Lauren Demmons 5, Shelby Smith 2, Cassidy Bagnell 1.
WHITEFISH - Jadi Walburn 13, Ashton Ramsey 13, Erin Wilde 6, Brook Smith 6, Mikenna Ells 4, Taylor Means 2.
---