Individual performances shine in wrestling's first meet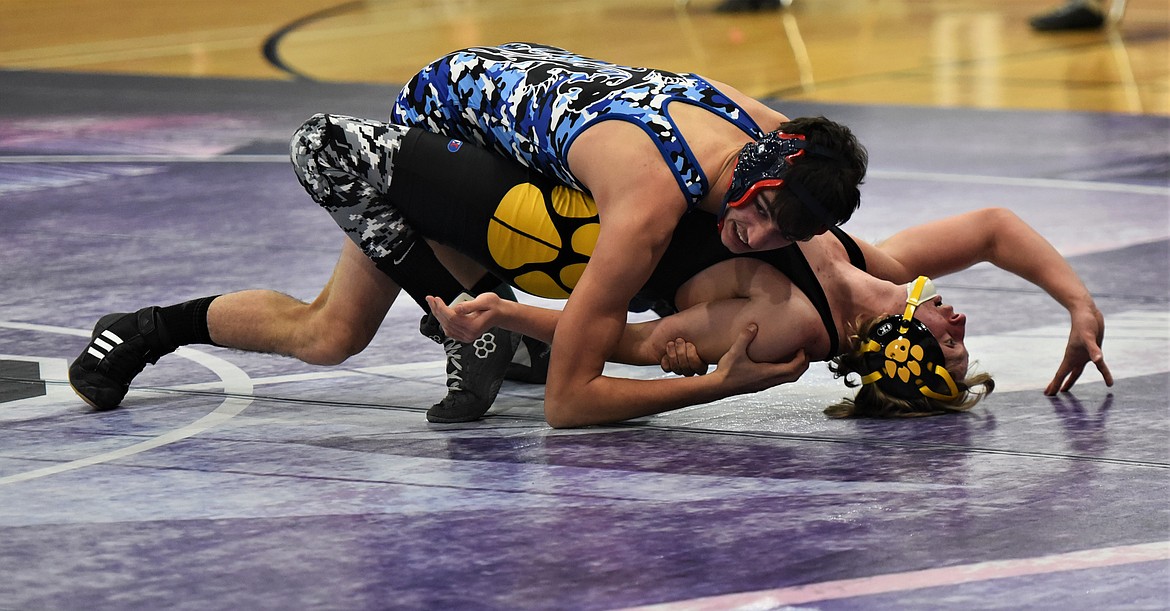 Bulldog Carter Moran wrestles Nate Davis in Polson. (Scot Heisel/Lake County Leader)
by
WHITNEY ENGLAND
Reporter
|
January 13, 2021 1:00 AM
Whitefish wrestlers got back on the mat last week for the first Triangular meet of the season versus Polson and Corvallis.
At the Polson Invite Whitefish as a team narrowly lost both duals, 46-40 against Polson and 33-30 to Corvallis, but head coach Danny Neff said that with the scores so close the results could have easily swung the other way.
Whitefish first saw Corvallis who they haven't had a dual against in several years and Neff was impressed with his team's effort. He added that despite losing the first dual, his wrestlers gave a competitive push against Polson as well.
"We saw a lot of promise out of the kids, a lot of them wrestled really well," Neff said. "The kids that lost in the first dual really competed well and bounced back, which is always nice to see."
Although as a team Whitefish couldn't overcome its opponents, the Bulldogs had several individual performances to note.
Whitefish sophomore Kadin Brown (113) recorded two pins on the day as he quickly took out Izayus Prewett from Polson and the same with Corvallis' Ashton Slate Buhler. Whitefish heavyweight Kai Nash also went 2-0, pinning Polson's Tyler Ott and the Blue Devils' Sean Stone.
"I was really proud of how Kadin went out there and was physical," Neff explained. "And Kai, he was a great surprise. The Polson kid that he wrestled is a really tough kid and you could tell that we were just the more in shape heavyweight because Kai outlasted him."
Whitefish senior captain Camren Ross showed his athleticism in both matches he faced as well. First he wrestled in a higher weight class, 182, against Corvallis and pinned the Blue Devils' Ben Holtzen. Against Polson he wrestled Logan Adler, who placed sixth at state last year, in the 170-pound weight class. Ross lost the match, but it was a close battle to the end.
"Against Logan Adler, he just had a fight," Neff said. "He's one of the more inshape kids that I've seen on the wrestling mat in the years that I've been around it; just works his butt off in the room and he's a leader on and off the mat. But it was really exciting to see him battle with a kid that placed at state last year."
He was also impressed with freshman Henry Bennetts who pinned a senior wrestler from Polson, which provided a spark of energy to the rest of the team during the meet.
Neff mentioned a lot more wrestlers on his team that are showing promise as well and is looking forward to the rest of the season.
The Bulldogs will also be getting Rylee Creasey back at 160 pounds and Nathan Sproul, who was injured last year, back competing for the 120 pound spot. Both have been top athletes for the Bulldogs in previous seasons.
"Everything is kind of aligning now… we're climbing the ladder and I'm really excited to see where we go from here," Neff said.
Whitefish was set to travel to Ronan for a Triangular on Tuesday after press time and then will host their first home invite on Saturday, Jan. 16 at 1 p.m. against Libby and Hamilton.
Corvallis 33, Whitefish 30
113 - Kadin Brown, Whitefish, pinned Ashton Slate Buhler, 0:00.
120 - Gideon Stoker, Corvallis, pinned Brady Boll, 1:09.
126 - Angelo Castro, Whitefish, pinned Ted Melott, 0:00.
138 - Nate Davis, Corvallis, over Carter Moran, dec. 11-4.
145 - James Wissenbach, Corvallis pinned Jack Akey, 2:00.
182 - Camren Ross, Whitefish, pinned Ben Holtzen, 2:00.
285 - Kai Nash, Whitefish, pinned Sean Stone, 0:00.
Corvallis - Kiera Davis (103), Jason Davis (132), Bryce Weidow (205) won by default.
Whitefish - Henry Bennetts (152) won by default.
Polson Triangular
Polson 46, Whitefish 40
113 - Kadin Brown, Whitefish, pinned Izayus Prewett, 0:00.
120 - Micah Craigh, Polson, pinned Brady Boll, 0.00.
126 - Maysn Cowell, Polson, pinned Angelo Castro, 2:00
138 - Carter Moran, Whitefish, pinned Noah Trosper, 2:00
152 - Henry Bennetts, Whitefish, pinned Caleb Pierre, 2:00
170 - Logan Adler, Polson, pinned Camren Ross, 4:00
285 - Kai Nash, Whitefish, pinned Tyler Ott, 2:00
Polson - Ryley Knutson (103), Gavin Gnuston (132), Xavier Pierre (160), Jameson Webster (205) won by default.
Whitefish - Jack Akey (145), Valen Lewis-Ingerson (182) won by default.
---