City mask requirement would take effect if state directive ends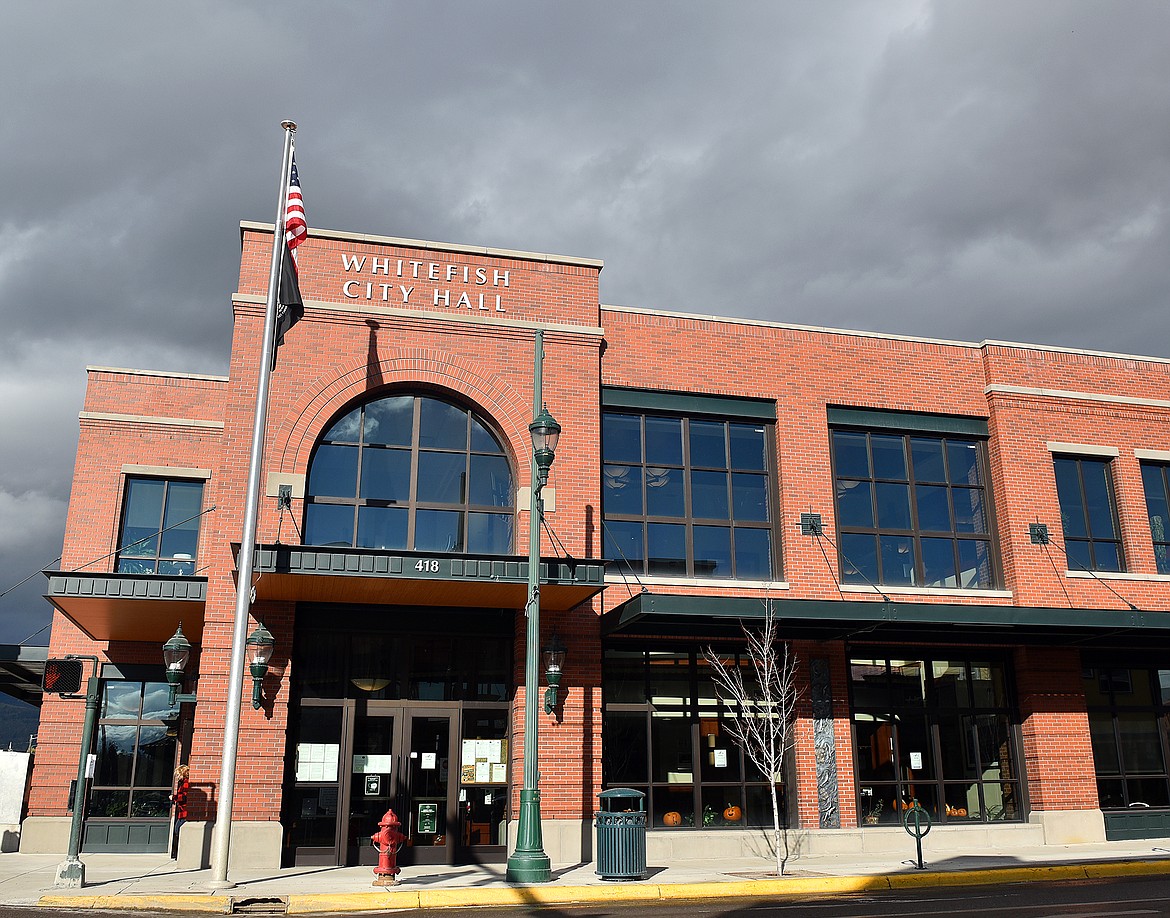 Whitefish City Hall in downtown Whitefish. (Heidi Desch/Whitefish Pilot)
by
HEIDI DESCH
Editor
|
January 5, 2021 10:00 AM
Whitefish has put in place its own requirement that citizens and visitors wear masks to slow the spread of the COVID-19 virus, if the statewide mandate for face coverings is repealed.
City Council on Monday unanimously approved an emergency ordinance that would require folks to wear face coverings in indoor public spaces and would take effect immediately upon the discontinuation of former Montana Gov. Steve Bullock's directive requiring the wearing of masks.
The city ordinance comes after Gov. Greg Gianforte was sworn into office on Monday, and during a press conference on Tuesday afternoon said he would rescind the mask mandate. Though he gave no specific date for when it would be lifted, he did say certain benchmarks would have to take place such as when the vaccine is more widely distributed.

"I plan to promote personal responsibility," he said. "I will wear a mask and I encourage others to do so."
Gianforte also said he plans in the coming days to issue new state directives, while revising and removing others entirely as related to the COVID-19 pandemic.
During Monday's meeting, Councilor Ryan Hennen said most people want to follow the moral and ethical choice of wearing a mask to protect others, and he personally supports the city ordinance because it will assist in keeping businesses open and assist in bringing an end to the pandemic.
"Wearing a mask isn't too much to ask," he said.
Councilor Frank Sweeney commended those businesses that have already put safety measures in place saying the city needs to support those efforts.
"We don't want to become a hot spot," he said. "This is in support of our business and not in restriction of them."
"The reality is that life will not go back to normal until this is abated," Councilor Ben Davis added. "We need to grit our teeth and get this done."
The city received about 45 letters regarding the mask ordinance with 37 of those being in opposition. Though about 35 people participated in the remote meeting Monday, only four provided comments during the public hearing.
Randy, who refused to provide a last name but alluded to being a small business owner in Whitefish, said people are recovering from COVID so there's no reason to wear masks, and a mask requirement would only force people to shop elsewhere.
"Try running a business that depends on tourists," he said. "You're bullying citizens and businesses into wearing a mask."
Thomas Millett also said the mask requirement would cause Whitefish businesses to lose customers.
"People only wear a mask because they believe they have to," he said. "Most people will drive miles to avoid wearing a mask."
Vita Wright said there is a social responsibility to wear a mask to protect others.
"I support Council getting in on the front end of this even if other communities do not," she said. "There are a lot of people that come to the ski hill and downtown. We have a lot of visitors from out of state."
Under the city ordinance, those age 5 and older would be required to wear a face covering when in businesses, restaurants, retail shops, government buildings and other indoor spaces open to the public. Masks would also be required at organized outdoor activities with 25 or more people when social distancing is not possible.
People consuming food or drinks while seated in an establishment are not required to wear a mask.
In addition all public entrances must have a visible sign posted saying that a mask or face covering is required for those ages 5 and older.
Flathead City-County Health Officer Joe Russell was on-hand for the Monday meeting and said he expects more information to be released this week from the governor's office about what public health controls may be in place under the new administration.
"I think this is a good first step," he told Council of its mask ordinance. "I applaud you for getting in front of this."
"Mask use is a good demonstration of a health measure when distancing isn't possible," he added.
Russell said he is waiting to see if the governor issues any directives before making a recommendation for Flathead County.
There is a downward trend for new positive cases of the virus in the county, Russell said, but noted that following the holiday season the next three weeks will be critical to monitor the situation.
As of Tuesday morning, the county had a total of more than 9,000 positive cases and about 530 active cases of the virus.
Violation of the city ordinance by a business may result in suspension or revocation of a business license, and the city may report violations to the state Department of Revenue Liquor Control Division.
In addition violations could result in a municipal infraction with a fine of up to $300 for the first offense and up to $500 for the second and subsequent offenses or as a public nuisance, which the city could enforce through civil legal action such as with an injunction or restraining order.
In July City Council approved an emergency ordinance requiring the use of masks in public spaces just one day ahead of the statewide mask mandate.
Whitefish placed operational restrictions on business for the Halloween weekend with the goal of preventing large crowds. Some Councilors have resisted placing more restrictive regulations on businesses than what's imposed by the state saying it would drive customers out of town.
Emergency ordinances are in effect for 90 days unless repealed by Council.
The U.S. Centers for Disease Control and Prevention recommends the use of masks saying they help prevent the spread of COVID-19.
---