State releases vaccine timeline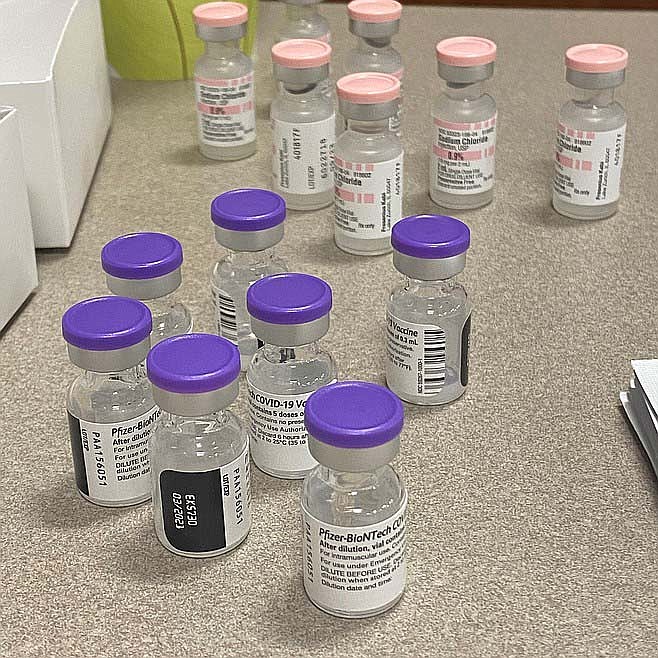 The COVID-19 vaccine, created by Pfizer and BioNTech, arrived at Kalispell Regional Medical Center on Dec. 15. (Photo courtesy of Kalispell Regional)
by
STAFF REPORT
Staff Report
|
January 4, 2021 1:00 AM
Montana recently released an updated plan that provides an estimated timeline for distribution of the COVID-19 vaccine.
The state has already begun Phase 1a that targets frontline healthcare workers and staff and residents of long-term care facilities. So far nearly 17,000 healthcare personnel have received their first vaccination dose, and the phase is now being expanded to include additional healthcare workers such as dentists, physical therapists and optometrists.
The updated plan outlines an estimated timeline for vaccine distribution in Phases 1a, 1b, 1c and then the last phase (Phase 2) when vaccines are expected to be available to all Montanans late spring or early summer 2021. The estimated timeline covers through July 2021 and lists which groups are recommended to receive the vaccine in each phase.
The plan states that Phase 1b is set to begin in mid-January and continue through March. Phase 1b includes an estimated 90,000 Montanans, such as persons aged 75 years old or older, frontline essential workers, those residing in congregate care and correctional facilities, and American Indians and other people of color who may be at elevated risk for COVID-19.
Phase 1c is expected to launch in mid-March and continue through July and includes another 171,000 Montanans. Critical groups in Phase 1c are those aged 65 years and older, persons aged 16-64 at high risk due to underlying medical conditions, and essential workers.
The final phase is expected to launch in late spring or early summer for all Montanans ages 16 and older.
Implementation of the plan is contingent on vaccine availability, according to the state, and vaccine shipments enter Montana through state and federal allocations.
North Valley Hospital began distributing the vaccine on Dec. 22 after receiving 400 doses of the vaccine.
The state Department of Public Health and Human Services has created a vaccine website page that provides a vaccine distribution status update and other Montana-specific information.
For more information, visit https://tinyurl.com/yyklxlmf.
Montanans can also email questions to covid19info@mt.gov or call 1-888-333-0461.
---