Smyley leads team in pair of rout victories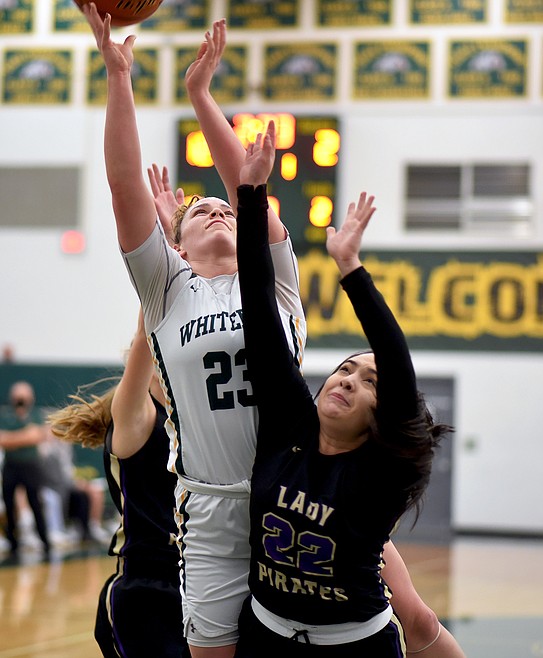 Whitefish senior Gracie Smyley sneaks her way through the Polson defense Thursday evening in Whitefish. (Whitney England/Whitefish Pilot)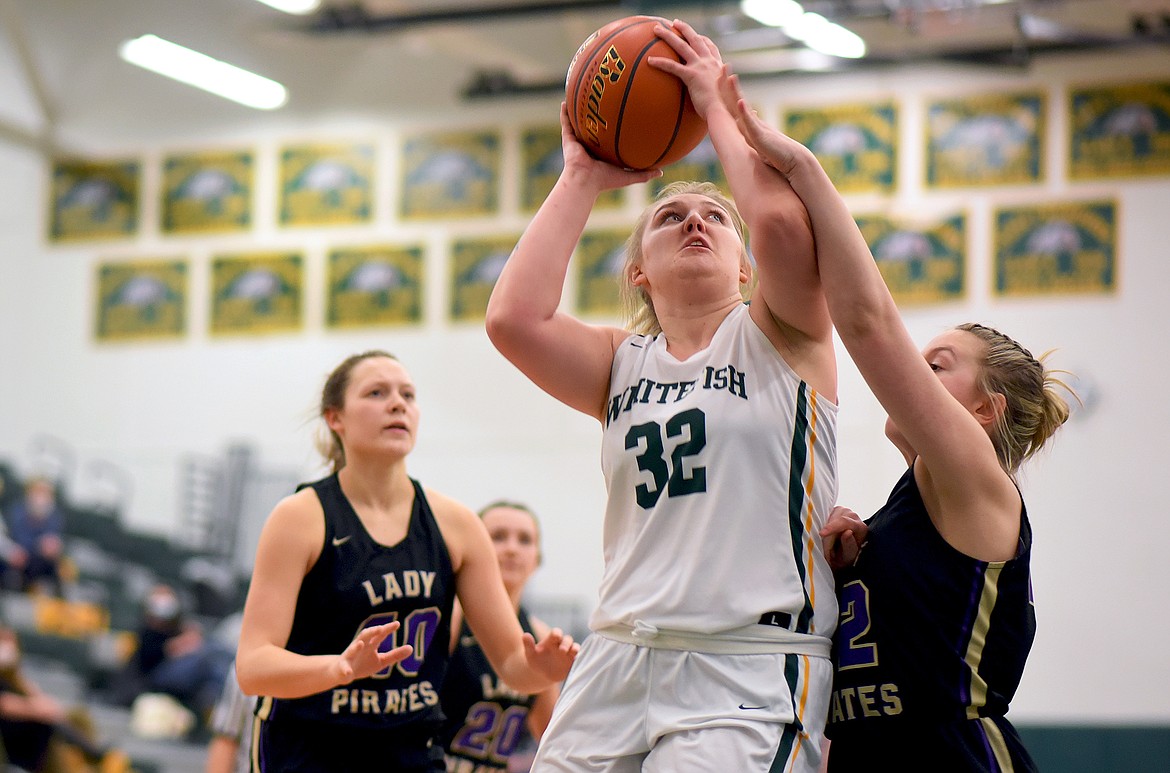 Whitefish senior Brook Smith gets fouled on her way to the hoop against Polson on Thursday. (Whitney England/Whitefish Pilot)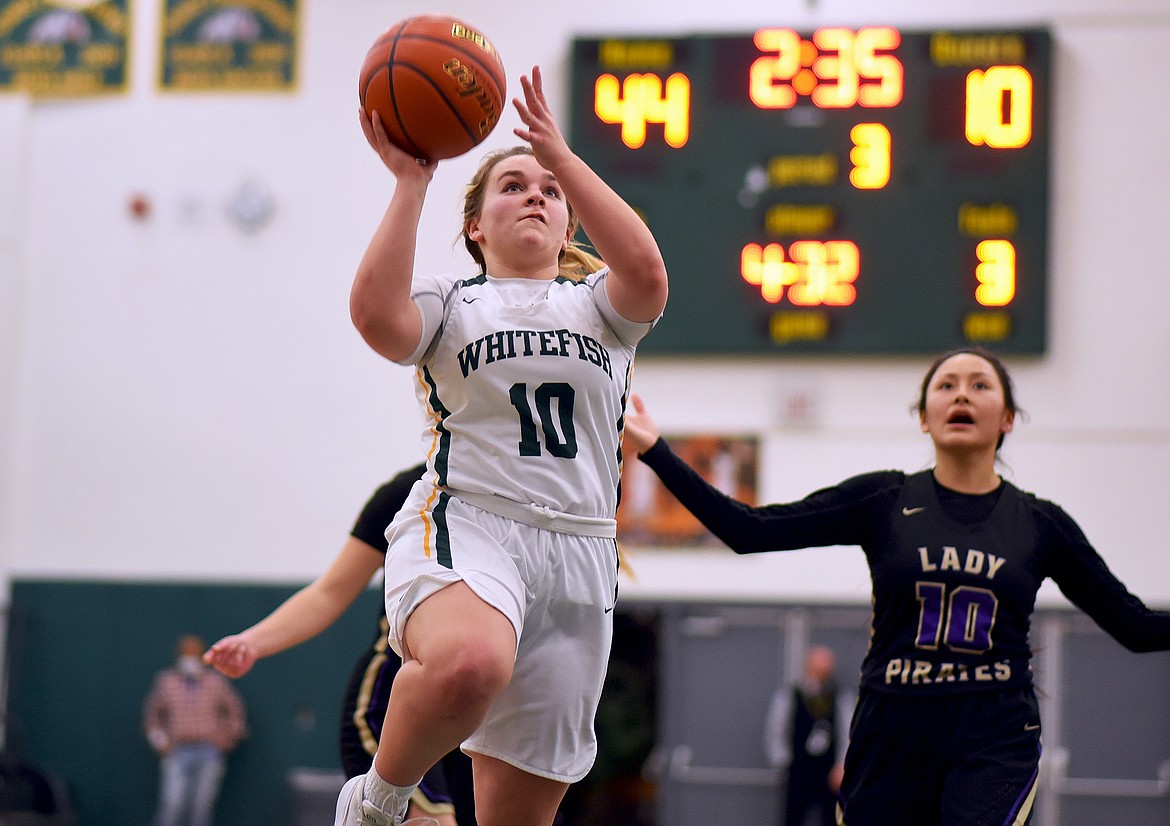 Lady Bulldog Ashton Ramsey capitalizes on a steal against Polson Thursday evening. (Whitney England/Whitefish Pilot)
Previous
Next
by
WHITNEY ENGLAND
Whitefish Pilot
|
February 17, 2021 1:00 AM
Whitefish senior standout Gracie Smyley scored her season-high of 28 points against Ronan before putting in 23 more two days later in a Lady Bulldog rout over Polson.
Smyley was seeing the basket clearly as she helped her team build a huge first half lead over Ronan. The Lady Bulldogs were up 31-16 at halftime and had stunted Ronan's offense.
"Gracie Smyley had a great game in that one getting a lot of points," Whitefish head coach Bob Bolam said. "Some of the other girls scored as well and we had a team effort on defense. We held them down defensively and made it a lot easier for us to win."
Whitefish held the Maidens leading scorer and 2019-20 all-state player Jaylea Lunceford to just four points in the game.
In the second half Whitefish continued to bring the heat and Ronan struggled to play its game against the Lady Bulldogs who were determined to take care of the ball and limit their turnovers. According to Bolam that was a huge focus playing the Maidens since they use a high pressure, full court defense specifically designed to create turnovers.
The Lady Bulldogs and the Maidens have been battling over the second seed in the Northwest A conference and, after the 51-29 win over Ronan last week, Whitefish took a slight advantage in pursuit of the higher seed.
"We had a good defensive plan against them as well to try to limit their inside game and force them to score from the outside and I think that worked really well for us," Bolam said. "I didn't think we'd win by as much as we did, I thought we could beat them especially on our home court, but it was surprising to come away with a win with that size of margin."
Whitefish's Jadi Walburn had seven points in the game and Mikenna Ells contributed six points to aid in the win.
Just two days later Whitefish hosted the Lady Pirates for senior night and defeated the squad from Polson by a wide margin of 59-18. Whitefish had beat Polson by a large differential just a couple weeks prior, but Bolam said with emotions high coming off a win over Ronan and pregame senior honor traditions, the girls might have come into the game without the right mindset.
That wasn't the case though as Whitefish jumped out to a 17-2 first-quarter lead and steadily added to the margin each period.
"Thursday on senior night we just needed to take care of business in that game, that's what we talked about," Bolam said. "Again we played really well, on offense we moved the ball well. We had some nice plays, some nice passes, a lot of assists in that game. It was good to see."
Smyley got hot from the 3-point line in the second half on her way to 23 points, Whitefish post player Brook Smith added 12 points and Ells had 10 of her own as the Bulldogs won 59-18.
The game moved them more comfortably into the second seed in the Northwest A, improving Whitefish's record to 9-3 overall and 4-2 in league play.
"They've been learning and getting better offensively, which is where we want to be nearing the end of the season," Bolam said.
Heading into the final week of regular season play, Whitefish will face Ronan, Libby and Browning. All three games are on the road which adds a challenging twist, but Bolam is looking for his team to pick up three wins.
"That's our focal point right now is to take it one game at a time and really look to play well tomorrow," Bolam said Monday morning.
Whitefish was set to play Ronan after press time on Tuesday. Then the Lady Bulldogs will travel to Libby on Thursday before facing Browning on Saturday. With a few wins, Whitefish can secure second in Northwest A and will not have to compete in a play-in game next Monday for divisional seeding.
"It's going to test us this week and hopefully good things will happen," Bolam concluded.
Whitefish 19 12 7 13 - 51
Ronan 8 8 5 8 - 29
WHITEFISH — Jadi Walburn 7, Erin Wilde 4, Taylor Means 2, Ashton Ramsey 3, Mikenna Ells 6, Gracie Smyley 28, Brook Smith 1.
RONAN — Alexis Wirz 4, LeReina Cordova 5, Leona Ulutoa 2, Jaeleigh Gatch 3, Olivia Heiner 1, Ari Burke 8, Madeline McCrea 2, Jaylea Lunceford 4.
Polson 2 5 5 6 – 18
Whitefish 17 16 20 6 - 59
POLSON – Mossy Kauley 10, McKenna Hanson 2, Ali Hupka 2, Jazlyn Dalby 2, Julia Barnard 2.
WHITEFISH – Gracie Smyley 23, Brook Smith 12, Mikenna Ells 10, Jenny Patten 3, Ashton Ramsey 4, Jadi Walburn 5, Erin Wilde 2.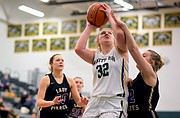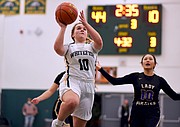 ---