Looking Back for Feb. 17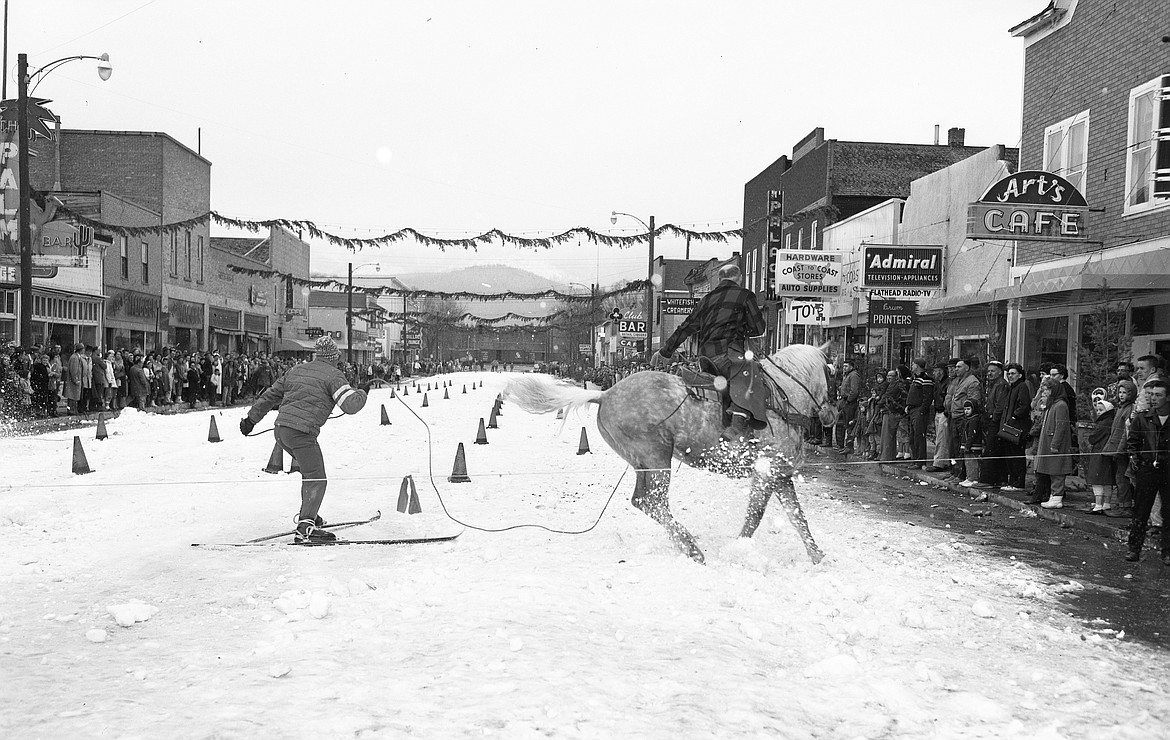 Skijoring at the Winter Carnival in February 1961 in Whitefish. (Mel Ruder photo)
|
February 17, 2021 1:00 AM
A look back at past Whitefish Pilot articles by Whitney England.
10 years ago
Feb. 16, 2011
A hydro plant was in the works for Whitefish. The city of Whitefish had just approved a $545,100 by a construction company to install a new turbine and generator at the city reservoir. The turbine and generator were going to be custom built and delivered that fall with power generation scheduled to begin in November.
20 years ago
Feb. 15, 2001
There was an extra low snowpack that year in the Flathead Valley and weather experts were hoping for some late season snow to help prevent a drought. December and January were usually peak precipitation months, but precipitation had dropped off and the Drought Advisory Committee was worried about what was to come with low water levels that summer.
30 years ago
Feb. 21, 1991
Whitefish hoopsters were beginning postseason play after a remarkable regular season finish. The boys basketball team finished near the top of their conference, beat Kalispell for the first time in 20 years, broke a four-game losing streak against Columbia Falls and broke the school scoring record with 120 points against Eureka.
40 years ago
Feb. 19, 1981
A lack of action on the part of the Whitefish city-county planning board and its zoning sub-committee was close to resulting in Flathead County having the legal right to determine what happened to the one mile of territory surrounding Whitefish. Several committees and local boards were working on rezoning parts of Whitefish to prevent this from happening.
50 years ago
Feb. 18, 1971
A train had recently derailed near West Glacier and 57 of the cars were still floating among the Middle Fork of the Flathead River. A broken rail had been blamed for the record pile-up and the main line remained closed that week. There were no injuries reported in the mishap.
---