Focus, drive, willpower: Ada Qunell's work ethic takes her swimming to the next level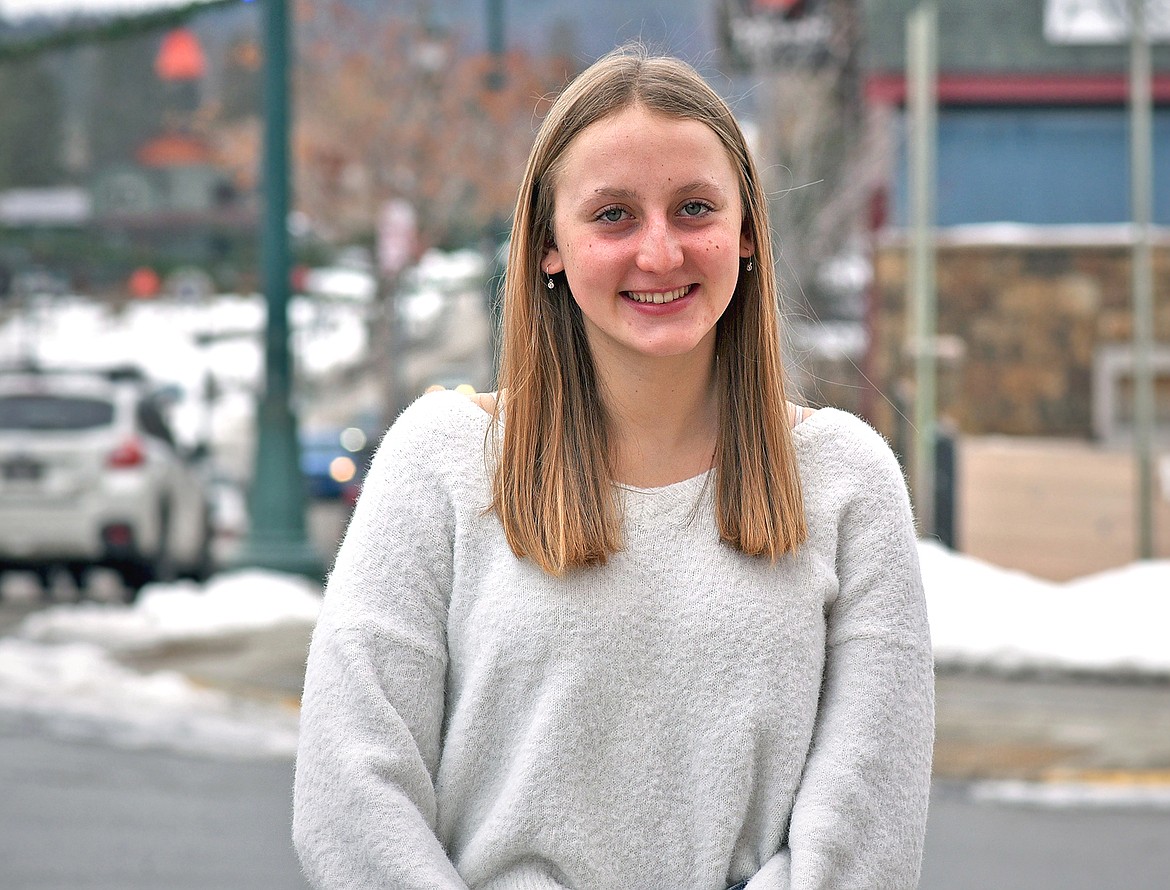 Ada Qunell is a Whitefish High School junior who holds the high school record for every individual stroke in girls swimming. (Whitney England/Whitefish Pilot)
by
WHITNEY ENGLAND
Reporter
|
February 17, 2021 1:00 AM
Standout Whitefish swimmer Ada Qunell admits she must have some sort of natural ability in the water, but that's not how she came to hold the school record for every individual event in girls swimming.
She believes her work ethic, spending long hours in the pool while competing on two teams throughout the winter, and a nearly unwavering drive to succeed far outweighs any talent she was born with.

"I guess there's some natural talent, but the working hard part and staying motivated I think has really gotten me to where I am right now," Qunell said.
To start the 2021 high school swim season, Qunell only needed an improved time in the 100 yard breaststroke race to hold the Whitefish High School record in every individual stroke for girls swimming. However, breaststroke was not a strong suit.
Breaking that record was on her top list of priorities for the season though, so she dedicated time in her practices to improve the stroke. At the Cat-Dog swim meet just a few weeks ago she beat the 100 yard breaststroke time, previously set two years ago by Annie Sullivan, by a distinguished four seconds.
"Before the race I was pretty nervous and jumping around," she recalled. "But it was really awesome to be able to break that record; I worked on breaststroke a lot in practice and I feel like it showed."
Breaking the breaststroke record is just one glimpse of Qunell's dedication to swimming.
Throughout the winter months, each weekday she spends one and a half hours in Kalispell practicing with her club team before driving back to Whitefish for another hour-plus practice with the high school team. Although the schedule is busy, the way she is able to prepare for upcoming meets during practice is one of her favorite things about swimming.
"I really like the competition, and practices are hard," Qunell said. "It's fun to be able to work hard and have it pay off, I think that's my favorite part about it."
Qunell fell in love with swimming during the time her family lived in Maui, Hawaii. She was born in Whitefish and moved to the island at the age of 5. Around age 8, she had recently broken her leg and could no longer play soccer which led her to start swimming.
She joined a swim team at that time alongside her friends and began competing from the very beginning. Qunell said she's always been a competitive person, and the more she swam the further she fell in love with the sport.
"It was just fun and I loved it," she said. "I kind of started to get better and I just fell in love with it more and more as I did it. It was fun for me as a little kid too because my friends were doing it and it was just exciting and fun to be a part of a team like that."
Qunell moved back to Whitefish when she was 11 and didn't miss a beat getting back into the pool.
Around three years ago she switched clubs and joined the team out of Kalispell. That is when she says her times started getting faster and she was on her way to becoming ultra competitive in the state swimming scene. The success was almost addictive and motivated her to focus and persevere through her practices.
"That's kind of when I started seeing those big improvements; it's just so fun to be able to go race and get so excited about your times," she expressed.
One aspect that keeps the high school junior motivated is setting both short and long term goals for herself. Many times her smaller goals are better times or improving in a certain area of swimming. Her most consequential ambition, though, is her focus on achieving a college swimming scholarship.
"I really want to swim in college, that's my main goal right now," she said. "I want to be able to go to a Division 1 school and swim; that's like, why I'm doing it."
Keeping that vision in the forefront as she practices and competes each week, whenever her motivation is dipping she remembers her reason why.
Last March and April as the COVID-19 pandemic hit Montana, Qunell said that is the most that her motivation as a competitive swimmer has wavered. She was not able to swim for over two months, which she says was the longest she's gone without being in a pool since she began swimming, and didn't compete again until October of last year.
Although she recalled trying to stay in shape through working out and running, it just wasn't the same.
"I really just wanted to get back in the pool with my friends and my coach, and be able to compete again," Qunell said.
And when she finally could get back in the pool with her club team last summer, it reminded her why she doesn't stop and keeps up with her swimming habits.
"I was totally out of shape," she said with a laugh.
It took nearly two months to feel like she was back at her prime again, but even then competitions during the pandemic have been sparse and changed completely. With fewer swimmers in attendance, meets are shorter and less competitive than they were previously.
"This year I've just had to stay self-motivated and push myself in the pool; race myself and try to better my times," she said.
As the high school swim season nears its end, Qunell hopes she can continue to be a leader heading into the state tournament. As the Whitefish girls team captain, she says she's focused on a great team performance at state versus any particular individual event.
Though she isn't putting aside her individual goals entirely. The next record Qunell is eyeing is the state record in the 500 yard freestyle race, one of her favorite and most successful events.
"I have to drop like six seconds I think in that race, which is kind of a lot," she said. "But that would be really cool and that's definitely a goal of mine to be able to do that either this year or next year."
Qunell also loves to ski, spend time outside and go rafting with her family in the summer months. Her parents are local teachers and her sister Emi is a freshman on the high school team alongside her. Qunell said she is most interested in science currently, though isn't sure exactly what she wants to study post high school.
But she is sure of her ambition to keep swimming for many years to come and push herself to her highest potential in the pool, hopefully achieving her college swimming dream.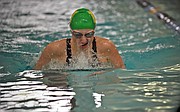 ---