Comedic play questions the notion of a fact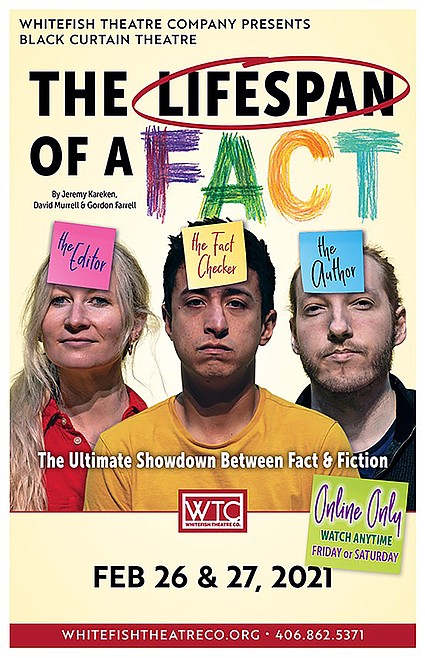 |
February 17, 2021 1:00 AM
How negotiable is a fact? That's the premise of the timely and hilarious play "Lifespan Of A Fact" presented by the Whitefish Theatre Co. on Feb. 26 and Feb. 27.
Hailed by The New York Times as "terrifically engaging," this fast-moving, rib-bustingly funny play is only available for viewing online. Ticket holders can watch the show anytime of the day on Feb. 26 and 27. A link to view the show will be sent to patrons once they have purchased a ticket.
This critically acclaimed 2018 Broadway hit is filled with blistering comedy and contemporary relevance. At a high-end magazine, a demanding editor-in-chief hires Jim Fingal, a determined millennial fact-checker, to work on a groundbreaking essay written by a celebrated author John D'Agata. Like magazines everywhere, this one is reeling from poor ad sales and shrinking circulation. But with this potentially sensational essay, salvation looms. The deadline is tight, the essay is dense, and everyone must make a good faith effort to tell the story honestly. When the fact checker goes too far, however, the ultimate showdown between "truth" and "accuracy" begins – with deliciously funny consequences.
"When I discovered that two characters in 'Lifespan Of A Fact' were indeed real people, I was fascinated," says Director Kim Krueger. "Jim Fingal was the real-life fact checker for John D'Agata's essay 'What Happens There'. This play was inspired by the book of the same title that these two wrote in 2012 about their true, knock-down battle of wits."
"What drives this story is that Jim and John are both right and wrong in their ideas at times, but neither one of them wants to compromise," says Krueger. "I guarantee you will be discussing this relevant show well after it is over as the characters question facts versus the truth and artistic license versus reality."
Cast members include Mikey Winn as Jim Fingal, Nick Rapp as John D'Agata, Becky Rygg as Emily Penrose, and Lonnie Porro as Stage Direction Reader.
"Becky is nuanced and delightful as the career driven magazine editor who gets caught up in the middle of the fight and has to find compromise in a real world way," Krueger says. "Nick is great as the volatile writer who has a deep belief in his story and Mikey is a riot as the obsessive, quirky fact checker."
Viewers are reminded that as a Black Curtain production, there will be minimal staging, no set or props, and actors may reference their scripts.
Tickets are $12 for adults and $10 for students for all shows. Tickets can be purchased at the Box Office at 1 Central Avenue in Whitefish or by calling 862-5371. Box Office Hours are 11a.m. to 3 p.m. Monday through Friday. Individual tickets can also be purchased online at www.whitefishtheatreco.org.
To purchase a ticket on WTC's website, click 'Rent Video', which will navigate you to ShowTix4U.com who manages the online distribution of the show. As ticket sales are WTC's main source of income, please purchase the correct number of tickets (or devices as it says on the ShowTix4U website) for those watching the show online. Once you purchase a ticket, a link will be sent to your email to watch the show anytime on Feb. 26 or Feb. 27.
This show is sponsored by Meg Wolfe & Steve Lull and Bet & Doug Wise. The purchase of film equipment was made possible by a grant from the Goguen Family Foundation.
---