Bill would end Whitefish's mask requirement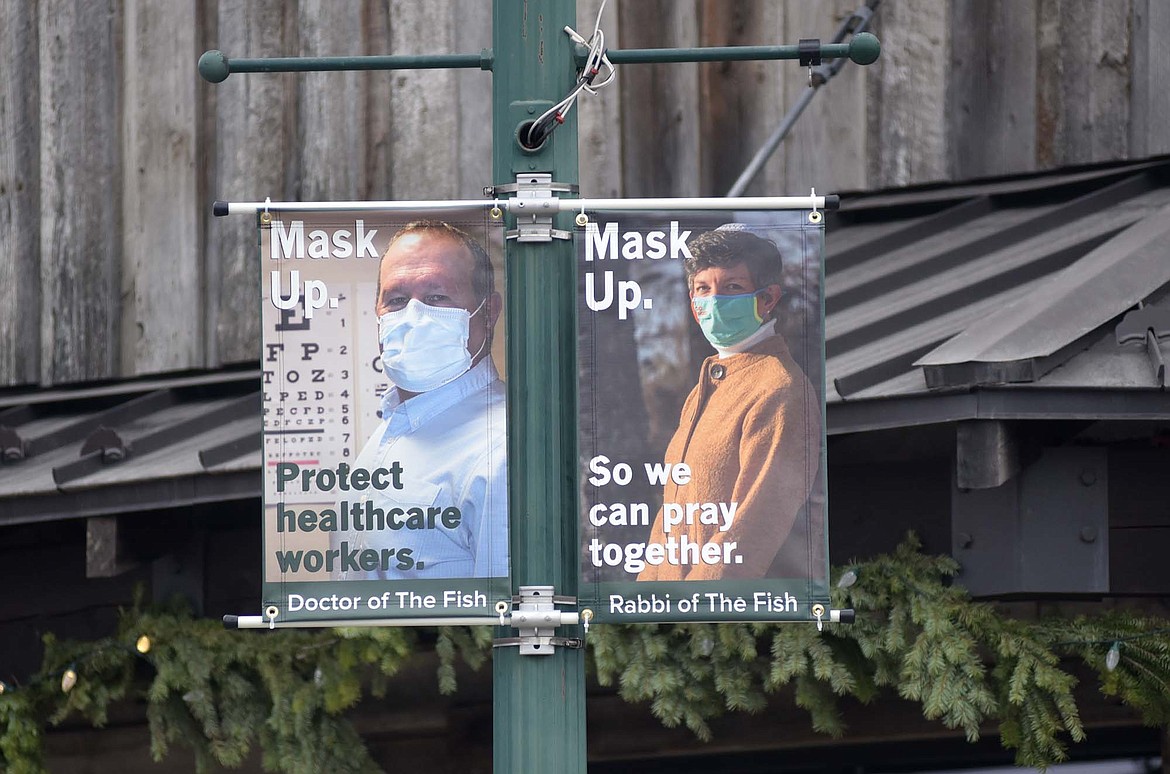 Banners in downtown Whitefish reminding folks to wear a mask amid the COVID-19 pandemic. (Heidi Desch/Whitefish Pilot)
by
CHAD SOKOL
Daily Inter Lake
|
February 17, 2021 9:25 AM
A Republican-backed bill in the Montana House would nullify much of Whitefish's mask ordinance and prohibit cities, counties and local health boards from adopting similar requirements in the future.
House Bill 257 is one of numerous bills introduced this year that aim to limit the authority of public health officials, who have been accused of overreach – and worse – for their efforts to mitigate the spread of COVID-19.
Sponsored by Rep. Jedediah Hinkle, R-Belgrade, the bill would prohibit local governments from compelling businesses to turn away customers who don't comply with health requirements, including those who refuse to wear face coverings. It also would prohibit local governments from taking any "retributive action" against businesses that don't enforce mask rules among their patrons, including fines, civil lawsuits and criminal charges.
The House Judiciary Committee passed the bill on a 12-7 vote on Friday, with all the committee's Republicans voting in favor and all the committee's Democrats voting in opposition. The committee also amended the bill so it would apply retroactively to local ordinances currently in effect.
"In Gallatin County, we've had some of the strictest pandemic response ordinances imposed on our businesses, and as a result, a number of our businesses have permanently closed, and many that have not closed are barely hanging on," Hinkle said during a Feb. 2 committee hearing.
The bill, he said, aims to stop unelected health officials from using "threats and coercion" to "commandeer" the resources of private businesses to enforce mask requirements and other local ordinances.
"When a public, governmental agency passes an ordinance, it is expected that a public enforcement division will enforce the new rules," Hinkle said. "However, in 2020, we have seen these appointed boards and health officers instead compel private business to be their enforcement arm."
GOV. GREG Gianforte on Friday rescinded a statewide mask mandate issued by former Gov. Steve Bullock, saying mask-wearing should be a matter of "personal responsibility," but mask requirements enacted by local health boards remain in effect throughout Missoula, Gallatin, Butte-Silver Bow and Lewis and Clark counties.
Whitefish's mask ordinance is different; it applies only within city limits and was enacted by the elected members of the Whitefish City Council. But it, too, would be almost entirely invalidated by Hinkle's bill.
Much like Bullock's directive, the Whitefish ordinance requires people 5 and older to wear face coverings in bars, restaurants, shops and other indoor spaces that are open to the public, and at public gatherings where 6-foot social distancing isn't maintained. The ordinance will automatically expire after 90 days unless the City Council chooses to repeal it sooner.
While Whitefish officials have stressed that they intend to prioritize education over enforcement, those who violate the ordinance could face municipal citations and fines. The ordinance says businesses that flout the requirements could have their business licenses revoked or get reported to the state Department of Revenue. Violations also are considered a public nuisance, which the city could enforce through civil legal actions, such as seeking an injunction or a restraining order.
Neither the Flathead County commissioners nor the Flathead City-County Board of Health have enacted mask requirements for the rest of the county. Two of the three commissioners have said they support another bill in the Montana House that would give elected officials the power to change or shoot down emergency rules adopted by health boards.
IN INTERVIEWS Tuesday, Whitefish City Council member Steve Qunell and Flathead County Health Officer Joe Russell each said state lawmakers should not tamper with local governments' ability to establish and enforce public-health measures.
"The Legislature seems to be doing everything they can to click off control measures that are doing good, and I just don't get it," Russell said.
Qunell said he believes Hinkle's bill has more to do with politics than public health.
"The governor said we need to take personal responsibility in place of mandates," Qunell said. "But what we've seen with 'personal responsibility' is that people aren't taking personal responsibility to make sure other people remain safe. And that's concerning."
Numerous Montana business owners testified in favor of the bill on Feb. 2, including Doug White, whose casino and mercantile business near Bigfork was sued by the Bullock administration for allegedly flouting the governor's mask directive. White said his employees, including his daughter, had been threatened and harassed when they asked customers to put on masks, and it's unfair for the state to put businesses in that position.
In an interview Monday, Hinkle noted most employees of small businesses "aren't trained for conflict resolution."
Qunell said that leaves few options for dealing with the pandemic. If businesses can't be asked to uphold mask requirements, "then let's have the state do it," he said. "I mean, put the onus on the state to enforce it. We would welcome that, and I'm sure every business would, too."
ONLY TWO people testified against the bill on Feb. 2, including Jim Murphy, who oversees the communicable-disease bureau of the Montana Department of Public Health and Human Services.
"Some of the language is very broad and implies that little action could be taken to address a very valid health concern," Murphy said.
As an example, Murphy noted state law gives local governments authority to license and regulate tattoo parlors. The bill, he said, could hinder their ability to enforce health regulations that have nothing to do with COVID-19.
"If a health concern was identified in such a setting that posed a risk to clients, it is unclear whether the local authorities would be able to require actions to be taken to resolve the issue, with the way this bill is written," he said.
Tim Burton, director of the Montana League of Cities and Towns, which represents all 127 of the state's incorporated municipalities, also testified against the bill, saying it wouldn't be appropriate to overhaul long-standing public health laws while the pandemic is in full swing.
"I don't think now is the time to reinvent our public health system, in the middle of a pandemic," Burton said. "I think that we can get through the pandemic, understanding the economic impacts that it's had and is having, and that an after-disaster assessment, where we can sit down and thoroughly review what worked and what didn't work, is a better practice."
---