Masks still required in Whitefish even if statewide mandate goes away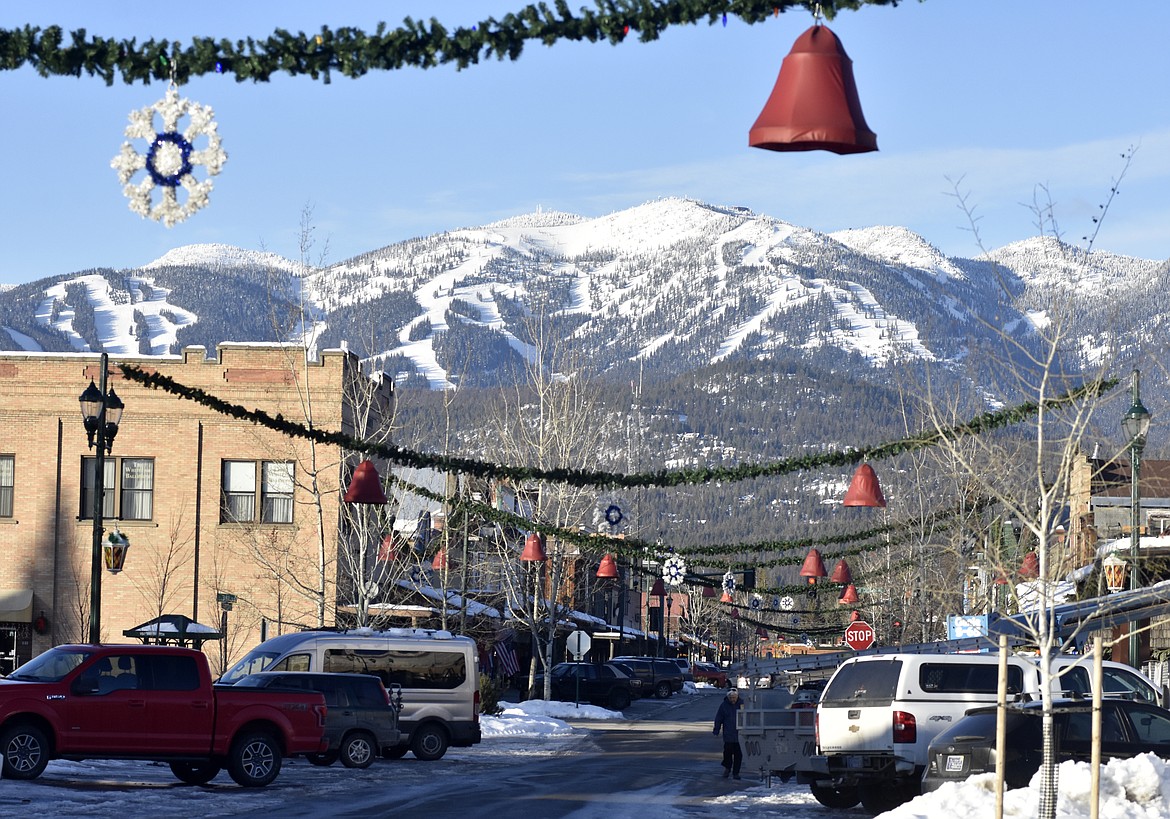 Central Avenue in winter in downtown Whitefish. (Pilot file photo)
by
HEIDI DESCH
Editor
|
February 11, 2021 8:40 AM
Montana Gov. Greg Gianforte says he'll lift the statewide mask mandate on Friday. If that happens, Whitefish's emergency ordinance requiring the wearing of masks in business and public spaces will go into effect.
Gianforte made the announcement on Wednesday during a ceremony where he signed Senate Bill 65 into the law. The bill aims to protect businesses, nonprofits, churches, health care providers and nonprofit organizations from COVID-related lawsuits as long they take measures to protect individuals from COVID-19 and follow public health guidelines.
"On Jan. 5, I addressed how critical it is to protect businesses, nonprofit organizations, places of worship, and health care providers from lawsuits if they make a good faith effort to protect individuals from the spread of the coronavirus and follow clear public health guidelines," Gianforte said. "And the legislature delivered."
Whitefish City Council on Jan. 4 voted to approve an emergency ordinance requiring that face coverings be worn in all businesses, government offices and other indoor spaces open to the public. The ordinance, intended to be put in place if the statewide mandate was lifted, says that reasonable measures must be taken to ensure that all employees, customers and others must wear a face covering while in any space open to the public.
Mayor John Muhlfeld said City Council enacted the ordinance proactively in anticipation of the governor lifting the state mask mandate.
"We did this to continue supporting our health care, emergency services and front line workers, as well as keep our businesses open," Muhlfeld said. "We will continue to adapt to changing conditions by responding to the science and data we receive from the [Centers for Disease Control and Prevention] and Flathead City-County Health Department and make informed decisions to remain vigilant to protect our community's health."
Exceptions to Whitefish's mask requirement include children under the age of 5 and people consuming food or drinks in an establishment while seated.
In addition, all points of entry at a business open to the public shall have a clearly visible sign stating, "Mask or face covering use required for ages five and older."
Whitefish's mask requirement would remain in place for 90 days following its commencement on Feb. 12, unless otherwise extended by City Council.
For outdoor gatherings when social distancing is not possible, face coverings are required.

Violation of the city ordinance by a business may result in suspension or revocation of a business license, and the city may report violations to the state Department of Revenue Liquor Control Division.
In addition, violations could result in a municipal infraction with a fine of up to $300 for the first offense and up to $500 for the second and subsequent offenses or as a public nuisance, which the city could enforce through civil legal action such as with an injunction or restraining order.
Just this week, the CDC released the results of a study that found that exposure to COVID-19 reduced by about 95% when wearing a tightly fitting mask. In particular, cloth masks worn over a medical procedure mask or a medical procedure mask with tightened ear loops and extra material tucked in by the face were the most effective.
Gianforte said he would continue to wear a mask and encouraged others to do the same. He said enough Montana residents have received the COVID-19 vaccine to allow for lifting the mask mandate that was put in place in July by former Gov. Steve Bullock.
As of Thursday, about 41,500 Montana residents had been fully immunized receiving both doses of the vaccine. This is less than 4% of the state's population.
The vaccine distribution is still in the second phase with people 70 or older and those with severe underlying conditions eligible for the vaccine.
Under the law regarding COVID-related lawsuits, businesses and health care providers could not be sued by those exposed to the virus on their premises, except in cases of "gross negligence" or when they intentionally spread the virus, according to the Associated Press.
---