Rivalry victory extends Bulldog win streak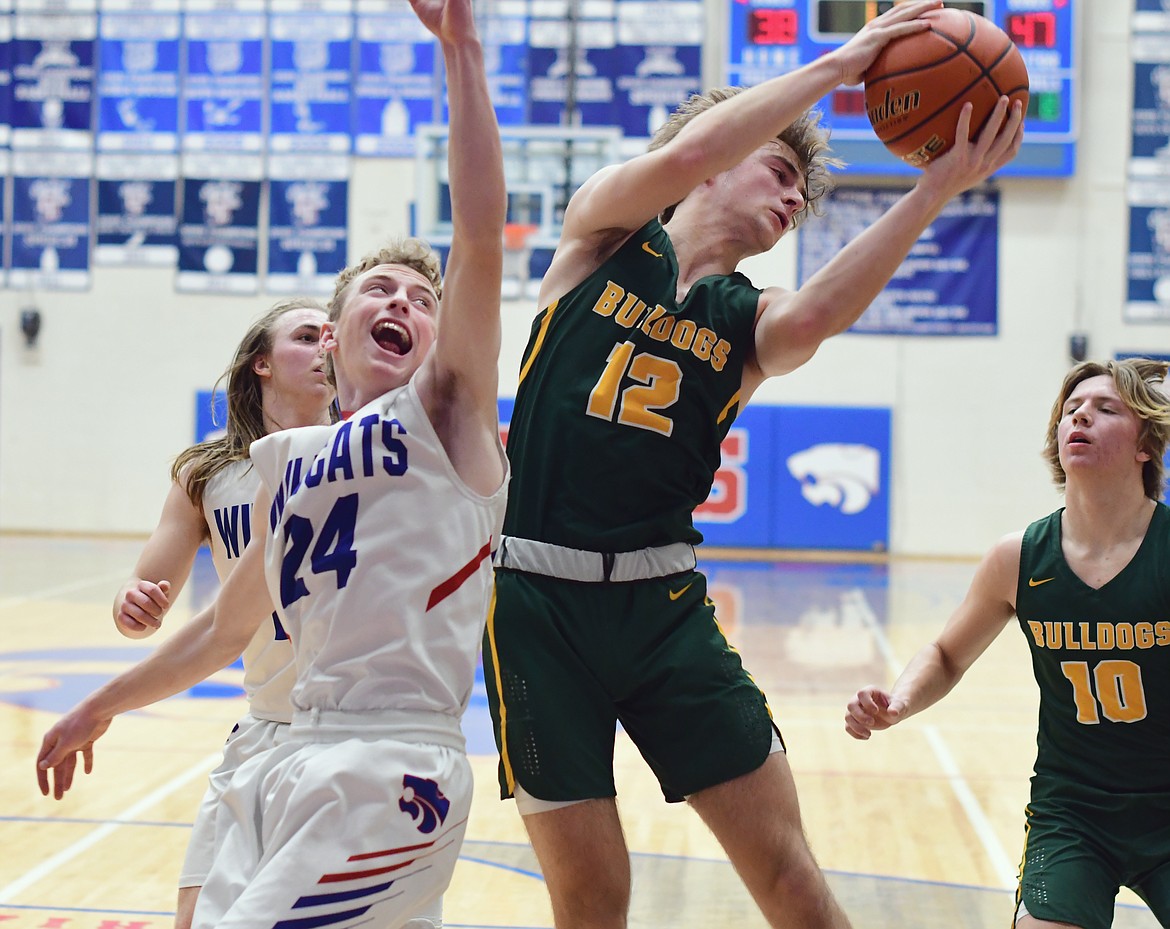 Logan Conklin (12) captures the rebound on Friday in a game against Columbia Falls. (Teresa Byrd/Hungry Horse News)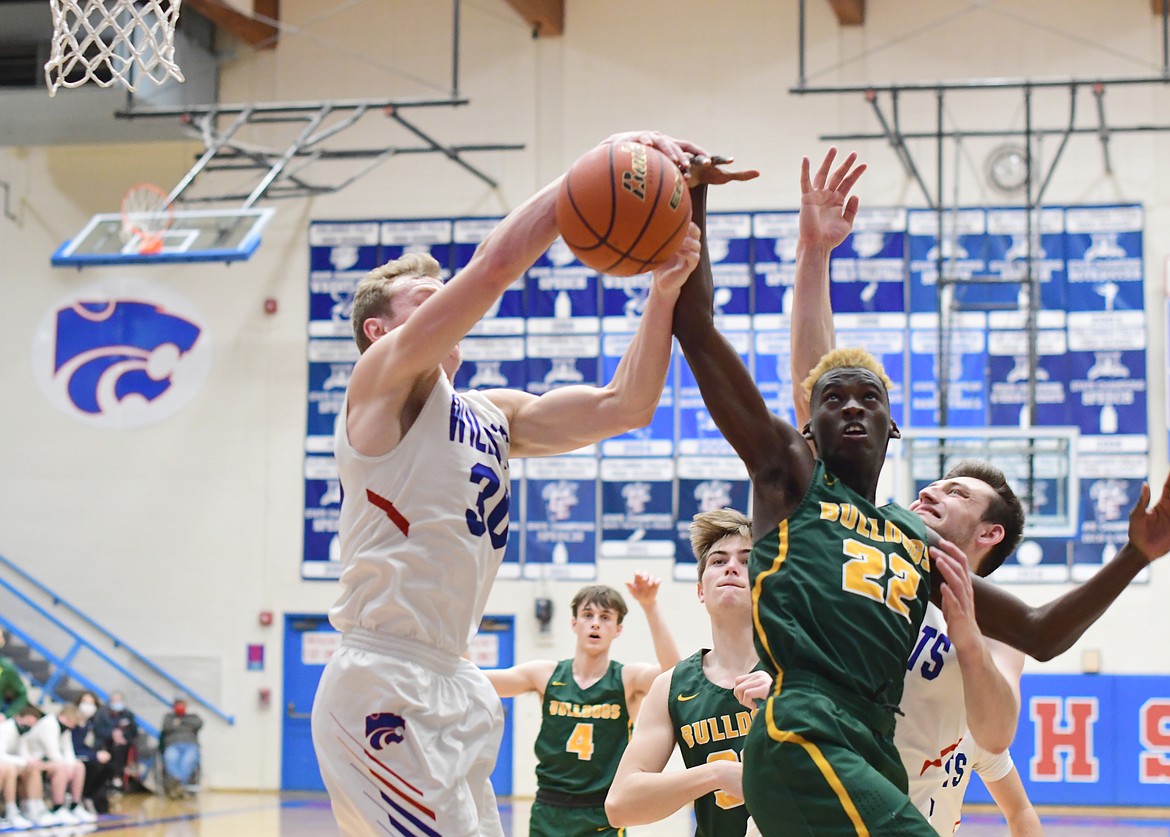 Marvin Kimera (22) battles for the rebound during Friday's game against Columbia Falls (Teresa Byrd/Hungry Horse News)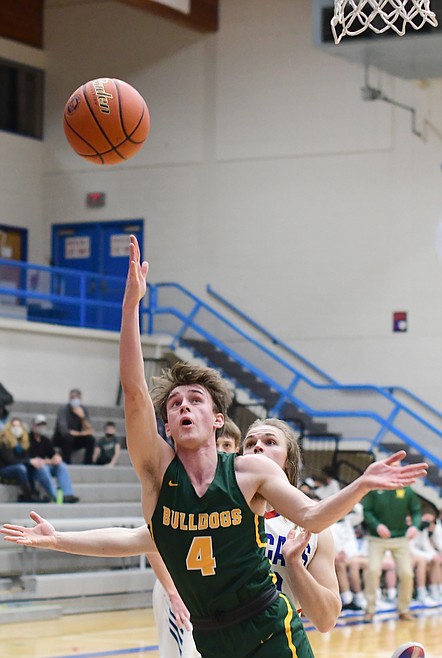 Bodie Smith (4) goes for the layup in a game against Columbia Falls on Friday. (Teresa Byrd/Hungry Horse News)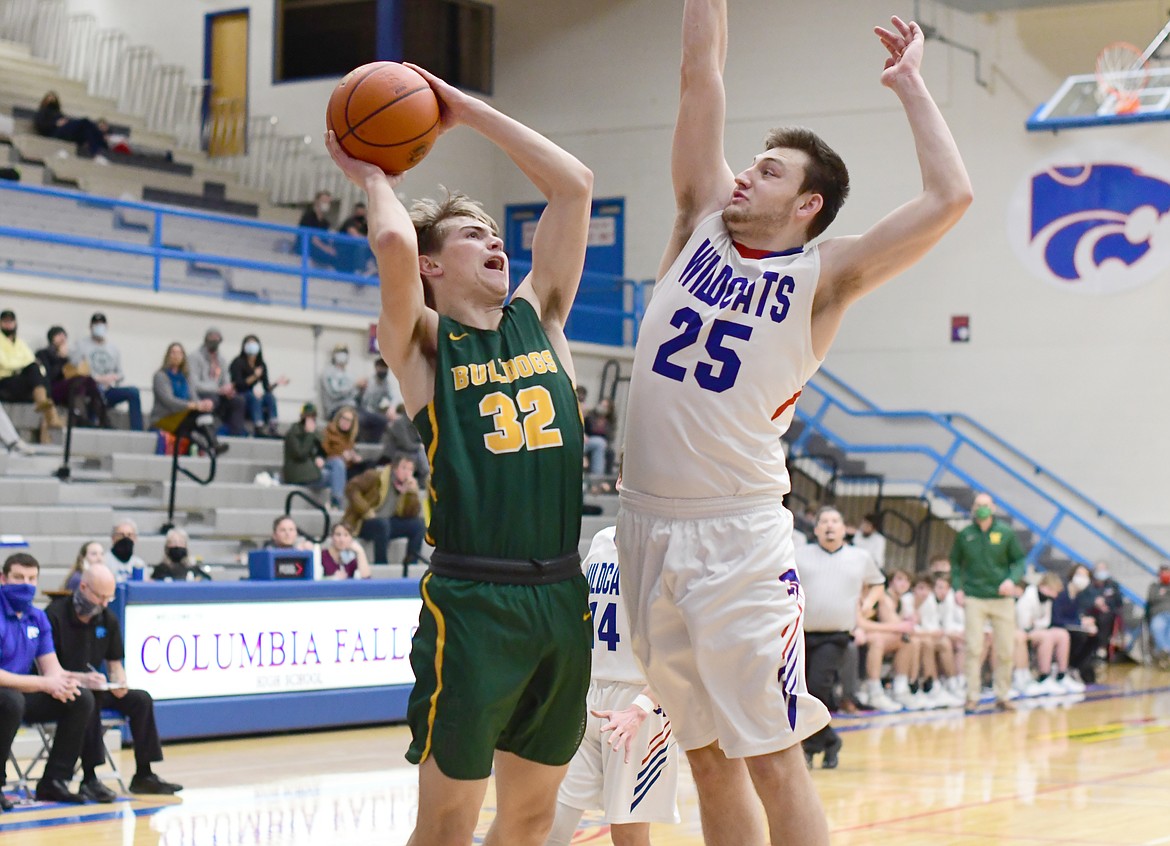 Trey Hunt with a shot against Columbia Falls on Friday. (Teresa Byrd/Hungry Horse News)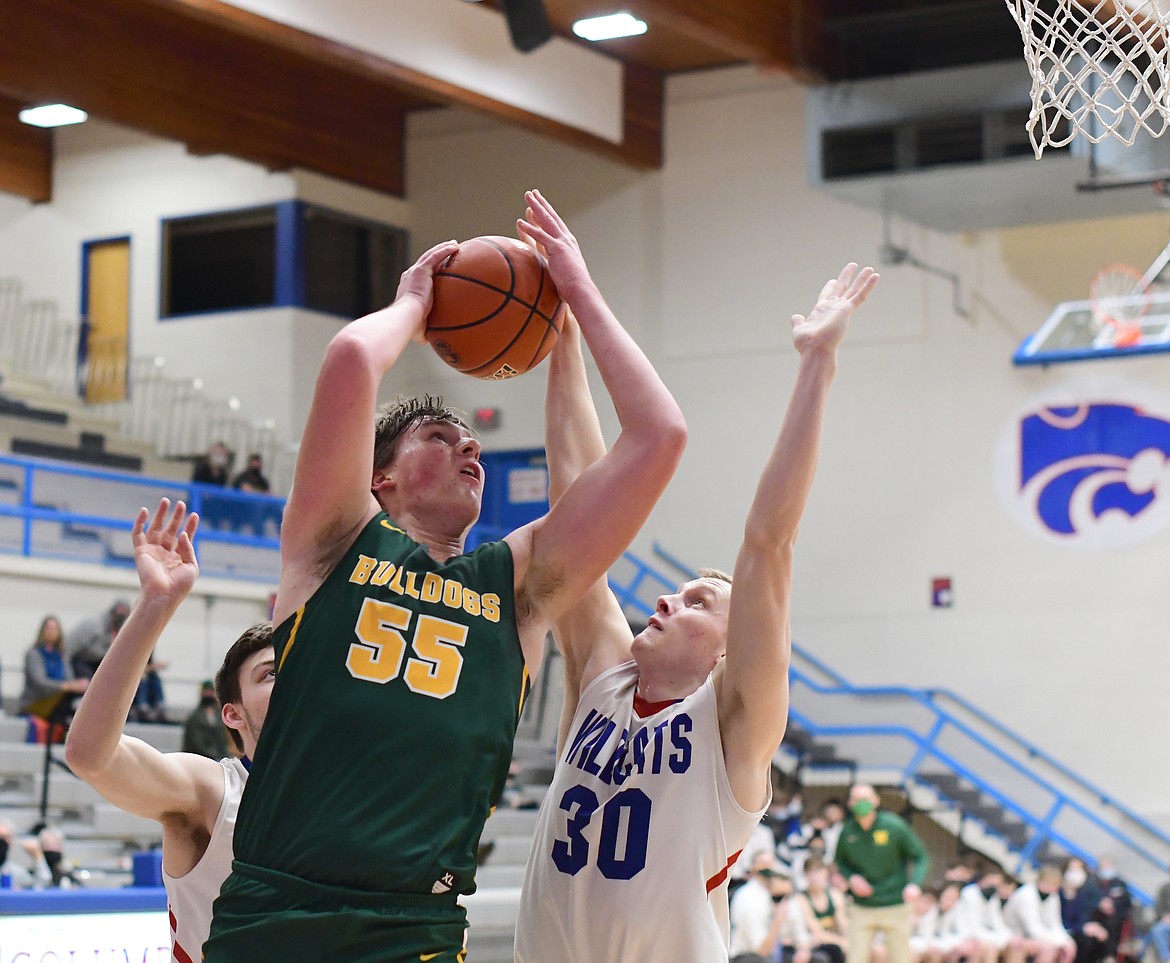 Talon Holmquist goes for a shot in game against Columbia Falls on Friday. (Teresa Byrd/Hungry Horse News)
Previous
Next
by
WHITNEY ENGLAND
Reporter
|
February 10, 2021 1:00 AM
The Bulldogs are fighting hard to turn their season around and Friday's rivalry win over Columbia Falls solidified their efforts.
After starting the year 1-5, the Whitefish boys basketball team has now strung together four wins in the last two weeks to improve their overall record to 5-5. The Bulldogs are now sitting in fourth place in the Northwest A conference and play the top two teams this week.
Friday was the second meeting between the Bulldogs and the Wildcats this season. In the first game a few weeks back, Whitefish had a 15-point lead early in the third quarter before allowing the Wildcats to claw their way back and force overtime. The Cats took that game by just two points, and Whitefish was determined to not let that happen again.
"In the second half in that first game, we had some breakdowns," Whitefish head coach Scott Smith recalled. "In this [week's] game, you look at it, we didn't have those breakdowns. Our defense was there all game long, our help defense was really good."
The Bulldogs led at halftime by just three points, 22-19, but came out after the break with pep in their step. Whitefish's Jayce Cripe got on a streak in the second half, scoring all of his points and hitting four 3-pointers to help the Bulldogs establish a comfortable lead that they would hold onto for a 57-46 win over the Cats.
"I thought Jayce Cripe really stepped up this game and sparked us in that third quarter, got us a pretty sizable lead," Smith said. "And from there we were able to maintain that lead and just hold them off at the end."
"Jayce played extremely well and Jaxsen [Schlauch] played well; overall defense we played very well. I thought every kid that stepped on the floor did a good job of bringing intensity and doing what we need to do," he added.
Cripe finished the game with 20 points, Schlauch added 11 and inside big man Talon Holmquist scored 14 points to lift Whitefish over the Wildcats.
Columbia Falls' Jace Hill led the Cats by scoring six 3-pointers, many of them late in the game, and 29 total points. Cade Morgan chipped in 11.
"(Jace Hill) was hot, give him credit, but overall I thought our defense was pretty dang good," Smith said. "We held down their kids for the most part."
This week the Bulldogs face two top Northwest A conference foes, Ronan and Polson. The two Lake County teams are in the top spots in the league, but Smith said he's confident in his team's ability to challenge both teams.
"Both teams are very talented and both games are on the road," he said. "But I also think we can go toe-to-toe with anybody in our conference as long as we play with intensity and we execute and play with composure."
Whitefish was set to play Ronan Tuesday evening after press time. That will have been the first meeting between the teams this season.
The Bulldogs then travel to Polson on Thursday. The Pirates soundly beat Whitefish just a couple weeks ago, burying the Bulldogs in a 28-point halftime deficit that was far too steep to overcome.
"It's one of those things, our kids have got to have some confidence," Smith expressed. "I think at the start of the season we're still finding our rhythm offensively, we were still doing some small things that were costing us some points and costing us some turnovers, things like that. We've fixed most of those over the last few games."
After this week there is only one more week of play in the regular season, making every game from here on out crucial for divisional seeding.
Whitefish 13 9 16 19 - 57
Col. Falls 12 7 11 16 - 46
WHITEFISH - Bodie Smith 8, Jaxsen Schlauch 11, Logan Conklin 2, Marvin Kimera 2, Jayce Cripe 20, Talon Holmquist 14.
COLUMBIA FALLS - Cade Morgan 11, Alihn Anderson 2, Jace Hill 29, Allec Knapton 4.
---